Court ruling likely Friday on whether Michigan's abortion ban can be enforced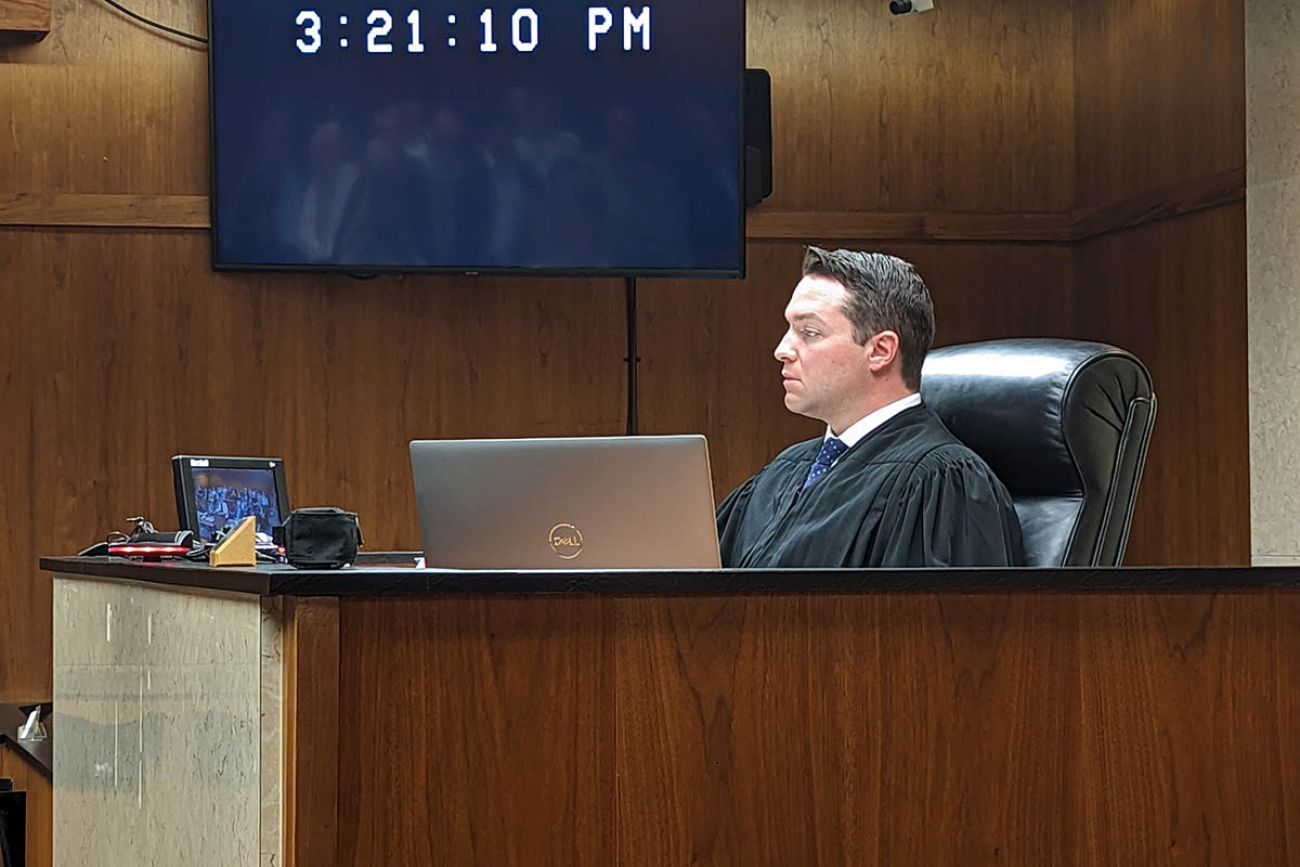 Oakland County Judge Jacob Cunningham is expected to make a decision Friday. (Bridge photo by Lauren Gibbons)
Michigan Government
Court ruling likely Friday on whether Michigan's abortion ban can be enforced
Judge weighs request for preliminary injunction barring local prosecutors from enforcing a 1931 state abortion ban
Some prosecutors say the law took effect once the Supreme Court overturned Roe v. Wade
Final decision expected in court at 10:30 a.m. Friday
---
Aug. 19: Judge: Michigan abortion ban 'dangerous,' old law unenforceable amid suits
An Oakland County judge is expected to rule Friday on whether to bar county prosecutors from enforcing Michigan's decades-old abortion ban while legal challenges continue.
Testimony wrapped Thursday in a hearing before Oakland County Circuit Judge Jacob Cunningham, who is considering a request from Gov. Gretchen Whitmer's legal team to issue a preliminary injunction to block enforcement of Michigan's 1931 ban on abortion.
The statute makes performing abortion a felony in Michigan, with an exception for life-threatening pregnancies. It was due to take effect after the U.S. Supreme Court overturned Roe v. Wade in June, eliminating a nearly 50-year federal right to an abortion.
Related:
Cunningham told the court Thursday afternoon he would announce his decision at 10:30 a.m. Friday. He has extended a temporary order preventing prosecutions of abortion for the duration of this week's proceedings.
Whitmer's attorneys and Democratic prosecutors argued that allowing local prosecutors to set rules on enforcement while legal challenges are pending would sow confusion and cause abortion providers to halt services.
If doctors are so confused by the statute that they hesitate to provide reproductive care, "we're treading on other rights and privileges that women are entitled to," Chief Deputy Attorney General Christina Grossi said in closing arguments.
Grossi said a preliminary injunction would preserve the status quo: "It's a pause so no irreparable harm happens while the court gives due consideration to these weighty issues before us," she said.
Lawyers representing Republican prosecutors in Kent, Jackson and Macomb counties say they should have been able to enforce the ban immediately after Roe was struck down.
"I find it astounding that they say, 'We want to preserve the status quo,'" attorney David Kallman said, referring to the arguments from Whitmer's team.
"No, they don't, they want you to accept their request for a new constitutional right. Legally, there's no basis to it."
The court heard from five witnesses over the course of the proceedings, including Michigan's Chief Medical Executive Natasha Bagdasarian and three doctors who have worked with pregnant patients.
Bagdasarian said Wednesday the state has received questions from doctors about what is legal, noting that such guidance would be difficult if enforcement is left to local prosecutors.
On Wednesday, Lisa Harris, an obstetrician gynecologist and professor at the University of Michigan, said the ambiguity of the 1931 law makes it a "difficult law for doctors to follow" due to a lack of clear indicators of how high the risk of dying needs to be to meet the ban's exception.
She said there's ambiguity in what counsel medical practitioners should give to people with conditions like heart disease, lung disease or cancer that could significantly complicate pregnancies or put their health at risk.
There is no such ambiguity, a doctor testified on behalf of Republican prosecutors Thursday.
Gianina Cazan-London, who primarily works with high-risk pregnant patients but chooses not to perform abortions, said it's clear when pregnancies have life-threatening consequences. Procedures like resolving an ectopic pregnancy — when a fertilized egg grows outside the main cavity of a uterus and can easily rupture — are clearly medical treatments to save a mother's life and would be protected under the 1931 law, Cazan-London said.
Another witness called by defendants, Priscilla Coleman, told the court Thursday her research at Bowling Green State University found correlations between abortion and negative mental health outcomes. Many experts in the field have challenged the validity of her claims.
Whitmer's legal challenge to the 1931 law began in Oakland County. But she has asked the Michigan Supreme Court to step in and fast-track a decision on whether the current language in the state constitution provides a right to abortion in Michigan.
The high court is in summer recess and has not yet indicated whether it plans to consider Whitmer's request. A separate challenge to the 1931 law was filed by Planned Parenthood of Michigan and remains pending in the state courts.
Meanwhile, state elections officials on Aug. 31 are set to determine whether a initiative to enshrine abortion rights into the state constitution will make it onto the Nov. 8 ballot.
Under the initiative, abortion would be allowed up to fetal viability, at which point the procedures could be regulated by the state.
Abortion rights supporters submitted 753,759 signatures for the ballot measure, more than double the amount of signatures required and the most ever submitted for a ballot proposal in state history. The coalition behind the measure includes the ACLU of Michigan, Planned Parenthood Advocates of Michigan and Michigan Voices, a progressive nonprofit.
Anti-abortion groups, such as Michigan Catholic dioceses, Republicans and others, have labeled the proposed amendment as an "anything goes" proposal that goes beyond legalizing abortion in Michigan.
In a 152-page challenge filed with the state on Thursday, the Counsel for Citizens to Support MI Women and Children urged the bipartisan Board of State Canvassers to reject the abortion rights petition because it "seeks to insert nonexistent words into the Michigan Constitution."
Canvassers gave "conditional" approval to the form of the petition in March, asking organizers to remove one unnecessary word — a "the" — before collecting signatures. The revised version that was circulated introduced a formatting error that caused "at least 60 changes that were never" approved by the board, according to the challenge.
Mark Brewer, an attorney for Reproductive Freedom for All ballot committee, dismissed the complaint as a "frivolous" attempt to "create confusion and try to slow the process down."
There are "no fake words" in the petition, Brewer said, arguing any formatting dispute is a "ministerial, clerical" issue and "not the basis to deny three-quarters of a million people their right to put something on the ballot."
We're not just a news organization, we're also your neighbors
We've been there for you with daily Michigan COVID-19 news; reporting on the emergence of the virus, daily numbers with our tracker and dashboard, exploding unemployment, and we finally were able to report on mass vaccine distribution. We report because the news impacts all of us. Will you please support our nonprofit newsroom?