Dana Nessel: I'll fight for Biden vaccine mandate in court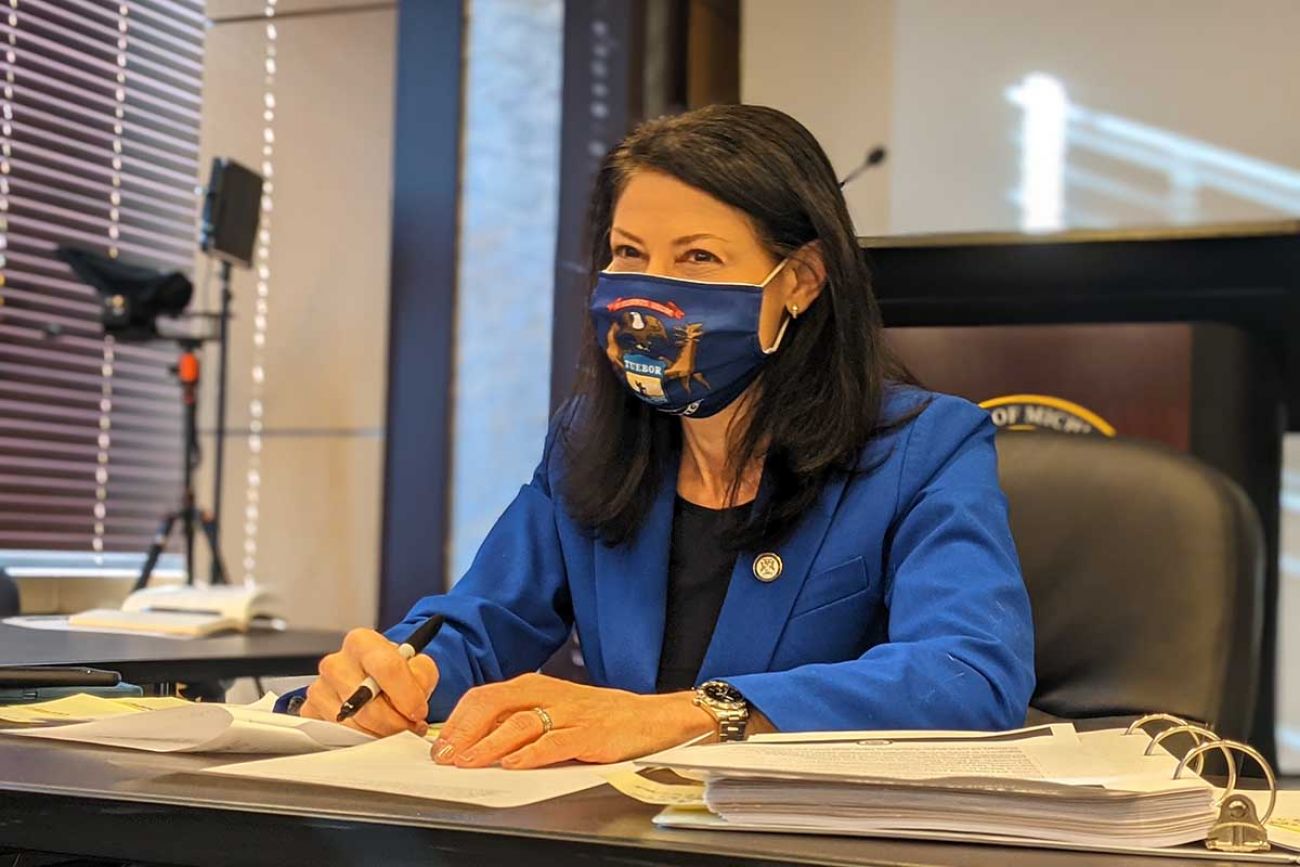 First-term Democratic Attorney General Dana Nessel says she would join a court fight to protect President Joe Biden's vaccine mandate. (Bridge photo)
If fellow Democratic attorneys general craft a legal briefing, Nessel will sign on to vouch for the policy before the nation's highest court, she said.
Related:
"If it's my job to ensure the health, safety and welfare of the residents of this state, then I think everyone ought to get vaccinated unless they have a medical reason that prevents them from doing so," Nessel told reporters.
"In part, of course, it's to protect those who are unable to get vaccinated. I don't think we'd have delta or we'd have omicron if more people had just gotten vaccinated when they had the opportunity to do so, at least here in the United States where it was readily available."
Republican attorneys general in more than a dozen other states are leading the fight against Biden's vaccine-or-testing mandate, and lower courts had initially blocked implementation.
But in a late Friday ruling, a U.S. Sixth Circuit Court of Appeals panel reinstated the mandate. Plaintiffs immediately appealed to the Supreme Court, where justices on Monday ordered legal brief responses by Dec. 30.
If the mandate remains in place, the Occupational Health and Safety Administration said it will begin enforcement Jan. 10. But the agency has indicated it will not issue citations for testing protocol violations until Feb. 9, so long as employers are making a "good faith" effort to comply.
Gov. Gretchen Whitmer, a Democrat, has acknowledged the Biden policy could be "problematic" for employers, including state government.
Michigan's Republican-led Legislature has backed a lawsuit seeking to block the vaccine-or-testing mandate, calling proposed enforcement "an "unprecedented intrusion into the sovereign police power historically reserved to the state."
But GOP attorneys general who have challenged the mandates are "irresponsible and reckless," Nessel argued Monday.
"I am not challenging the mandate because I support it," she said. "To me, the fastest track to normalcy is for everyone who was medically eligible to become vaccinated and to do so immediately."
As another year marked by the COVID-19 pandemic neared a close, Nessel sat down with state Capitol reporters from Bridge Michigan and other outlets to discuss her work in 2021 and the biggest issues her office may confront in 2022.
Read on for highlights from the roundtable, including Nessel's comments on the future of legal abortion access in Michigan, the fate of Enbridge's Line 5 dual oil pipelines and the recent Oxford school shooting.
Her answers have been edited for length and clarity.
Oxford Community Schools declined your offer to lead an independent review of the recent shooting but have instead pledged to hire a third-party firm of their own. Will the Department of Attorney General still investigate?
I still believe that as the top law enforcement official in the state, that when you have an incident like that, it's really our obligation to conduct a review at least so that we can make proper recommendations as to what went wrong and apply that to best practices for the rest of the state.
So here's what our plan is at this point: Firstly, to review everything that (Oakland County Prosecutor) Karen McDonald's office has in regard to the criminal investigation, which they've agreed to share with us, which will be enlightening, I think, and will give us a lot of information.
But in addition to that, we have meetings set up with some of the survivors and students that attend Oxford. With parents. We have a meeting set up with educators. Obviously, we've been talking to (State Superintendent Michael) Rice and many others. We're going to be reviewing some of the practices that are currently in place, some of the recommended practices from the 2018 School Safety Commission, and trying to learn from this experience and to find out how we can better protect students all around the state.
So it's not necessarily a matter of investigating Oxford Community Schools itself as to what they did wrong. …But what I hope to do is to learn as much about this incident as possible, not to be punitive to Oxford Community Schools, but rather to utilize what we know happened there, so we can formulate best practices to be used all around the state.
But also, what are laws that can be put in place? And working with the Legislature, perhaps to enact new legislation to directly address some of the issues that possibly could have prevented what occurred in Oxford. I will say of course, I've been very vocal about some items of legislation that I think are important, especially the safe and secure gun storage legislation that's been proposed federally by (U.S. Rep. Elissa) Slotkin. And also at the state level, Sen. Rosemary Bayer has some legislation I'm a strong supporter of.
Michigan's GOP-led Senate Oversight Committee in June asked you to investigate individuals making false claims about the 2020 election for "personal gain" or profit. What is the status of that investigation?
We took that case in and there were a couple different people in particular that the Oversight Committee was interested in us investigating. Due to the fact that shortly thereafter, one of them (attorney Matthew DePerno) declared his intention to run for attorney general, I decided it was inappropriate for me to have anything to do with it. So we built what's known as an isolation wall. It's not a conflict wall, because we don't know if there's a conflict yet. But basically, to remove me from anywhere in the chain of command for knowing what is happening on that.
Now, I will say this: In the event that those cases move forward, if they involve an opponent of mine, I certainly will not be making any decisions at all as to whether or not somebody has charged or what the charging would be. And likely I would be bringing in an outside special counsel that I would appoint, because that just would be inappropriate.
My understanding is we're not at that point yet. All I know is that there's an ongoing investigation. And you know, if and when it gets to that point, then I will not be making that decision , and no one in my chain of command will be making that decision, because I don't think it should be somebody that works directly for me making that decision. It should be somebody who's completely independent.
Enbridge is seeking to move your Line 5 shutdown lawsuit from state court to federal court. Did you expect that? How will it shape the lawsuit?
I continue to think that every day that goes by where we don't have a catastrophe is a day that we're very lucky. So, you know, I have not changed my mind at all about Line 5 and what needs to happen, and the greater importance of decommissioning the line.
In terms of the removal, it's just total gamesmanship and on behalf of Enbridge. The fact is that, you know, Enbridge was served with the original complaint in Nestle v. Enbridge on July 12, 2019. So, under the law, they had 30 days from that date to remove (the case to federal court). So that would have been Aug. 12 of 2019. But instead of abiding by the 30-day rule, it's been 887 days between July 12, 2019 and Dec. 15 of 2021 when they removed.
I find it to be outrageous. I find it to be sanctionable.
If the U.S. Supreme Court overturns Roe v. Wade, what happens in Michigan, which has an old law on the books banning abortion? Do you expect it to be a campaign issue as you seek re-election in 2022?
If it's not (a campaign issue), it should be.
I have committed to not using the resources of this office to second guess medical procedures that are between a physician and his or her patient. And there are a litany of laws that are routinely enforced or not enforced by this department, depending on who the individual is who holds the office.
I have been very clear that I think it jeopardizes women's health, safety and welfare by busting down the doors of their physicians and inspecting what medical procedures they have or have not had.
If you take a look at the (existing Michigan) law, I think it lends itself to not just a physician being prosecuted, but also a woman who administers that medication to herself.
I think it's going to create a situation where wealthy women are able to travel a state to procure abortion services. And poor women, especially for women who live in rural areas, women of color, many of them will attempt to self abort. And many of them will attempt to procure services from people that are not qualified to perform these services. And many women will die.
That scares me a lot.
Only donate if we've informed you about important Michigan issues
See what new members are saying about why they donated to Bridge Michigan:
"In order for this information to be accurate and unbiased it must be underwritten by its readers, not by special interests." - Larry S.
"Not many other media sources report on the topics Bridge does." - Susan B.
"Your journalism is outstanding and rare these days." - Mark S.
If you want to ensure the future of nonpartisan, nonprofit Michigan journalism, please become a member today. You, too, will be asked why you donated and maybe we'll feature your quote next time!