Jocelyn Benson: 'We've delivered on our promises.' Republicans aren't so sure.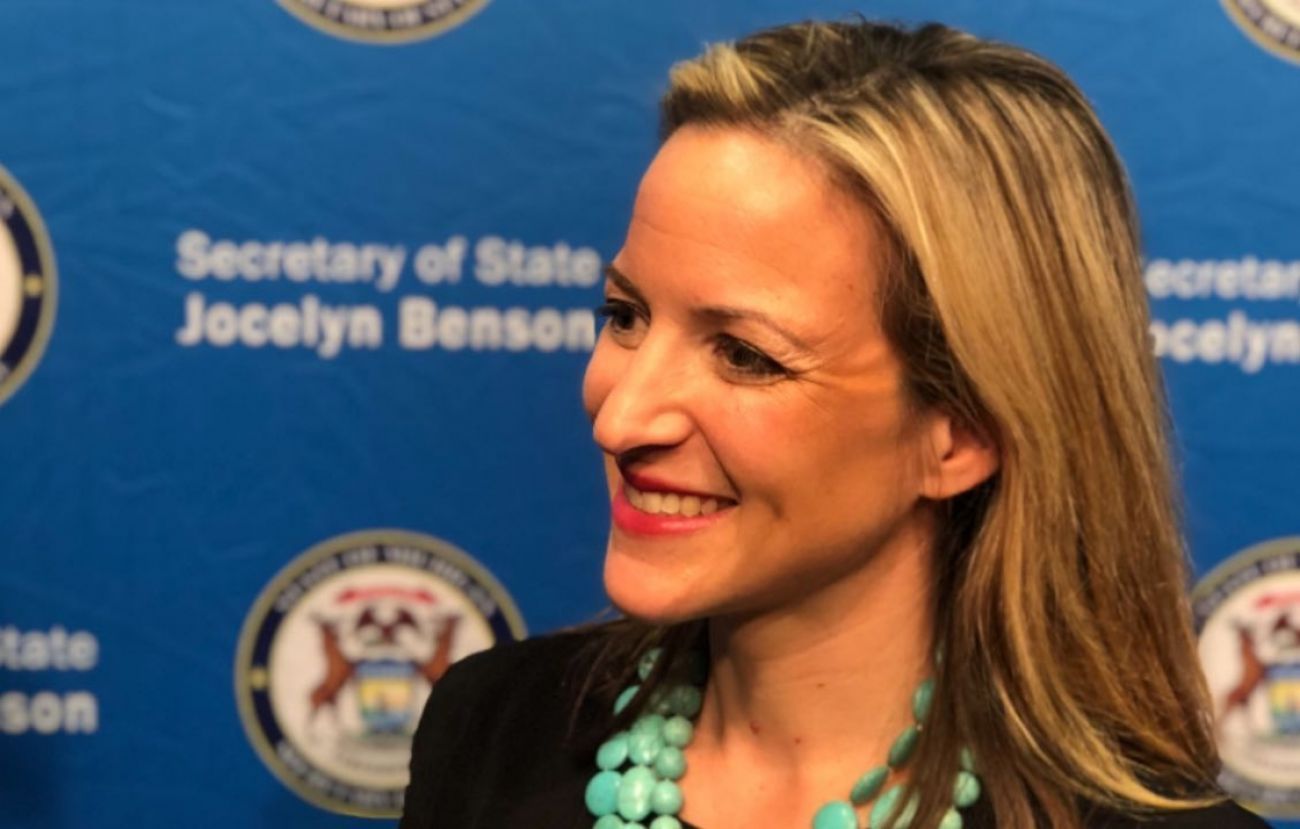 Jocelyn Benson, 45, of Detroit is a Democrat but says she's "above partisanship" as Michigan secretary of state. Her decisions have prompted widespread criticism by Republicans.
Michigan Government
Jocelyn Benson: 'We've delivered on our promises.' Republicans aren't so sure.
Jocelyn Benson wrote a book on secretaries of state across the nation. But she couldn't have predicted how a pandemic and the staying power of election conspiracies would impact her own tenure.
The former Wayne State University Law School dean ran for secretary of state in 2010, losing to eventual two-term winner Ruth Johnson. Benson, a Democrat, won in 2018 on promises to shorten wait times at branch offices, expand access to voting and improve transparency.
Like other officials elected in 2018, Benson's term has been shaped by the COVID pandemic. She switched the state's 131 branches to an appointment-based system, oversaw the first statewide election with no-reason absentee balloting and spent the past two years debunking claims the 2020 election was stolen.
Related:
Benson stands behind her record despite withering criticism — and says democracy itself is on the ballot this fall.
"We've delivered on our promises from 2018," said Benson, 45, of Detroit. "When you're talking about someone who's serving as the state's chief election officer, you need someone who will be above partisanship and who will respect the will of the voters. I've done that."
Challenger Kristina Karamo, a Republican, continues to question the legitimacy of 2020 results, calling Benson an "authoritarian" and claiming without proof that Benson's administration engaged in criminal activity related to the handling of the 2020 election.
Benson and Karamo will face off in the Nov. 8 election. Green Party candidate Larry Hutchinson Jr., Libertarian candidate Gregory Stempfle and U.S. Taxpayers Party candidate Christine Schwartz are also on the ballot for secretary of state.
Bridge Michigan spoke with Benson and reviewed her policy platform from the 2018 election cycle. Here's a look at what she promised and how she's delivered.
30-minute wait times
In 2018, Benson's marquee campaign promise was to reduce long waits at Secretary of State branch offices for vehicle registration, driver licenses and the like to 30 minutes or less.
A few months after taking office, she conceded it could take a while to get there, blaming what she called a "broken system."
Now, Benson maintains she's fulfilled that promise, although criticism about long waits for service has plagued her for four years.
Benson's strategy has been to alleviate pressure on branches by moving more basic transactions online, through the mail, at mobile offices or self-service kiosks. The department has partnered with major grocery chains to get more kiosks in stores.
For in-person service, branches have shifted to an appointment-based system, where residents either schedule their appointment in advance or are assigned an appointment at the door when they arrive at a branch.
This year, secretary of state records show visits to branch offices are typically completed in less than 20 minutes, and the percentage of transactions that are conducted online or at self-service stations has increased to 60 percent from 28 percent in 2018.
It was a rocky road to get to that point. During the pandemic, Michigan drivers experienced significant backlogs. Prior to 2020, data analyzed by Bridge showed wait times at many branches were the highest they'd been in years.
The appointment-only system initially saw residents in major metropolitan areas waiting months for service and was unpopular among Republicans and some Democrats.
Benson said the rollout of the appointment system was complicated by a backlog after legislation extended deadlines for driver license renewals during the pandemic, state ID and vehicle registrations through December 2020. The department's initial response was extending hours and adding additional appointments to the system.
The department is still working on public awareness for reserving appointments, she said, noting a quarter of appointment slots are open for walk-ups every day. Benson maintains that her office did the best it could without additional support from the Legislature.
"In many ways, we have eliminated the wait," she said. "I go to branch offices today, I see happier staff, happier customers, residents coming in, and numbers and data that aligns with our goals of efficient services and convenient access points for every citizen."
Many of Benson's critics don't see it that way.
Rep. Beau LaFave, R-Iron Mountain, unsuccessfully sought the Republican nomination for secretary of state. He said it's still tough to get basic services such as license renewals in a timely manner.
"Our current secretary wanted to make an appointment forever and ban walk-in appointments, and that polls very poorly in the state of Michigan," LaFave said. "We should be talking about customer service and what our government can do to make it easier for you to get your driver's license."
Expanding absentee voting access
Benson strongly supported the 2018 proposal that ushered in no-reason absentee voting, same-day registration and other election-related reforms and pledged as a candidate to effectively implement the changes while safeguarding election security.
In 2020, she used $4.2 million in federal funding to preemptively mail absentee ballot applications to voters.
Three factors went into that decision, she said: It was the first major election when no-reason absentee voting was allowed, clerks in some counties were already mulling doing something similar locally and the pandemic was still raging, meaning many voters would likely still be uncomfortable voting in-person.
"It became clear to me that especially in that moment, the first major election post-2018…we needed to ensure that it wasn't just voters living in counties where clerks were sending out the request forms that would have access to this information," she said.
The decision sparked outcry from Republicans and prompted allegations that Benson jeopardized election security. Complaints poured in about ballot applications going to long-dead voters or wrong addresses.
Johnson, Benson's predecessor and chair of the Senate Elections Committee, wrote in a Detroit News opinion column that the actions were "contrary to safe and secure elections in Michigan."
Benson's move survived a court challenge and sparked similar initiatives in other states.
In 2020, 57 percent of voters opted to vote absentee, contributing to record-high voter turnout in Michigan. Records show, however, that Democrats are far more likely to vote absentee than Republicans, in part because of criticism of the practice from then-President Donald Trump.
That led to controversy when in-person results, often released first on Election Night, showed Republicans ahead. Later, those leads were erased when absentee ballot totals, which take longer to process, were released.
This year, Benson opted against sending out absentee ballot applications unsolicited. That was partly because local clerks were already sending them out and because the pandemic has waned.
"My job remains the same: To make sure voters know they've got a right to vote absentee and make sure they know how to exercise that right," she said.
Judges have struck down numerous efforts by Benson to tweak election laws or regulations, including her bids to ban the open carrying of firearms in 2020 at polls and allow clerks to count ballots postmarked by Election Day even if they arrived late.
Last year, a judge overturned a Benson-backed rule that would have instructed local clerks to "begin with the presumption that the voter's signature is his or her genuine, valid signature" when reviewing absentee ballots.
And last week, Benson's efforts to regulate the behavior of election challengers and poll watchers were struck down by another judge, who ruled she exceeded her authority with the rules, which included bans on cell phones and requirements that they be credentialed by her office.
Benson is appealing the decision. Her opponent, Karamo, said it's another example that Benson "can't follow the law,"
Election administration
Benson's handling of the aftermath of the 2020 presidential election catapulted her into the national spotlight.
Michigan has one of the most decentralized elections systems in the country, and more than 1,000 local clerks oversee ballot tabulations. The secretary of state and the Bureau of Elections provide administrative support for election officials all over the state and maintain the Qualified Voter File, the state's list of registered voters.
Numerous audits, investigations and court rulings have upheld the results of the 2020 election, but several claims arose questioning the department's involvement in the 2020 contest, including the handling of removing dead voters' names from the Qualified Voter File and the accuracy of risk limiting audits conducted after the election.
A review by the state Auditor General's Office found few instances of duplicate or dead voters, concluding the state's voting roll and post-election audit procedures were "sufficient" to ensure election integrity.
The audit recommended the department take additional steps to ensure the Qualified Voter File is routinely updated and improve oversight of local clerks tasked with post-election audits, both of which the department agreed with.
Benson said she's had to "battle through a cloud of lies and misinformation." She said she's proud that the highest turnout election in state history went relatively smoothly and that efforts to undermine the results were successfully fended off.
"Through it all, the truth has remained," she said. "The facts and the data are squarely on our side, and the results that we've delivered are clear."
Karamo, her opponent, maintains that Benson was not transparent about the election process and did not take criticisms and concerns about the proceedings seriously.
Redistricting
Prior to her first term, Benson supported the Voters Not Politicians ballot initiative and pledged to oversee the process "in a way that invites citizens into it, actively promotes their involvement and encourages citizens all across the state from every demographic to apply and be a part of a historic opportunity."
She'd previously advocated for citizen-led redistricting and in 2011 ran a nonpartisan Citizens Redistricting Competition with former Republican U.S. Rep. Joe Schwarz that encouraged voters to draw their own districts.
Benson channeled that energy into implementing what became the Michigan Independent Citizens Redistricting Commission, going beyond constitutional requirements to try and get more people involved in the process. Her office was required to mail out applications to at least 10,000 randomly selected voters — the department ultimately mailed out 250,000.
Once the commission got off the ground, day-to-day functions of the independent panel were no longer under Benson's purview, although the Secretary of State's office still provides auxiliary support.
Campaign finance and transparency
In 2018, Benson said she would be a "champion" of transparency and disclosure, and supported having more frequent disclosure of money in the political process: "I think people have the right to know when money is being spent to influence their vote or influence their elected officials."
Benson has voluntarily disclosed her own finances. She maintains a transparency webpage on the Secretary of State website, where she posts FOIA resources and her calendar.
No major changes to how campaign finance reporting are in the works.
Goals
Benson's goal if re-elected to another term is to further increase the amount of Secretary of State transactions happening outside of branch offices from 60 to 75 percent.
One service she'd like to see made available online is title transfers, as other states like Illinois have done — she said 70 percent of the transactions currently happening in branches are title transfers alone. Another priority is increasing the number of mobile offices from three to seven.
Benson also would like to spend more time meeting with residents directly to discuss the changes that have happened since she took office, as well as touring low-turnout areas of the state to answer questions about election procedures and learn what might be done to make voting more accessible.
And she wants to work on relationships within the Legislature, which have often been tense over the course of her first term.
A handful of reforms supported by Benson, such as multi-year license plates, have been approved by the Legislature. Others have proved harder to get through — although modest changes that will allow some pre-processing of ballots recently passed the Legislature, the measures are too little, too late for local clerks who have been asking for relief for years, she said.
Only donate if we've informed you about important Michigan issues
See what new members are saying about why they donated to Bridge Michigan:
"In order for this information to be accurate and unbiased it must be underwritten by its readers, not by special interests." - Larry S.
"Not many other media sources report on the topics Bridge does." - Susan B.
"Your journalism is outstanding and rare these days." - Mark S.
If you want to ensure the future of nonpartisan, nonprofit Michigan journalism, please become a member today. You, too, will be asked why you donated and maybe we'll feature your quote next time!