Kristina Karamo: Trump favorite. God-fearing single mom. Threat to democracy?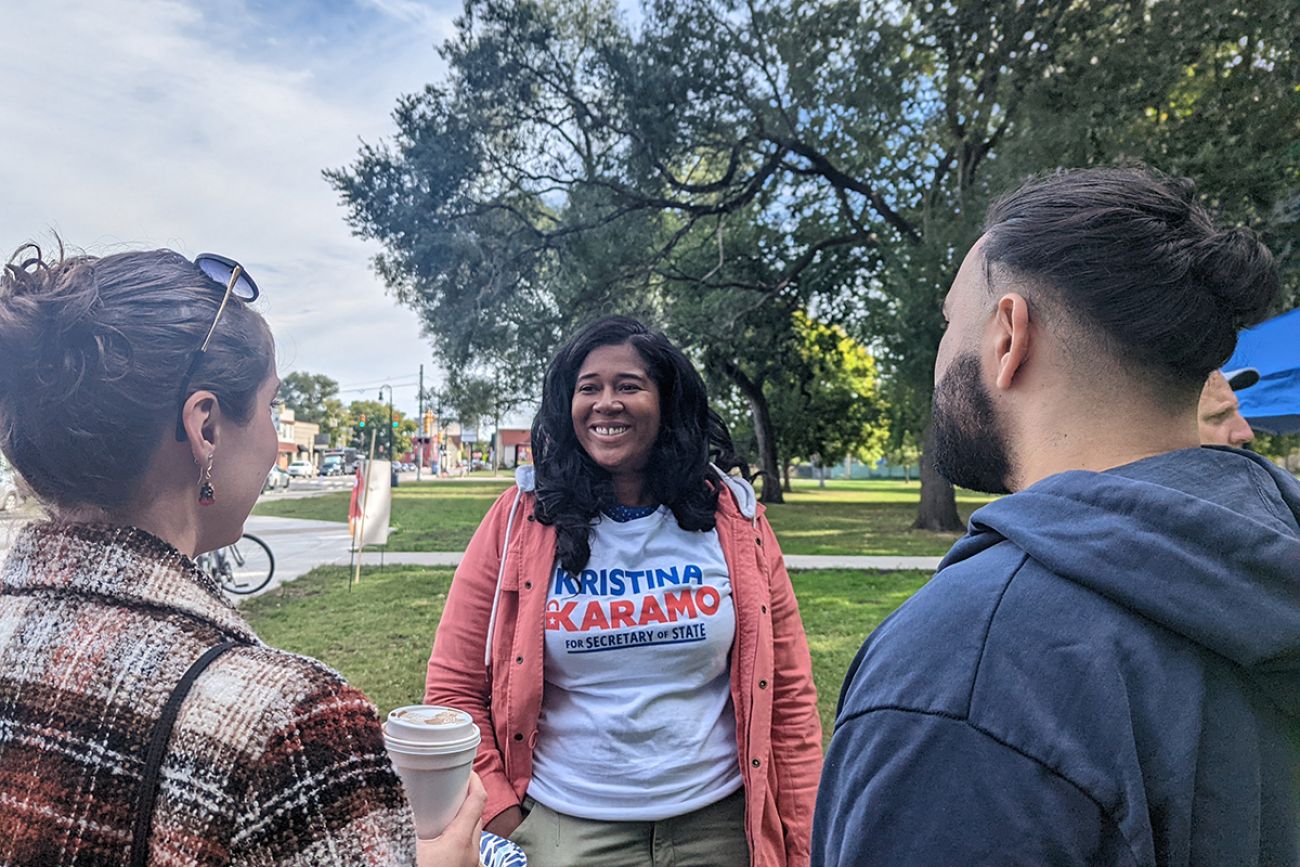 Kristina Karamo, a 37-year-old single mom and community college instructor from Oak Park, is the Republican nominee for Michigan Secretary of State. (Bridge photo by Lauren Gibbons)
Michigan Government
Kristina Karamo: Trump favorite. God-fearing single mom. Threat to democracy?
Kristina Karamo catapulted to prominence in conservative circles after claiming she witnessed voter fraud in 2020
The claims have been widely debunked, but Karamo says she has 'major questions' about whether Joe Biden won the 2020 election
She will 'not apologize for being a Christian' and says controversial comments on abortion, LGBTQ people have no bearing on candidacy
---
In 2014, Kristina Karamo had no ambitions to run for office. She was trying to start over.
Escaping a marriage she characterized as "psychologically and emotionally abusive," Karamo had her children, education and faith — but not much else.
"I went without a car for two years," Karamo, 37, told Bridge Michigan. "I felt what it was like to be just really down."
"Here I am: I'm 28 years old, I have two daughters, I'm a single mom, and now I have to pick up the pieces of my life," she continued. "It was not easy. However, you really don't have a choice. And so I began."
Related:
Karamo made ends meet. She's been a sales clerk, a trivia host, a substitute teacher, a conflict resolution trainer, community college instructor and more while living in Oak Park with extended family. On the side, she formed a public persona, recording videos and podcasts that, among other things, likened abortion to child sacrifice, claimed having sex outside of a heterosexual marriage warrants "eternal damnation" and referred to pop stars and the Democratic Party's agenda as "Satanic."
Flash forward to today, and Karamo is the Republican Party nominee for secretary of state. She gained a following in conservative circles and became a favorite of President Donald Trump after claiming she witnessed fraud in Detroit working as a poll challenger in 2020.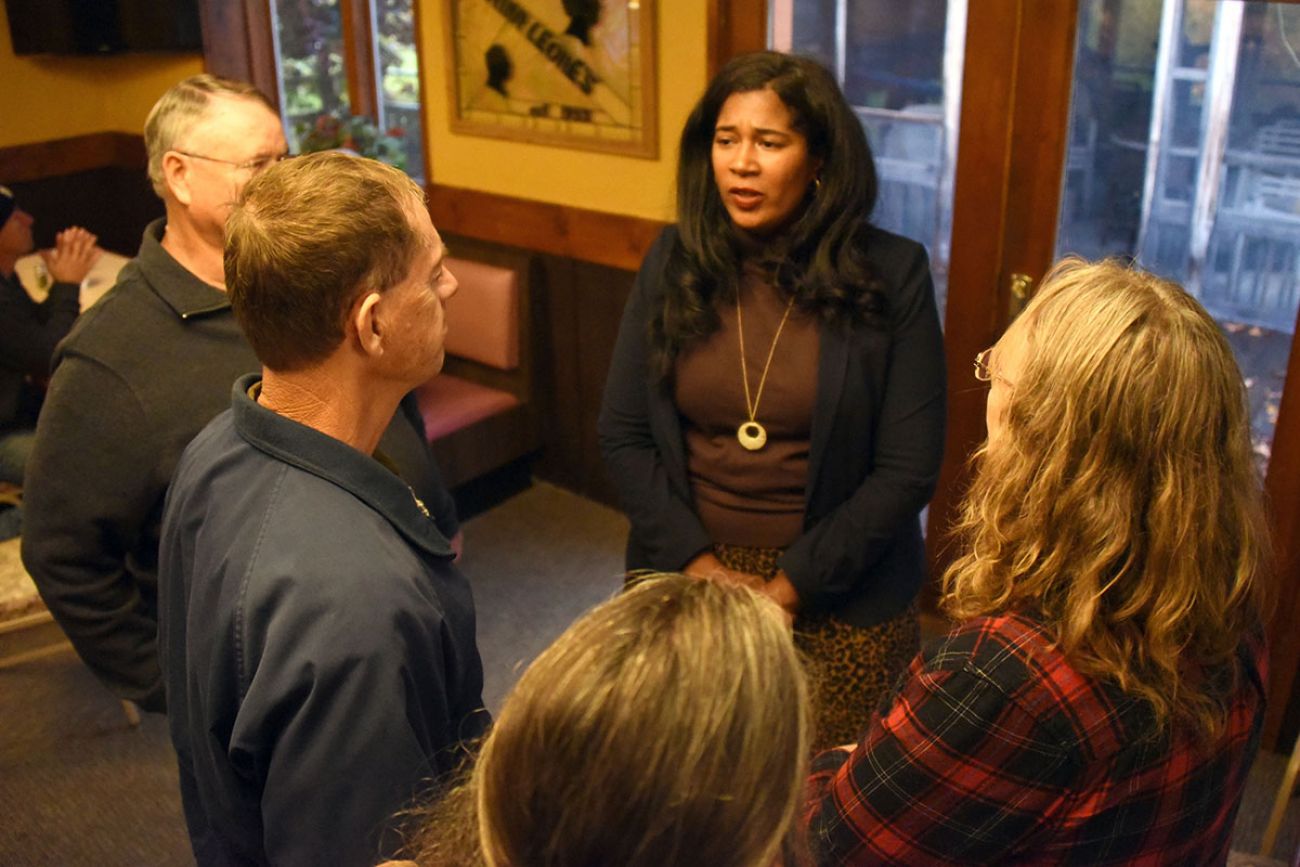 Kristina Karamo speaks to voters Wednesday in Gaylord in northern Michigan. The Republican nominee for Michigan secretary of state is waging an unconventional, uphill campaign against incumbent Jocelyn Benson. (Bridge photo by John Russell)
Karamo views herself as a truth seeker who will uncover corruption and challenge anyone who stands in her way.
Detractors say she is a threat to democracy and fear that, if elected as Michigan's top elections official, could subvert the will of voters if her preferred candidates don't win.
"Kristina Karamo only exists as a political personality because of the delusional fantasy about Donald Trump and the 2020 election being stolen," said Jeff Timmer, a former chair of the Michigan Republican Party who has become an outspoken critic of Trump-aligned Republicans.
"This isn't a difference of opinion. This is a difference between reality and fantasy," Timmer continued. "This is a difference between truth and a lie."
Karamo is among a handful of Trump-backed "America First" candidates for secretary of state nationwide. Voting advocates fear they could make it harder to vote, delay certification of results by conducting numerous audits or even refuse to certify results — especially if Trump runs for re-election and loses.
Throughout her uphill campaign against incumbent Secretary of State Jocelyn Benson, Karamo has mostly avoided traditional media and is trailing significantly in most polls.
She opened up over a nearly two-hour interview with Bridge Michigan, discussing her improbable path to the Nov. 8 ballot and fundamental belief that this is something she has to do.
"This is a matter of voting rights," she said. "I'm not fighting for party. I'm not some kind of Republican sycophant…I just want to fight for the people of Michigan."
She's promising to shore up election security, launch a "forensic audit" of the 2020 election and improve accessibility at 131 branch offices that handle vehicle registrations, driver license renewals and more.
People 'want to hear the other side'
Many politicians call themselves outsiders, pointing to their lack of political experience as a qualification for office. Many have money, powerful families or political influence to fall back on or prop up their campaigns.
Karamo has none of those things. Before this year, she lived in obscurity, volunteering here and there for conservative causes and running unsuccessfully for Oakland County commissioner. Most of her time was spent supporting two kids after splitting from her ex-husband.
The experience "created a person who was way more empathetic of how people could find themselves in these destitute situations," she said.
She filed for divorce in Oakland County in 2014 and was awarded physical custody.
But after she began her campaign in 2021, her ex-husband, who lives in Florida, sought more parenting time. He alleged in Oakland County court papers that she once attempted to crash a car he was driving with their two children and had threatened to kill them or herself. No evidence was provided to support the allegation, which was reported by the website Jezebel and deemed "categorically false" by Kristina Karamo.
"I'm just kind of like, 'Oh my God, here he goes again,'" Karamo said. "I thought I was free of this man."
"I don't want to get into my private life, but when some accusation so evil and horrible is made about a person, that is very difficult," she said.
Her ex-husband, Adom Karamo, did not respond to requests for comment from Bridge.
After stints at several jobs, Karamo is now a full-time candidate "using all her savings to fund her personal life while on the campaign trail," her campaign said.
Karamo's dual passions for public speaking and evangelizing have informed her approach to running for office. She has a degree in communications from Oakland University and later obtained a master's in Christian apologetics from Biola University in California. The discipline is rooted in debate, intended to provide arguments to support Christianity to skeptics.
She is popular at conservative rallies, but she said her favorite campaign events involve seeking out voters who don't traditionally vote Republican and trying to find common ground. Karamo frequently campaigns in Detroit, a city so reliably Democratic she has virtually no chance of carrying it in November.
"I've talked to a lot of people who are saying they're tired of just hearing one party, they want to hear the other side," she said. "So being a Black woman, I feel really honored to be in this position to share the conservative message that a lot of people want to hear."
During a recent outdoor event in Detroit's Mexicantown neighborhood, Karamo spoke with supporters and sought out debates with voters including Detroit resident Krystyna Yepez.
Yepez is a self-described "25 percent socialist, 25 percent communist, 25 percent anarchist, 25 percent Green Party." She said she stopped by for the free coffee and almost left when she learned Karamo was a Republican.
But their conversation at the park had Yepez convinced, noting Karamo didn't fit her notion of what a conservative is. She left the event with a Kristina Karamo shirt tied to her bike.
"Hear ye, hear ye: This is going to be the first time in my life that I vote for a Republican," Yepez told Bridge.
'I'm not going to apologize'
Another part of Karamo's past — a trail of videos, podcasts and blog posts — is fueling campaign ads against her from groups like iVote, End Citizens United and the Michigan Democratic Party.
They have plenty of material.
Karamo identifies as a non-denominational Christian and for years prior to her candidacy publicly documented her thoughts on Christianity, culture and politics that many observers have deemed extreme.
In one episode of her dormant podcast "It's Solid Food," released in July 2020, Karamo said the United States would face judgment for abortion and likened people who support abortion access to those in ancient societies who sacrificed children.
In an April 2019 blog post reported by CNN, she referred to transgender people as "mentally ill adults playing dress up." She also claimed popular culture normalizing people living together before marriage opens the door to "normalize pedophilia."
Karamo told Bridge that the past comments don't have any bearing on how she would conduct herself in office, and said her personal views on what constitutes appropriate behavior doesn't mean she doesn't love people who have different beliefs.
"I'm not going to apologize for being a Christian, I'm just not," she said, later noting she will respect preferred names and pronouns "if somebody chooses to identify a particular way."
But she said she has "concerns" about Benson's policy of allowing transgender or nonbinary residents to choose their gender on state-issued driver licenses.
For Jay Dunn, a 38-year-old man who transitioned in his late 30s and leans conservative on many policy issues, it wouldn't matter if Karamo checked every other box on issues he supports. He won't support an anti-trans candidate.
"I'm not going to knowingly vote for somebody who doesn't believe in me," said Dunn, a west Michigan resident who voted for Donald Trump for president in 2016 but didn't support either him or Biden in 2020.
Claims that launched a candidacy
In December 2020, about an hour and 45 minutes into an hours-long legislative hearing about the 2020 election, state Sen. Ed McBroom called "Kristina Care-ah-mo" up to speak, apologizing if he'd mispronounced her name.
McBroom, R-Vulcan, was tasked with diving into claims that fraud occurred in the 2020 election as head of the Senate Oversight Committee. He watched as Karamo came forward, wearing a red dress and a large cross around her neck.
"It's Kah-ra-mo," she said curtly before sitting down and diving into what she believed she saw while working as a poll challenger in Detroit.
Kristina Karamo speaks to the Michigan Senate Oversight Committee in December 2020, telling lawmakers she witnessed activity at Detroit's TCF Center that she believed was fraudulent. The legislative investigation ultimately found no evidence of fraud. (Screenshot)
It was Karamo's first major foray into the state political sphere, when she brought forward a story she wrote in an affidavit on a form circulated by the Trump campaign and has continued to share ever since.
Among other things, Karamo has claimed she saw a ballot in which a voter had filled out both straight party Republican and straight party Democrat bubbles, but it was counted for Democrats when a supervisor told an election worker to "push it through."
Chris Thomas served as Michigan's elections director for decades, working under both Republican and Democratic administrations. He was in Detroit on election night, helping oversee the city's vote-counting operations.
Karamo didn't see fraud, and to continue to claim otherwise is "magical thinking," he said.
"Right from the get-go, she got her 30 seconds of fame on something that wasn't even true," Thomas said. "I can't imagine how she'd run that department when she has shown nothing but the ability to work off of conspiracies that have no basis in fact."
"Putting it through" in the context Karamo described would mean the ballot was sent back through the machine unaltered and counted as an overvote, not going to Biden or Trump, Thomas said, adding that insinuations that there were other widespread errors have not been substantiated.
A lengthy report authored by McBroom and adopted by the Republican-led Senate Oversight Committee capped a nearly eight-month investigation into the 2020 election by concluding there was no evidence of widespread fraud in Michigan, and people should be confident in the results.
Karamo told Bridge the findings from fellow Republicans "show us how deep the corruption is." She continues to have "major questions" about whether Biden won in 2020.
Lawmakers who conducted the committee investigation are "a joke," Karamo said. Risk-limiting audits were "bogus" and a "waste of time" that she claimed don't show procedure was properly followed. Probes by the secretary of state and attorney general's office shouldn't be trusted, Karamo alleged, because the people she and others believe have done something illegal "are allowed to check themselves."
"I know what I saw," Karamo said.
Deep divides over 2020
Ahead of the 2020 election, Benson was mainly focused on making sure everything ran smoothly despite a pandemic and a surge in absentee voting.
In the aftermath, Benson said she kept waking up thinking that day would finally be when people stopped trying to deny "what was unequivocally clear."
When the county results were certified, when the state results were certified, when the Electoral College votes were finalized, Benson said, "We thought, surely, this is it. They're going to stop trying to undermine the elections."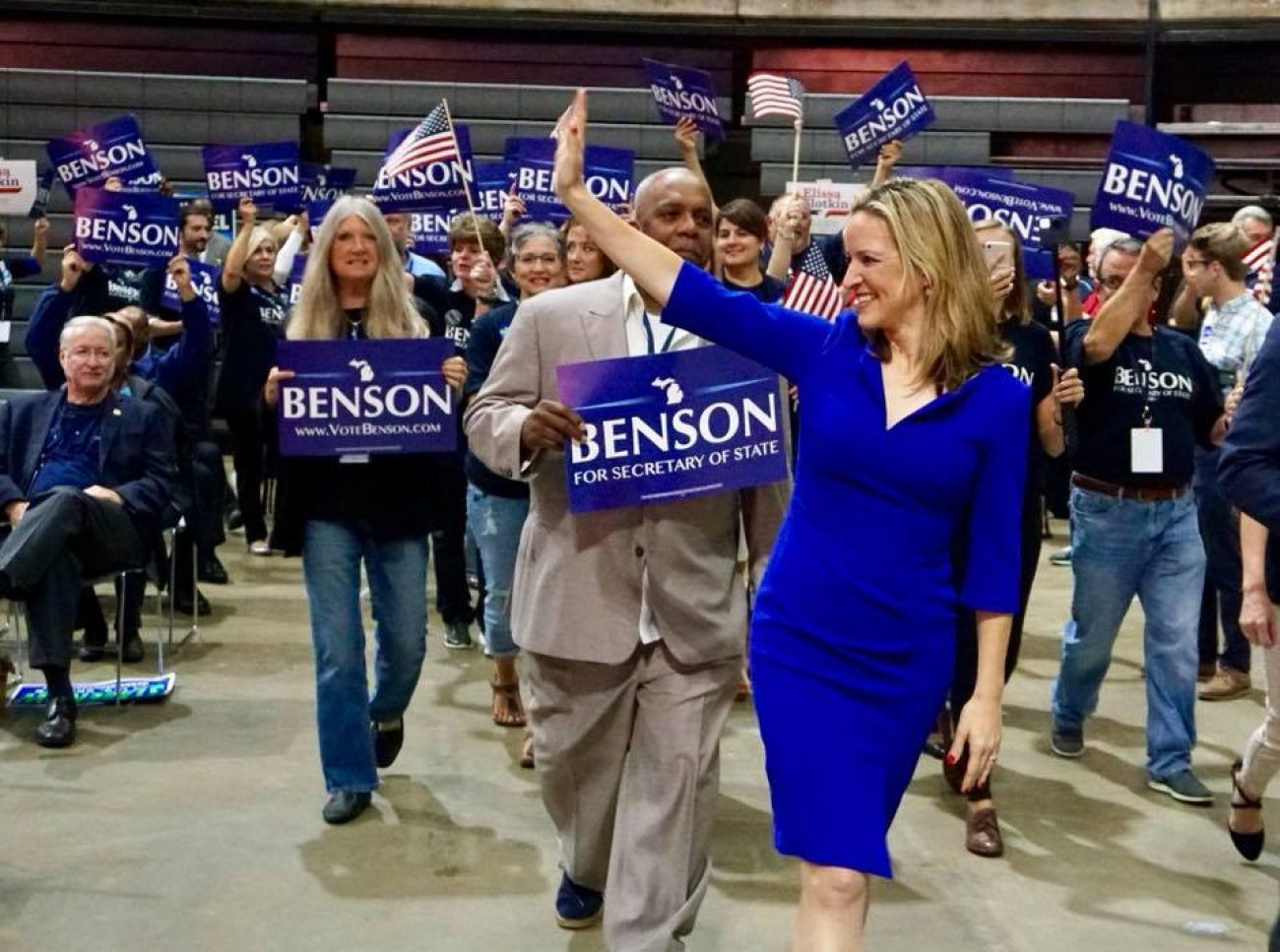 Michigan Secretary of State Jocelyn Benson, shown here at the Michigan Democratic Party convention this year, says she is committed to upholding the will of voters but isn't sure Karamo can say the same. (Bridge file photo)
She said the riots at the U.S. Capitol on Jan. 6, 2021, convinced her it was only the beginning, and she shifted her focus from running the election to defending the process itself.
"In 2020, I stood guard over the election results proudly and will do so again, regardless of what those results may be," Benson told Bridge. "I will always stand by and with the will of the voters, and my opponent did not and cannot say the same."
Karamo chafes at criticisms that she's an election denier or that she's unfit to run for office. She believes that what she saw wasn't taken seriously by election officials, lawmakers, judges, academics or the media.
"I'm running for office because I think you didn't do a fair election," she said of Benson. "I mean, come on. If I think you did a great job, I wouldn't be running."
Karamo has frequently referred to Benson as "lawless," an "authoritarian" and has suggested without proof that Benson's administration engaged in criminal activity related to the handling of the 2020 election.
Benson sees her opponent's messaging as part of a national effort "to sow seeds of doubt continually about our democracy through many avenues."
"The unique aspect of this moment is not just that we're talking, by still, about the 2020 election, despite mountains of evidence that underscores the truth that it was accessible, secure, and the results are an accurate reflection of the will of the people," Benson said. "We're also doing this in the midst of a nationally coordinated effort. This isn't just about Michigan."
To date, Benson has raised $4.2 million for re-election, compared to $907,000 for Karamo. Benson is also benefiting from the purchase of anti-Karamo ads by national groups.
Karamo's campaign has circulated anti-Benson videos on the conservative site Rumble and other social media, but her campaign so far hasn't run statewide television ads.
She is lagging behind Benson in polls, and experts say at this point, it will be an uphill battle for Karamo to lure in the kind of campaign cash that could get her message out to more voters.
"To do so, she needs money," said David Dulio, political science professor and director of the Center for Civic Engagement at Oakland University. If big Republican donors "judge a race to be gone and not competitive, they will not spend any money."
The Trump factor
Election officials and investigators may not have believed what Karamo saw was fraud, but Trump did.
Trump endorsed Karamo and political ally Matthew DePerno, an attorney who attempted to overturn election results in Antrim County, for the secretary of state and attorney general nominations early in the cycle. In an unusual move, party co-chair Meshawn Maddock joined Trump in backing DePerno and Karamo ahead of the party's official nominating votes.
In a race where delegates, not primary voters, decide who will be on the general election ballot, it made all the difference. DePerno narrowly won the Republican nomination over former House Speaker Tom Leonard, and Karamo had no issue gliding to victory over candidates with past legislative and election experience.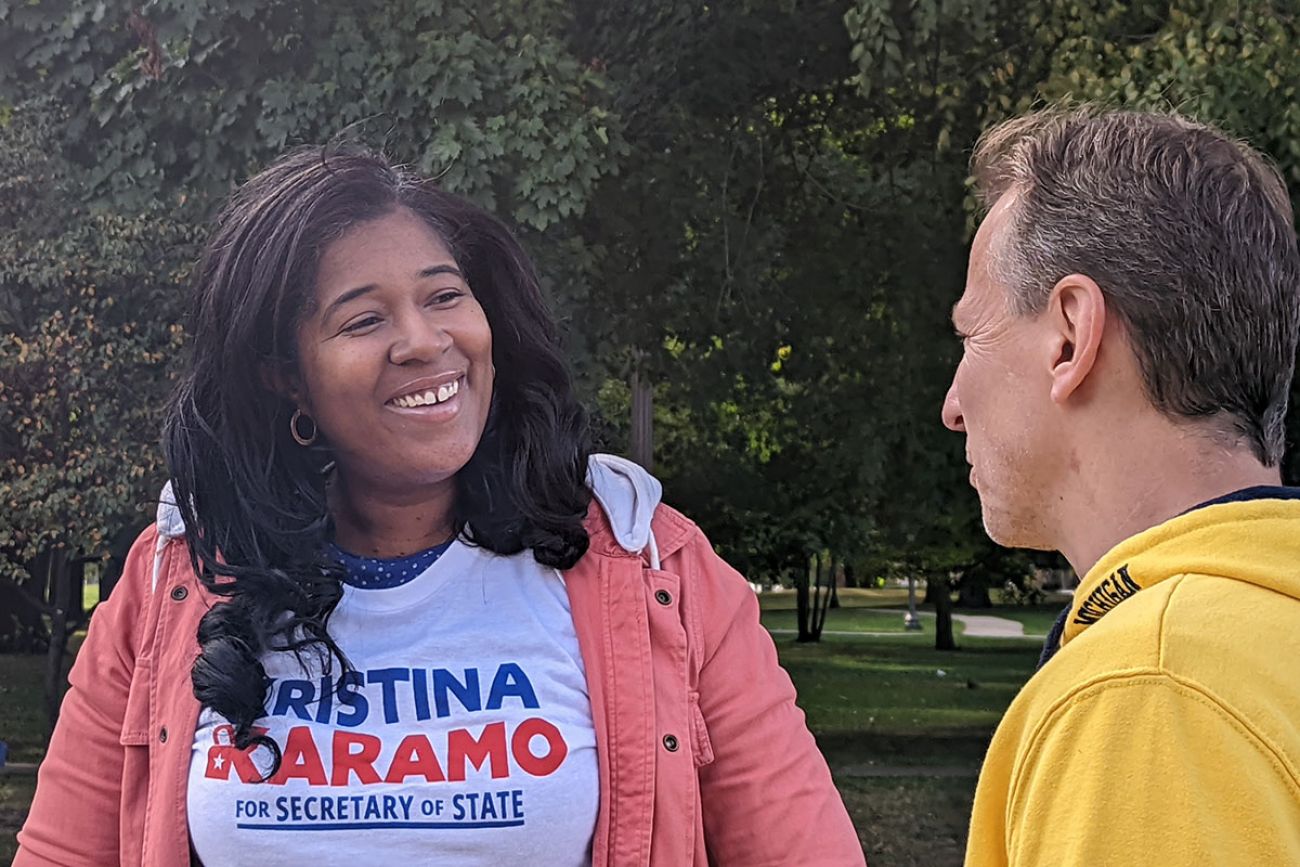 Kristina Karamo talks to a voter in Detroit this month. She has little chance of winning many voters in the overwhelmingly Democratic city but says she likes campaigning in Detroit to debate with voters. (Bridge photo by Lauren Gibbons)
During an April Michigan rally, Trump invited DePerno and Karamo to join him on stage, noting, "this is not just about 2022, this is about making sure Michigan is not rigged and stolen again in 2024."
In October, he visited Michigan again, calling Karamo "fantastic."
Karamo has attended events around the country to speak about elections. She visited Arizona during the state's audit of its election results and spoke at the "For God & County: Patriot Double Down" conference, which was connected to prominent QAnon conspiracy theory adherents, although Karamo's campaign said she personally does not support QAnon.
Rep. Beau LaFave, an Iron Mountain Republican who lost the secretary of state nomination to Karamo, said he worries she is so focused on the 2020 election she will have a hard time reaching independent voters who are more interested in the other functions of the Secretary of State Office.
"We should be talking about customer service and what our government can do to make it easier for you to get your driver's license and things like that," he said. "Is our candidate capable of that message? Probably not."
Benson recently earned the endorsement of at least one Republican: Outgoing U.S. Rep. Adam Kinzinger of Illinois, a critic of Trump and others who questioned 2020 election results. He said voters "must set partisan politics and ideology aside in order to preserve our nation's democracy and demand accountability in our leaders."
In his endorsement, Kinzinger called Karamo "an extremist election denier who demonstrates greater loyalty to Donald Trump than to our constitution and institutions."
Despite concerns from some Republicans, Karamo has built supporters among the party base. Sen. Ruth Johnson, R-Holly, served as secretary of state prior to Benson's tenure and previously served as the Oakland County clerk. In her endorsement of Karamo, Johnson called her a "dynamic candidate" capable of restoring integrity in the election system and bringing good customer service to secretary of state offices.
Rocky Raczkowski, chair of the Oakland County Republican Party, has called Karamo a "longtime friend" and said the state would be lucky to have her as Secretary of State.
"People underrate her and the Democrats attack her, but for the state of Michigan, she's…one of the best candidates and most articulate candidates I've seen in a long, long time," he previously told Bridge.
"Cut through all the BS of politics and dissect her heart and her brain, and you will find an incredible, incredible individual."
What Karamo wants to do
If elected, Karamo would like to update the state's Qualified Voter File to ensure dead voters are no longer on the rolls, verify the security of the state's voting machines, work on correcting issues that result in unbalanced precincts, require additional security around the absentee ballot process and continue pushing for legislative investigations she deems more fair than the initial Senate Oversight process.
Karamo said she believes most local clerks are trustworthy, but need help with elections. She personally opposes Proposal 2— which would amend the state constitution to allow nine days of early voting, allow voters to register for absentee ballots for all future elections and other voting reform measures — but said she'd enforce it if she won and it passed.
Other election issues she'd support include making Election Day a holiday, securing funding to make public transit free on Election Day and requiring the state, not local municipalities, to come up with the funding if legislative changes are made that would impact local clerks.
Karamo said she would push for directing more money from Secretary of State transactions into branch operations and advocate for lowering fees, noting that as a single mom, she understood what it was like to choose between renewing a vehicle registration and feeding her family. She'd also like to implement community liaisons to ensure branch offices are accommodating the needs of their respective communities.
Despite her beliefs that fraud permeated the 2020 election, Karamo said she isn't headed into the 2022 race looking to challenge the results: "That's not how the democratic process should go."
But, she said, she's "walking into it with my eyes wide open."
Only donate if we've informed you about important Michigan issues
See what new members are saying about why they donated to Bridge Michigan:
"In order for this information to be accurate and unbiased it must be underwritten by its readers, not by special interests." - Larry S.
"Not many other media sources report on the topics Bridge does." - Susan B.
"Your journalism is outstanding and rare these days." - Mark S.
If you want to ensure the future of nonpartisan, nonprofit Michigan journalism, please become a member today. You, too, will be asked why you donated and maybe we'll feature your quote next time!