Larry Inman trial highlights blurred lines and boozy underbelly of Michigan politics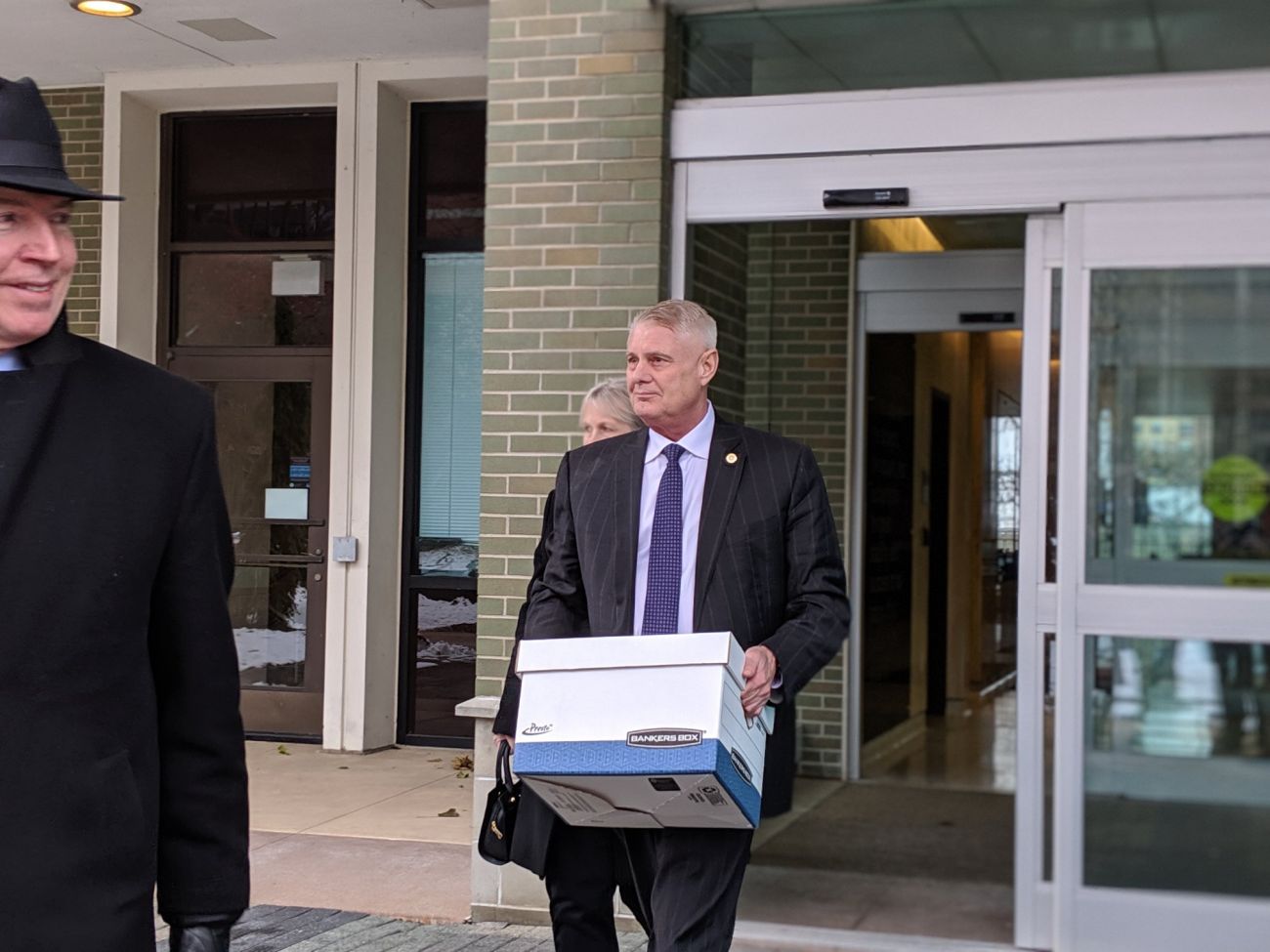 Michigan Government
Larry Inman trial highlights blurred lines and boozy underbelly of Michigan politics
GRAND RAPIDS – A boozy "educational" dinner for lawmakers at a swanky steakhouse. Lobbyists hand-delivering campaign checks to legislators. Internal debate over which donors to side with on a key vote.
Testimony in state Rep. Larry Inman's criminal trial for alleged extortion and bribery this week has shined a light on an unsavory side of Michigan's political system rarely seen because of broad exemptions in the state's public records law. And Thursday, the case forced one of Lansing's most powerful lawmakers to take the stand.
"It's a commonly understood rule and principle that you do not link, in any way, legislation with finances," said House Speaker Lee Chatfield, R-Levering.
Inman is accused of doing just that. Federal prosecutors say the Traverse City-area Republican illegally tried to sell his 2018 vote to the Michigan Council of Regional Carpenters and Millwrights on an initiative to repeal the state's prevailing wage law.
When the union didn't deliver campaign cash, prosecutors allege, Inman voted to repeal the law that mandated certain wages and benefits on state-funded construction projects including schools and government buildings.
Inman has denied the claims and pleaded not guilty to charges of extortion, bribery and lying to the FBI. He faces up to 20 years in prison if convicted.
His lawyer has argued Inman is targeted for legally operating within a system that gives unions and corporate political action committees an outsized influence. Michigan ranked last in a nationwide study of government ethics laws in 2015, and this year, U.S. Attorney Matthew Schneider in Detroit said the state leads the nation in public corruption cases.
"The system is flawed," defense attorney Chris Cooke told reporters Thursday, the third day of prosecution witnesses in what is shaping up to be a week-long trial. "There's a lot of money in politics, but there's not another system really that's better than our own system."
Text messages Inman sent to the carpenters union three days before the prevailing wage vote suggest he urged additional campaign contributions for himself and other lawmakers, saying "we all need more help" because of possible retaliation by House GOP leadership, which was pushing for repeal.
Crossing lines
Despite bright line fundraising rules that Chatfield testified are made clear to lawmakers during training sessions, Inman's trial has illustrated how fuzzy those lines can appear.
Inman allegedly blurred them in a March 2018 meeting with lobbyists at the Biggby Coffee shop across the street from the Michigan House Office Building, according to testimony from Noah Smith, one of four lobbyists the union paid to persuade lawmakers to keep the prevailing wagel.
"It was something along the lines of, 'I thought that the trades were going to combine money to get me somewhere around $30,000. I've only gotten a little bit of money from some of the trades. Where's that at?'" Smith testified Wednesday, recalling statements from Inman.
Michigan statute prohibits lawmakers or other state employees from discussing campaign business on government property or time. But those rules do not apply across the street at the coffee shop, where lobbyists and officials regularly meet.
Prosecutors did not claim anything illegal happened at the meeting, but intended the testimony to show jurors that Inman was discussing campaign contributions months before he allegedly made a more overt request.
Smith could not recall whether he had personally delivered a $4,000 union check to Inman in May 2018, less than one month before the prevailing wage vote.
But Smith testified he does sometimes give campaign contribution checks directly to lawmakers on behalf of clients and if he'd done so on prevailing wage, it would have also been off-site.
"We would have been outside of a building or somewhere at a coffee shop," he said.
The Biggby reference to $30,000 appears to be the first time union officials or lobbyists recall Inman mentioning a specific figure. They testified they had no idea where he came up with the number.
Other testimony this week indicated Inman may have gotten the idea in November 2017, when three trade unions hosted roughly a dozen GOP lawmakers at the Capital Prime steakhouse in Lansing, buying them dinner and drinks while showing a PowerPoint presentation about the benefits of prevailing wage.
Inman was drinking alcohol that night, Smith said.
Lisa Canada, political and legislative director for the Michigan Regional Council of Carpenters and Millwrights, said Inman asked her at the dinner "how helpful we could be monetarily" if he faced a Republican primary challenger for bucking the party on prevailing wage.
Testifying earlier this week, Canada did not recall her specific response but said she likely told him the union PAC would "max out" by making a $10,000 contribution, the largest amount allowable under a Michigan law that allows PACs to give 10 times more than individuals.
Canada testified she was not speaking on behalf of the two other trade unions that hosted the dinner and could theoretically each have also given Inman $10,000, for a total of $30,000.
"You said all 12 will get $30,000 each to help there (sic) campaigns. That did not happen, we will get a ton of pressure on this vote," Inman later wrote to Canada in a June 3, 2018, text message. She turned it over to the Michigan State Police the next day, prompting the federal investigation.
"People will not go down for $5,000, not that we dont appreciate it," Inman texted. "Please get with all the trades by Monday."
While she had previously mentioned the possibility of her union giving Inman a maximum contribution, mentioning it days before a vote "is a completely different context," Canada testified, explaining why she alerted law enforcement to the text.
The 'wrong friends'
Jurors who heard the first three days of Inman's trial must ultimately decide whether his text to Canada and a similar message to union lobbyist Jim Kirsch amount to a quid pro quo — that he was offering to sell his vote in exchange for campaign cash.
Union officials and lobbyists say they knew right away Inman had crossed a line.
Canada testified she was "shocked" and "angry" because she knew she could not respond to Inman's text, which she thought might cost her at least one vote on "the most important vote in our union's history."
"It was an inappropriate text on its face," Kirsch said.
"It was immediately apparent that was not an appropriate text message," Smith echoed.
Chatfield said he first read about the texts in mid-May, when Inman was indicted. After meeting with Inman to confirm the messages were real, Chatfield kicked the third-term lawmaker off committees and barred him from his work office. Chatfield also joined House Republicans in kicking Inman out of their caucus and co-sponsored a resolution urging him to resign.
Inman was removed from the House Appropriations Committee, which decides state budgets, "to ensure the public would have trust in how we were spending the money," Chatfield testified.
House members who urged him to resign thought "it was in his best interest, and his district's best interest" for Inman to focus on his trial and treatment for an opioid addiction he had revealed, Chatfield testified.
Chatfield was not yet House speaker at the time of the June 2018 prevailing wage repeal vote, but he was in leadership and also chaired the House Republican Campaign Committee.
After Inman voted with GOP leadership and against the union, he texted Chatfield and said he would need a "shit load of money" to defend himself from Democratic attacks in the general election.
Chatfield said he did not think it was appropriate to discuss votes and campaign contributions at the same time but did not believe Inman's texts to him were illegal.
House members serve only two-year terms and are constantly worried about campaign finances, Chatfield testified.
"What we need to be careful to do is not mix two issues, but everyone in an election year is attempting to raise contributions for their re-elections," Chatfield said.
The speaker described three considerations he thinks lawmakers may bring to any vote: Their constituents, their party caucus and their conscience. "How those three balance out is up to each representative," he said.
Dan Pero, who was chief of staff last year to then-House Speaker Tom Leonard, was more blunt in his description of how lawmakers triangulate votes.
In a series of text messages the day before and on the day of the prevailing wage vote, Pero had warned Inman that he could lose support from business PACs and "shut down any incentive for the big donors to give" if he voted against the prevailing wage repeal initiative.
"I'm telling him he's picking the wrong friends," Pero testified Thursday, explaining his previous texts.
"I would tell anybody that. That this was perhaps the most important issue for the business community in this election cycle, and the business community had a history of supporting candidates who support them."
The 'game'
It's not yet clear if Inman will testify in his own defense, but Cooke used his opening statements and cross-examinations to try and paint him as a well-intentioned public servant who was battling an opioid addiction when he sent texts that were misinterpreted.
In cross-examination, he repeatedly asked Canada and union lobbyists if they had asked Inman what he meant by the text message before turning it over to authorities. They admitted they didn't ask Inman.
Cooke has argued that Inman was talking about other lawmakers — not himself — when he told Canada he would "do my best to hold" strong on prevailing wage.
Inman offered a similar explanation in a post-vote phone call with Canada that was recorded by the FBI, suggesting he was trying to find ways to persuade GOP colleagues to stick with the union.
"I haven't been in this game long enough to know the state game. I've been mostly local," Inman said in the call. "I don't know what drives people to hold stuff with a lot of pressure coming from leaderships. I don't know if it's just principle, or if its help with campaign donations, or if it's a combination of both."
But one of the colleagues Inman claimed he was trying to help, Monroe Republican state Rep. Joe Bellino, testified Thursday that he was always going to vote against the initiative and had not discussed the proposal with Inman or asked him to solicit contributions.
Inman's request backfired in more ways than one. Before she alerted the police, Canada texted Smith a copy of the message from Inman and offered her interpretation: "I think what this says I want $30k or you won't get my vote."
She then clarified that the text was from "motherfucking Inman," and told Smith "if he votes the wrong way, I'm going to spend every last penny we have on his opponent."
The union did end up making a maximum $10,000 contribution to Democratic challenger Dan O'Neil, Canada testified. Paid union staff marched in the 2018 Cherry Festival Parade and held signs depicting Inman with a Pinocchio nose.
Inman defeated O'Neil by 349 votes in November.
As Pero had predicted, Inman got significant help from Republican donors and raised nearly $70,000 in additional campaign cash before the election. The House Republican Campaign Committee spent more than $253,000 on ads to support him, and Chatfield used a leadership PAC to funnel $10,000 into his campaign.
"This vote was the big deal for groups with dough," Pero had texted Inman him hours after Republicans repealed the prevailing wage law. "Makes your yes vote an easy sell for me.
We're not just a news organization, we're also your neighbors
We've been there for you with daily Michigan COVID-19 news; reporting on the emergence of the virus, daily numbers with our tracker and dashboard, exploding unemployment, and we finally were able to report on mass vaccine distribution. We report because the news impacts all of us. Will you please support our nonprofit newsroom?