Lots of rain, few fireworks at latest protest of Michigan's stay-at-home rules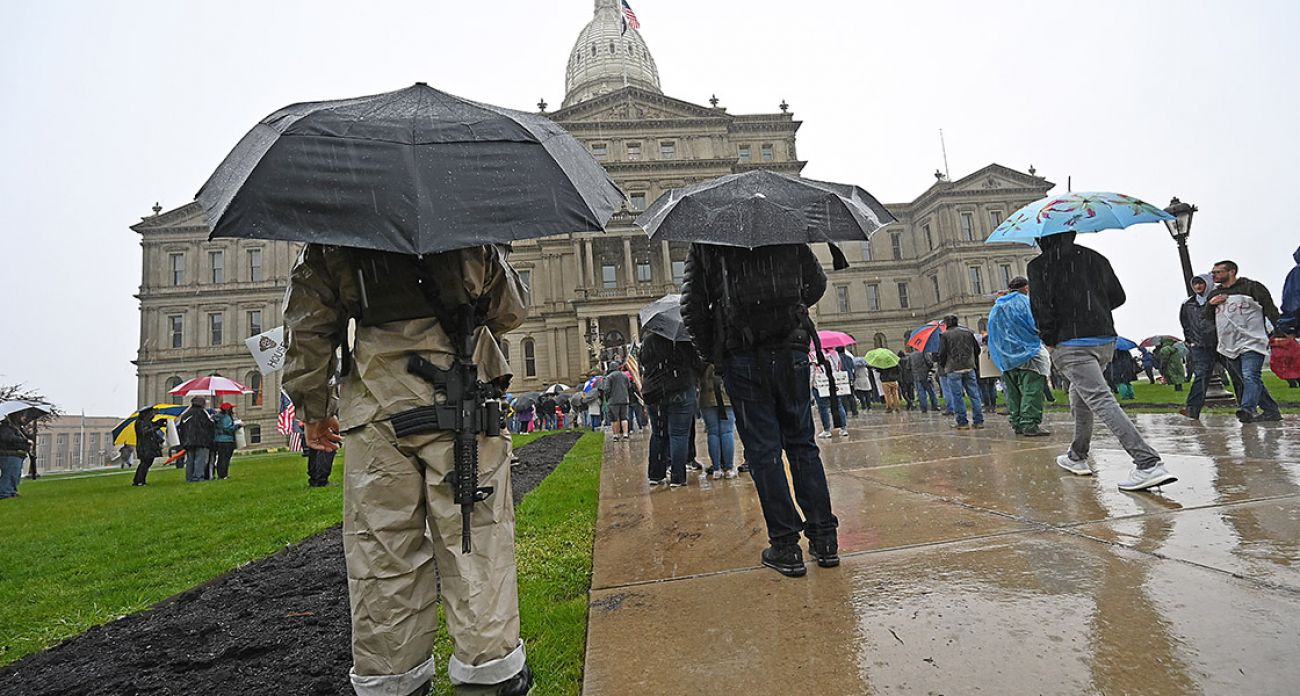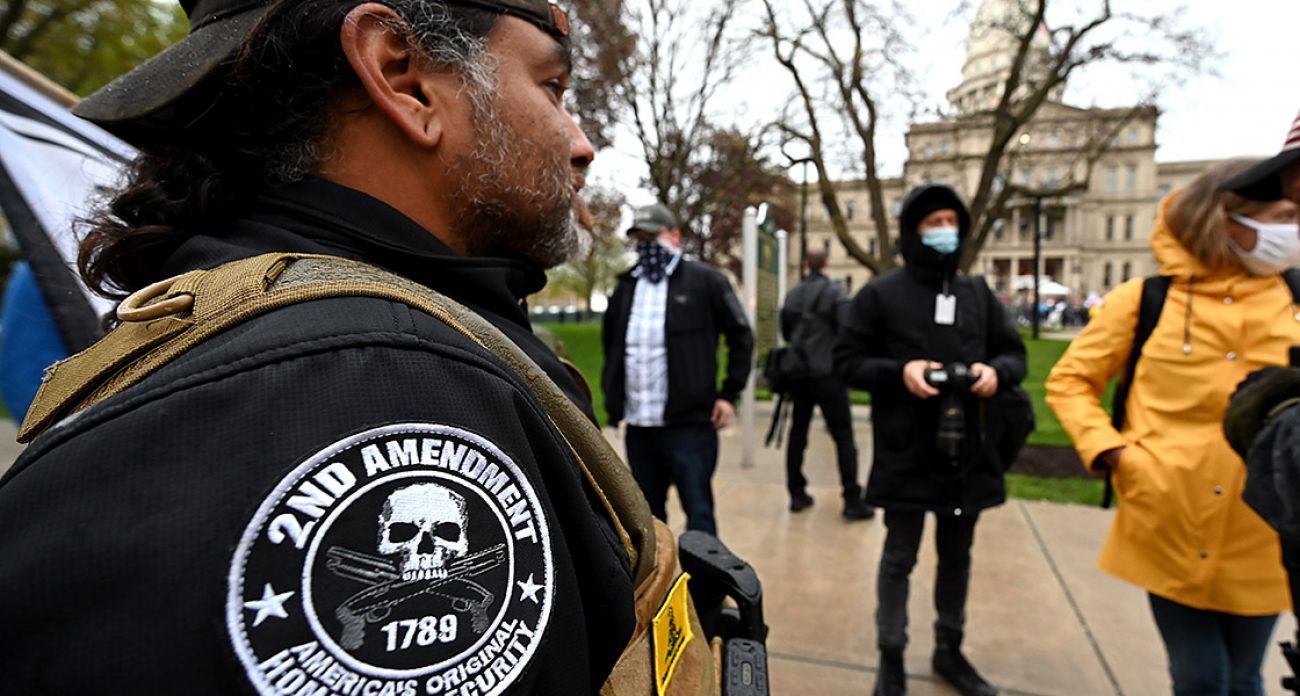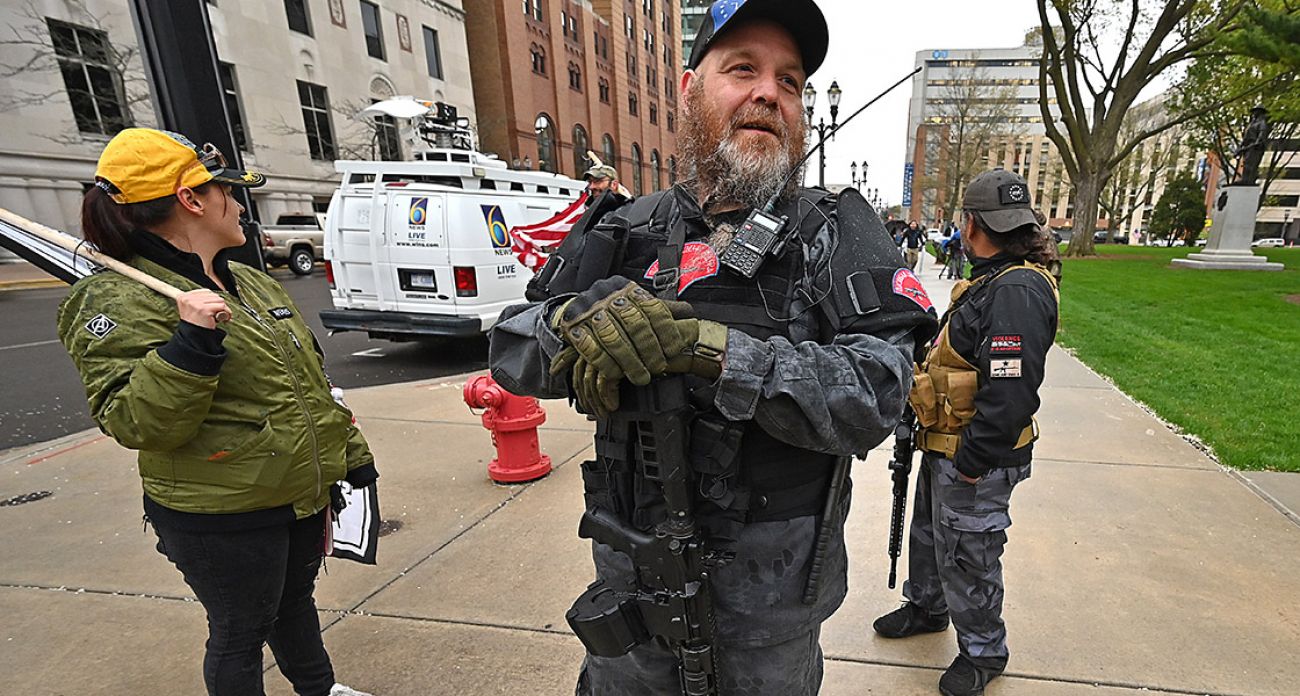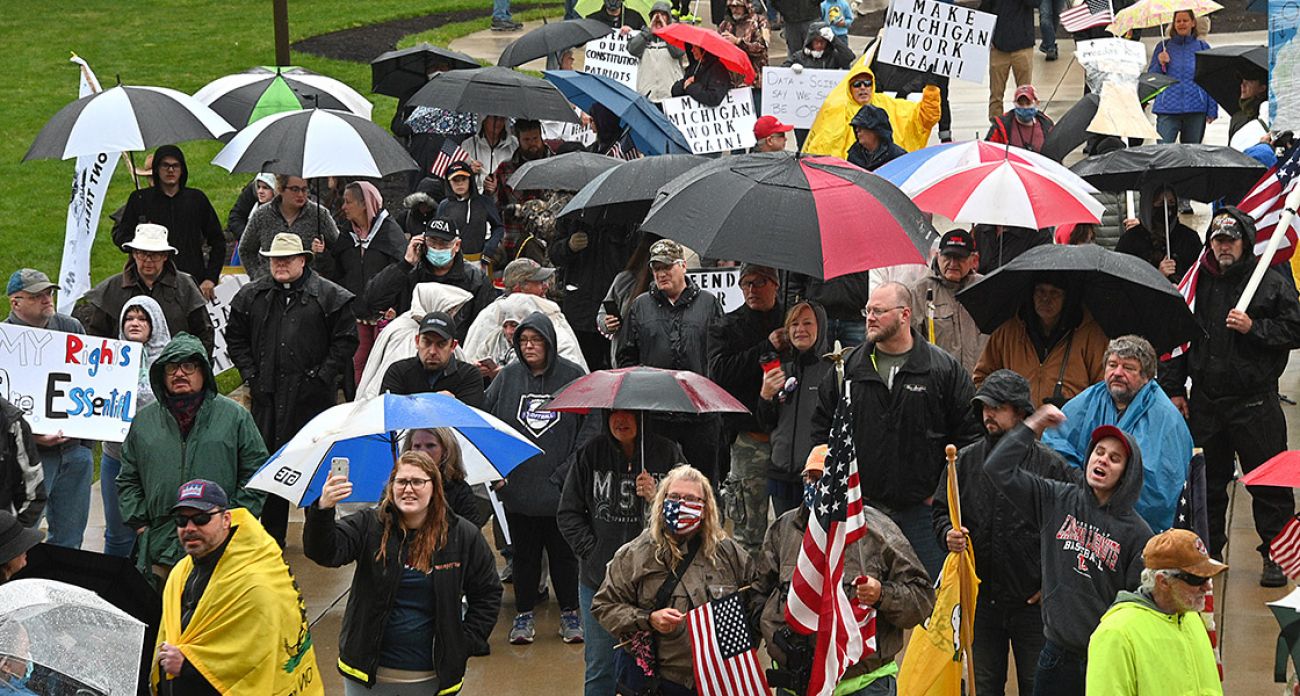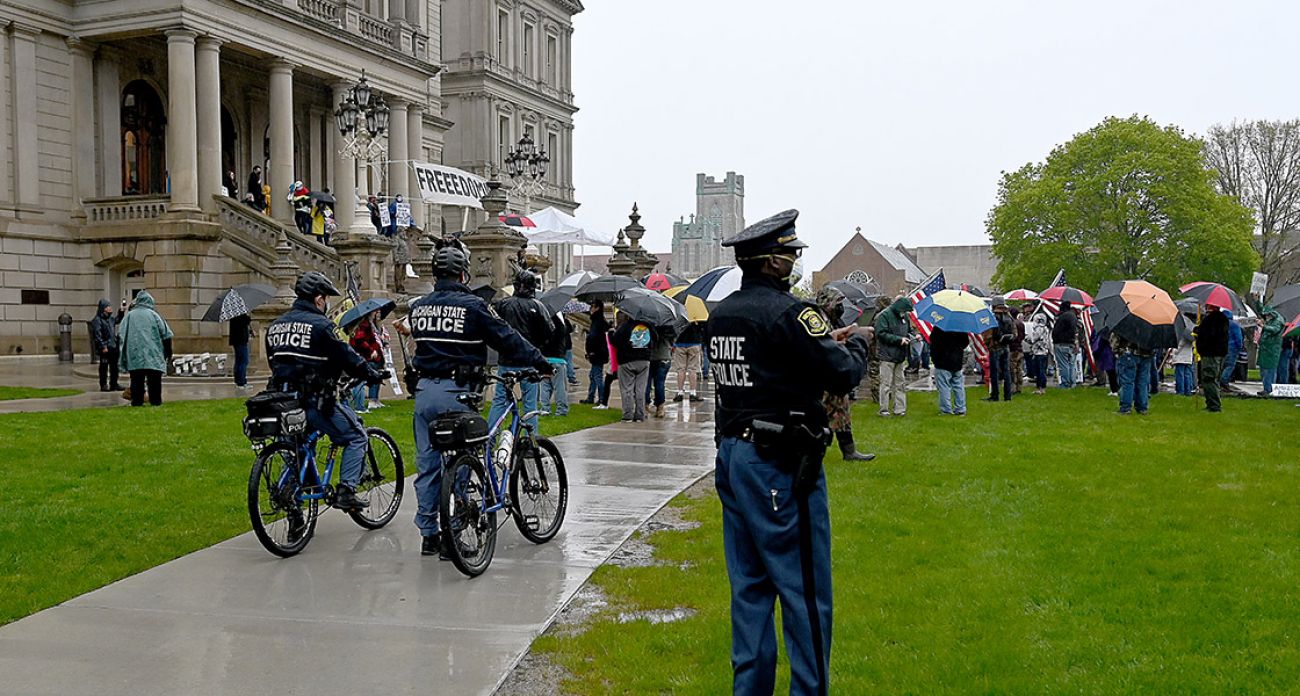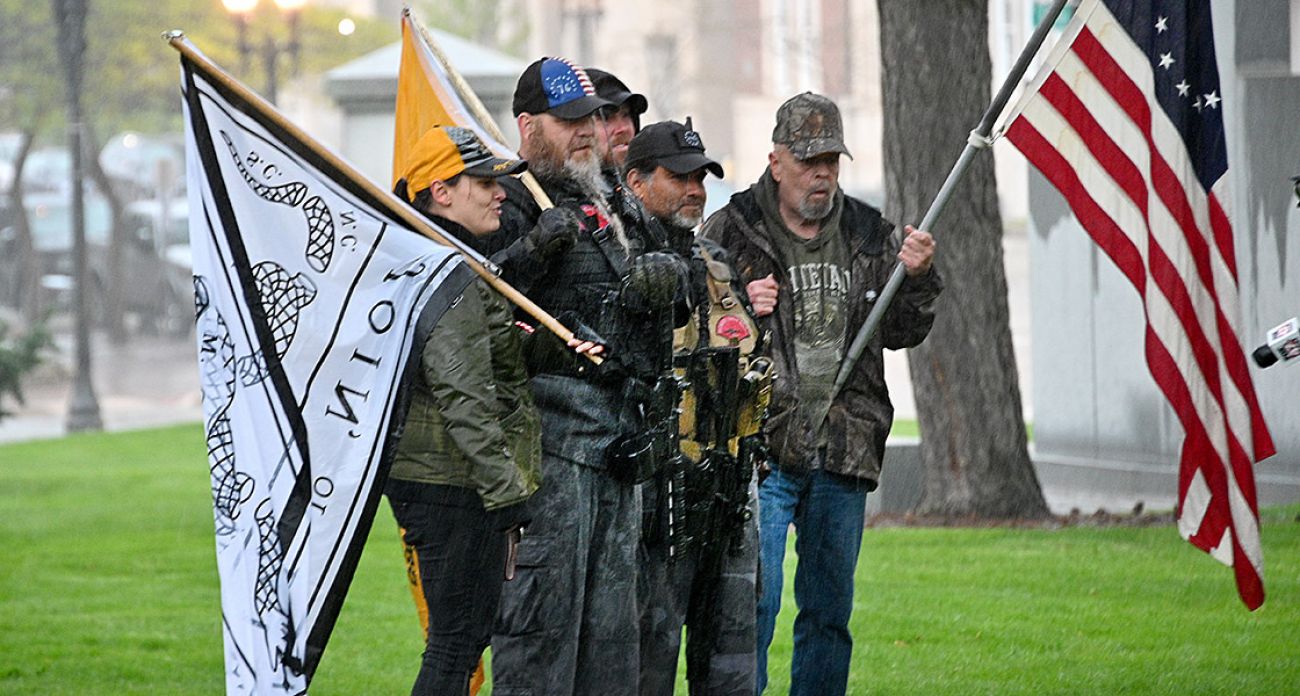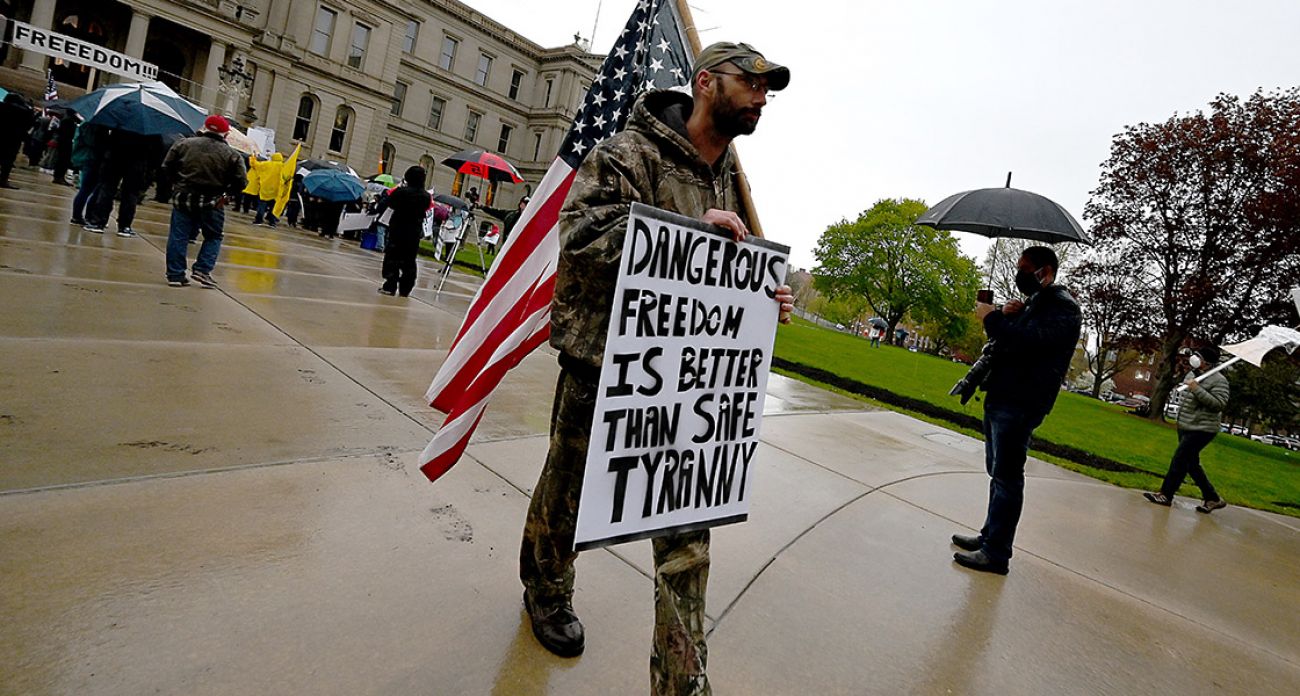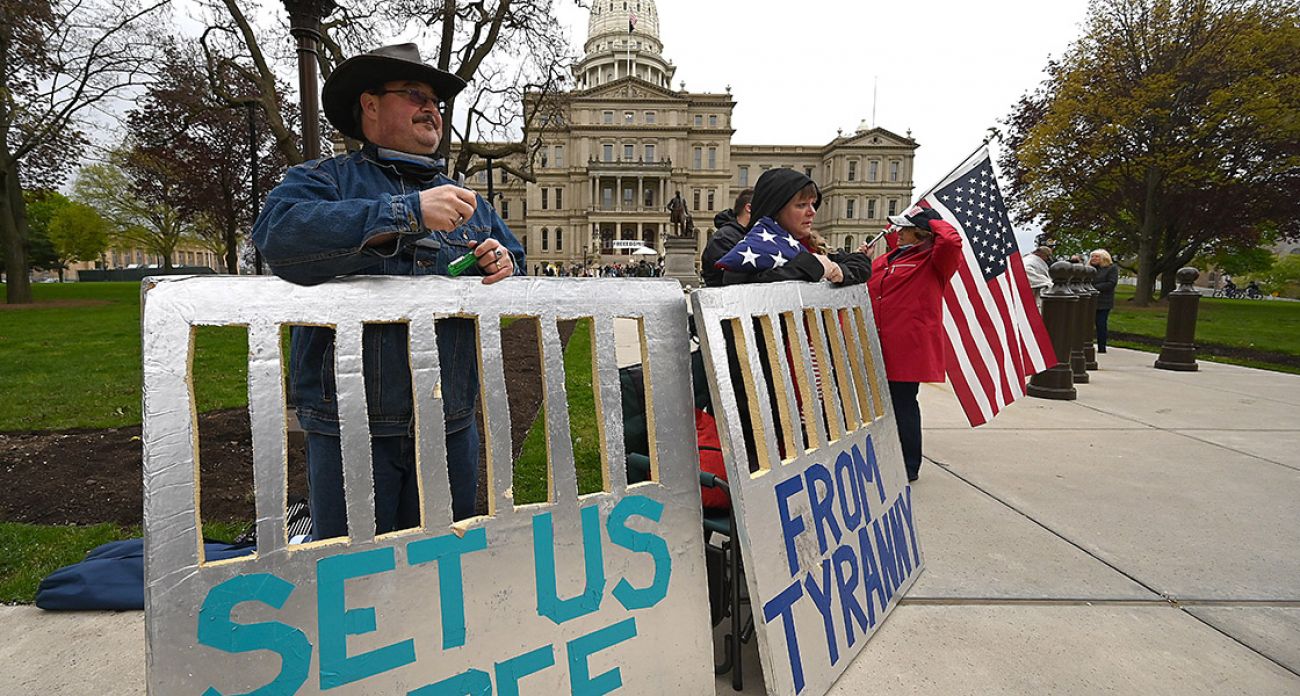 Michigan Government
Lots of rain, few fireworks at latest protest of Michigan's stay-at-home rules
LANSING — Renea Knight stood behind cardboard prison bars on a sidewalk in front of the Michigan Capitol on Thursday to protest what she called the "tyranny" of Gov. Gretchen Whitmer's stay-at-home order.
Knute Hill formed a counterprotest on the Capitol lawn, offering a lonely voice of support for Whitmer from inside a circular safe zone he erected using plastic tubing.
They were among the roughly 200 activists at a rain-soaked demonstration at the Michigan Capitol. It was a largely peaceful affair aside from a fight among anti-Whitmer protesters after one reportedly hung a doll from a noose, which rally organizers denounced as a form of "hate speech."
The protest was considerably smaller than an April 30 demonstration hosted by the same group, whose speakers called on Whitmer to resign and argued her public health measures have trampled on individual liberties and done lasting damage to the state economy.
Only some protesters wore masks despite the ongoing COVID-19 pandemic, which as of Wednesday had killed 4,714 Michiganders since March. Many eschewed 6-foot social distancing recommendations outside the Capitol, which was locked to the public a day after the state Senate convened early for the week.
The closure, which has been the norm on non-session days during the pandemic, deflated any tensions over the lack of firearm regulations inside the building. Two weeks ago, during another protest, Democratic senators complained of intimidation when armed protesters stood over them from a gallery.
The rally came days after Whitmer asked Vice President Mike Pence to discourage Capitol protests because she worried they would carry the virus to rural areas of Michigan. When asked about the assertion, a health department spokesperson, Lynn Sutfin, told Bridge that "we do not have any data that links the protests and any cases."
Perhaps because of the rain, Thursday's rally was far more subdued than others in recent weeks. Michigan State Police officers periodically patrolled the Capitol lawn, as did armed militia members who carried long guns and insisted they were there to keep the peace.
Troopers briefly detained one man after the brief fight among protesters.
"There have been no arrests," Lt. Duwayne Robinson said around noon after speakers concluded and protesters began to disperse. "The so-called victim, he was taken inside, we took a statement from him and then he was released out the back door."
Police did not report any other incidents and no citations were issued.
"We understand that people are not all complying with the social distancing," Robinson said. "It's not something we're going to go around and actively address. We gave them the warning. They know how dangerous it is, but the compliance part is really [up to] an individual."
'Not my mother'
Knight said she and her family "understand authority." She said she's an Army veteran herself, and a widow of one veteran, now married to another.
"But we understand also that we took an oath to stand up against all enemies — foreign and domestic," she said. "And we believe that our invisible enemy is not COVID as much as it is tyranny," she said, standing in front of cardboard prison bars outside the Capitol.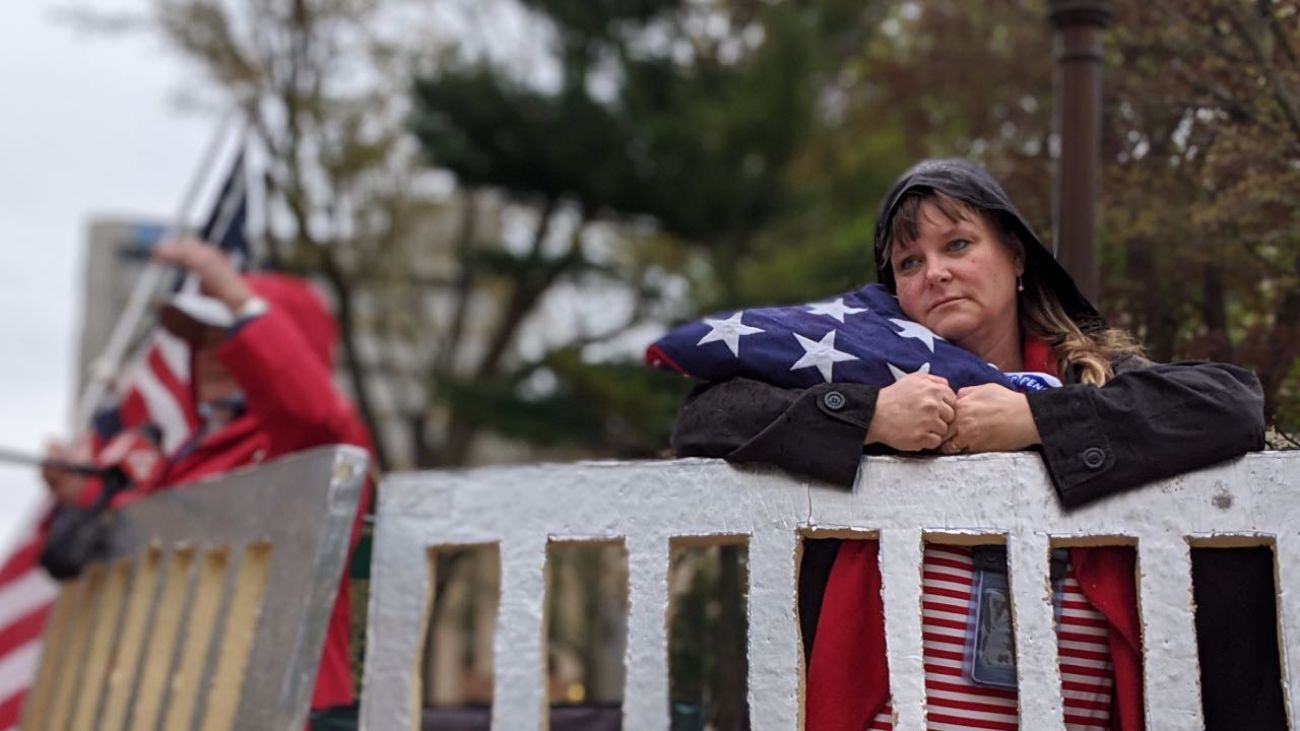 Knight said she had "a little bit of respect" for Whitmer prior to April 30, but said the governor went "rogue" by issuing new emergency declarations when the Republican-led Legislature rejected Whitmer's request to extend a prior version.
"She's not my mother," Knight said. "She shouldn't be telling me where I can shop or how much I can spend."
Knight carried a Trump-Pence face mask but was not wearing it. She has asthma, she said, and does not believe the fabric-style mask offers much protection anyway.
A substitute teacher, Knight said she's been unable to work since schools closed and did not qualify for unemployment benefits.
Her daughter is now making more on unemployment than she did when she was working, Knight suggested, noting the $600 weekly supplemental payment approved by Congress and Trump.
"What kind of message is that sending? She said "Stay home, stay safe, and we'll pay you. That sounds like communism," Knight said.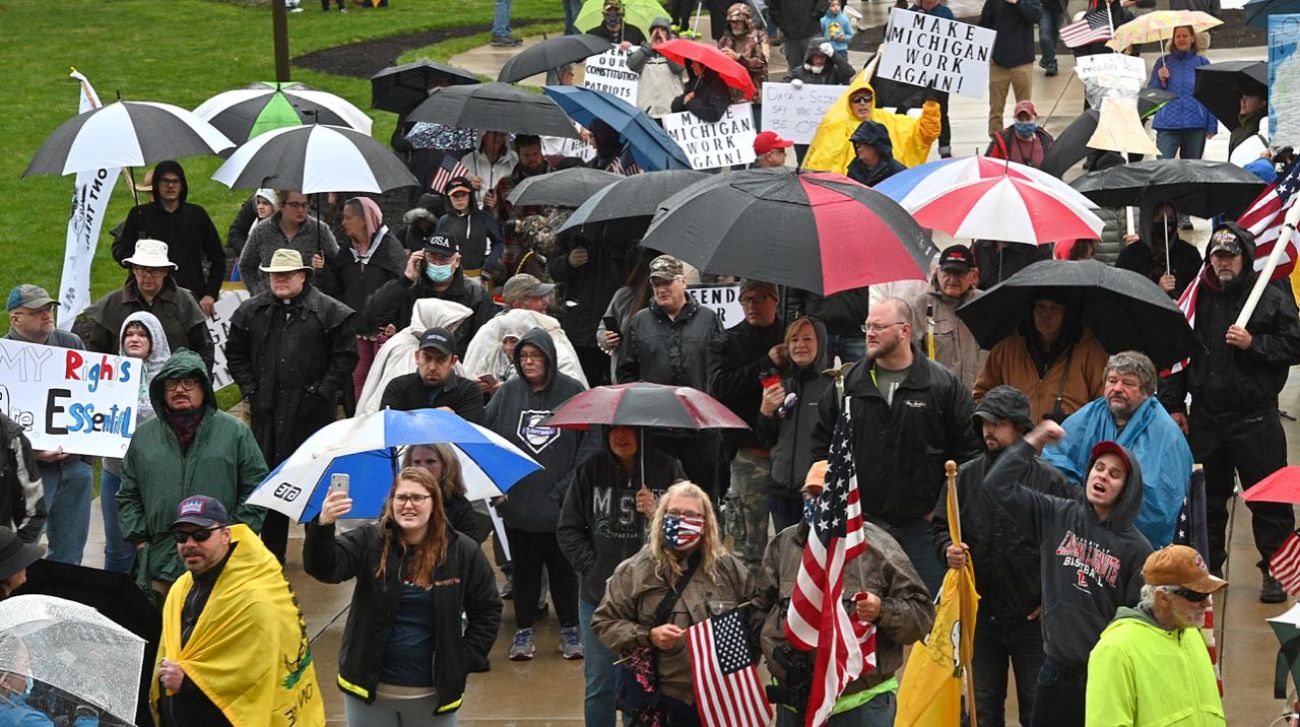 Hard battles
Hill of Ann Arbor drove to Lansing on Thursday to offer support for Whitmer, making a trip his wife makes more often as an emergency room doctor at nearby Sparrow Hospital, where she has worked on the frontlines of the pandemic.
Hill used plastic tubing to erect a social distancing perimeter on the east lawn and decorated it with laminated signs he said spoke for others who did not want to join him.
"The hypocritical nature of getting together right now does not appeal to many friends of mine, so I brought as many messages as I could from those people," he said from behind a respirator mask.
"I really understand the plight of a lot of people, not being used to struggling the way they are, but I believe this country was founded on some hard battles that we had to fight together, and this is one of them."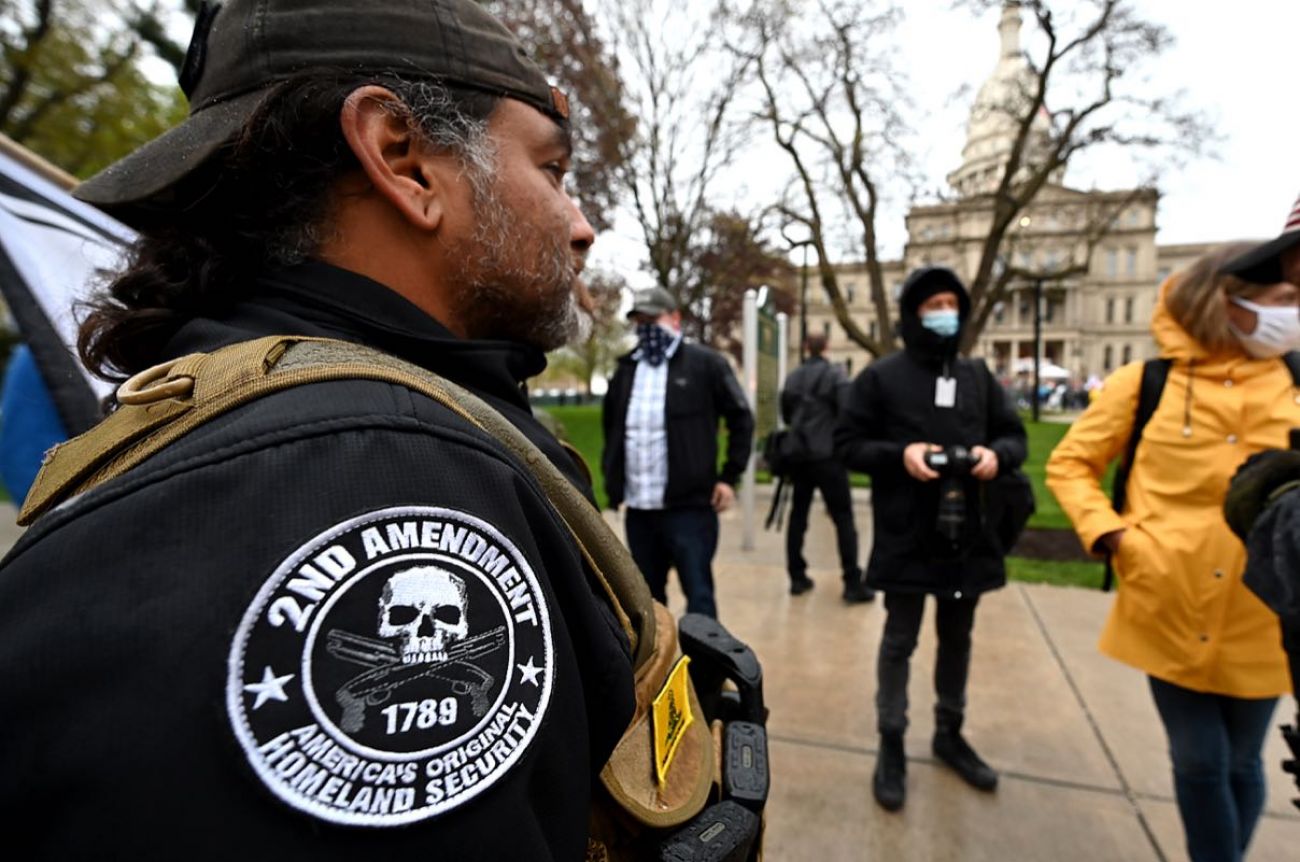 Plans by a Democratic activists for a larger counterprotest were cancelled. Besides Hill, one other pro-Whitmer demonstrator stood beside the Capitol steps but let his sign do the talking: "Whitmer: Keeping our most vulnerable safe. I stand in silence for them."
Hill, a former attorney who is now a stay-at-home dad, said his wife stayed home with the kids on Thursday so he could attend.
"At first, it was scary, but now the hospital has it under control," he said of his wife's work as an emergency room doctor amid the COVID-19 outbreak. "I don't fear for her safety at this point unless there's a second wave."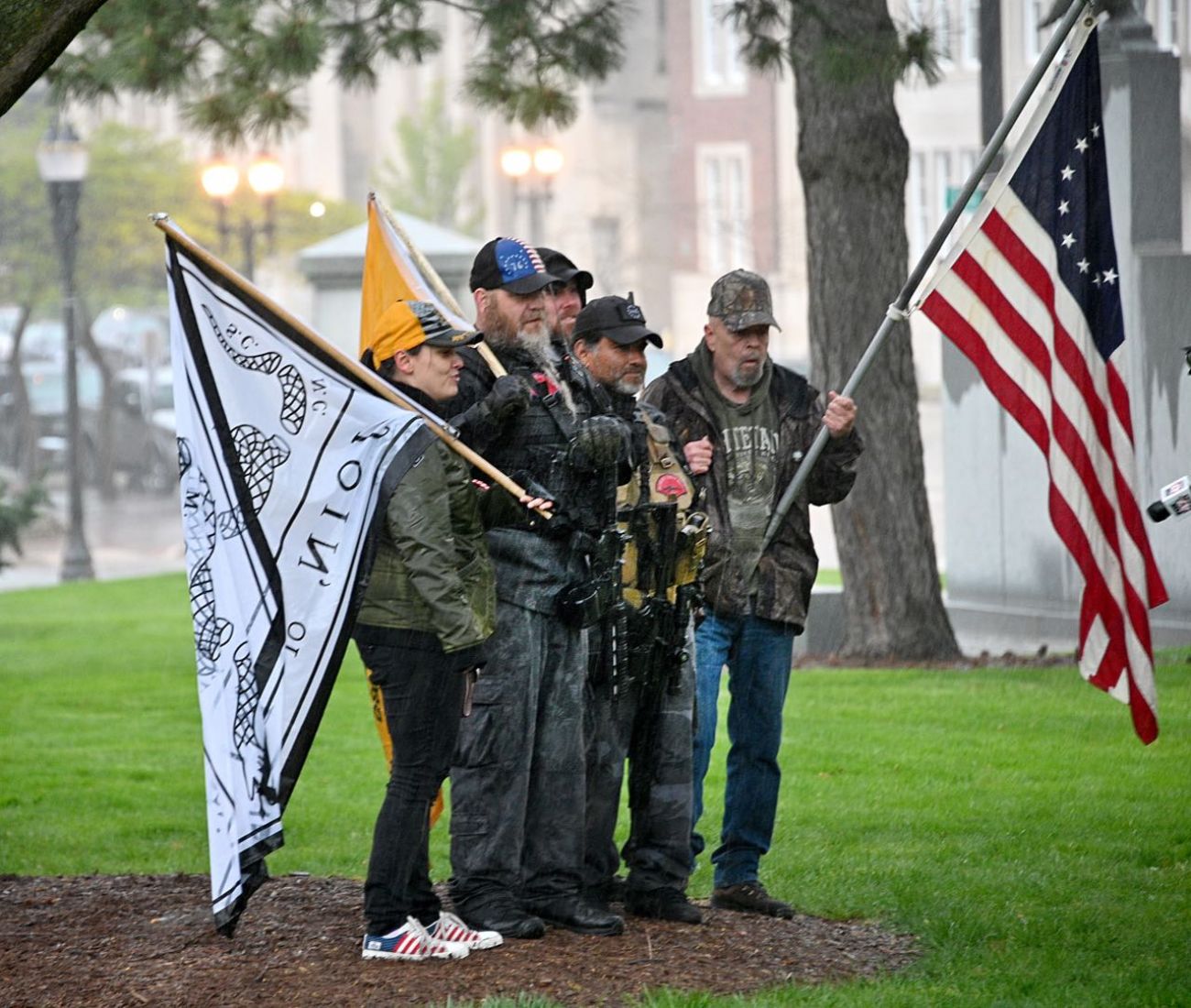 We're not just a news organization, we're also your neighbors
We've been there for you with daily Michigan COVID-19 news; reporting on the emergence of the virus, daily numbers with our tracker and dashboard, exploding unemployment, and we finally were able to report on mass vaccine distribution. We report because the news impacts all of us. Will you please support our nonprofit newsroom?