Matthew DePerno: MAGA favorite under investigation may be next attorney general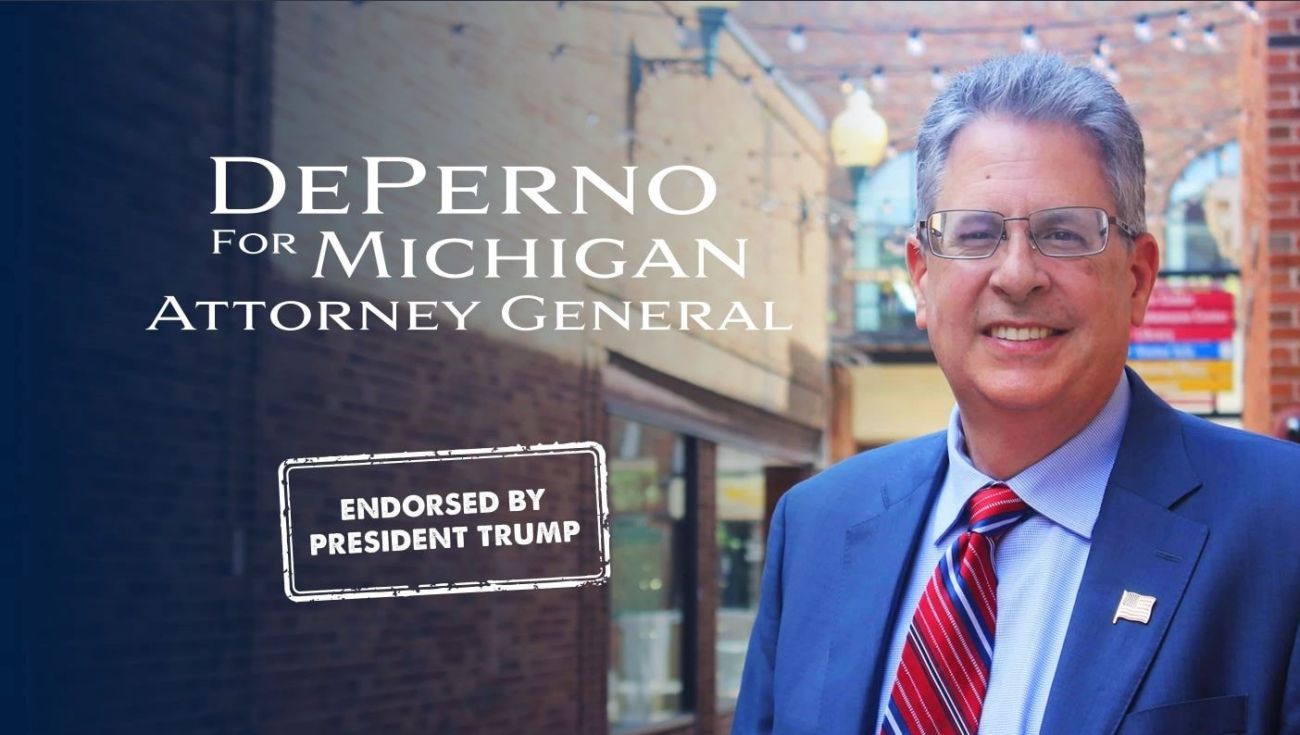 Matthew DePerno gained fame challenging the 2020 presidential election. He now wants to be Michigan's attorney general. (Bridge file photo)
Michigan Government
Matthew DePerno: MAGA favorite under investigation may be next attorney general
Matthew DePerno is best known for his unsuccessful attempts to find fraud in 2020 election results in Antrim County and elsewhere
He's under investigation and could face criminal charges, but experts say there's no law stopping him from serving
Polls show he's neck-and-neck with Attorney General Dana Nessel, who has had her share of controversy
---
LANSING — Matthew DePerno built his political career on undermining government. If he's successful on Election Day, he'll be tasked with defending it.
The Republican attorney general candidate was on the front lines of then-President Donald Trump's foiled bid to overturn his 2020 election loss by invalidating more than 2.8 million Michigan votes.
DePerno was unsuccessful and is now the target of a criminal investigation by a special prosecutor, who is probing whether DePerno participated in a vote tabulator tampering scheme. The investigation was launched by the office of his Nov. 8 opponent: Attorney General Dana Nessel.
Related:
DePerno claims he's the victim of a political prosecution, and his efforts to overturn the 2020 election have prompted a rapid rise in conservative circles. Recent polls suggest he is in a close race with Nessel, a Democrat.
Buoyed by a Trump endorsement, DePerno secured the Republican nomination for attorney general in April against establishment Republicans. Since then, he has emerged as a powerful voice with an ability to appeal to grassroots Republicans, who now dominate the party base.
DePerno is "one of the toughest lawyers I've ever known — and I've known some tough ones," Trump said during an October rally in Macomb County. "He is tough and smart, and he's going to bring back your state."
Bob LaBrant, an attorney who spent decades working to elect Republicans but is critical of the Trump movement, said it's unprecedented to have an attorney general candidate facing potential criminal charges and "this cloud of suspicion" so close to an election.
"In the old days, people involved in a scandal like this would have stepped down before they were put on the general election ballot, but there is no shame anymore in politics," he said.
During the campaign, DePerno has borrowed from Trump's playbook by describing Michigan in dystopian terms, whether it is the state's climbing violent crime rate, "Marxism" and drag queens that Nessel infamously joked should be in every school.
DePerno is a Portage attorney who routinely blasts "fake news." He has raised campaign funds by selling bumper stickers that vow to lock up Nessel and Gov. Gretchen Whitmer, echoing Trump's calls to arrest 2016 opponent Hillary Clinton.
If elected, DePerno's scope would extend far beyond questioning election results and weighing in on hot-button political issues.
The attorney general oversees a $108 million budget and more than 500 lawyers, investigators, and other staff in an office tasked with ensuring consumer protection, public safety, civil suits, victims rights, addressing illegal business practices and more.
DePerno has promised to crack down on crime and has said he would defend Michigan's existing 1931 abortion ban against legal challenges. He has also suggested Plan B, an emergency contraceptive, should be banned.
Like Republican gubernatorial candidate Tudor Dixon, DePerno has taken a special interest in schools, promising to issue an opinion "on day one" declaring critical race theory unconstitutional.
Divisive even among Republicans and heavily outspent by Nessel, DePerno has made the attorney general's race among the closest in the state.
Nessel had the lowest margin of victory of any statewide candidate in 2018, a wave year for Democratic women, and carries baggage in the race due to her oft-divisive rhetoric and progressive politics.
Nessel contends the choice is clear: Vote for someone who will defend and protect Michigan residents, or vote for a "schoolyard bully" who would subvert democracy.
DePerno, whose campaign did not make him available for an interview or respond to written questions from Bridge Michigan, maintains that Nessel and other elected Democrats have hurt the state.
"Dana Nessel has prioritized criminals instead of victims, she's prioritized politicians instead of every one of you," he said at the recent Trump rally. "As your next attorney general, I will fight to clean up this state. I will enforce the laws. I will protect the Constitution. I will protect every one of you."
What he intends to do
DePerno, 53, has publicly given little detail on how he'd run day-to-day operations of the attorney general's office, instead primarily focusing on how Nessel could have done better.
During the campaign, he's criticized Whitmer and Nessel's handling of the COVID-19 pandemic, promising if elected attorney general to "go after public and private institutions that uphold radical government overreach."
In an interview with the political newsletter Gongwer, DePerno said the impact of COVID-19 orders was one of his main motivations to get into the race, arguing the orders against businesses trying to stay open during 2020 shutdowns were "totally unconstitutional."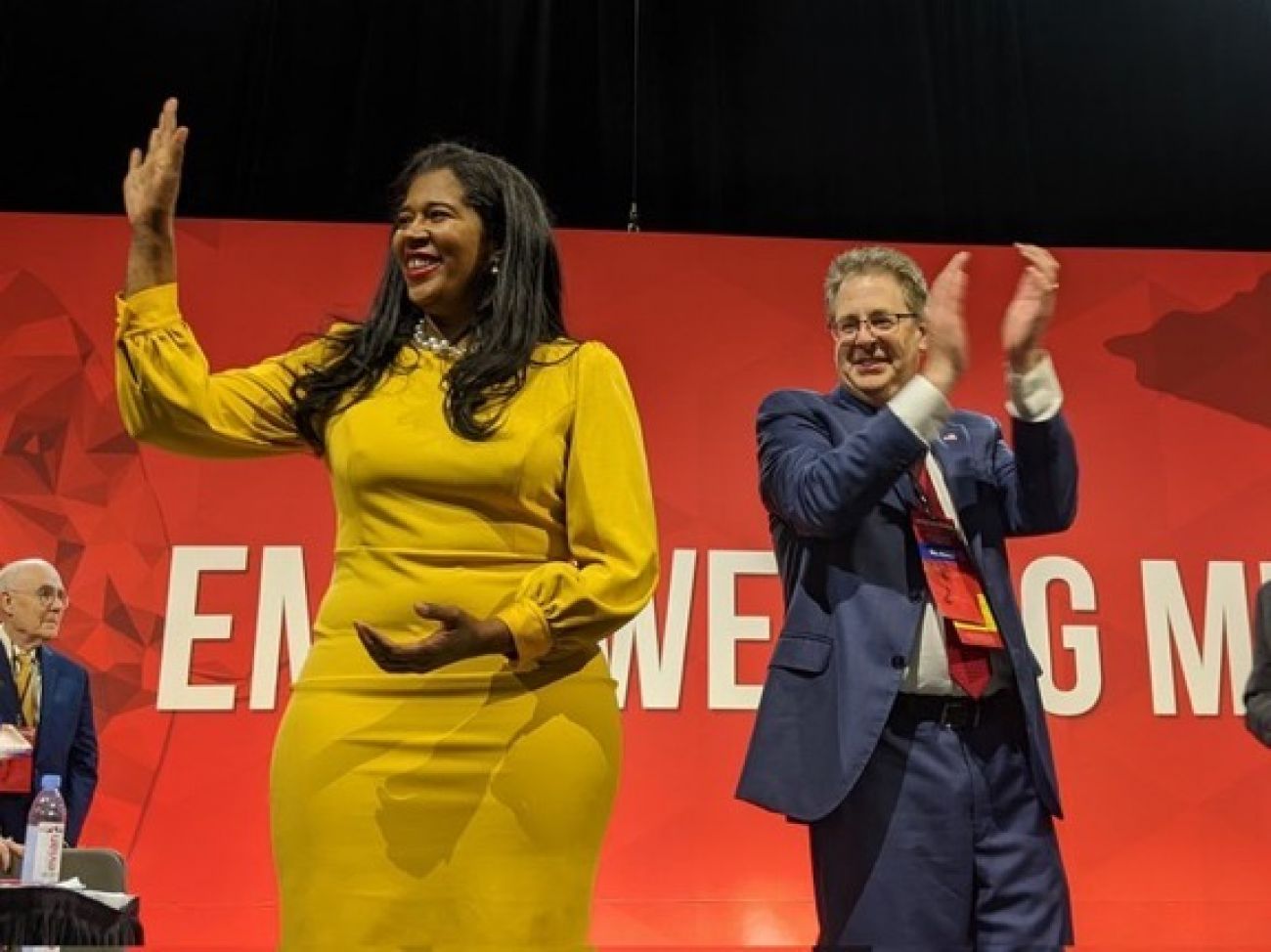 Matthew DePerno shares a stage with Kristina Karamo, the Republican candidate for secretary of state, during the Republican nominating convention this spring. (Bridge file photo)
He's also suggested he would do more to fight the flow of fentanyl across state borders and crack down on illegal campaign finance contributions.
Campaign finance numbers show Nessel had over $2.4 million to spend going into the final weeks of the election, 10 times more than DePerno.
But Nessel has her own troubles. Her office suffered a high-profile defeat in efforts to prosecute former state officials for the Flint water crisis case, and has had several setbacks in efforts to close the Line 5 energy pipeline.
Some Republicans who were initially skeptical of DePerno are now convinced.
In July 2021, Senate Majority Leader Mike Shirkey said DePerno and others who continued to claim the 2020 election was rigged were "destroying the fabric of our nation," which he called "shameful."
Shirkey endorsed DePerno a year later, calling him "fearless and doggedly determined."
"Matt and I have had our differences, but they pale in comparison to the blatant partisan antics of our current attorney general," Shirkey said in a statement.
Since winning the Republican nomination, DePerno has "laid out a good vision" for fighting crime, said Tori Sachs, executive director of the Michigan Freedom Fund.
Coupled with Nessel's conduct outside of her official job duties and her office's failure to deliver on Flint water prosecutions, Nessel has alienated many voters and is "very vulnerable," Sachs said.
"I think there's a good chance that he wins," she said. "Dana Nessel has a lot of things working against her."
Nessel declined to debate DePerno, saying she wouldn't be able to comment on the ongoing voting machine investigation and was "reluctant to provide him a forum to disseminate (hateful) ideas."
In response, DePerno turned up outside an event Nessel attended in Saginaw, calling her a coward who is "hiding from her record" as the "most corrupt attorney general in the country."
An incident last fall where Nessel had to be escorted from a football game due to drinking too much inspired one of DePerno's nicknames for Nessel: "Drunk Dana."
DePerno has repeatedly called Nessel a "groomer," which has traditionally described the practice of befriending a child to sexually exploit them but lately has been used by conservatives to insult liberals.
Nessel said use of that term against her, the first openly gay person to hold statewide elected office in Michigan, is "pure homophobia."
"They're equivocating being gay with pedophilia, which we absolutely know is not true," Nessel said.
From Todd Courser to Trump favorite
DePerno is beloved by some clients but was fired from his former law firm in 2005 amid allegations of "fraud, deceit and dishonesty with regards to bogus billing," which he has denied.
He specialized in tax law before emerging on the political scene in 2015 as a defense attorney for former state Rep. Todd Courser, who eventually pleaded no contest to willful neglect of duty for using government resources to cover up a sexual affair with a fellow lawmaker.
In late 2020, DePerno began representing a local Trump loyalist who sued Antrim County after the clerk's office initially released erroneous but unofficial results suggesting Democrat Joe Biden had won the deeply conservative region.
While the error was quickly fixed and technology and election experts eventually deemed it a human mistake, DePerno convinced a judge to allow him and a team of "forensic" experts to peek under the hood of Dominion voting machines used across the state and country.
When he walked into the Antrim County clerk's office to examine election machines on Dec. 6, 2020, he was joined by attorney Katherine Friess, who was working under Trump personal attorney Rudy Giuliani, and other attorneys from a firm hired by Sidney Powell, a former attorney for Trump who was sanctioned by a Michigan judge for spreading election fraud claims in lawsuits attempting to overturn the election.
Accompanying them were examiners from a forensic data firm who went on to produce a report that fueled global conspiracy theories about voting tabulators, according to a sign-in log and interviews with local officials.
Their report concluded the voting tabulators were "intentionally and purposefully designed" to "create systemic fraud.
It was panned by state officials and independent experts.
But the report quickly made its way to Trump, whose legal team included it as justification for a draft order that would have directed the defense secretary to seize voting machines nationwide.
Lower courts have twice rejected DePerno's request for a full "forensic audit" in Antrim, but he appealed the case to the Michigan Supreme Court in June, again alleging "rank fraud" in 2020. Justices have not decided whether to hear the case, which focuses more on state audit procedures than allegations stemming from the last presidential election.
In between Antrim County hearings, DePerno met with a Trump state department official in Washington D.C. on Jan. 6, 2021, around the same time other Trump loyalists swarmed the U.S. Capitol and attempted to stop congressional certification of President Joe Biden's election.
DePerno has said he was "briefing (then-Secretary of State) Mike Pompeo's staff on how the election was stolen" – "don't tell the Feds!" he joked last year in a candidate questionnaire.
DePerno has criticized reporters for describing the deadly Capitol riot as an insurrection.
DePerno raised more than $389,000 for his Antrim County litigation through an Election Fraud Defense Fund he said would be used to "defend and to protect the integrity of elections in the United States."
He has declined to specify how that money was spent, despite demands for transparency from fellow Republicans who competed against him for the attorney general nomination.
Antrim County Clerk Sheryl Guy, who was elected as a Republican and admitted to the mistake, describes DePerno as a villain.
"I look at him as in the cartoons: He's the big tall guy in the trench coat tying up the woman to the railroad tracks," she told Bridge Michigan last month. "That (woman) was me."
Criminal probe roils race
DePerno's quest to examine ballot counting machines eventually extended to areas of the state where he did not have a court order, according to Nessel's office, which in August referred the DePerno and eight others to a special prosecutor claiming alleged improper access to voting equipment in four other jurisdictions.
DePerno denied the charges, and his campaign quickly mobilized to raise money off the request, telling supporters the investigation "would make Saddam Hussein blush" and suggesting her office's probe is "graver than Pearl Harbor or 9/11."
Nessel has declined to comment directly on the case, citing the conflict of interest she faces in running against DePerno. But she said she's committed to making sure voters know their vote counts and defending their rights.
That alone highlights "some very basic differences in our viewpoint," Nessel said. "This is a person who was intent on suppressing the vote, subverting the vote, undermining the vote, and I'm a person who believes in democracy."
It's unclear when Special Prosecutor DJ Hilson will wrap up the investigation, and it does not appear the Michigan Constitution or any state laws would prevent DePerno from serving as attorney general even if he is criminally charged, convicted or disbarred.
"As amazing as it sounds, I do not think you have to be admitted to the practice of law to be attorney general," said LaBrant, the attorney who once worked to elect Republicans.
But LaBrant noted DePerno could be impeached or face gubernatorial removal if DePerno is convicted or loses his law license after office.
What it means for Michigan
DePerno's work to overturn the 2020 election was not limited to Michigan. He also helped fund a partisan audit in Arizona's Maricopa County and last year authored a memo for Arizona state Sen. Wendy Rogers arguing that Legislatures still had the authority to recall electors and "decertify" the 2020 election even though it had already been certified by Congress.
DePerno continues to fight the Antrim County case in court and has spoken at rallies demanding lawmakers conduct their own "forensic audit" of the 2020 election.
His campaign did not respond to questions about whether he would attempt to re-litigate or further investigate the 2020 election if elected.
While attorneys general do not directly oversee elections, their role is "important in terms of maintaining democracy and election integrity," said David Becker, executive director of The Center for Election Innovation & Research in Washington D.C.
Becker noted Arizona's Republican attorney general Mark Brnovich successfully defended against attempts to undo his state's 2020 election results and asked federal authorities to investigate a conservative group that raised money off continuing claims about the contest.
Conversely, Texas GOP Attorney General Ken Paxton led a failed lawsuit that asked the U.S. Supreme Court to undo 2020 election results in Michigan and three other battleground states.
Nessel said she's concerned about the possibility of an exodus of nonpartisan talent at the department if DePerno wins, pointing to reports of Paxton's department losing career public servants amid dysfunction and an increased focus on political battles.
Even if an attorney general sides with Trump or another candidate who may claim fraud in the 2024 election, it's still unlikely that "the loser is declared the winner" because courts would ultimately order certification, Becker said.
"But what I do think is this could cause a period of uncertainty, and that uncertainty could be exploited by people who want to incite political violence," he said. "There's been a lot of gasoline poured on the ground. We're not sure what kind of spark it would take to ignite it. And an attorney general who is unwilling to uphold their oath of office could be part of that."
Michigan's Republican-led Senate Oversight Committee spent months investigating claims about the 2020 presidential election and determined that DePerno's conclusions were "demonstrably false and based on misleading information and illogical conclusions."
In June 2021, the GOP-led Senate panel asked Nessel to launch a criminal investigation into DePerno and others "who have been utilizing misleading and false information about Antrim County to raise money or publicity for their own ends."
DePerno responded by lashing out at Senate Republicans, accusing them of a "cover up" and a "shameful" attempt to "suppress the truth."
When state Rep. Steve Johnson, R-Wayland, called the Arizona audit a "waste of effort" and labeled DePerno a "snake oil salesman," DePerno called him a "coward."
Antrim County Commissioner Ed Boettcher, a fellow Republican who was also present when DePerno's team used a court order to access local voting equipment, said the experience left a bad taste in his mouth.
"I'm not a Dana Nessel fan in any way, shape or form," Boettcher told Bridge. "But I'm not a Matt DePerno fan either. I question some of his ethics, and I actually question some of his skills. I don't have a clue what I'm going to do on Election Day, because I can't vote for him."
DePerno remains unbothered by his critics. During an August rally on the Michigan Capitol lawn following the GOP convention, he told supporters that winning the election "is not that hard to do."
"We will no longer allow them to destroy the hopes and the dreams of our children," he said at the time. "We are going to have people across this country saying once again we want to live in Michigan, where people live free."
Only donate if we've informed you about important Michigan issues
See what new members are saying about why they donated to Bridge Michigan:
"In order for this information to be accurate and unbiased it must be underwritten by its readers, not by special interests." - Larry S.
"Not many other media sources report on the topics Bridge does." - Susan B.
"Your journalism is outstanding and rare these days." - Mark S.
If you want to ensure the future of nonpartisan, nonprofit Michigan journalism, please become a member today. You, too, will be asked why you donated and maybe we'll feature your quote next time!