As Michigan election nears, some apprehension over strife at polls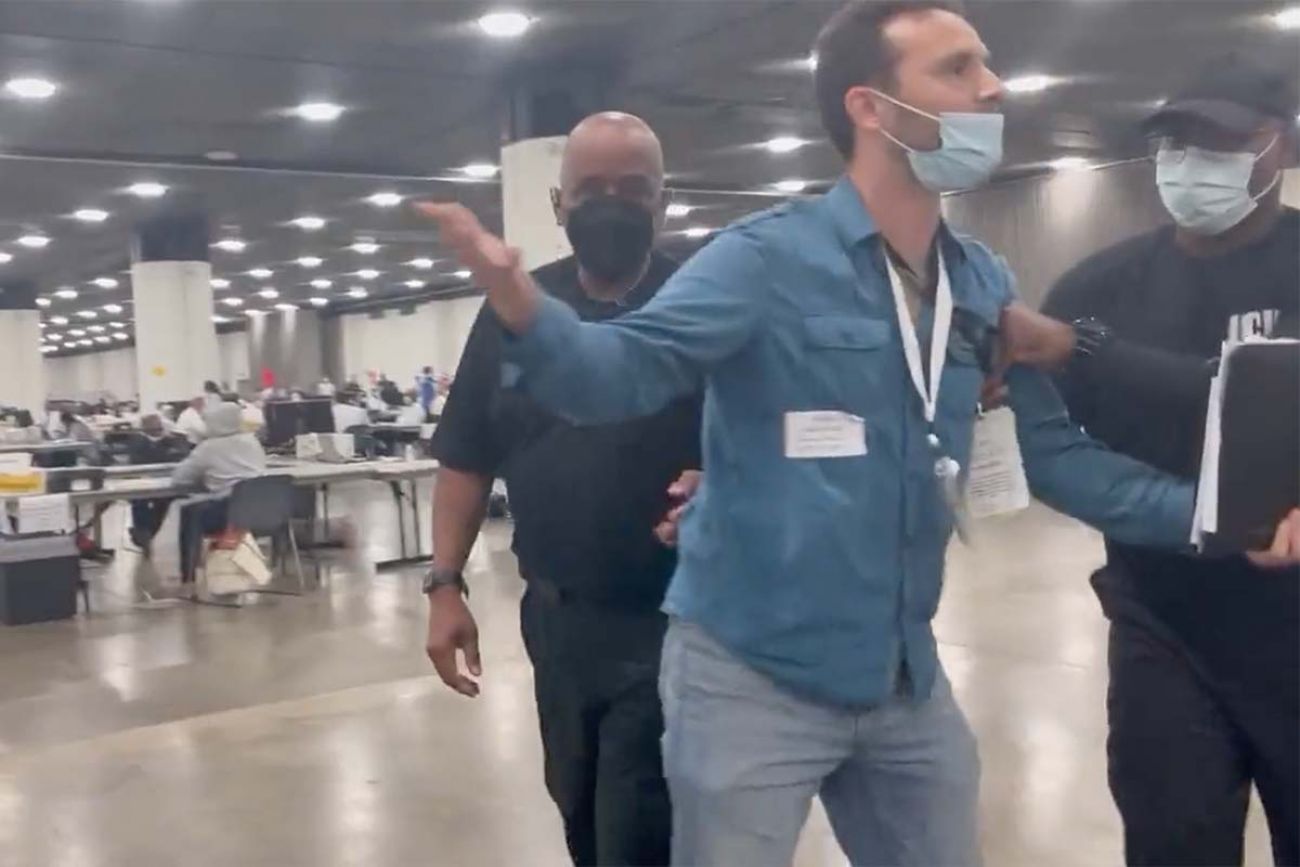 Republican poll challenger Braden Giacobazzi is escorted out of Detroit's ballot processing center during the August primary. He now trains poll challengers. (BridgeDetroit photo by Malachi Barrett)
Election officials are girding for more partisan poll watchers and poll challengers
The increase is prompted by Republicans who say the 2020 election was stolen and Democrats seeking voting access
Some fear increased confrontations at precincts and vote processing centers on Election Day
---
No one knows what to expect on Election Day in Michigan.
Democratic Secretary of State Jocelyn Benson recently warned of possible "violence and disruption" on Nov. 8 and beyond.
Her Republican opponent, Kristina Karamo, claimed Benson and Democrats will spend Election Day trying to "suppress" Republican poll challengers from performing their "constitutionally protected rights supervising the election process."
Related:
Michigan clergy, meanwhile, are organizing to visit polling places Nov. 8 to pray for peace.
There are likely to be more partisan actors involved in this election than in years past, from poll workers to poll watchers and challengers. Republicans, some of whom contend without proof that the 2020 presidential election was stolen, Democrats and other interest groups have recruited and trained more Election Day volunteers in Michigan and across the U.S. than in the past.
Some of that training has included advice that could lead to confrontations.
For example, in January, then-Republican gubernatorial candidate Ryan Kelley encouraged poll workers to unplug election equipment if they suspect something suspicious is going on. In August, trainees were told by Patrick Colbeck, a former Republican state senator, that poll challengers can demand tabulator tapes after polls close, according to a report by Michigan Radio.
One recent advertisement for Election Day training, promoted by the Lakes Area Tea Party in Oakland County, featured a photo of men carrying guns and wearing camouflage. The event was billed as "Seal Team 6 Poll Challenger Training."
Seal Team 6 is the special military operations unit that killed Osama bin Laden
"Be more than just a poll challenger," the social media ad said, "be a Seal Team 6 poll challenger!"
Matthew Seely, a member of the tea party Facebook group, said the aim is to ensure nobody has questions about the upcoming election.
"Everyone wants the same thing, for their vote to count and for there to be election integrity," Seely said in an interview. "But politics has demonized the other side so much, no one knows who to trust."
The military photo, he said, doesn't have "anything to do with camouflage. What they're trying to do is say there is no other group that represents patriots defending the Constitution more than Seal Team 6."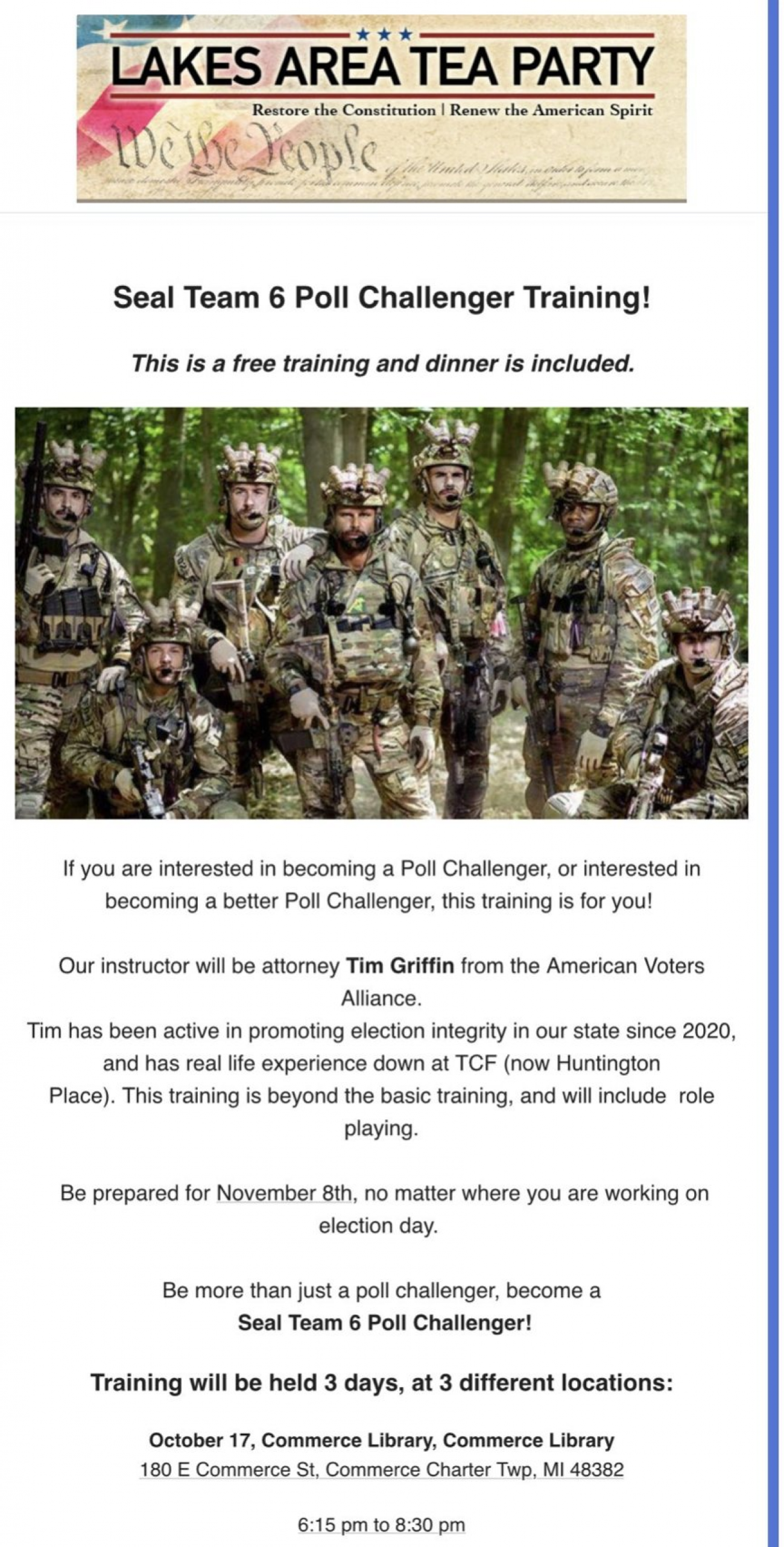 A militaristic advertisement for poll challenger training is an example of the concerns some officials have for Election Day in Michigan.
The Michigan Democratic Party is also actively seeking poll challengers and watchers to join what they're calling "our voter protection team" to "combat Republican's (sic) voter-suppression tactics."
David Becker, executive director and founder of The Center for Election Innovation & Research, an election integrity group in Washington DC., cautioned that concerns about voter intimidation occur every election, and often are overblown.
"Every two years there are stories about how an army of poll watchers is being recruited and how they're going to be deployed to inner cities to make sure that there is no fraud," Becker told Bridge Michigan. "This happened in 2020. This happened in 2016. It happened in 2012. That happens all the time. And by the way, in the past, it never really materialized.
"I think there are some that may intend those stories to be put out there to actually suppress the vote so people might think, 'Oh, I' going to have to run a gauntlet if I want to vote. I'm going to run into problems and barriers when I try to show up at my polling place. And so maybe I won't show up.'"
But Becker acknowledged this year may be different.
"It does appear there have been efforts to weaponize, militarize poll watchers, poll challengers who should be trained," he said. "Poll watchers in general are a good thing. Properly trained poll watchers are a key part of the transparency of the process, from both parties. But if they weaponize themselves, … we could see what could become passive observation turn into active intimidation or interference."
A constellation of poll workers, watchers and challengers on Election Day has long been a feature of U.S. voting, helping to keep the process transparent and accountable.
Poll workers are hired and trained by local governments to carry out election operations in a nonpartisan fashion, from checking in voters to counting ballots.
Poll watchers are positions open to anyone who wants to observe the voting process.
Poll challengers are credentialed, partisan observers representing parties or other organizations. In Michigan, they must be registered to vote in the state and cannot be a candidate.
In September, Benson in an interview on Face the Nation said, "there's a concern about the ongoing spread of misinformation, which of course fuels the potential for additional threats, harassment and … even violence on election day."
"All voters should know that election officials on both sides of the aisle are working night and day to ensure we're collaborating with law enforcement and every other potential partner to protect the sanctity of the polling place and protect the integrity of our democracy."
Benson did not return calls seeking comment.
Karamo, who also did not return a request for comment, said in a recent videotaped news conference on Twitter that it is Democrats, including Benson, who were undermining faith in the voting process by trying to hinder poll challengers.
Karamo cited recent Election Day guidelines issued by Benson's office that called for the banning of recordings, including on cell phones, in polling places or absentee vote processing centers, kept poll challengers at least six feet away from poll workers and required them to be credentialed by the Secretary of State's office — guidelines that were scuttled by a court last week — and removing challengers who officials deem to be interfering with voting or the vote count.
"The role of the poll challenger is critical to assuring our voting rights are protected," Karamo said in the video.
Joseph Lenard, a member of the 12th Congressional District Republican Committee in Wayne County, said he believed having extra eyes on the election process is positive, but acknowledged partisan passions could lead to conflict.
"You can't have a temper," Lenard said. "You've got to remain calm or you'll make matters worse."
Lenard told Bridge Michigan there are more Republicans volunteering to be trained as poll workers this year than in past years. He said poll workers are being certified through county clerk offices, but are receiving "supplemental training" through the Republican Party.
"There are many who suspect the results of the 2020 election in Michigan were not as valid as they could or should have been. We've always had poll challenger training, but we've made a concerted effort to recruit more people to be poll workers; that way we're at the table to make sure there are no shenanigans," said Lenard of Wyandotte.
"A lot of people want to do that, but it's a long day, you have to be there before the sun rises and often work late into the night."
Lenard noted the party is also training more poll watchers, who can observe but not speak to poll workers or voters, and poll challengers, who can challenge a voter's right to vote or raise concerns about election integrity.
In Ingham County, eight groups, including the Republican and Democratic parties, have requested registrations for poll challengers at precincts on Election Day, compared to five in 2020, Ingham County Clerk Barb Byrum said. They include conservative groups, such as Michigan Citizens for Election Integrity, and, progressive groups such as Promote the Vote.
"I am concerned that the constant barrage of election conspiracy claims have enraged people" and may "empower them" to try to disrupt voting, said Byrum, a Democrat.
"If a poll challenger is intimidating voters, I will have them removed," she said. "The polling location is a sacred place and I will not stand for any misbehavior."
Republican Braden Giacobazzi was a poll challenger in 2020 and again during the August primary. Giacobazzi was kicked out of the ballot processing center in Detroit during the primary for allegedly not following challenger guidelines. From a video of Giacobazzi being removed, it's unclear what rules he was accused of violating.
"I teach poll challenger training now," Giacobazzi said at a recent online press conference with Karamo. "What I teach is be courteous, be nice, be respectful, be peaceful, and yet all I hear from Jocelyn Benson is that we're going to cause a problem."
Last week, in a lawsuit in which Giacobazzi was a plaintiff, the secretary of state's guidelines for poll challengers were thrown out by a Michigan Court of Claims judge, adding uncertainty to what is and isn't allowed on Election Day.
Court of Claims Judge Brock Swartzle ruled that the Bureau of Elections, which is overseen by Benson's office, should have gone through the typical rule-making process — which includes gathering public input on the guidelines — before issuing poll challenger instructions in a manual in May.
Benson said she would appeal that ruling.
"We don't know legally what we can and cannot do (to rein in disruptive challengers, because the challenge is still playing out in courts)," said Canton Township Clerk Michael Siegrist. "We're on shaky legal ground when we've already done our training (for poll workers)."
Siegrist, a Democrat, said he is "preparing our staff for the potential of individuals who aren't good-faith actors.
"First and foremost, we are prioritizing protecting the voters," he said, "to assure we don't allow voter intimidation from anyone who they may feel in their mind is trying to make them uncomfortable to cast their ballots."
Poll watchers and observers aren't there to intimidate anyone, Republican poll challenger Giaobazzi said. "It should be a synergistic relationship between all the people in that room," he said. "There's no reason a poll challenger should be considered an antagonist."
Giacobazzi, who called the Democratic secretary of state "an authoritarian posing as a legitimate politician," said "we should be working together. That's how it's supposed to be."
Vote counting in Detroit in 2020 nearly descended into chaos at what was then called the TCF Center, with unsubstantiated claims by Republicans of ballot stuffing and an unruly crowd of Donald Trump supporters chanting "Stop the count."
Detroit Clerk Janice Winfrey told Bridge Michigan she is adding more security to "help protect the poll workers" on Nov. 8, and has trained about 5,000 people to process ballots that day (and night).
Despite the prospect of more poll challengers at precincts and the city's ballot processing center, "we're preparing the way we do for all elections," Winfrey said.
Still, amid concerns about possible confrontations, a national social justice organization which advocates against voting restrictions said it has recruited clergy to spend Election Day at some Michigan precincts to "keep the peace."
The effort, Faiths United to Save Democracy, has been recruiting, training and mobilizing faith leaders in nine states including Michigan to "watch, pray and protect (the) sacred right to vote," said Rev. Adam Taylor, president of Washington, D.C.-based Sojourners, an interdenominational Christian organization.
"We try really hard to not make this a partisan issue," Taylor said. "Even within our own campaign, we have clergy who have very different views, but what they do agree on is that everyone has the right to vote."
One of those clergy is the Rev. James Perkins, of Greater Christ Baptist Church in Detroit.
Perkins said there are more than 150 clergy in Michigan who have signed up to work as "poll chaplains" Nov. 8, including Protestant, Catholic, Muslim and Jewish faith leaders.
"We have targeted Detroit, Flint, Pontiac, Muskegon, Kalamazoo and Grand Rapids," Perkins said. "We ask (the clergy) to try to be a calming presence."
Lenard, the Republican Congressional Committee member, said that despite the heated rhetoric, he holds out hope for a peaceful Election Day.
"If we are all indeed truly caring about free and fair elections, there should be no badgering or bullying of either side by the other," Lenard said, "no matter who wins or loses."
Only donate if we've informed you about important Michigan issues
See what new members are saying about why they donated to Bridge Michigan:
"In order for this information to be accurate and unbiased it must be underwritten by its readers, not by special interests." - Larry S.
"Not many other media sources report on the topics Bridge does." - Susan B.
"Your journalism is outstanding and rare these days." - Mark S.
If you want to ensure the future of nonpartisan, nonprofit Michigan journalism, please become a member today. You, too, will be asked why you donated and maybe we'll feature your quote next time!