Michigan GOP petitions to rewrite voting, pandemic and school laws in 2022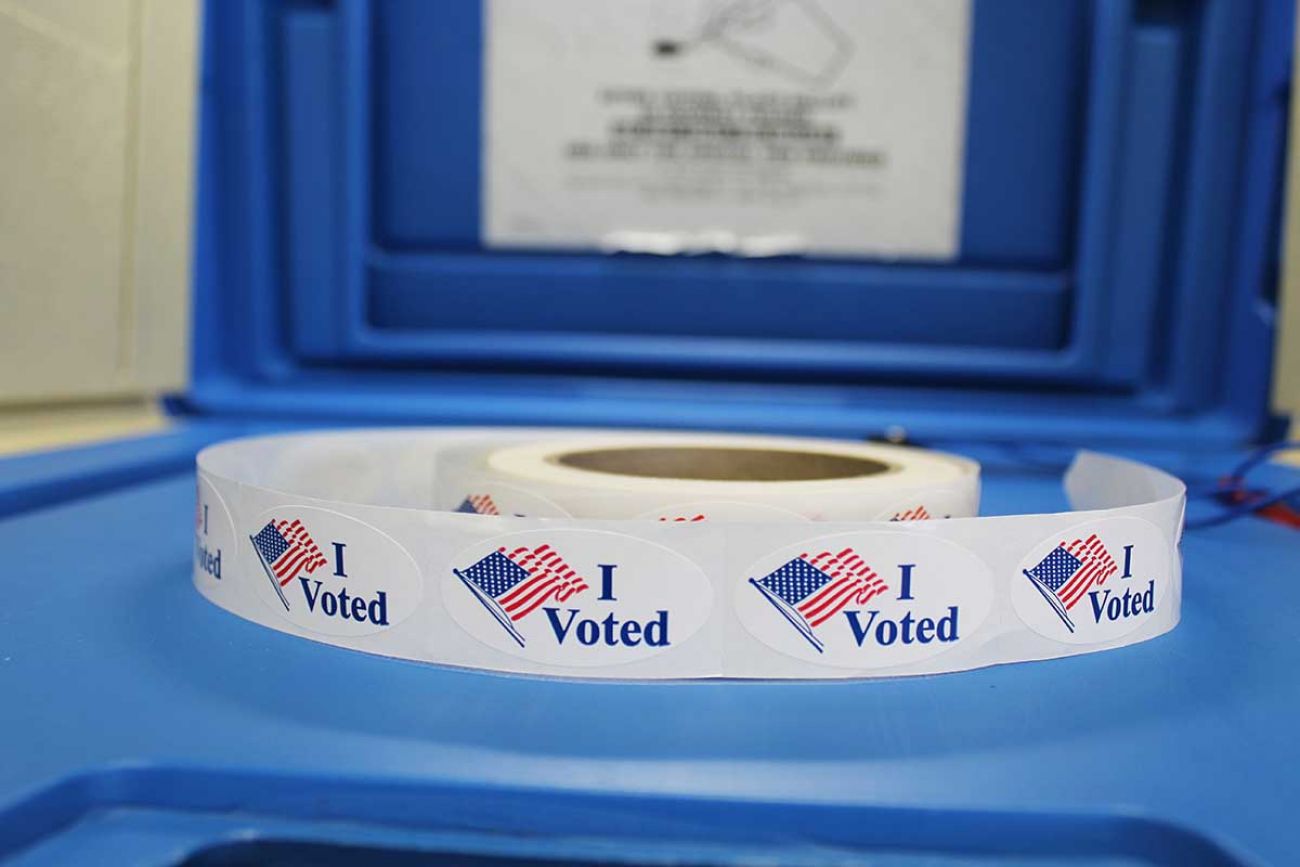 (Shutterstock)
Instead, Republicans are circulating a trio of petitions that would allow them to circumvent Whitmer and create new laws of their own, a maneuver that experts say is clearly legal but has never been utilized with such frequency — and such high stakes.
Related:
The Michigan Constitution includes an indirect initiative process allowing legislators to adopt measures initiated by petitions that are signed by at least 8 percent of voters in the state's last gubernatorial election. And it is one of just two states with a provision expressly prohibiting a gubernatorial veto.
The Republican-led Legislature used the process to avoid a Whitmer veto earlier this year, approving the Unlock Michigan initiative to repeal a 1954 emergency powers law the governor had used to issue stay-home and other orders early in the COVID-19 pandemic.
And now, they're at it again with a trio of initiatives proposing to toughen voter ID rules, limit unilateral health department pandemic orders to 28 days and create tax credit scholarship funds that parents could use to pay for private school tuition.
Organizers will need to collect at least 340,047 valid voter signatures to send the Secure MI Vote, Unlock Michigan 2 and Let MI KIds Learn initiatives to the Republican-led Legislature for likely enactment next year.
If they pull it off, Whitmer — who received 2.3 million votes in 2018 — could not stop them.
Democrats argue the GOP is exploiting a constitutional "loophole" to push a conservative policy agenda that a majority of voters may not support. Republicans say their strategy is smart politics.
"It's not a game," said Fred Wszolek, a veteran political strategist working on all three of the big Republican petition drives announced earlier this year and expected to continue into 2022.
"This is a mechanism that (framers) put into the constitution to get policy accomplished," he said. "And so this is what we're doing. No education reform worth its name would pass with this governor, so we're just doing it the other way."
Wszolek knows the process well: He navigated it successfully last year as an organizer on the first Unlock Michigan initiative, which was sent to the Legislature after circulators collected an estimated 460,358 valid voter signatures.
Democrats and liberal groups have initiated legislation by petition drive too. But the GOP-led Legislature blocked two recent attempts by adopting and then quickly amending minimum wage and paid sick leave initiatives, weakening them and keeping them off the ballot.
Republicans are "using all available tools" in the initiative process to achieve their policy goals, conceded Mark Brewer, a Democratic attorney and former state party chair who is battling the petition drives and fighting the GOP-led Legislature in court.
"But is it the right thing to do? Is it what this tool was intended to be used for? Absolutely not," Brewer argued. "They have corrupted the citizen initiative process in this state."
What does the constitution say?
Framers knew what they were doing when they chose to write the indirect initiative process into the Michigan Constitution of 1963, according to Craig Theil of the Citizens Research Council, who has reviewed notes from the constitutional convention.
The constitution assigns a clear role for the Legislature, including the ability to adopt an initiative to make it law.
Alternatively, legislators can do nothing and let an initiative go to the next statewide ballot for voters to decide. Or they can reject an initiative and propose an alternative, putting both on the ballot for voters to choose between.
The "veto bypass" mechanism Republicans are attempting to use next year for their trio of policy initiatives was "designed to ensure that certain legislative powers are retained by the people and minimally encumbered by other government officials," namely a governor, Theil said.
What has changed since 1963 is the professionalization of petition drives, Theil told Bridge Michigan. Well-funded groups now pay circulators to collect signatures. They are able to better coordinate because of advances in communication technology and transportation.
That's led to an influx of petition drives designed specifically to evade a gubernatorial veto, a process pioneered by Right to Life of Michigan, which in 1987 teamed with a cooperative Legislature to enact a law banning the use of public funds for abortion.
Until that time, Michigan lawmakers had stayed out of the initiative process, letting all eight measures that reached them by petition drive go to ballot for voters to decide, including a 1976 initiative that created the state's bottle deposit and refund recycling law.
But since 1987, Legislatures have adopted 10 of 16 initiatives sent to them by petition drive.
In two of those instances — on minimum wage and paid sick leave — Republicans adopted initiatives but heavily amended them before they took effect to weaken liberal reforms.
The indirect initiative process has been in various versions of the Michigan Constitution for more than a century, according to Brewer, the Democratic attorney who is fighting the GOP initiatives and has sued over the 2018 "adopt and amend" maneuver.
"The idea was that the people would generate ideas and bring up a petition, and if the Legislature recognized it as a good idea, they would adopt it," Brewer said.
The goal, he argued, was not to give the Legislature a path to go around a governor, "even though that is how the mechanism works."
What election laws do Republicans want to change?
The Secure MI Vote initiative, which organizers are now collecting signatures for, would tighten Michigan's voter ID law and other election rules following a tumultuous 2020 contest marked by President Donald Trump's false claims of widespread voter fraud.
Michigan already has a voter ID law, but the initiative would eliminate a rarely used affidavit option that allows individuals without an ID to cast a ballot if they sign a statement of identity under penalty of perjury. Absentee ballot applicants would also be required to submit their driver license number or the last four digits of their Social Security number.
The initiated legislation would also bar election officials from mailing unsolicited absentee ballot applications to voters who did not request one, and it would prohibit local clerks from accepting any private funding or other assistance to help administer Michigan elections.
Supporters argue the initiative could help restore trust in the election process and deter potential voter fraud. Critics say it could disenfranchise minority voters, who are less likely to have ID. They call it a solution in search of a problem because even a Michigan Senate GOP investigation found there was no widespread voter fraud last year.
Michigan Republican Chair Ron Weiser, an Ann Arbor real estate magnate, is helping fund the voting and election reform petition drive. Through Oct. 26, he had donated $80,000 of the $85,668 raised by the Secure MI Vote committee, according to disclosure reports.
How would the GOP initiative change pandemic rules?
The Unlock Michigan 2 initiative aims to limit COVID-19 regulations or other epidemic orders issued by the state health department or local health officers to 28 days in length — unless extended by the Legislature or a local governing body.
It's a sequel to the Unlock Michigan initiative, which lawmakers approved last year to repeal a 1954 gubernatorial powers law. The follow-up aims to amend a separate 1978 law that allowed the Michigan Department of Health and Human Services to continue issuing its own epidemic orders, including an indoor mask rule that was lifted last summer.
Supporters say the initiative would give elected representatives a voice in how the state and local governments respond to public health emergencies. Critics contend the proposal is dangerous because it would allow partisan politicians to overrule trained health officials.
Like its predecessor, Unlock Michigan's second petition drive has been primarily funded by a nonprofit group that is linked to Senate Majority Leader Mike Shirkey and is not required to disclose its donors. The nonprofit — Michigan! My Michigan! — contributed $200,000 to Unlock Michigan in early September as organizers launched their second petition drive.
What would the GOP's education initiative mean for students?
The Let MI Kids Learn initiative is actually two petitions: One that would create a new "Student Opportunity Scholarship" program that Michigan families could use to pay for various educational expenses, including private school tuition or tutoring. A second would create new tax credits for private donors, offsetting contributions to the new scholarship system.
The Michigan Constitution prohibits public funding of private schools, including any tax benefits or credits. But under the proposal, donors would get tax credits for contributing to newly created "scholarship granting organizations" instead of schools.
Supporters say the initiative would give families new choices on how to best educate their children, empowering them to seek the best options. Critics argue it violates the spirit — if not the letter — of the constitution to create the kind of voucher system that former U.S. Education Secretary Betsy DeVos has long sought.
It's not immediately clear who is funding Let MI Kids Learn. The newly-formed group has not yet been required to file a campaign finance report. Michigan's GOP-led Legislature already approved similar bills in October, and the state party announced support Dec. 4.
What's next for the petition drives?
For each initiative, Republicans will need to collect at least 340,047 signatures within a 180-day window to send the initiatives to the GOP-led Legislature.
Deadlines differ for each initiative since organizers began collecting signatures at different times, but they're also flexible: Groups have an option to toss out early signatures and restart the 180-day clock if they think they can collect more efficiently at a later date.
Secure MI Vote began circulating petitions at a Livingston County Republican Party event in early October, which means organizers will likely try to submit signatures by early April.
Unlock Michigan began its second petition drive in September, giving organizers until early March.
Let MI Kids Learn had not begun circulating petitions as of mid-December but was preparing to do so.
While he helped coordinate the successful Unlock MIchigan petition drive last year, Wszolek acknowledged the circulation process could be more complicated this time around because all three groups are attempting to collect signatures during the winter.
"There's a reason why nobody's ever started a petition drive in the winter before," he said. "Because it sucks. There aren't fairs, festivals, parades, farmers markets — you know, the normal places you go (to collect signatures from lots of voters). It's cold."
That's forced Republicans to "get creative," Wszolek said. For instance, they've partnered with private businesses willing to host petitions indoors. And they are also likely to mail Unlock 2 and Secure MI Vote petitions directly to voters, he said.
To reach the Legislature next year, initiative organizers must submit enough valid signatures to the Secretary of State by June 1. And if that happens, they expect the GOP-led Legislature to enact the trio of initiatives by the end of 2022, Wszolek said.
He noted the House and Senate already approved legislation identical to the Secure MI Vote and Let MI Kids learn initiatives. And legislators made the first Unlock Michigan initiative law.
"I don't know why they wouldn't" do so again, Wszolek said.
Only donate if we've informed you about important Michigan issues
See what new members are saying about why they donated to Bridge Michigan:
"In order for this information to be accurate and unbiased it must be underwritten by its readers, not by special interests." - Larry S.
"Not many other media sources report on the topics Bridge does." - Susan B.
"Your journalism is outstanding and rare these days." - Mark S.
If you want to ensure the future of nonpartisan, nonprofit Michigan journalism, please become a member today. You, too, will be asked why you donated and maybe we'll feature your quote next time!