Roaring rallies, modest polling. Can Abdul El-Sayed upend Democratic politics?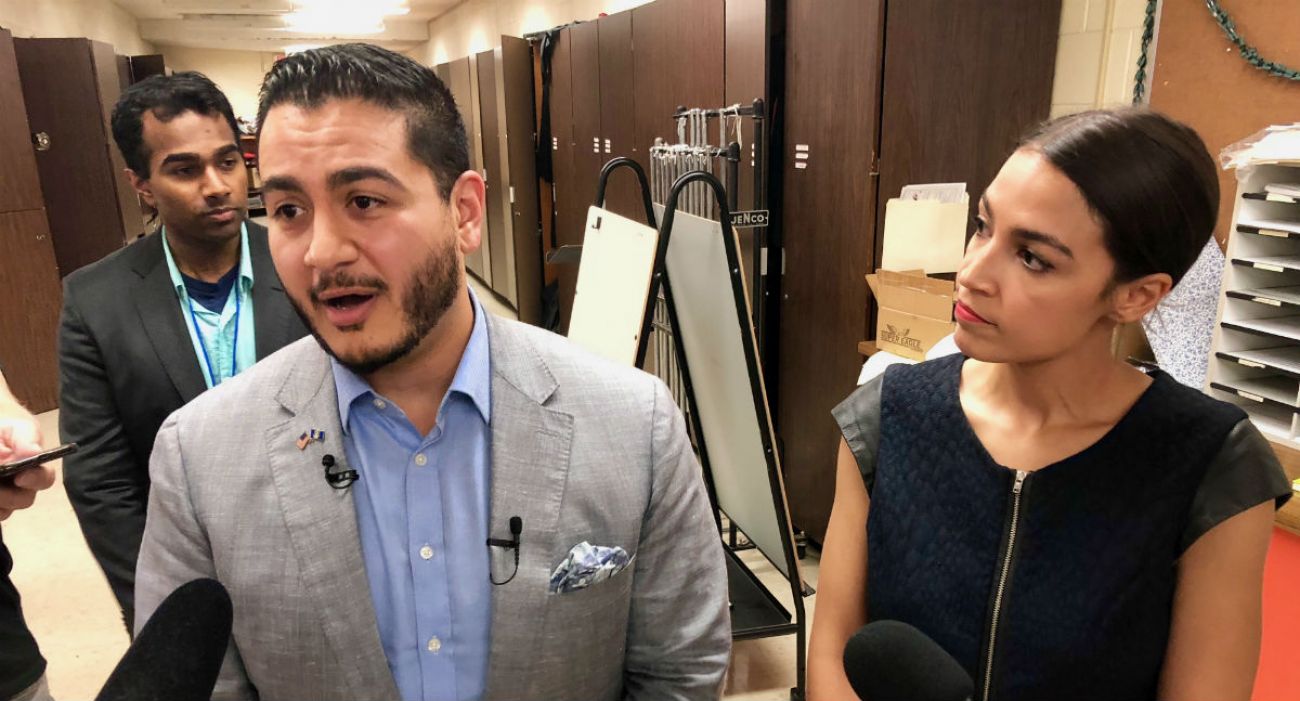 Michigan Government
Roaring rallies, modest polling. Can Abdul El-Sayed upend Democratic politics?
Update: Gretchen Whitmer wins Democratic primary for Michigan governor
A young woman came barrelling down the sidewalk toward Abdul El-Sayed and Alexandria Ocasio-Cortez on the Wayne State University campus in Detroit Saturday evening, screaming.
"Sorry, can you tell I'm a fan?" she shouted as she cut through staff and reporters to reach the candidates, where she promptly began gushing with the tenor of a teen glimpsing their pop idol. "You inspired me to get involved with politics."
It was the end of a manic day for the two charismatic young candidates — El-Sayed running for governor of Michigan and Ocasio-Cortez, the breakout political star from New York — who had crossed the state rallying crowds for El-Sayed in Grand Rapids, Flint and Detroit over eight hours.
In each city they faced packed rooms of supporters who erupted at the mention of their unabashedly progressive platforms: single payer healthcare, tuition-free college, abolishing ICE and getting corporate money out of politics. They left those rooms followed closely by reporters for national and even international media outlets; at one stop, a German journalist asked, "How worried are you right now about the international perception of the U.S. in the rest of the world?"
Even the candidates looked surprised.
Related: Republican governor candidates make final primary push in Grand Rapids
Ocasio-Cortez, who came from behind in the polls to unseat a high-ranking incumbent Democratic congressman, was hoping to leverage that political magic in support of El-Sayed, who is facing down an Aug. 7 primary challenge against two better-financed opponents that polls suggest may well leave him coming in third.
Whether the pair's barnstorming tour will make a difference remains unknowable. Will El-Sayed's aggressive brand of progressive politics, which has earned glowing national media attention and energetic crowds, be the new face of Michigan Democratic politics? Or will he be an also-ran whose polling numbers remained largely in the teens?

El-Sayed, former director of Detroit's health department, is going into next week's primary with what looks like momentum: Vermont Sen. Bernie Sanders, whose upset of Hillary Clinton in the 2016 Michigan presidential primary serves as inspiration for his followers, endorsed El-Sayed's campaign late last week. He's scheduled to come to Michigan two days before Tuesday's primary to rally for El-Sayed.
The insurgency of the state Democratic party's left flank remains one of the wildcard factors in this year's midterm election, experts say. A Sanders devotée won the chair of the state Progressive Caucus and the party chose Dana Nessel as its attorney general nominee over Pat Miles, who was endorsed by major unions and seen as the more moderate candidate.
"People are interested in creating a bigger vision for Michigan, which is why I think Sanders had success in 2016 and why El-Sayed's campaign is resonating with folks," said Branden Snyder, a Detroit-area organizer and executive director of non-profit Good Jobs Now.
National darling
The national media gravitated toward El-Sayed early in the race, many highlighting the historic nature of his campaign: If he were to win in November, he would be the first Muslim governor in the country. In a time when anti-Muslim rhetoric and violence has significantly increased, some asked whether Michigan is ready for a governor with a name like "Abdul."
(His answer Saturday morning, by the way, was a nod to the thousand-plus people who came to cheer him on in Grand Rapids: "You were in that room, what do you think?")
That attention grew throughout the campaign both for reasons relating to his faith — notably when Republican gubernatorial candidate Sen. Patrick Colbeck alleged El-Sayed had ties to the Muslim Brotherhood — and his policy proposals on platforms such as universal healthcare, internet access and preschool, with coverage on CNN and in the New York Times.
Related: Michigan GOP in bind after Muslim rant taints governor race, experts say
"When you go to Washington, D.C. and you get asked about the state of Michigan, for people external to Michigan Abdul El-Sayed is all they can talk about," said TJ Bucholz, a Democratic consultant and president of Vanguard Public Affairs, a Lansing-based public relations firm.
Ron Fournier, president of the Lansing-based public relations firm Truscott-Rossman and former Washington political journalist, said the national publicity is good for El-Sayed, but it's unclear whether or how much it will help come Tuesday.
"It is remarkable that he's the only one getting national press, it brings some star power here," Fournier said. "On the other hand, I'm a little dubious about how endorsements translate these days...I think more has to happen than just Bernie Sanders anointing him."
El-Sayed's popularity among activists of a similar brand nationwide has brought him donations from around the country, including from celebrities like Ben Affleck.
Democratic frontrunner Gretchen Whitmer, who has been involved in state politics for years and enjoys endorsements from most of the state's major unions and prominent Democratic leaders, has highlighted his out-of-state support on the campaign trail, implying Michiganders don't make up his base.
But more than a dozen attendees at El-Sayed's rallies on Saturday said they're not miffed by his backing from politicians and individual donors from outside Michigan. In fact, they identified closely with what they saw as a nationwide movement pushing for leftist policies in the wake of the 2016 election.
"I think people should be able to get involved in politics (wherever they are)" said Alex Gordon, a recent graduate of the University of Michigan. "I know I donated to the (Ocasio-Cortez) campaign because I think that's an important movement that we have across the country. As long as the money isn't coming from big corporations or Super PACs, I'm OK with it."
Experts cite a trend toward nationalization in both primary and general elections, and El-Sayed argues that the spotlight is a boon for Michigan's people and issues.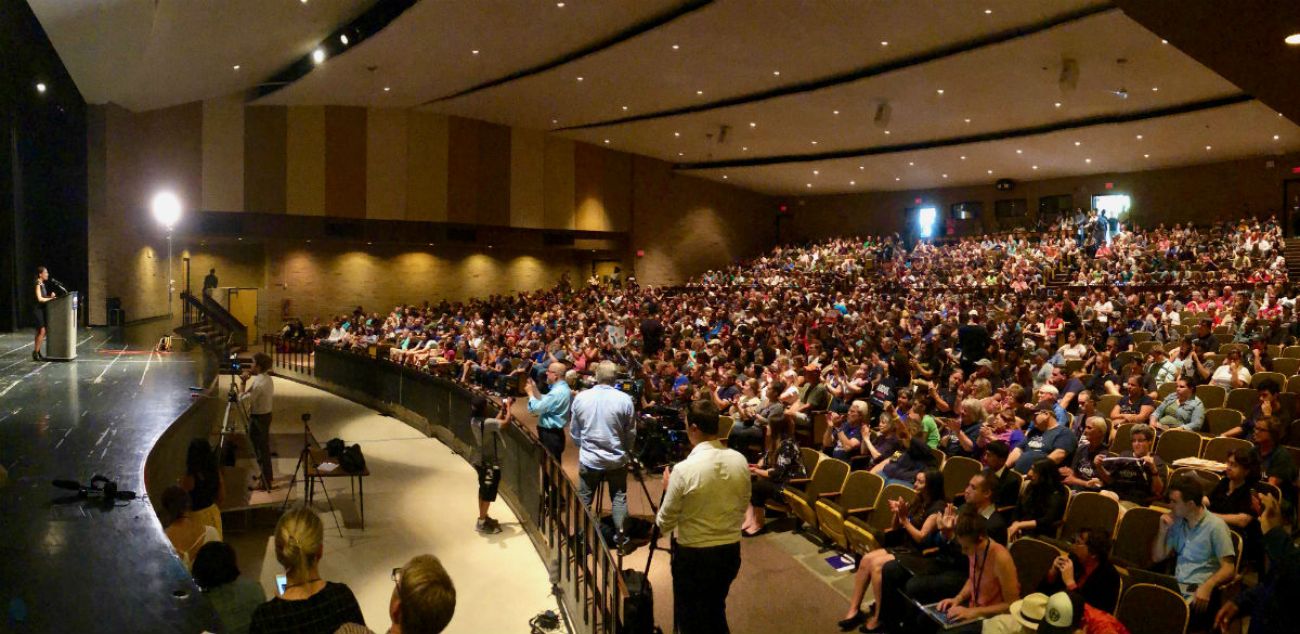 "I think that's part of the problem we've had is that people haven't been paying attention to Michigan," said El-Sayed. Now "they come here to pay attention to what's going on in our state, because we might actually get some leadership someday? I think that's a pretty good thing."
However, many traditional Democrats in the state haven't warmed to El-Sayed, who was raised in metro Detroit and graduated from the University of Michigan before becoming a Rhodes Scholar and earning an Ivy League medical degree.
That's partly because he's running against the establishment, but also because his personality grates on some. Party loyalists have complained that El-Sayed is patronizing in private, especially for someone so new to politics.
"He's come out of nowhere, just moved back to Michigan, had a job for 18 months in a small (city) department and now he's running for governor?" said Al Williams, a Detroit political operative who is former membership director of the Michigan Democratic Party.
"He acts like people are automatically supposed to support him. It supersedes arrogance to the point of being conceited."
Race to the finish
The cheering masses Saturday stood in contrast to the latest polls — a point El-Sayed didn't hesitate to point out several times.
"A bunch of people who still answer landlines in the middle of the day think we're not going to win," he told the audience in Detroit, referring to a recent poll commissioned by the Free Press that placed El-Sayed in third behind businessman Shri Thanedar and predicted Whitmer winning the Democratic primary by a wide margin.
The poll didn't reach out to voters with cell phones. (According to Pew Research, landline-only polls under-represent young people, lower-income people, Hispanic people, less educated people and people living in urban areas.) On Thursday, El-Sayed's campaign touted another poll showing him gaining on Whitmer.
Matt Grossmann, Director of the Institute for Public Policy and Social Research at Michigan State University, said his team conducted a survey indicating that "state politicos" overwhelmingly believe Whitmer will take home the crown.
"Most people believed that Whitmer was the likely victor. In public polling she's actually been doing better over time, and Abdul has not broken out," Grossmann said. "But if I were his campaign I'd be advising him to say the same thing; obviously the polls were off for both the primary and general election in Michigan" in 2016.
Indeed, being behind in the polls — and the possibility of a dramatic upset — is oftentimes worn as a badge of honor in the progressive camp.
When she was first talking with El-Sayed, "folks would say, 'You know he's a bit behind in the polls, right?'" Ocasio-Cortez told reporters Saturday. "I said 'Well, that's fabulous, because I was down 35 points two weeks before the election.'"
And experts say there's merit in that: Predicting election results has become far less certain after President Donald Trump's poll-defying victory in 2016.
"We can't trust our guts in politics anymore because it's being so radically disrupted in front of our eyes. We can't trust the polls because polling has been so radically disrupted and become so unreliable," said Fournier. "If I'm any of the candidates, I'm not thinking of myself as a frontrunner, I'm running scared."
While most insiders continue to believe Whitmer will likely win, they also say it feasibly could be anybody's game.
Thanedar can also be considered a contender: He has spent millions of dollars of his own money infusing the heavily Democratic Detroit media market with advertisements and has a campaign staffed with African-American grassroots activists like the Revs. Horace Sheffield III and David Bullock in the city. Despite being plagued by multiple scandals during the campaign, Thanedar has consistently remained second place in the polls.
He has also espoused many of the same leftist platforms El-Sayed has, much to the chagrin of the Party's left wing which booed him out of their caucus meeting in April and even released their definition of the "progressive" moniker in part to push back on Thanedar.
Most political observers came back to the same point: Could 33-year-old El-Sayed win in a general election this fall if up against a conservative politician with decades of experience like Republican gubernatorial candidates Lt. Gov. Brian Calley or Attorney General Bill Schuette?
"Abdul El-Sayed winning a primary in my opinion almost hands the general election to the Republicans," Bucholz said.
Others, like Detroit-area organizer Snyder, call that viewpoint "cynical."
"We're just excited to have someone who can talk about (progressive issues) in the mainstream," Snyder said. "For far too long our state's mainstream Democrats really focused on a policy platform of incrementalism. And what we're looking for is someone who can really take us to the future."
Bridge Magazine Managing Editor Joel Kurth contributed to this story.
We're not just a news organization, we're also your neighbors
We've been there for you with daily Michigan COVID-19 news; reporting on the emergence of the virus, daily numbers with our tracker and dashboard, exploding unemployment, and we finally were able to report on mass vaccine distribution. We report because the news impacts all of us. Will you please donate and help us reach our goal of 15,000 members in 2021?