Trans teens: We need to be heard, counted. In Michigan, the backlash is harsh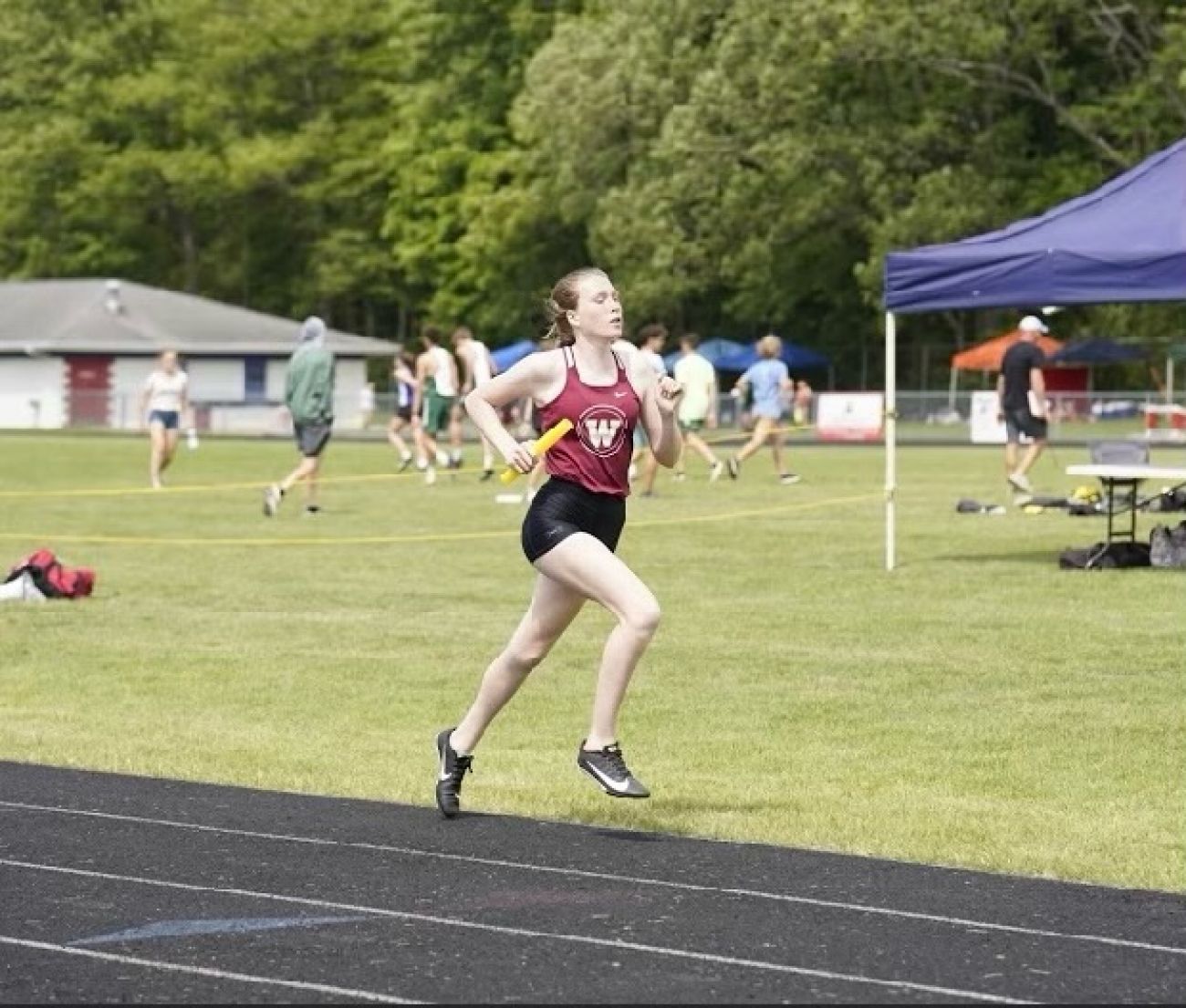 Justice Prins, 17, is a transgender student from Parma who was initially denied the opportunity to be on her school track team. She has since won that right and testified in the Legislature policy on proposed legislation involving transgender student athletes. (Courtesy photo)
Michigan Government
Trans teens: We need to be heard, counted. In Michigan, the backlash is harsh
A gust of wind blew against Justice Prins' face as her new black and orange New Balance sneakers pressed into the rubber track, and her arm stretched to reach the baton from the girl running toward her.
"You got this," Prins yelled before she grabbed the baton and bolted 800 meters toward her next teammate.
Prins finished in 2 minutes and 29 seconds at regionals that day this May, her personal best, but all the Western High School junior from Parma said she could think about was that her team was on the verge of glory.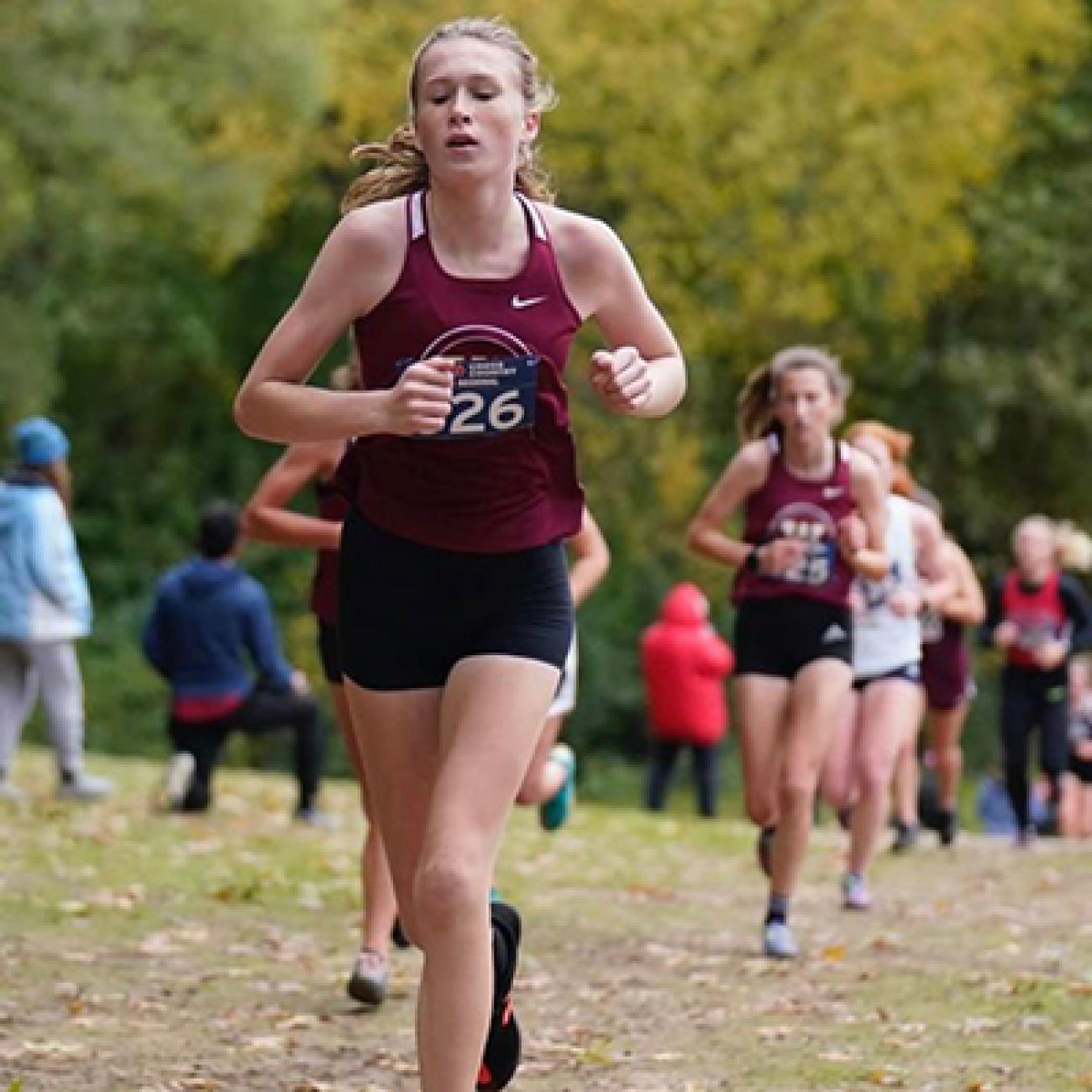 Justice Prins, 17, runs relay track at Western High School. (Courtesy photo)
Related:
Her team from a tiny district in Jackson County placed second, which allowed it to compete in states finals for the first time since the pandemic shut school sports down. Looking back, Prins said it is hard to believe she was almost banned from what she loves most, being on a girls' team.
Prins, who is transgender, is at the heart of an emotional debate roiling through Michigan and the nation, as adolescents increasingly come out and seek inclusion in health and education policies that have excluded them.
County health departments are now trying to get firm counts of LBGTQ residents in their communities to better provide them services, and schools may soon follow suit.
The efforts come amid a flurry of legislation in Michigan and elsewhere to limit transgender access to health care and sports. Nationwide, legislators are considering 238 bills involving LGBTQ rights, half of which would affect transgender youths by limiting to access to gender-affirming care, sports and the use of bathrooms.
The debate touches on big questions about identity, inclusion and fairness. For Prins, it's simple: She wants to belong.
"Being part of my schools' girls track and cross-country teams has meant everything to me," Justice Prins said. "The bond of a sports team is like no other."
As a sixth-grader in 2016, Prins was barred from competing in the girls' cross-country meet after coming out as a transgender female the year prior. Although Prins was taking medicine to suppress the expression of male puberty hormones, testosterone, the Western School District did not let her compete with the other girls.
Jessica Prins, Justice's mom, said she watched her daughter struggle and develop an eating disorder after the ban. So, she and Justice Prins started speaking out at school board meetings until the American Civil Liberties Union intervened in 2017 and the district relented.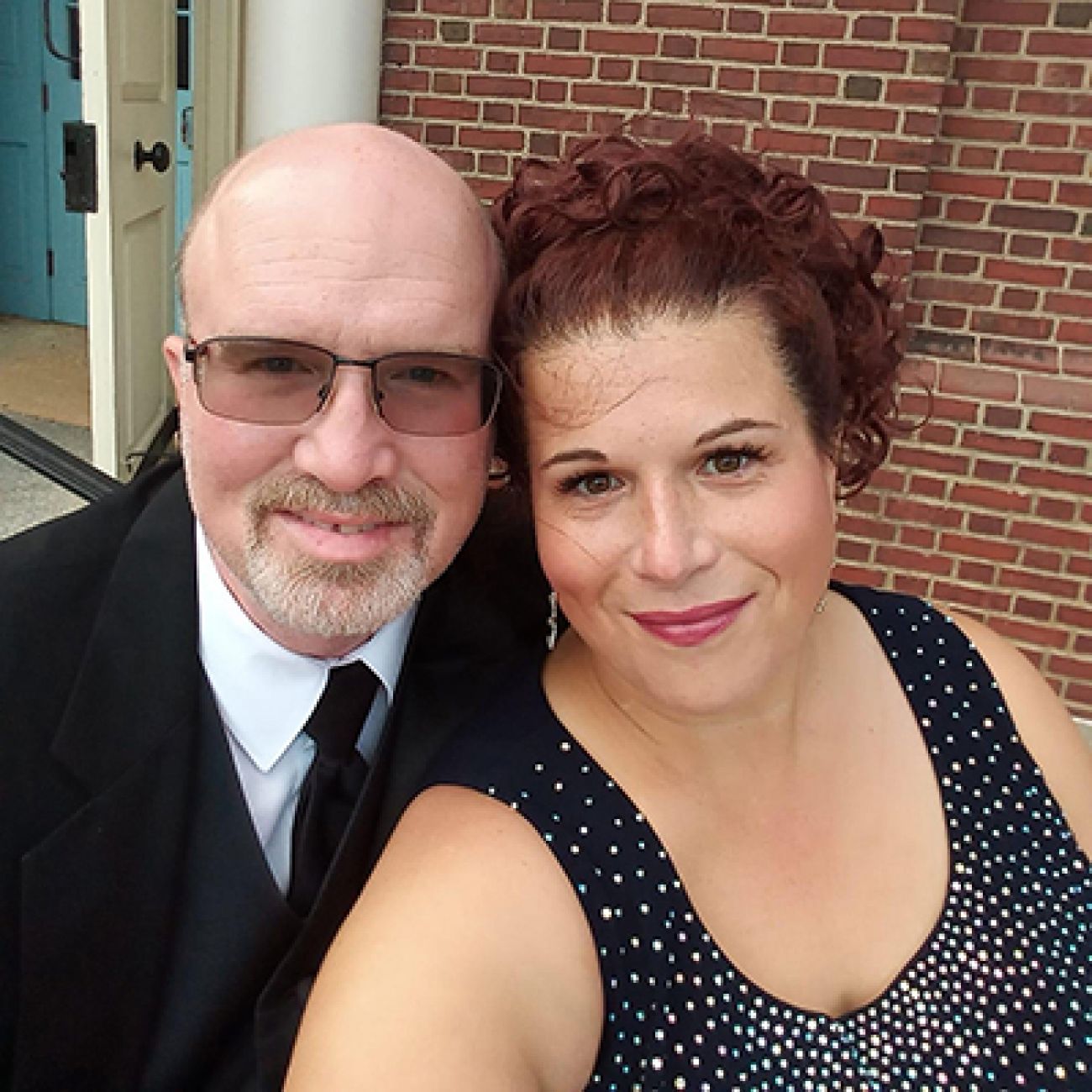 Jessica Prins takes a selfie with her husband Scott Prins. They are Justice Prins' parents. (Courtesy photo)
Now, entering her senior year of high school, Justice Prins' grades and spirits have improved. In May 2021, she testified against GOP-backed legislation introduced in Michigan that would only allow students of the same biological gender to compete against one another in school sports.
"If this bill passes, it will make people not want to find out who they are and keep hiding their identity," said Justice Prins, who is now 17. "Nobody should be discriminated against. These policies are trying to take away all the progress we're making."
A group of Michigan House Republicans also are proposing a bill that would allow parents to sue schools that expose their children to drag shows. The announcement follows gubernatorial candidates expressing support of laws that make it a crime for adults to bring children to drag queen events.
Rep. Steve Carra, R-Three Rivers, who co-sponsored the bill allowing parents to sue schools, said teaching children about sexual orientation and gender identity is "terrible" and causes students "awful confusion and perversion."
"I understand some people make those types of choices to do things with their lives and with their bodies and that's their decision, but that doesn't need to be taught to kids," Carra said.
Michigan legislators also introduced resolutions modeling Florida's Parents Rights in Education law, which would prohibit any instruction related to sexual orientation or gender identity before fourth grade.
"The anti-trans youth debate is taking place at every state capital," said Rachel Crandall-Crocker, executive director of the nonprofit Transgender Michigan.
Carra disputed that, adding "there's an unprecedented attack on women when someone is a biological male competing against a female in sports that are meant for women."
'You can't understand what you don't measure'
Numbers are hard to come by, but Prins is one of about 3,950 Michigan youths between ages 13 and 17 who identified as transgender in 2020, according to the Williams Institute of UCLA.
Nationwide, there are more than 60 gender clinics treating transgender and nonbinary adolescents using gender-affirming care, nine of which are in Michigan.
Overall, nonbinary youths are believed to represent less than 1 percent of the more than 640,000 adolescents in Michigan. Nationally, their numbers are believed to be rising fast, as more come out, according to estimates from the Centers for Disease Control and Prevention.
Cataloging their population is tough, though, because the federal government has not allowed school districts to report data on nonbinary students, just males and females.
That may soon change as federal officials consider changing policies to allow — but not require — schools to collect the data.
The proposal comes from the federal Office of Civil Rights, which is considering collecting data on nonbinary students for its 2021-22 report in December, which identifies chronic absenteeism, sexual assault, school safety, harassment and bullying.
Such information could steer help to trans students who report high rates of bullying and harassment, according to Cody Venzke, senior counsel for the Center of Democracy and Technology, a nonprofit based in Washington D.C. that focuses on technology policy.
"You can't understand what you don't measure, but with any sensitive data, there are risks to the students and families you're collecting data on," said Venzke, who proposes the policy change..
"Someone could collect that data for a legitimate purpose but then later on it is used for a different purpose, such as a state agency identify trans students and reporting it to Child Protective Services," Venzke said, pointing out that some states have passed laws that consider transgender care as child abuse.
"That is the No. 1 risk that schools face when they try to be a responsible steward of students' data," he said.
Parents Defending Education, a Virginia-based group that opposes LGBTQ education in schools, objected to the proposal, stating it would "empower schools to actively question and engage with children on gender and sexual identification issues that fall outside of the purview of public schools and are matters to be dealt with exclusively by parents."
Jennie Knight, vice president of the Grand Rapids LGBTQ Healthcare Consortium, said collecting data on transgender youths is important "at a time when people are ringing alarm bells" about more people coming out.
Knight said she has a 9-year-old son who just finished third grade and she does not "want anyone at school talking to him about sex right now."
"But I do think he should learn about all the different kinds of families there are," Knight said.
Being able to talk about gender at an age when children developmentally notice differences between themselves and others is not harmful, said Jennifer Schwartz, behavioral program manager at Corner Health Center in Ypsilanti, which offers health services and support for young people.
"It helps them learn who they are as people later on," Schwartz said.
Counties expand efforts
In the absence of schools, Michigan counties have begun expanding surveys to include information on LGBTQ people in health reports used to identify community needs.
In the last four years, at least 11 of 83 counties have collected such information, but the number of LGBTQ respondents is still very low, which makes it hard to accurately represent the community.
Accurately representing the community not only makes people feel safer coming out, but it also helps health departments tailor their services to meet those people's needs, said Maris Brummel, an epidemiologist for the Kent County Health Department.
In 2020, for the first time, Kent County included demographics on its LGBTQ community in a county health report that lays out its residents' health status, needs and issues.
Of the people surveyed, 4 percent identified as LGBTQ and about 1 percent of them are transgender. The report found 6 percent of the county's surveyed middle schoolers and 8 percent of its high schoolers identify as lesbian, gay or bisexual. The report excluded information on transgender youths.
One barrier is that many LGBTQ males and non-binary people don't feel comfortable responding to the survey, Brummel said.
Eaton County, for instance, is among the counties in Michigan that don't include LGBTQ residents in their community health reports because "so few people responded that they identify as LGBTQ," said Milea Burgstahler, the county's quality improvement coordinator.
Less than six people identified as LGBTQ in the survey of Eaton County, which has a population of about 109,000. Burgstahler said, "we couldn't analyze the data to represent a sample that is representative of the population."
Estimates vary nationwide, but the percentage of people nationwide identifying as lesbian, bisexual, nonbinary, transgender has steady increased since Gallup began polling in 2012. The firm now estimates 7 percent of the public identifies as something other than straight.
In Michigan, the U.S. Census Bureau estimated in 2019 there are about 24,000 same-sex households, about 1.1 percent of Michigan couples. Nationwide, the rate is 1.5 percent.
Disparities the kids face
The national wave of legislation involving trans youths is exacerbating mental health risks plaguing them, said Erin Knott, the executive director of Equality Michigan, the state's largest LGBTQ advocacy group.
"We have seen in Michigan an uptick in harmful rhetoric aimed at our trans and nonbinary youth," Knott said.
She works with The Trevor Project, a national suicide prevention and crisis intervention nonprofit for LGBTQ young people. Last year, its hotline received 6,200 calls from Michigan kids, Knott said.
That year, a national survey by The Trevor Project found that 42 percent of the 35,000 LGBTQ youths who were surveyed—and over half of them being trans and nonbinary youths—seriously considered suicide within the prior year.
Social media is elevating more transgender roles models, but how safe a person feels depends on where they live, said Leisha Taylor, a bisexual woman in Hillsdale. Taylor said historically, religious and conservative communities like Hillsdale have not welcomed gender diverse people.
"The words they have used to describe us are 'abomination' and 'abhorrent,'" Taylor said.
Taylor noted recent controversies in Hillsdale targeting the LGBTQ community as a reason why friends and family who identify as transgender "have to hide it because they don't feel safe coming out."
In May, one member of the Hillsdale Community Library Board suggested forbidding the library from buying books for people under age 18 that discuss sexual identity and gender identity.
Gender diverse people can become confused about their identity when their communities are not welcoming or lack representation of transgender people, according to Jay Dunn, a 38-year-old man who transitioned in his late 30s.
Dunn grew up in Galesburg, a small city in Kalamazoo County, and came out to his parents as a lesbian at age 17.
"It was tough growing up there," said Dunn, adding he was one of three openly gay students at his high school and they were frequently bullied.
While Dunn identified as a lesbian because he liked girls, he said his adolescence was "a confusing time" and something always felt off. It was not until a family friend came out as transgender that Dunn realized his authentic self.
Today, Dunn is receiving hormone therapy and had his breasts removed. He says it is the happiest he has ever been, noting that his wife now says "your confidence is through the roof."
"The only thing I regret is not being able to start transitioning sooner," Dunn said.
Trans kids getting care in Michigan
One of the most effective methods of treating gender-associated distress is providing adolescents access to gender-affirming care, according to endocrinologist Daniel Shumer who founded the state's first pediatric gender clinic at Mott's Children's Hospital in 2015.
Gender-affirming care was first founded in Germany in 1918, began in the United States in the late 1940s and was made available to adolescents in 2007.
There are three forms of gender-affirming care: puberty blocking medicine, hormone therapy and gender-confirmation surgery, like breast removal or implants.
Puberty blocking medicine is a non-invasive, reversible process that desensitizes the brain gland that releases puberty hormones and allows kids time and space to explore their gender identity, according to Shumer.
Natural puberty would pick up where it left off if a patient chooses to stop taking puberty blockers.
Hormone replacement therapy produces more testosterone or estrogen depending on the sex features a person wants expressed. Both forms of treatment cost thousands of dollars a year without insurance.
Shumer said transgender and nonbinary adolescents experience gender dysphoria, unease that a person may have because of a mismatch between their biological sex and their gender identity.
Children generally feel this discomfort around age 10 when they are about to hit puberty and their bodies change in ways that make them uncomfortable, according to Shumer. At that time, transgender children who are out start asking their parents about getting gender-affirming care.
Shumer said a vast majority of the kids who are distressed about puberty and receive treatment grow into "happy, healthy, successful, well-adjusted adults."
"They really feel like the treatment they're getting is making a huge difference and it's potentially life-saving for a lot of these young people," Shumer said.
Shumer said he was exposed to a pediatric gender clinic during his medical training and saw "how helpful providing high quality care to transgender and gender diverse young people can be."
"There was quite clearly a need for these services in Michigan," Shumer said, noting that when the clinic opened, he was getting referrals from all over the state and "the clinic became very busy quite quickly."
Over time, Shumer said the number of referrals increased to 100 new patients each year and more adolescents between the ages of 10 and 18 were seeking care.
"It's clear that in Michigan and across the country, young people are thinking more critically about gender identity and exploring gender identity is a normal process of adolescence," he said.
Before Shumer's clinic opened, families like Roz Keith's often traveled out of state seeking such care. Keith is the founder and executive director of Stand With Trans, a nonprofit that supports transgender kids and families with transgender members.
Keith said she "was getting transferred all over the place" because Michigan did not have resources for transgender youths when her son Hunter Keith came out as a transgender male in 2013.
Hunter Keith said it took a year for him to be seen by a specialist who was based in Boston, Massachusetts and had a "very long waiting list."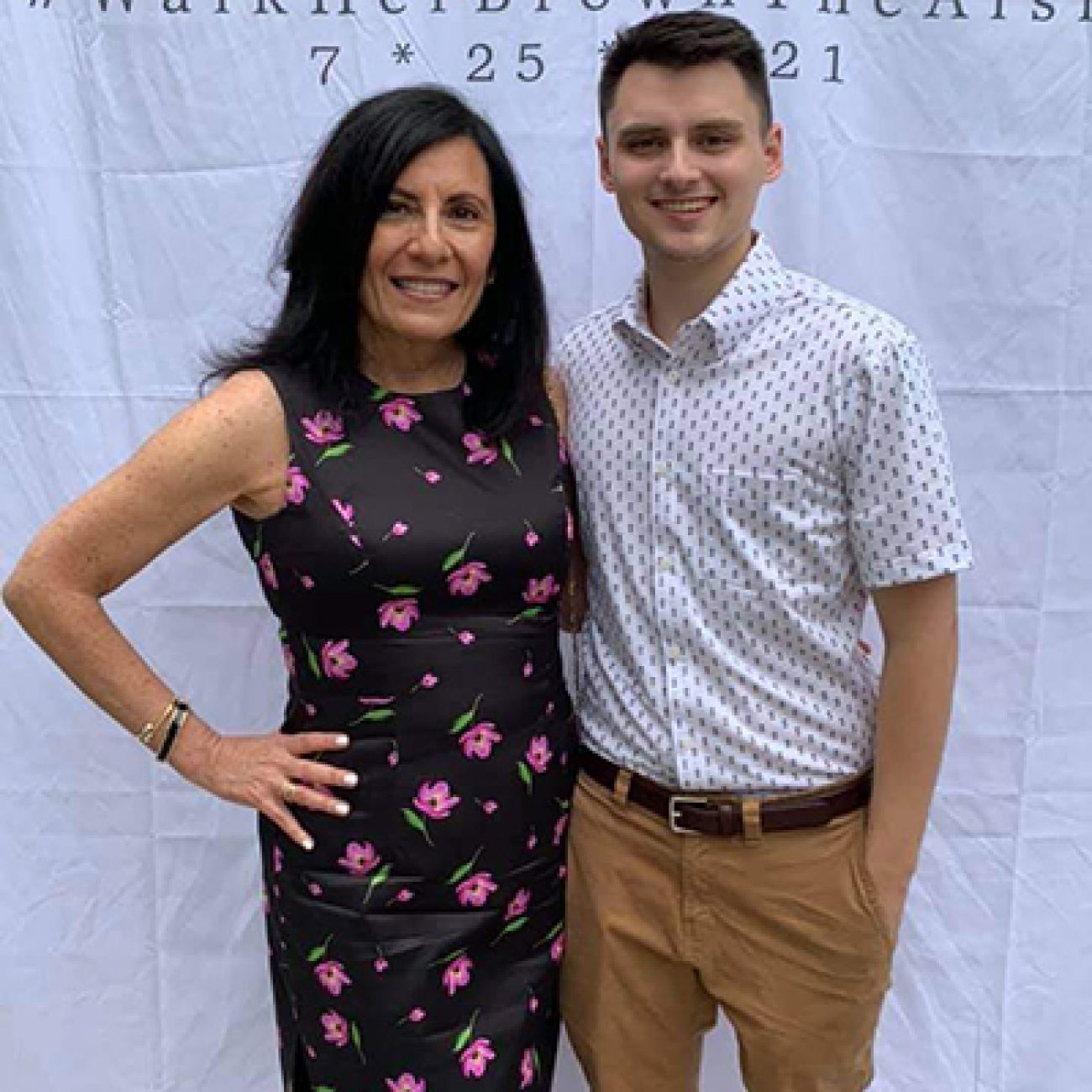 Roz Keith poses for a photo with her son Hunter Keith. (Courtesy photo)
"Again, we were lucky and had a family friend who was able to get him to see me," said Hunter Keith, noting that many transgender youths have trouble being accepted by their family and finding affordable care.
The doctor consulted Hunter Keith for several hours before recommending testosterone hormone therapy, which he had to coordinate with a family doctor in Michigan because he could not prescribe medicine from Massachusetts.
Before Hunter Keith could start treatment, his health care insurer required him to see a therapist and get a letter of mental health support.
Hunter Keith said there were not many therapists specializing in transgender care, which frustrated him because the experience was "a lot of explaining my existence to people that were supposed to already know about it."
Michigan's gender pediatric clinics generally follow the standards set by the World Health Professionals' Association for Transgender Health and the Endocrine Society, a 3,300-member international organization that was established in 1979.
According to the group, adolescents should provide evidence of several years of gender dysphoria and undergo a comprehensive assessment to understand their gender identity. The standards also recommend children start hormone therapy at age 14 and set the minimum age for top surgery, or breast removal, to 15.
Shumer's clinic requires patients to undergo a mental health assessment before they meet with a doctor to discuss possible treatment options.
Other pediatric gender clinics in Michigan do not require letters of mental health support as a prerequisite to receiving treatment, including the Corner Health Center in Ypsilanti. Instead, the clinic uses an informed consent model where the patient, their family and a doctor discuss the treatment and its effects at length, according to Lori Bennett, the clinic director.
"We believe people can consent to their own care and don't need other people saying they're okay to get this kind of help," Bennett said.
Bennett's clinic also opened in 2015. In the past year, Bennett said 418 patients have sought care at the clinic, which also provides mental health services for transgender and nonbinary people.
Halley Crissman, Planned Parenthood of Michigan's director of gender-affirming care, said requiring a mental health support letter is a "transphobic relic" and an example of "discrimination in the medical community."
"This is essentially endorsing that they aren't trans enough to get gender affirming hormone or surgical care," Crissman said. "Being trans or non-binary is not a mental illness and asking someone to see a mental health provider to prove their identity is problematic."
Planned Parenthood of Michigan offers gender affirming care for patients aged 18 and older but has plans to expand its services to adolescents in the future.
The two clinics that currently offer such care are in Lansing and Marquette, with plans to expand to clinics in Warren at the end of June, Kalamazoo in July and Grand Rapids in August.
Only donate if we've informed you about important Michigan issues
See what new members are saying about why they donated to Bridge Michigan:
"In order for this information to be accurate and unbiased it must be underwritten by its readers, not by special interests." - Larry S.
"Not many other media sources report on the topics Bridge does." - Susan B.
"Your journalism is outstanding and rare these days." - Mark S.
If you want to ensure the future of nonpartisan, nonprofit Michigan journalism, please become a member today. You, too, will be asked why you donated and maybe we'll feature your quote next time!