Tudor Dixon- Gretchen Whitmer TV ads: What's true, false and needs context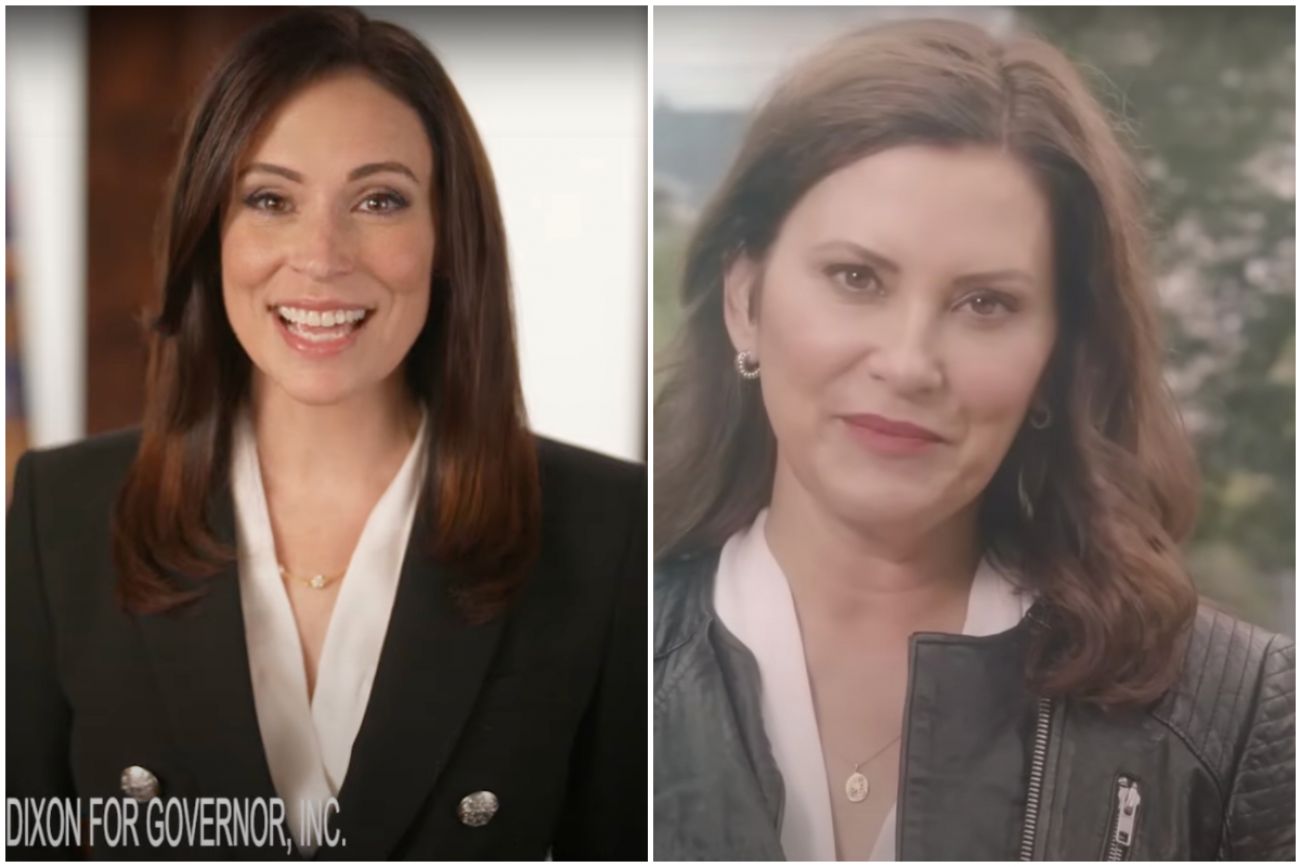 Gov. Gretchen Whitmer and GOP rival Tudor Dixon agree on one thing: The other is a dangerous radical.
In ads sponsored by the campaigns and surrogates, Democrats and Republicans are leaning heavily on fear — fear that abortion could become illegal in Michigan and about crime, sexualization of schoolchildren and economic disaster.
The Republican Dixon wants to "save" Michigan from the Democratic governor. Whitmer says Dixon is "too dangerous for Michigan."
Related:
The latest ads rely mostly on attacks, but each candidate has offered a softer side of themselves ,and Whitmer has begun offering her thoughts on two topics Dixon has tried to exploit: crime and inflation, both of which have risen dramatically.
Here's what's true, false and needs more context about the most recent ads that, if you've been near a TV or online in the past two weeks, have undoubtedly seen.
Tudor Dixon
Dixon started the campaign with a positive ad introducing her to the state. Called, "Hope," the ad identifies Dixon as an optimist, "wife, mother and cancer survivor" who is "pro-God, pro life, pro gun and pro freedom."
But after the August primary, the tone has been more harsh.
The Dixon campaign has only issued one new ad, but other supporting groups have weighed in, including the Republican Governors Association, MAGA Inc., a group affiliated with former President Trump, and Michigan Families United, which is largely backed by the family of former U.S. Education Secretary Betsy DeVos,
Here are some of the ads' claims:
Claim: Whitmer is the "most radical governor in America who indoctrinates our children," Dixon said in her own ad.
In "Common Sense," from Michigan Families United, Dixon says "Whitmer stands with radical activists pushing sex and gender theory."
Context: Neither Dixon's ad nor her campaign, which was asked for comment, provided any justification for why she claims Whitmer "indoctrinates our children."
Dixon has criticized the Michigan Department of Education over a few snippets from hours of videos created to help educators work with LGBTQ students, who are more likely to face a litany of hardships. Dixon has also called for a ban on pornographic books in school libraries and claimed Whitmer is not taking parental concerns about the books seriously.
In the training video that drew the most attention, an instructor suggested teachers could talk with a parent about a student's suicidal thoughts without saying whether the student had confided in the teacher about their sexual orientation.
What Dixon doesn't mention is that the videos are produced by the Department of Education, and that body doesn't answer to the governor.
The department is led by an elected state board of education which hires the state superintendent, who defended the videos. And local school boards decide what goes on the bookshelves.
It's unclear, exactly, what the governor would do on either issue.
With record crime, 82,000 lost jobs, crumbling roads, and failing schools, Michigan is worse off with @gretchenwhitmer. @TudorDixon will get Michigan back on track and put families first. #MIGov pic.twitter.com/sRGezsdab9

— The RGA (@GOPGovs) October 19, 2022
Claim: "The state has seen homicides surge to a four-decade high, roads continue to crumble, 82,000 jobs have been lost, and school children continue to fall further behind."
Context: No doubt, crime is up, roads remain a issue, the state indeed has lost 82,000 jobs in the past four years and test scores remain among the middle of the pack in a state that has strived to become a "top 10" state.
What's missing is the details:
Crime: Murders hit 809 in 2020, the highest since there were 943 in 1995. Both Whitmer and Dixon have proposed more money for police — and crime is up statewide, from cities like Detroit and Flint to Troy and Livonia and many Republican cities and states across the country.
Jobs: Michigan lost more than 1 million jobs for a brief period in April 2020 as COVID raged. Through August, it ranked 43rd nationally among states in the percentage of jobs recovered, worst in the Great Lake but similar to Ohio and Wisconsin.
Roads: Quality actually has improved under Whitmer: 67 percent of state roads were in good or fair condition in 2020, up from 58 percent in 2020. Nearly half will be in poor condition by 2033 without long-term funding, according to projections by the state's Transportation Asset Management Council.
Test scores: Michigan test scores have also dropped in fourth and eighth grade, but so have most states coming out of the classroom disruptions of the pandemic.
Claim: In the same ad, the RGA touts that Dixon will "cut your taxes."
Context: Dixon has proposed gradually reducing the state's 4.25 percent income tax to zero. That tax currently generates $12 billion a year and funds everything from cities to public safety.
Dixon has not said how she would cut spending to accommodate the change, pointing instead to Texas, Tennessee and Florida as thriving states that do not have income taxes.
Sales taxes in all three states are higher than the 6 percent tax in Michigan.
The base sales tax is 7 percent in Tennessee, 6.25 percent in Texas and 6 percent in Florida. But each state also allows local sales taxes that can push it to 9.75 percent in Tennessee, 8.25 percent in Texas and 7.5 percent in Florida.
In fact, Michigan's total tax system is more favorable to businesses than that of Tennessee and Texas, according to the 2023 State Business Tax Climate index by the Tax Foundation.
Michigan is ranked 12th friendliest tax state for businesses, compared to 13th for Texas and 14th for Tennessee. Florida is the fifth friendliest.
Gretchen Whitmer is the most hypocritical governor in America. Now she's lying to parents.
@TudorDixon will give parents a voice, get schools back to the basics, and always put families first. pic.twitter.com/djgqDPaPC6

— The RGA (@GOPGovs) October 31, 2022
Claim: This ad, from the Republican Governors Association, calls Whitmer a "dishonest hypocrite" who traveled to Florida during the pandemic, when she was telling state residents to refrain from travel, and went to a bar maskless in violation of the state's own COVID-19 rules.
It also attacks her claim in the second of two debates that schoolchildren missed "only three months" of school because of the pandemic.
Context: Whitmer flew to Florida in April 2021, when her administration was recommending that people delay travel because of the pandemic. She defended her trip, saying she went to visit her ailing father.
A month later, Whitmer apologized after being photographed with 12 other people — all without masks — in a Lansing bar. The state was recommending people limit gatherings to just six people per table.
At an Oct. 25 debate, Whitmer said "kids were out for three months." And they were, at the behest of Whitmer, who like many governors closed K-12 schools in March 2020. In-person schooling did not resume until the fall.
However, hundreds of thousands of students across the state were also out in the fall and beyond, after Whitmer and the Legislature agreed that those decisions would fall to local school officials. Some districts were remote-only for the entire 2020-21 school year.
So though Whitmer's decision only affected three months, many students — and their parents — remember being out far longer.
Gretchen Whitmer
For much of the post-primary campaign, Whitmer and her allies have focused on attacking Dixon over her position on abortion. The Republican has said she would support a ban with exceptions only to support the life of a mother.
But in recent weeks, the Whitmer ads have focused on crime and inflation, with the governor saying how she has addressed those two flash-point issues.
Claim: The ad features health professionals criticizing Dixon for calling a 1931 Michigan law making abortion a crime a "good law" and a 14-year-old victim of abuse is a "perfect example" of why abortion should be banned.
It concludes Dixon is "dangerous."
Context: The ad takes liberties, misstating that Dixon believes there should be "no exceptions" to abortion prohibitions, when she would support one for to save mothers, but not for cases of rape and incest.
It also wrongly used an edited clip of a conversation with a Detroit journalist to make it appear Dixon believes a 14-year-old impregnated by a relative is a "perfect example" of why there should be a ban on abortion. Dixon was referring to her fears that a Nov. 8 abortion-rights ballot measure, Proposal 3, would invalidate parental consent laws and make it harder to catch child abusers.
The ad correctly summarizes Dixon's support for the state's 1931 law making performing an abortion a felony. It was set to take effect after the Supreme Court overturned Roe v. Wade this summer, but it has been blocked by a lower court's injunction.
Claim: This ad from the Democratic Governors Association, attacks Dixon's tax plan and said it would benefit "billionaires like Betsy DeVos and you could get stuck with higher sales and property taxes to pay for it all."
It also claims the DeVos family has given Dixon over $4 million.
Context: No doubt, the west Michigan family of the former U.S. secretary of education was critical to Dixon's support, endorsing her during the Republican primary and contributing millions to benefit her campaign.
More than billionaires who would benefit from lower taxes, however, because Michigan has a flat 4.25 percent income tax, whether they earn $45,000 or $250,000.
But those who have higher incomes would benefit more from an income tax reduction.
Whitmer and others also contend that it would prompt higher taxes on the middle class. That's if the result was higher sales and property taxes, which aren't a sure thing.
Dixon has not said she would encourage other tax increases. But if the state income tax, which generates $12 billion a year, were cut, cuts would have to be made or taxes raised.
Claims: These ads have Whitmer acknowledging two prominent issues: crime and inflation.
In the first, she notes the rise in crime, but says she has worked to combat crime and increase funding for police.
In the second, Whitmer says governors can't lower inflation, which is now over 8.5 percent, but that she has worked to lower other costs, including childcare and education, and expanded health care coverage.
Context: This is one of two ads addressing issues head-on. Whitmer did say, during the protests following the murder of George Floyd, that she embraced the spirit of calls to "defund the police."
But she has since called the slogan "dangerous and foolish" and signed legislation spending hundreds of millions of dollars to aid police and others in the criminal justice system.
In the ad, Whitmer touts her experience as a prosecutor but does not note that it was just a six-month position, with Whitmer filling in for the Ingham County prosecutor, who left in disgrace.
As for inflation, Whitmer said: "I can't solve the inflation problem." But she said she had worked to bring down costs, one of which was child-care.
Using $1.4 billion in federal money the state lowered the cost of child-care for providers and families and expanded by 105,000 how many families would qualify.
However, that decision was made in conjunction with the state Legislature, which is controlled by Republicans.
The state, at Whitmer's behest, also invested $55 million in the state's Michigan Reconnect program, which provides free community college and job training programs for qualified adults 25 and older.
Whitmer also talks about the expansion of health care coverage in the state, to over 1 million people. That is true, the state's Medicaid expansion program, Healthy Michigan, surpassed 1 million residents in May.
However, Healthy Michigan has been around since 2014, when Republican Gov. Rick Snyder was in office (Whitmer was in the legislature and helped pass it). When Whitmer took office in January 2019, there were just under 700,000 residents in the government-subsidized health insurance program.
The big enrollment increase occurred during the pandemic, when states that agreed to take additional federal funding for Medicaid were required to not remove anyone from the program while the federal "public health emergency" was in effect (it has been extended until January). That pushed Michigan's enrollment up over 1 million.
Next year, Michigan and other states will have to determine whether all of their Medicaid recipients do indeed still qualify for the program.
Only donate if we've informed you about important Michigan issues
See what new members are saying about why they donated to Bridge Michigan:
"In order for this information to be accurate and unbiased it must be underwritten by its readers, not by special interests." - Larry S.
"Not many other media sources report on the topics Bridge does." - Susan B.
"Your journalism is outstanding and rare these days." - Mark S.
If you want to ensure the future of nonpartisan, nonprofit Michigan journalism, please become a member today. You, too, will be asked why you donated and maybe we'll feature your quote next time!