What Gretchen Whitmer promises to do as Michigan's next governor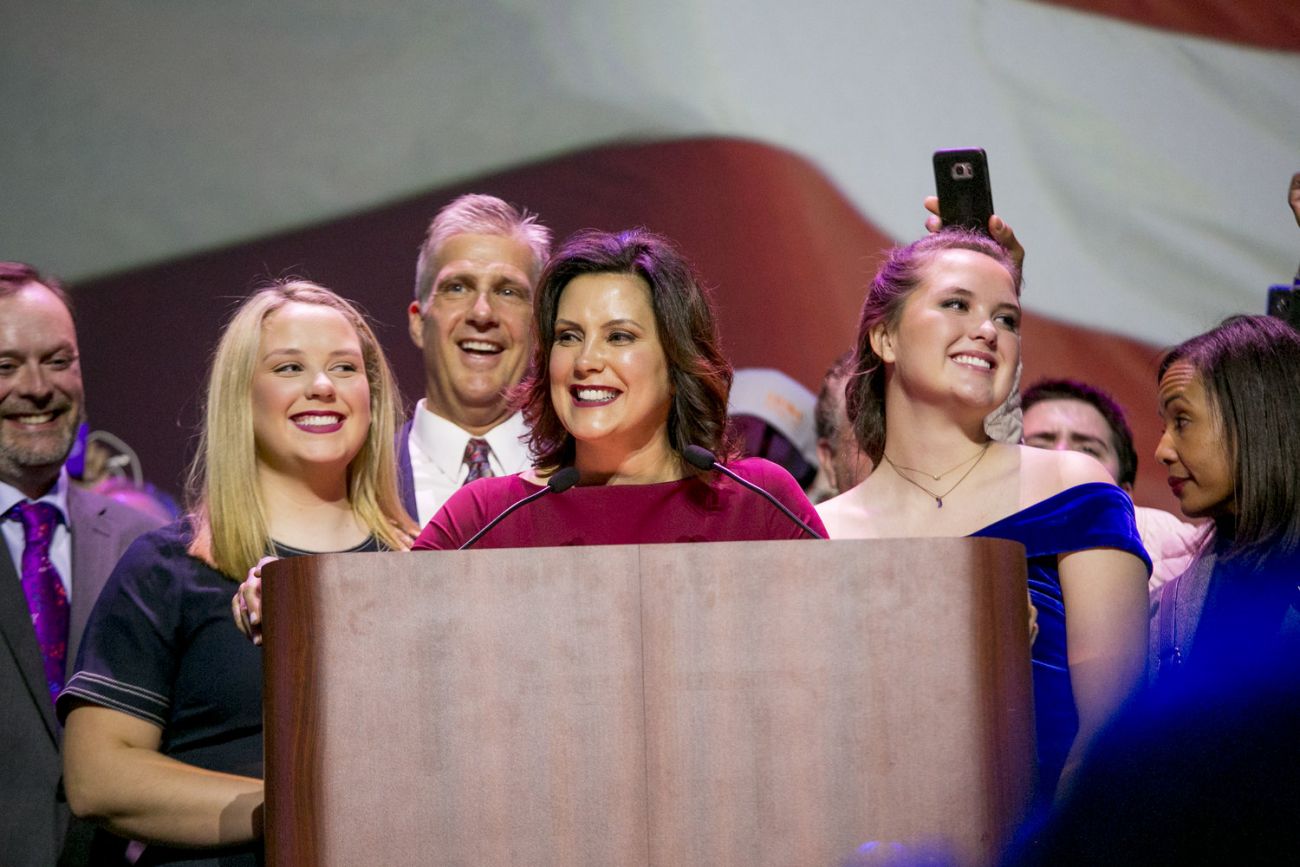 Jan. 22, 2019: Whitmer administration changing tone around Michigan marijuana regulation
Related: Gretchen Whitmer projected winner in Michigan governor race
As Michigan's next governor, Democrat Gretchen Whitmer has promised to invest heavily in roads and schools, while also making it easier for Michiganders to afford college and get training for in-demand jobs.
Here is a list of Whitmer's campaign promises — on everything from infrastructure, to schools, jobs and the environment — on which she'll be evaluated after she takes office Jan. 1.
Related: Nine Michigan Trump counties voted for Whitmer. See our map
Related: Overnight, it's a new Michigan. Women sweep to power in change election.​
Related: Get to know Garlin Gilchrist II, Gretchen Whitmer's pick for Lt. Governor​
Roads
Infrastructure arguably became Whitmer's signature campaign issue, once her "fix the damn roads" slogan caught fire.
She has pitched an infrastructure bank with $2 billion in state funds that would offer loans and grants to help local governments pay for infrastructure repairs, and Whitmer also said the bank could be used to leverage an additional $1 billion from the federal government.
Yet Whitmer has not specifically said how she would raise billions of dollars, aside from new user fees and — if the Legislature doesn't act — asking voters to pass a statewide bond. If bonding is necessary, Whitmer has not said how she would pay it back.
Jay Rising, a state treasurer under former Gov. Jennifer Granholm who helped the Whitmer campaign develop its roads plan, has told Bridge part of a bond could be repaid with money saved as corporate tax credits start to expire. Yet that won't happen for years.
Campaign spokesman Zack Pohl has said Whitmer is keeping options on the table until the makeup of the new Legislature is known. Currently, Republicans are in charge of both the House and Senate.
She also has said she wants to coordinate road projects with other infrastructure needs, like fixing sewer systems, through a statewide infrastructure council.
Read Whitmer's plan to fix Michigan roads here.
Preschool and K-12 education
Whitmer wants all 4-year-olds in Michigan to be eligible for state-funded preschool. Just about a third of 117,000 Michigan 4-year-olds receive that instruction now. That's up more than 60 percent in the last six years, following Bridge reporting that showed tens of thousands of preschool-age kids who qualified for free pre-school but couldn't enroll because the state didn't have enough funding.
Whitmer wants to spend up to $600 million per year without having to raise taxes, including by using anticipated increases in the state's School Aid Fund. She also has said she wants to end the practice of using some K-12 school dollars to pay for colleges and universities, which typically are paid for out of the state's general fund. New tax revenue from the expected passage of Proposal 1, which would legalize recreational marijuana, and elimination of (as yet undefined) state government waste are other potential funding sources.
Yet some experts have questioned whether those funding sources will generate enough money without new tax revenue.
Whitmer said in a recent interview with Bridge and the Detroit Journalism Cooperative that she believes the per-pupil funding estimates laid out by the School Finance Research Collaborative — a group of educators and business and community leaders that studied whether K-12 funding levels were sufficient — are accurate and that Michigan needs to do more to create equity between the wealthiest and poorest school districts by addressing higher costs associated with students with disabilities or who are in high-poverty districts or learning English.
Whitmer also wants to expand access to high-quality day care by helping more families become eligible for subsidies and increase reimbursement rates to child care providers. She has proposed tripling the number of literacy coaches in Michigan schools, expanding the numbers of support staffers in schools and finding a reliable funding source to help provide early intervention services to families with babies and toddlers with disabilities or developmental delays.
Whitmer also wants to nix Michigan's third-grade "read-or-flunk" law that would hold third-graders back a grade if they are reading below a second-grade level — a law set to go into effect in 2020.
Read Whitmer's plan for better schools here.
College affordability
Whitmer wants the state to offer scholarships worth about $3,000 per year to Michigan high school graduates so they can attend two years of community college, university or postsecondary vocational education debt-free.
Her proposed scholarship program is estimated to cost $100 million annually, and Whitmer says potential funding sources could include new revenue from sales tax collections on online purchases.
Those funding ideas, however, don't account for the possibility of another recession that would strain the state's budget.
Read Whitmer's plan for the MI Opportunity Scholarship here.
Jobs
Whitmer supports a $15 hourly minimum wage, phased in over three years. Michigan's minimum wage is $9.25 per hour today and is set to rise with inflation in January 2019, though lawmakers recently adopted a citizen-initiated law to raise it to $12 an hour by 2022. She also said she supports requiring employers to offer paid sick leave. (Some have speculated whether the Republican-controlled Legislature will try to scale back both proposals in lame-duck session after the election.)
Proponents say a higher minimum wage will help lift people out of poverty, while many business leaders oppose a higher wage in part because they say it would curtail Michigan's economic competitiveness against other states.
Whitmer's plan also calls for creating a program, Michigan Reconnect, that would help adults earn a technical certificate and expanding a program that offers job training to food assistance recipients. She also said she would sign a bill to reinstate Michigan's prevailing wage law — repealed this year by the Legislature — and repeal right-to-work laws adopted in December 2012 that prohibit labor unions from collecting dues as a condition of employment.
She has emphasized Michigan's role in developing self-driving vehicles, said she would support innovation in the agriculture and healthcare sectors and would create more opportunities for "angel investors," who invest in early-stage startups.
Read Whitmer's plan to create jobs here.
Taxes
Whitmer has said she wants to eliminate a controversial tax on some retirement income, including pensions, that Gov. Rick Snyder signed into law in 2011 as part of a broader tax package that included roughly $2 billion in tax cuts for businesses.
The result of the tax package in practice has meant that much of Michigan's revenue burden has shifted from business to individuals.
Whitmer voted against the 2011 tax plan while in the Senate. She is campaigning to repeal the retirement tax, which fiscal analysts pegged at $270 million; a loss of that revenue could put pressure on the general fund at the same time Whitmer wants to expand other services.
Read Whitmer's goal to repeal the Snyder-era tax on some retirement income here.
She also has proposed restoring tax credits for historic and brownfield redevelopment projects, which also went away in 2011. Her campaign said she would work with the Legislature to come up with details about capping the amount that could be given away in credits and how to balance the economic effects with the state budget costs.
Clean water
Whitmer has said she intends to create a Department of Great Lakes and Freshwater within state government and create a state infrastructure bank that could help fund replacement of lead drinking water pipes.
She recently told the Bridge and the Detroit Journalism Cooperative that Michigan needs to address threats to drinking water, including the discovery of harmful chemicals known as PFAS that have contaminated residential drinking water around the state, but said she would rely on scientists' evaluations on recommended strategies before taking action.
Whitmer also has vowed to challenge Snyder's plan to build a tunnel underneath the Straits of Mackinac to replace the aging Enbridge Inc. Line 5 pipeline, a plan that would fall to her administration to implement. Whitmer told the DJC she finds the tunnel agreement "troubling" and has said she supports shutting down the Line 5 pipeline.
Read Whitmer's plan for clean drinking water here.
Health care
Whitmer has touted her work as Senate Minority Leader in 2013 to help create a Medicaid expansion program in Michigan. That program, called Healthy Michigan, since has helped nearly 680,000 adults in the state get health insurance.
She stopped short during the campaign of advocating for single-payer health care, which her Democratic primary challengers Abdul El-Sayed and Shri Thanedar both said they supported. She calls for better transparency and consumer protections around prescription drug pricing and repealing a law co-sponsored by her Republican rival, Attorney General Bill Schuette, while he was in the Legislature, to grant pharmaceutical companies immunity from being sued in Michigan.
And she has advocated for improving recovery programs for people addicted to opioids, including specialized treatment courts that would send people with addiction into treatment programs rather than to jail.
Read Whitmer's plan for health care here. Read Whitmer's position on the opioid crisis here.
Women's reproductive health
Whitmer vows to repeal a state law that makes abortion criminal in the event that the U.S. Supreme Court overturns Roe v. Wade, the landmark 1973 case that legalized abortion. She also said she intends to increase state funding for family planning services.
Whitmer, herself a survivor of sexual assault while in college, said she also intends to repeal a state law that requires women to purchase an insurance rider for abortion coverage. She has said she wants to require sex education instruction in Michigan to include discussion about consent as part of an effort to prevent sexual assault.
Read Whitmer's plan here.
Government transparency
Michigan ranks among the bottom of states for open-government laws. Whitmer said she would expand the state Freedom of Information Act to include the governor's office and the Legislature, impose a five-year "cooling-off" period for former legislators before they become lobbyists, repeal the 2012 emergency manager law and a separate law that loosens campaign spending rules, and require candidates and senior government appointees to complete conflict of interest and personal financial disclosures. (See what Whitmer disclosed to Bridge when it asked all candidates for governor to voluntarily share details of their personal finances earlier this year.)
Read Whitmer's plan to increase transparency in state government here.
Urban policy
Whitmer's plan to combat urban poverty contains few specific funding details, but has identified three main goals related to employment, housing and ending racial disparities.
She has said her priorities include: Lowering Michigan's highest-in-the-nation auto insurance rates, committing to expanding regional transit in metro areas, increasing the Earned Income Tax Credit, appointing an executive in her cabinet to focus on solutions to poverty, protecting municipal revenue sharing from budget cuts, supporting the use of police officer body cameras, creating universal criminal background checks for gun purchases, supporting the development of affordable housing, protecting renters and improving public health outcomes.
Read Whitmer's plan to improve Michigan's cities here.
Only donate if we've informed you about important Michigan issues
See what new members are saying about why they donated to Bridge Michigan:
"In order for this information to be accurate and unbiased it must be underwritten by its readers, not by special interests." - Larry S.
"Not many other media sources report on the topics Bridge does." - Susan B.
"Your journalism is outstanding and rare these days." - Mark S.
If you want to ensure the future of nonpartisan, nonprofit Michigan journalism, please become a member today. You, too, will be asked why you donated and maybe we'll feature your quote next time!