Bridge series on ballot issues
Beginning today, Bridge Magazine is providing an in-depth look at the three statewide ballot proposals that Michigan voters will decide Nov. 6.
Throughout this crucial election year, Bridge and the nonprofit Center for Michigan are providing fact-based, data-driven information to voters about elections for Governor, Attorney General, Secretary of State and other statewide and legislative offices. This includes ballot initiatives. This ballot issue series continues through Thursday.
Proposal 1 (legalizing recreational marijuana)
Proposal 2 (redistricting)
Proposal 3 (voting access)
MORE BRIDGE RESOURCES:
Each group has a month to continue courting public opinion with their billboards, tv ads, hashtag campaigns, radio commercials, and yard signs. As always, campaign accoutrements raise the question ‒ who's paying for all this?
Marijuana Policy Project leads the Coalition
The Marijuana Policy Project, (MPP), a D.C.-based nonprofit, worked with the Michigan group MI Legalize to organize the stakeholders that now comprise the Coalition to Regulate Marijuana like Alcohol (CRMLA). In addition to MPP and MI Legalize, members include the ACLU of Michigan, MI Legalize, Michigan NORML, and the Drug Policy Alliance. Founded in 1995, The Marijuana Policy Project works to change state and federal laws to end "marijuana prohibition." It has been involved in several ballot initiative efforts across the country. Most of these proposals were approved by the states' voters.
Logo for The Marijuana Policy Project, the largest funder of the Coalition to Regulate Marijuana like Alcohol.
In 2008, it was heavily involved in Michigan's successful ballot initiative to allow medical marijuana. MPP and its Foundation contributed 98.8 percent of that earlier campaign's funding. MPP is again the top funder of Michigan's 2018 marijuana ballot initiative. According to July campaign disclosures, the group has contributed $633,012, or 36 percent of CRMLA's total funding. According to the Michigan Campaign Finance Network, CRMLA has raised a total of $1.74 million.
MPP does not disclose individual donors. Mason Tvert, MPP spokesperson, told Bridge Magazine "we raise money from donors who support ending marijuana prohibition. Oftentime it's donors who are interested in achieving local change in their state or region, or folks who want to see change nationally."
Billionaire Peter Lewis of Ohio, head of Progressive Insurance, was a major donor until his death at age 80 in 2013. It is reported that his family continues to donate to MPP, as well as New Approach PAC, another CRMLA donor.
A joint effort
Unlike the MPP's near-single-handed push for the 2008 medical initiative, other groups are throwing their weight behind the 2018 effort. Another D.C. nonprofit, DKT Liberty, contributed $50,000 in the form of in-kind signature collection. DKT Liberty is an affiliate of the family-planning nonprofit DKT International. Both were founded by Phil D. Harvey, sex shop entrepreneur and libertarian author. Harvey did not respond to a request for comment.
The third D.C. group is New Approach PAC, which donated $90,000. It works "to support the reform of marijuana laws, including but not limited to, support of state ballot initiatives and candidates." The group has been active in marijuana advocacy across the country, from Oregon to Maine. It is directed by Graham Boyd, an attorney who helped found the ACLU's Drug Law Reform Project and has served as a Senior Visiting Fellow at Stanford University.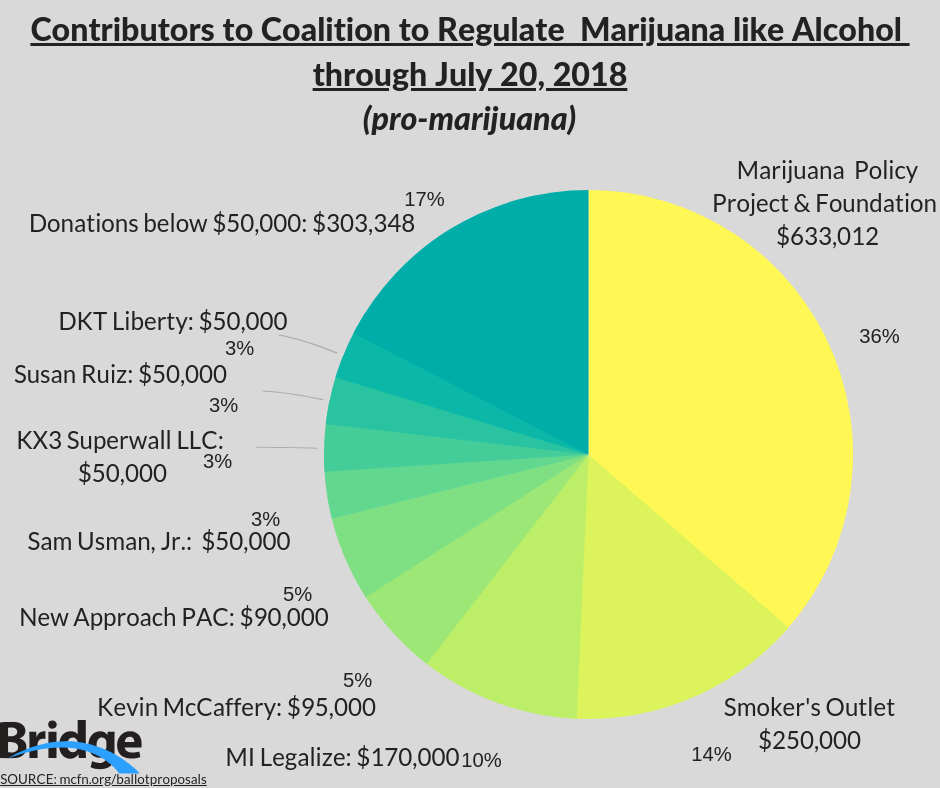 The only Michigan-based advocacy group to donate major moolah is MI Legalize. It has worked since 2015 to legalize recreational marijuana and gave $170,000 to CRMLA.
In addition to its work with CRMLA, MI Legalize registered its own group to campaign for the initiative. Per July campaign disclosures, that group, MILegalize 2018, had raised roughly $485,000. Most of this funding was generated through donations from individual Michigan residents.
Group spokesman Jeffrey Hank told Bridge in an email, "Along with the tens of thousands of signatures we collected, we are probably the largest overall actual dollar and signature contributor to the campaign at this point in time."
Industry interests also feature among top donors. Smokers Outlet is the second largest CRMLA contributor at $250,000, while KX3 Superwall, LLC chipped in $50,000. Smokers Outlet owns the chains Wild Bill's Tobacco and Mr. Vapor, which combined have over eighty locations across the state. Smokers Outlet did not respond to Bridge Magazine's request for comment on its contribution.
Thomas Lavigne is the registered agent for KX3 Superwall, LLC, as well as 17 other companies. All of his LLCs use the same Detroit address as the law firm Cannabis Council, where he is a partner. Lavigne is the secretary of MI Legalize, and several of his LLCs are reportedly invested in medical marijuana companies.
Lavigne told Bridge he anticipates "Michigan will be the most progressive industrial hemp center of innovation and manufacturing in the entire country... because we are not just limiting it to research like other states. This is for full production."
On how his many LLCs will be taking advantage of the new market, he was less expansive. "It's still in sort of a private point of innovation right now," he said, "so we are prioritizing, but as you can see we have a lot of plans. It's just a matter of launching that in the proper manner."
Rounding out the top 10 donors are Michigan residents who contributed in-kind donations for signature collection. Kevin McCaffery, Ann Arbor resident and president of RBK Enterprises, donated $95,000. Other top individual donors each contributed in-kind contributions valued at $50,000: Sam Usman, Jr., an East Lansing entrepreneur who owns a medical marijuana dispensary, and Susan Ruiz, a Boston University researcher who has also donated to pro-legalization efforts in Massachusetts.
The remaining $303,348 of CRMLA's budget derives from donations less than $50,000.
One group, 99 percent of opposition funding
Logo of Smart Approaches to Marijuana, the group funding the majority of Healthy and Productive Michigan.
Healthy and Productive Michigan leads the charge against Proposal One. The Michigan Campaign Finance Network reports that ninety-nine percent of its funding was contributed by Smart Approaches to Marijuana (SAM), a Virginia nonprofit. According to SAM's website, it promotes policies that decrease marijuana consumption. 
President and founder of SAM is Dr. Kevin Sabet, who worked on federal drug policy across three presidential administrations and authored the book "Reefer Sanity: Seven Great Myths about Marijuana."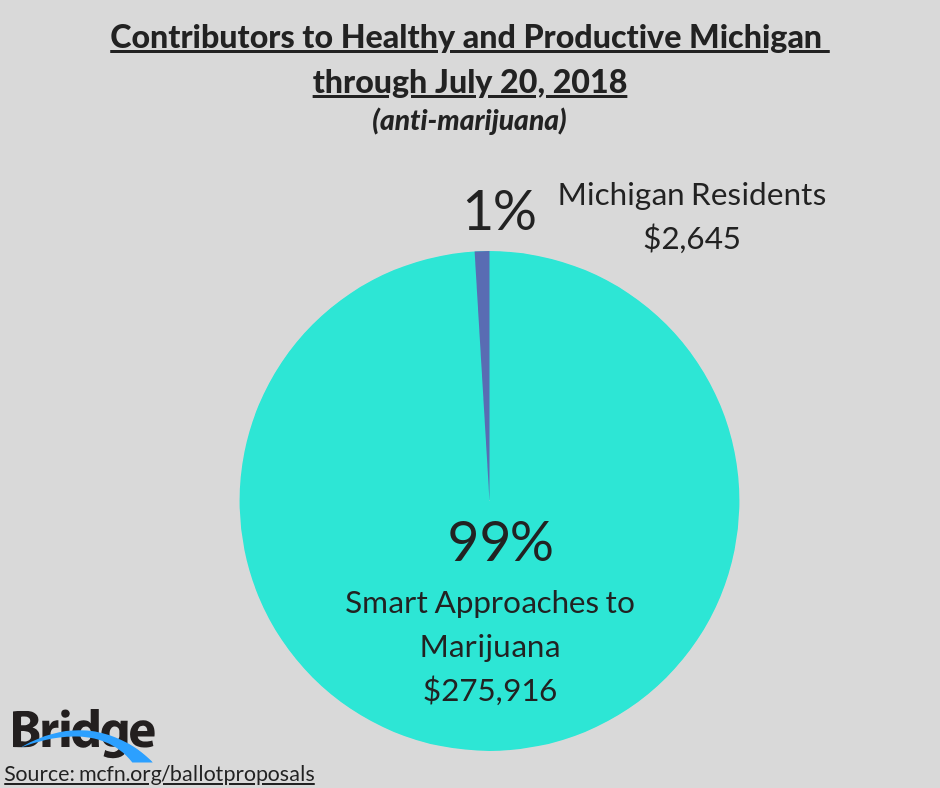 Sabet said in an email that SAM donated to HPM "because we believe that the legalization and commercialization of marijuana has been disastrous to public health and safety in the handful of states that have undertaken the marijuana experiment. We work diligently to share the lessons of those states with voters and urge them to not expand this failed experiment."
Sabet wrote that "SAM is funded by small family foundations (with no interest in the opioid, tobacco, alcohol, or prison industries) as well as by individuals affected by drug use and its consequences."
While they do not disclose individual donors, Vice News reported that the family trust of Julie Schauer is a major donor to SAM. In a 2017 interview, Schauer explained that her opposition began when cannabis industry lobbyists visited the community college where she was teaching. She claims they were there to recruit students to march on Washington. Disturbed that industry officials denied the "harmfulness" of marijuana, she started an advocacy group in 2014 called Parents Opposed to Pot.
The remaining $2,645 contributed to Healthy and Productive Michigan was from  state residents. Mark Murray, Vice Chairman of Meijer, gave the largest individual donation of $1,000. Other donations from Michigan residents were $250 or less.