Across Michigan, coronavirus contact tracers face lies, anger and silence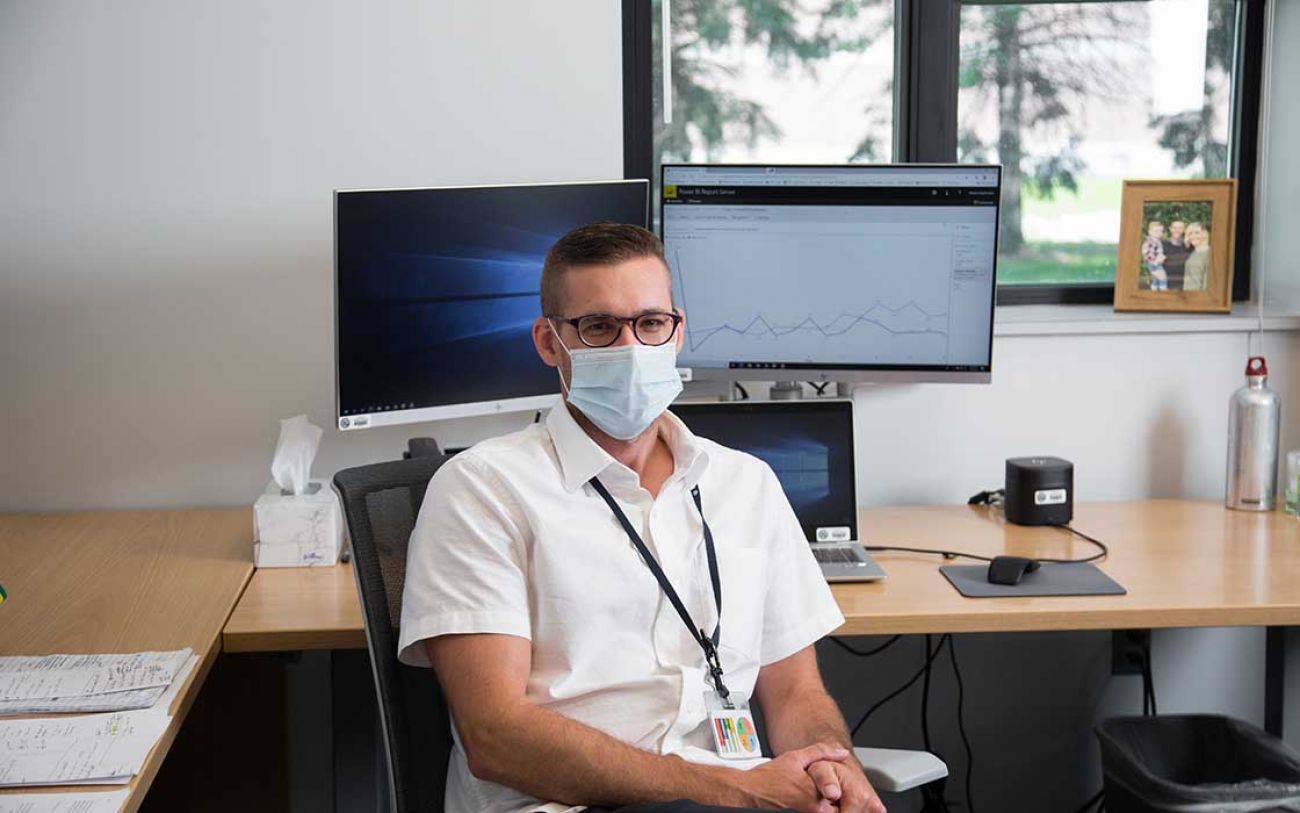 Tracing the spread of COVID-19 in Ottawa County combines technology, detective work and diplomacy. The hard work can help curb the virus' spread, according to Derel Glashower, senior epidemiologist at the Ottawa County health department. (Bridge photo by Autumn Johnson-Pierce.)
"It can be great, and it can be horrible," said Sue Leeson, who oversees the communicable diseases program in Isabella County.
Sometimes, these virus detectives say, they can get a sense for how a call will unfold from the tone of voice at the other end of the line.
"You can tell those who are going to cooperate and those who are not," Leeson said. "Sometimes, they flat out lie and say they've haven't been out of the house, but you see it right there on their social media."
For county health workers who have been through a slew of infectious diseases before the coronavirus, this frontline investigative work has never felt so political. In some parts of the country, online threats have prompted contact tracers to install security cameras, while others have had to endure conspiracy theories, including worries about quarantine camps or that tracers were out to harm children.
"People are angry," said Julie Beeching, director of nursing at the Van Buren/Cass County District Health Department. "They say 'I can't deal with this anymore,'" referencing the months of lockdown during the pandemic. "It's that they can't see anymore the light at the end of the tunnel."
"You can't make people give up information. You can't make people not lie to you." — Sue Leeson, communicable disease specialist, Isabella County.
Dr. Larry Wile, medical director at the same department, recalled one woman who insisted she had no contact with anyone outside her home. The department's tracers later discovered the woman worked at a nursing home — among residents most vulnerable to the virus.
Members of an area church refused to share information with the department after tracers connected a COVID-19 outbreak to a church retreat, Wile said. He declined to name the church and noted there have been outbreaks traced to several church gatherings.
"They are very challenging conversations," said Robin Walicki, clinical supervisor of the Family Health division of the District Health Department 10, which covers 10 counties in northern Michigan.
To be sure, contact tracers in five county health departments interviewed by Bridge said that most people they speak with want to help. They listen, ask questions, offer the names of people they have been in close contact with, and promise to take steps to protect loved ones and others.
But others?
"You can't make people give up information," Leeson said. "You can't make people not lie to you."
The job of Michigan's contact tracers may be about to get more difficult as the state's economy reopens in fits and starts and residents' resolve to fight the virus begins to flag — as evidenced by packed bars, family gatherings, graduation parties, beach bashes, and unofficial proms, including one dubbed a Pandemic Prom.
It's an "exponential amount of infections that now we're trying to contact trace," Beeching said.
Sleuthing a virus
Contact tracers in Michigan are often public nurses and epidemiologists — the quiet, steadfast core of public health.
Over their careers, they've tracked the spread of everything from measles to pertussis and whooping cough, identifying those who come in contact with people who test positive and encouraging them to quarantine.
For the most part, tracers told Bridge, the people they call are receptive and cooperative, even though "this is not a call that anybody wants to get," said Janet Olszewski, former director of the Michigan Department of Community Health, now part of the Michigan Department of Health and Human Services. MDHHS has, in fact, launched an ad campaign to assist tracers, urging Michiganders to respond to their calls.
In best case scenarios, tracers help communities get ahead of COVID-19, stopping each burst of infection before it cascades into another burst — much like exploding clusters of fireworks in a holiday finale.
But COVID-19 can spread quickly, jumping from a single person carrying the virus, often without knowing it, to people they talk with at a bar, say, or a church event. Those people, in turn, can spread the virus to others within days before they even show symptoms.
Contact tracers try to reach each person who has a positive test result from a COVID-19 test. Sometimes, their calls are answered. Sometimes not.
Volunteers recruited to help county health departments with contact tracing reach the person who test positive within 24 hours about 60 percent of the time, according to Lynn Sutfin, the MDHHS spokeswoman. Other times, tracers turn to certified letters or calls to suspected carriers' relatives to track down working numbers or pass along messages.
In Ottawa County, they've turned to a texting system, too.
"There are a number of people who haven't responded to our calls, but as soon as we send a text, they'll respond," said Derel Glashower, senior epidemiologist at the Ottawa County Department of Public Health.
The tracer explains the infection and advises those who have tested positive to self-isolate, limiting interactions even with other household members. The tracers also ask them about who they've been around — housemates, friends, coworkers, even strangers.
If they recently traveled by plane, tracers need airlines and flight numbers, said Lukas Ayers, an epidemiologist at the Wayne County Department of Health, Human & Veterans Services, "and really, it would be awesome if we have that seat number as well, so that the CDC (U.S. Center for Disease Control and Prevention) team can then take that investigation from there."
Those who haven't tested positive, but have been exposed to someone with a positive infection, are asked to self-quarantine, meaning they also should stay at home for 14 days.
Whether a person tests positive or has been exposed to someone with the virus, they can expect a daily follow-up phone call or text message to monitor any symptoms.
The daily texts in Ottawa County not only save staff hours, but automated a dizzying array of calls that lead to other calls, said Glashower, who said that without the system "we'd have spreadsheets within spreadsheets within spreadsheets."
Olszewski, the former state health head, is among 420 volunteer tracers in the state supplementing paid public health staff in contact tracing efforts. She said she works the phones about three hours a day.
Most people want reassurance or answers. But Olszewski said others tell her: "We're doing all of that. Now don't call again."
Helping or snitching?
Young adults especially may be reluctant to give up names of friends, especially if an outbreak becomes well known in a community or people feel they are being publicly shamed when they were just trying to have fun, said Ayers at Wayne County, where at least 21 COVID-19 cases have been traced to the Playhouse Club, an adult entertainment club in Romulus.
Generally, he said, "younger individuals are a little more less likely to provide names and contact information for close contacts because they may feel that they're snitching or ratting on their friends," he said.
Contact tracers, he said, "aren't going to admonish you for doing that." In fact, the conversations are confidential, and people who talk with contact tracers will not have their names revealed to others the tracers call.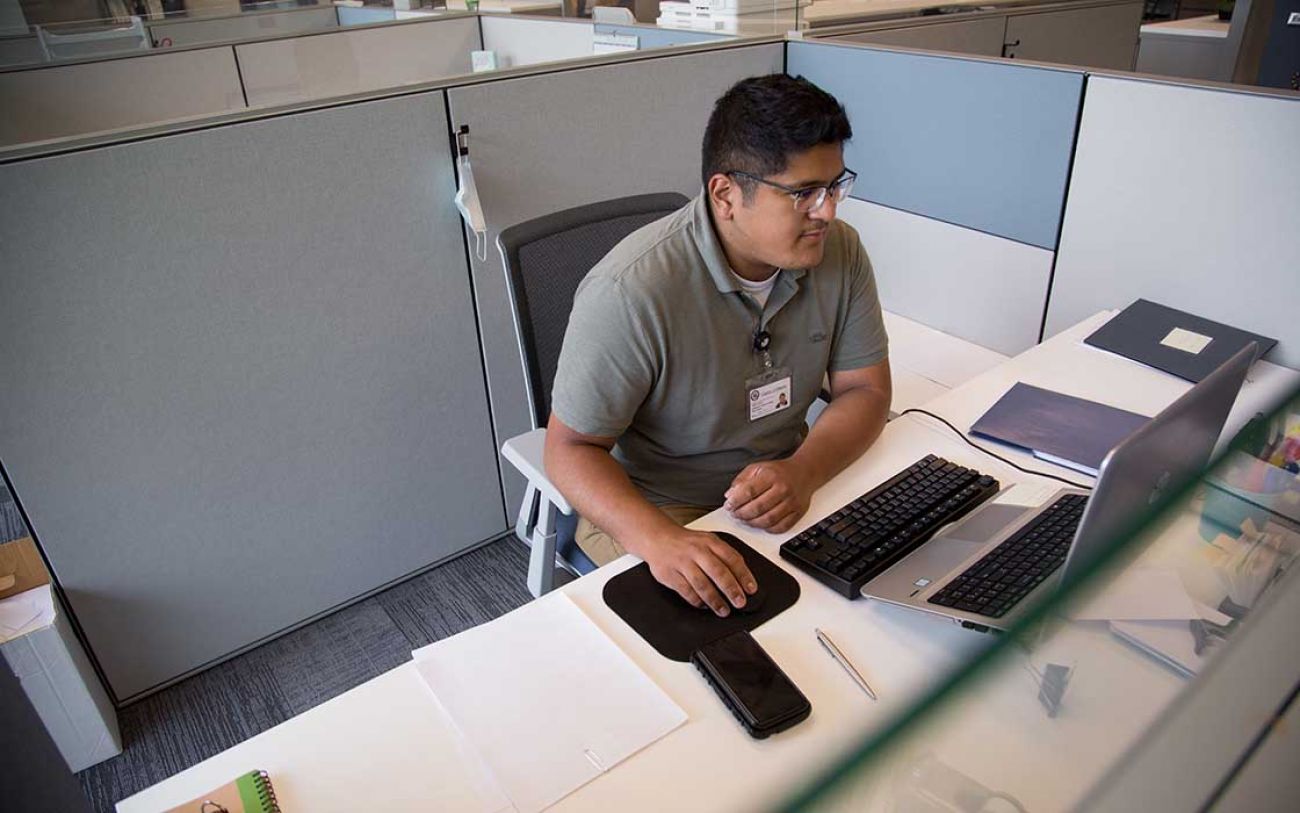 Jorge Garcia makes initial calls to Ottawa County residents who are infected or exposed to COVID-19, but the county also uses a texting system for follow-up check-ins. (Bridge photo by Autumn Johnson-Pierce.)
This past week, Beeching and others in southwest Michigan said they were bracing for a potential COVID-19 spike among the throngs of young people seen partying at Diamond Lake, where revelers packed tightly into the water on a sunny July Fourth weekend. Returns are already filtering in from a holiday bash on Torch Lake, with several attendees testing positive.
Outbreaks from large gatherings can be a "nightmare" to trace, said Wile, the Van Buren/Cass medical director.
Many of the Diamond Lake revelers were out-of-towners, including people coming to Cass County from across the Indiana state line, adding complications since the states' contact-tracing systems are not connected. And many of those in the crowd likely do not know each other's names, anyway, he noted.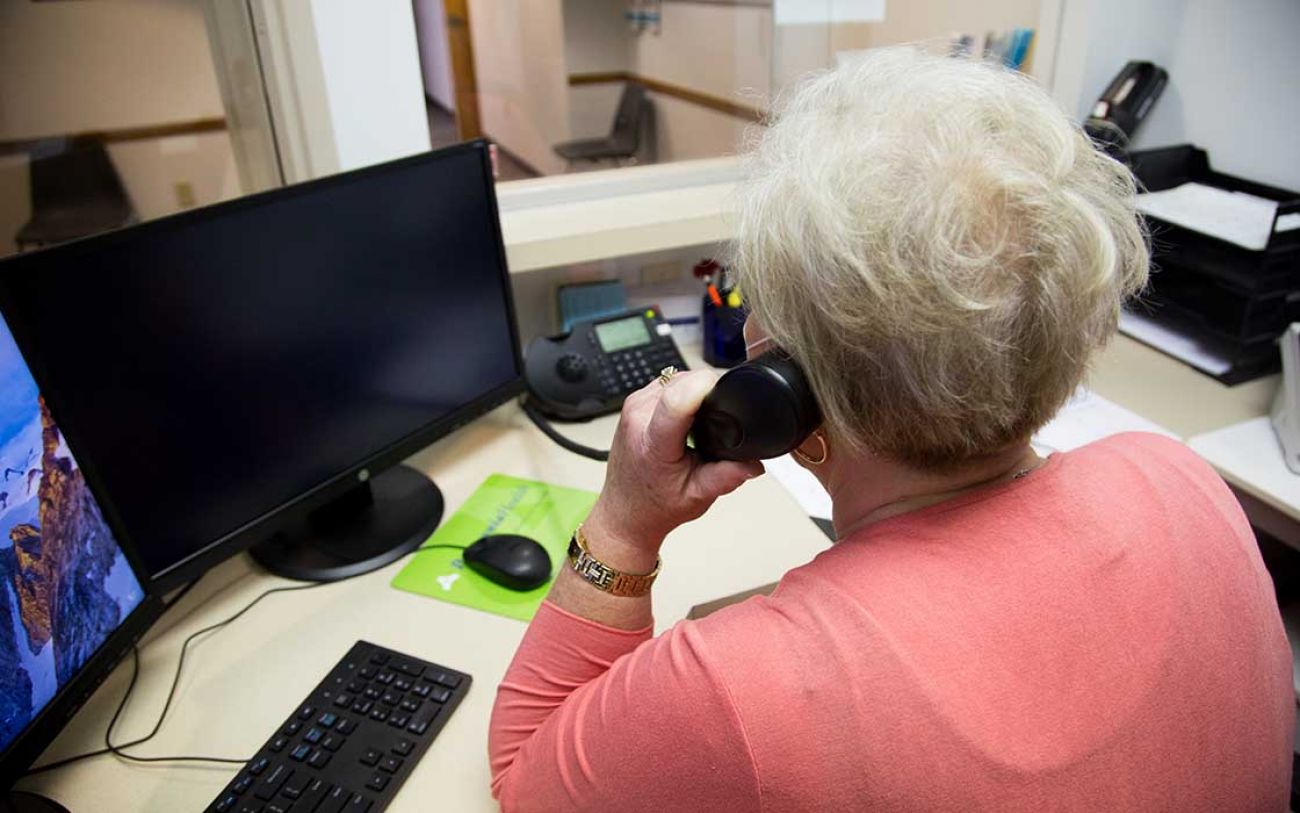 The state's contact tracers are responsible for tracking an "exponential amount of infections," according to Julie Beeching, director of nursing in the Van Buren/Cass County District Health Department. (Bridge photo by Autumn Johnson-Pierce.)
Some Michigan health workers have privately begun to question the continued usefulness of efforts to trace the coronavirus, especially as outbreaks are tied to larger and larger gatherings. The time required detracts from the other life-saving duties of already stretched thin public health offices — dispensing vaccines, investigating outbreaks of sexually-transmitted disease, conducting back-to-school vision and hearing screenings, or tracking mosquito-borne illnesses such as West Nile Virus or Eastern Equine Encephalitis.
"We've been talking about it in public health with our medical directors," Wile said. "When you get an abundance like this (at Diamond Lake), what good is it doing?"
Those who attended the Diamond Lake event likely aren't distancing elsewhere, either, he said. Does it make sense to track partiers to the stores and restaurants they may have visited?
Or could health workers' time be better spent promoting a single public health message: If you were there, consider yourself potentially infected.
Wiles said his office's efforts sometimes feel "like you are trying to put out a forest fire with a garden hose."
Answering questions, feeding cats
The job can take an emotional toll as well. Contact tracers often find themselves in conversation with people who are anxious or confused, or still in grief from a loved one who just died.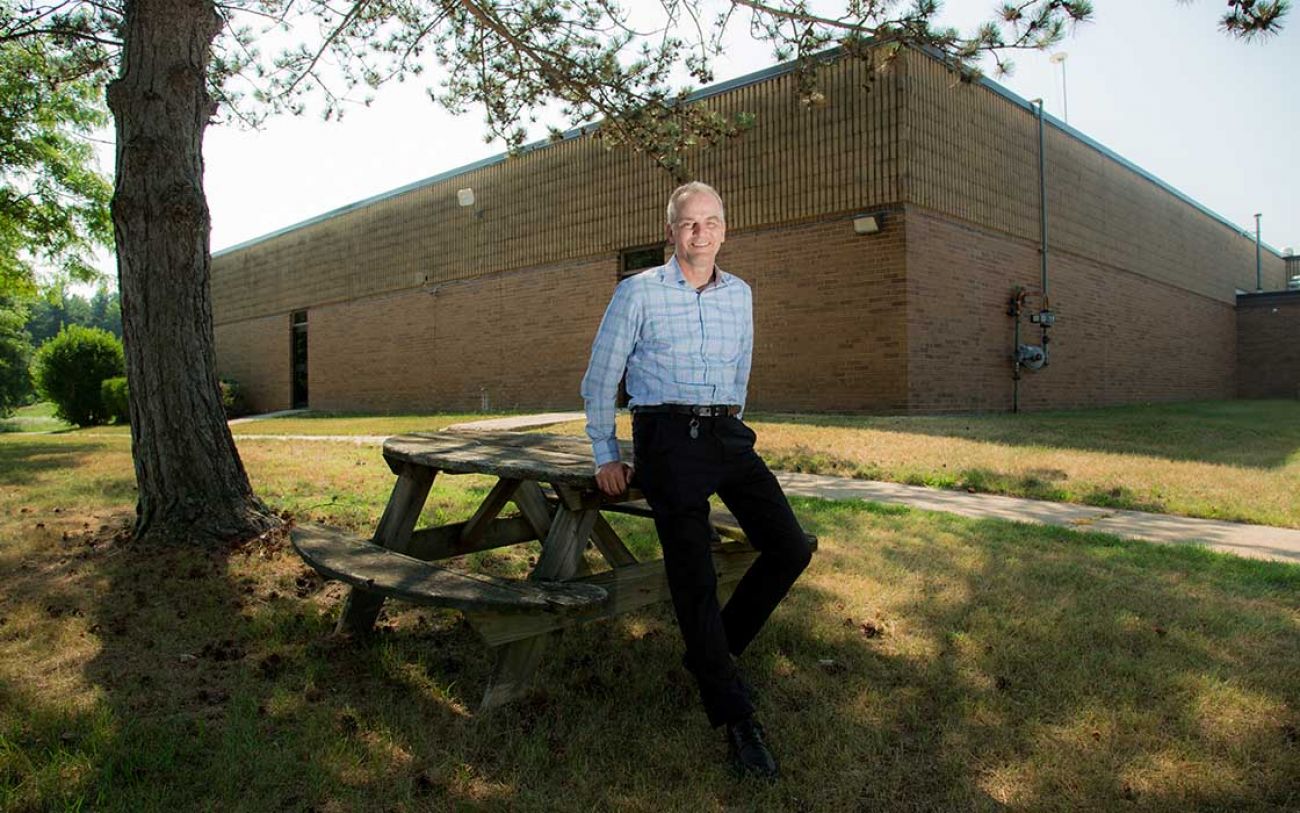 Dr. Larry Wile, medical director at the Van Buren/Cass County District Health Department, said mass gatherings of people uninterested in taking safety precautions can make contact tracers feel helpless to help at times. (Bridge photo by Autumn Johnson-Pierce.)
Tracers offer help to people in self-quarantine — recommending emotional support, delivery services, social services or medical care.
Olszewski said one woman, quarantined at home, just "wanted to know how she was going to get her cat fed." Olszewski was able to suggest a food pantry and local delivery options.
Some people on the other end of the phone line are desperate for medical advice, or basic information about their symptoms.
"Loss of taste and smell is (a) classic symptom for this disease, and so people frequently ask 'When will my smell return?' I just don't have an answer for them," said Ayers of Wayne County.
But public health workers are a determined bunch.
In Cass, the three nurses who work the phones in a plain brick building traced more than two dozen cases of COVID-19 to a family birthday bash. Other cases were traced to area meat-packing plants.
In mid-Michigan, contact tracing revealed an outbreak among out-of-town cleaning crews brought in after the Edenville Dam gave way during a downpour. In Ingham County, COVID-19 cases traced to a bar near the Michigan State University campus topped 170 people this week.
For all their frustration, tracers say they continue to believe their outreach stops even large outbreaks from getting worse.
Still, as summer unfolds and the parties get looser, tracers' work has been particularly challenging.
"You hear (from guests) there was hugging and kissing and no one was wearing masks, and I'm shaking my head," said Walicki of northern Michigan.
"It can get really disheartening, but you know, I was talking to my husband last night and I said 'What I'm doing is not pointless,'" she said.
"If we can save one life because we've prevented the spread from one house to another house and save somebody's grandmother, it's worth it."
Only donate if we've informed you about important Michigan issues
See what new members are saying about why they donated to Bridge Michigan:
"In order for this information to be accurate and unbiased it must be underwritten by its readers, not by special interests." - Larry S.
"Not many other media sources report on the topics Bridge does." - Susan B.
"Your journalism is outstanding and rare these days." - Mark S.
If you want to ensure the future of nonpartisan, nonprofit Michigan journalism, please become a member today. You, too, will be asked why you donated and maybe we'll feature your quote next time!