As Michigan COVID cases soar, infected residents won't cooperate with tracers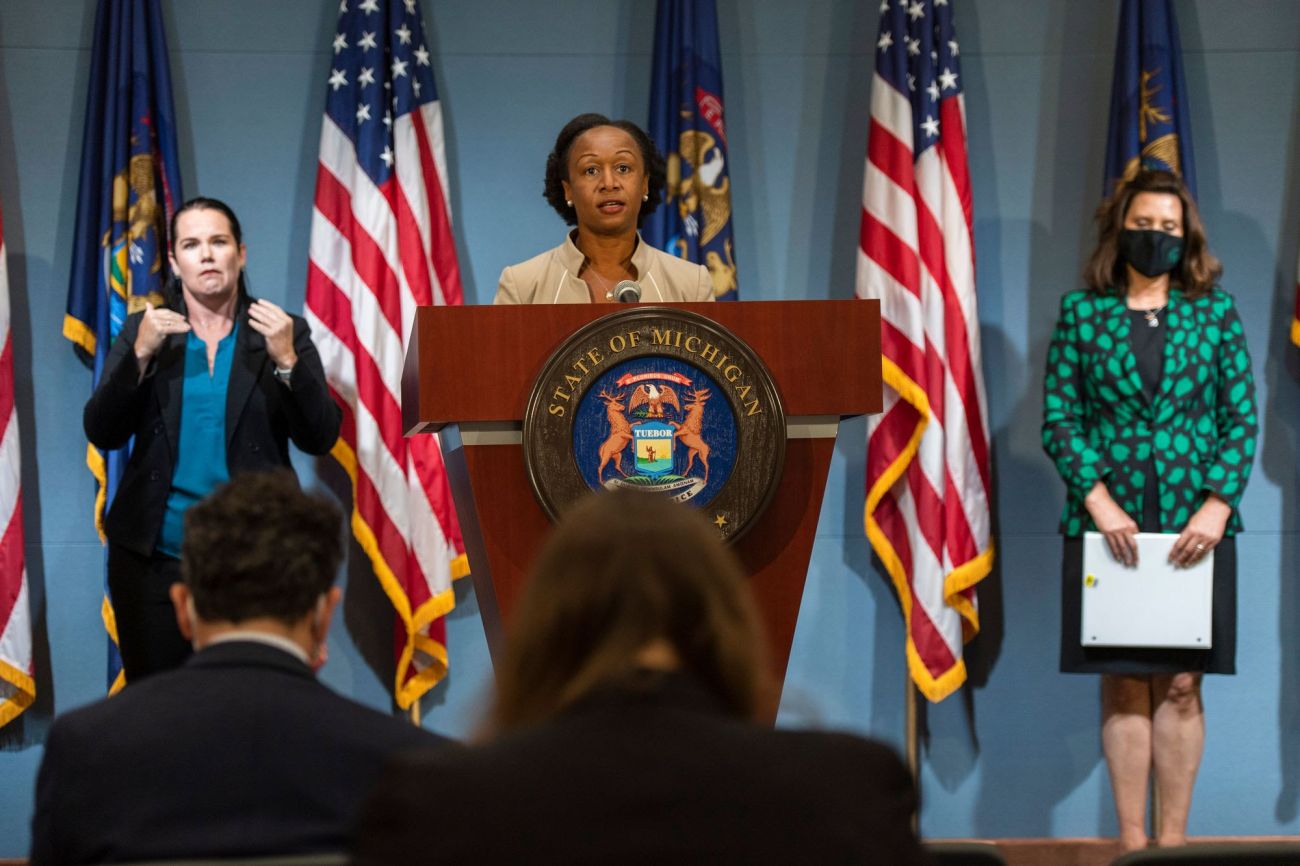 A third of Michiganders who test positive for coronavirus refuse to tell public health officials who they've come in contact with, indicating widespread noncompliance with a system that epidemiologists say is crucial to slowing the pandemic.
Michigan's chief medical executive, Dr. Joneigh Khaldun, raised concerns about the problem during a press conference Wednesday. Contact tracers are only able to reach around 70 percent of those who test positive for coronavirus within 48 hours of their diagnosis, she said, and only two-thirds agree to provide information on their contacts.
"This case investigation and contact tracing work is so important if we're going to be able to successfully slow the spread of the disease in our state," she said, adding that officials don't publicly share contact information.
Coronavirus cases have steadily increased in Michigan since mid-June, about two weeks after Gov. Gretchen Whitmer lifted her stay-at-home order that locked down much of the state. On Wednesday, the state recorded 891 new cases and 158 probable ones, the highest daily tally since May 1.
Since March, Michigan has 71,197 total cases and 6,085 deaths, the 13th highest in the nation for cases and seventh most for deaths.
Whitmer has attributed that rise to non-compliance with safety requirements, including a recent executive order requiring people to wear masks inside businesses and outdoors if they can't maintain six feet of distance from others.
Low cooperation with contact tracing also doesn't help, Khaldun said.
Contact tracing involves two steps: "Case investigation," in which public health workers interview recently-diagnosed COVID-19 patients about whom they've come into contact with over the last few days, and contact tracing itself, in which officials call those contacts to warn them they may have been exposed.
A "contact" is usually counted as someone who the COVID-positive patient has had face-to-face contact with for more than 15 minutes over the last 48 hours, said Susan Ringler-Cerniglia, spokesperson for the Washtenaw County Health Department.
Epidemiologists say large-scale contact tracing is crucial to identify, track and control flare-ups in COVID-19. While a vaccine is still unavailable, reaching infectious people early helps limit potential community exposure.
"This will be incredibly important as we prepare for a potential second surge," Khaldun said.
Lynn Sutfin, spokesperson for the Michigan Department of Health and Human Services, told Bridge there are now 422 trained volunteers making contact tracing calls for 16 of the state's 45 local public health departments. Those departments comprise about 50 percent of the state's total cases, including Detroit and Wayne, Kalamazoo, Genesee, Ingham, Saginaw counties and others.
Michigan also has a pool of nearly 10,000 other volunteers at the ready if tracing needs to ramp up.
However, most contact tracing and almost all initial case investigations are staffed by paid public health officials employed by local health departments. They do infectious disease sleuthing year-round and are well-acquainted with contact tracing.
Ringler-Cerniglia of Washtenaw County, which currently does not use the state's volunteer contact tracing corps, said using local tracers makes it easier for them to compare notes, talk about cases and make connections that help identify the sources of big breakouts like a house party in Saline this month that led to at least 43 confirmed cases and 66 exposures.
"That's how we're putting all these pieces together," she said. "The difficulty with having a volunteer base coming out of another location is it can be really really difficult to connect those dots."
Other health departments, such as one in Ingham County, are using volunteer tracers in coordination with local investigators, allowing staffers "to focus on the things they are best at and doesn't have them overwhelmed with all the rest of it," said Ingham County Health Officer Linda Vail.
"You can imagine the contact tracing that went on around what ended up being 185 cases out of Harper's," she said, referring to a bar in East Lansing that set off a wave of cases after people packed in to drink at the popular hotspot near Michigan State University.
Michigan officials don't know how many total contact tracers are in the state, between the volunteer corps and local public health officials. And while some leading health organizations have recommended Michigan have at least 3,000 contact tracers to effectively begin reopening the economy, Sutfin said a raw number of contact tracers "is not the appropriate metric" to measure programs' effectiveness.
"The state wants to make sure we have enough contact tracers in place to be able to contact all positive cases and their contacts as quickly as possible (ideally within 24 hours)," she told Bridge in an email.
She cited an opinion piece written by Tom Frieden, former director of the Centers for Disease Control and Prevention, that argued "it's the quality of the program that matters."
Angela Beck, a professor at the University of Michigan and director of the Behavioral Health Workforce Research Center, agreed there's no reliable number for how many contact tracers are needed. She said it's not surprising the state doesn't know the exact number given Michigan's decentralized public health system.
Estimates of how many tracers are needed range from 30 tracers per 100,000 people to more than 90, she said, which means it's most important to consider "situational factors" for determining the number needed. For example, more tracers would likely be needed in densely populated communities and communal living facilities "to contain any potential spike in cases before they rise too rapidly," Beck said.
Rock Connections, the call center company that's part of Detroit billionaire Dan Gilbert's business group, has a more than $1 million, six-month contract from the state to run the volunteer contact tracing effort. The company organizes training, communicates with and schedules volunteers, and supervises volunteers while they're working, Sutfin said.
Rock Connections' latest invoice to the state — for work in May, the first month of the contract — shows 20 employees billed more than $66,000 in hourly work beginning mid-month with a $26,500 monthly "support fee" for overseeing the program.
Under the contract, Rock Connections must be prepared to manage up to 6,000 volunteers, which means it is now managing around 7 percent of the volunteers specified in the contract.
But even if more volunteers are brought on, the state doesn't expect costs to exceed $1 million, Sutfin said, because "these are fixed supervision costs."
The state also recently received $315 million through the CDC as a part of a federal stimulus package for COVID-19 testing and contact tracing. A portion of that is going to local health departments to hire more contact tracers as state health officials prepare for fall, when some health officials fear a second wave of cases as students return to school.
We're not just a news organization, we're also your neighbors
We've been there for you with daily Michigan COVID-19 news; reporting on the emergence of the virus, daily numbers with our tracker and dashboard, exploding unemployment, and we finally were able to report on mass vaccine distribution. We report because the news impacts all of us. Will you please donate and help us reach our goal of 15,000 members in 2021?