Michigan the latest to roll out Medicaid work rules. Can it avoid pitfalls?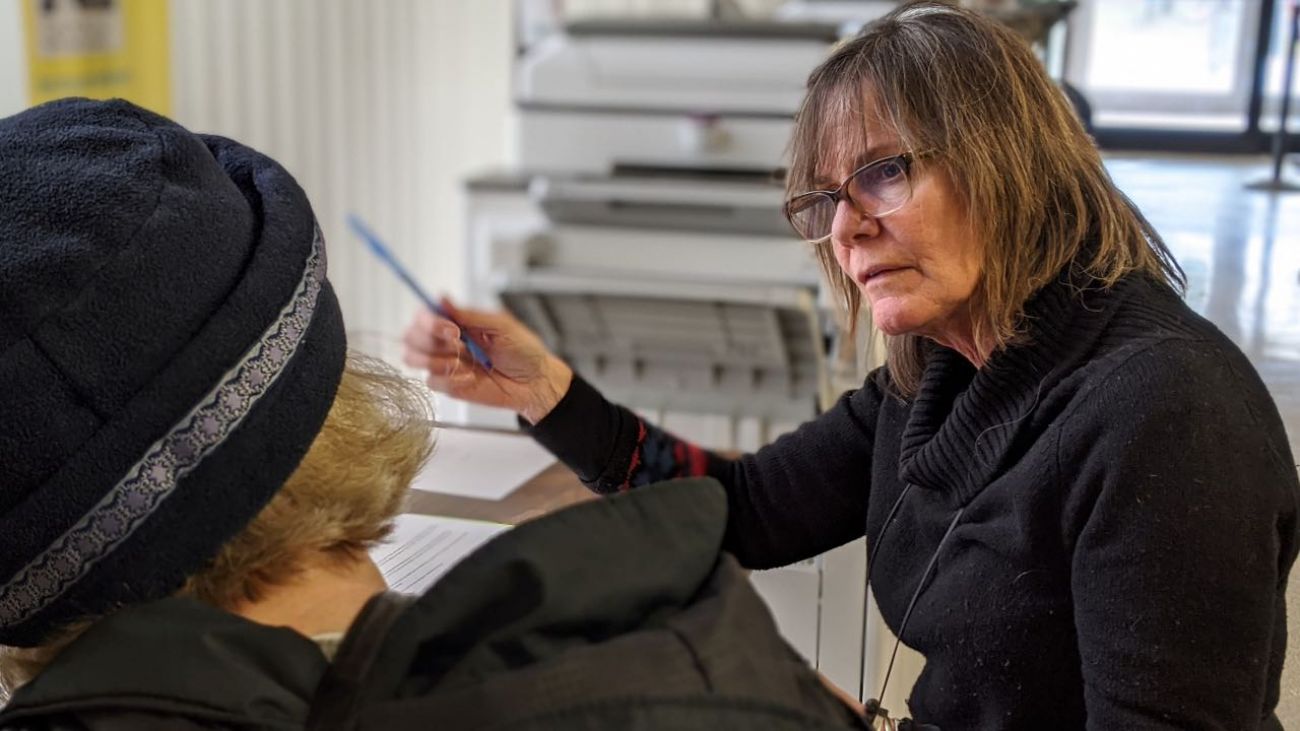 Attorney Krista Nordberg, Washtenaw Health Plan's director of enrollment and advocacy services, worries that thousands of vulnerable Michiganders won't know they could lose health coverage if they don't submit work documents. (Bridge photo by Robin Erb)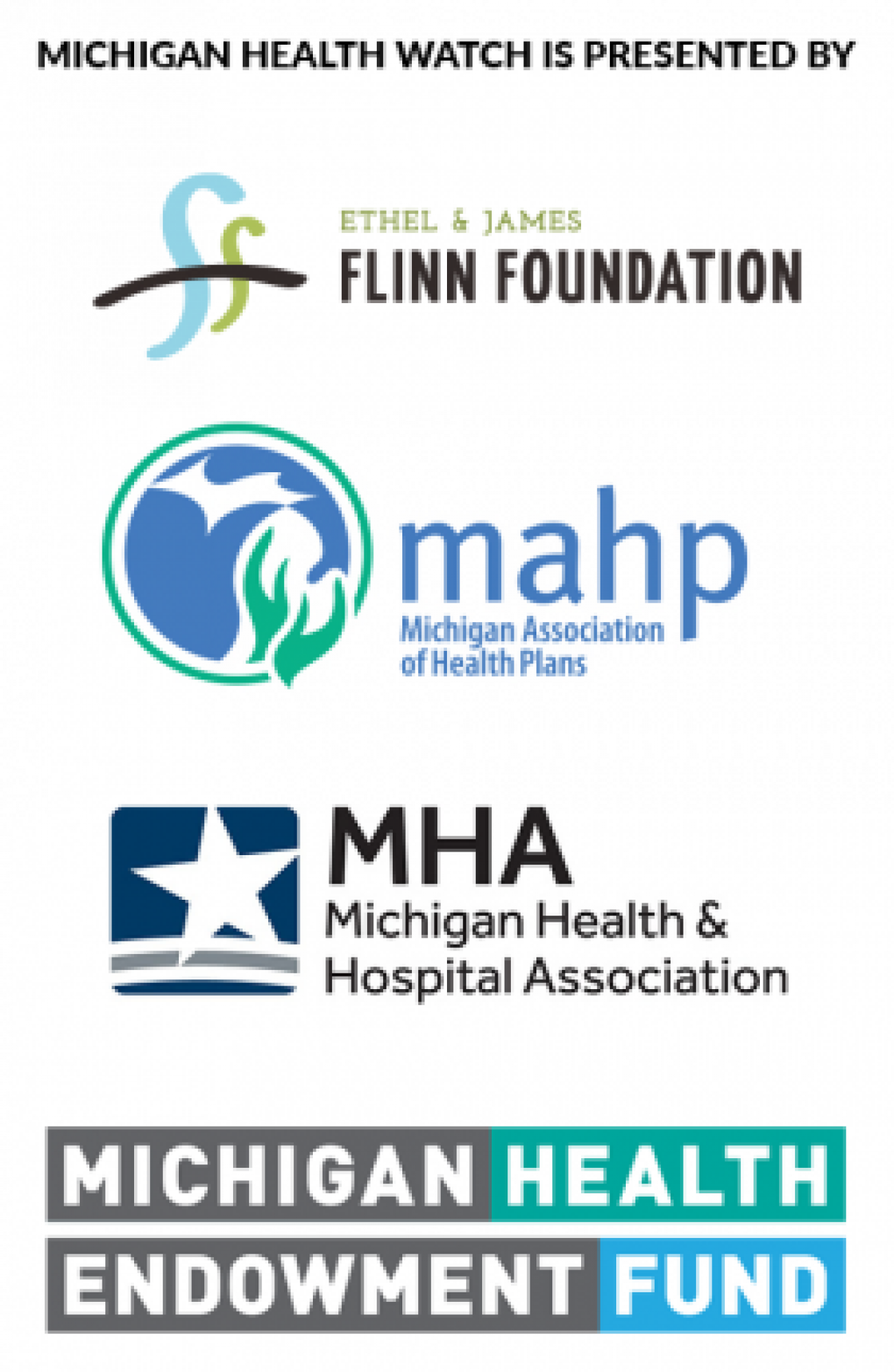 Dreaded by some as a red-tape attack on the poor and lauded by others as a road to self-sufficiency, Michigan's Medicaid work requirements are now in force.
Since Jan. 1, more than 238,000 Michiganders ages 19 to 62 have been required to work at least 80 hours a month or produce a documentable reason why they are not working, such as being pregnant or enrolled in school. And starting Jan. 25, they will have to file monthly reports with the state documenting their status.
If they fail to do so, they can lose their health coverage under Healthy Michigan, the state's expanded Medicaid program, starting May 1.
After more than a year of preparation — catchy and colorful letters to recipients and trainings with consumer advocates — some fear that thousands of Michiganders remain unaware of their state reporting obligations, even among those that received letters.
Some may have been confused by the notices. Some letters may have been lost, or discarded as junk mail.
"People don't realize that they're subject to the requirements until they get cut off" from health coverage, said Lisa Ruby, an attorney with the Michigan Poverty Law Program, which asked a federal court in November to stop the program, saying the work law threatens "irreparable harm to the health and welfare of the poorest and most vulnerable in our country."
But supporters of the work requirement argue there has been plenty of time to reach those who are affected. The program, they say, will boost Michigan's economy and help guide able-bodied participants in the Medicaid expansion program on a path to economic self-sufficiency.
The Michigan Chamber of Commerce cites a state "workforce shortage and talent gap" that leaves as many as 100,000 jobs currently unfilled.
Work requirements and "could help employers with their labor shortages and create a pathway for independence for enrollees," Wendy Block, the chamber's vice president of business advocacy, told Bridge Magazine.
Senate Majority Leader Mike Shirkey, a Clarklake Republican who sponsored the 2018 work rule law and co-sponsored a 2019 law to ease compliance reporting rules, said implementation "can't happen fast enough."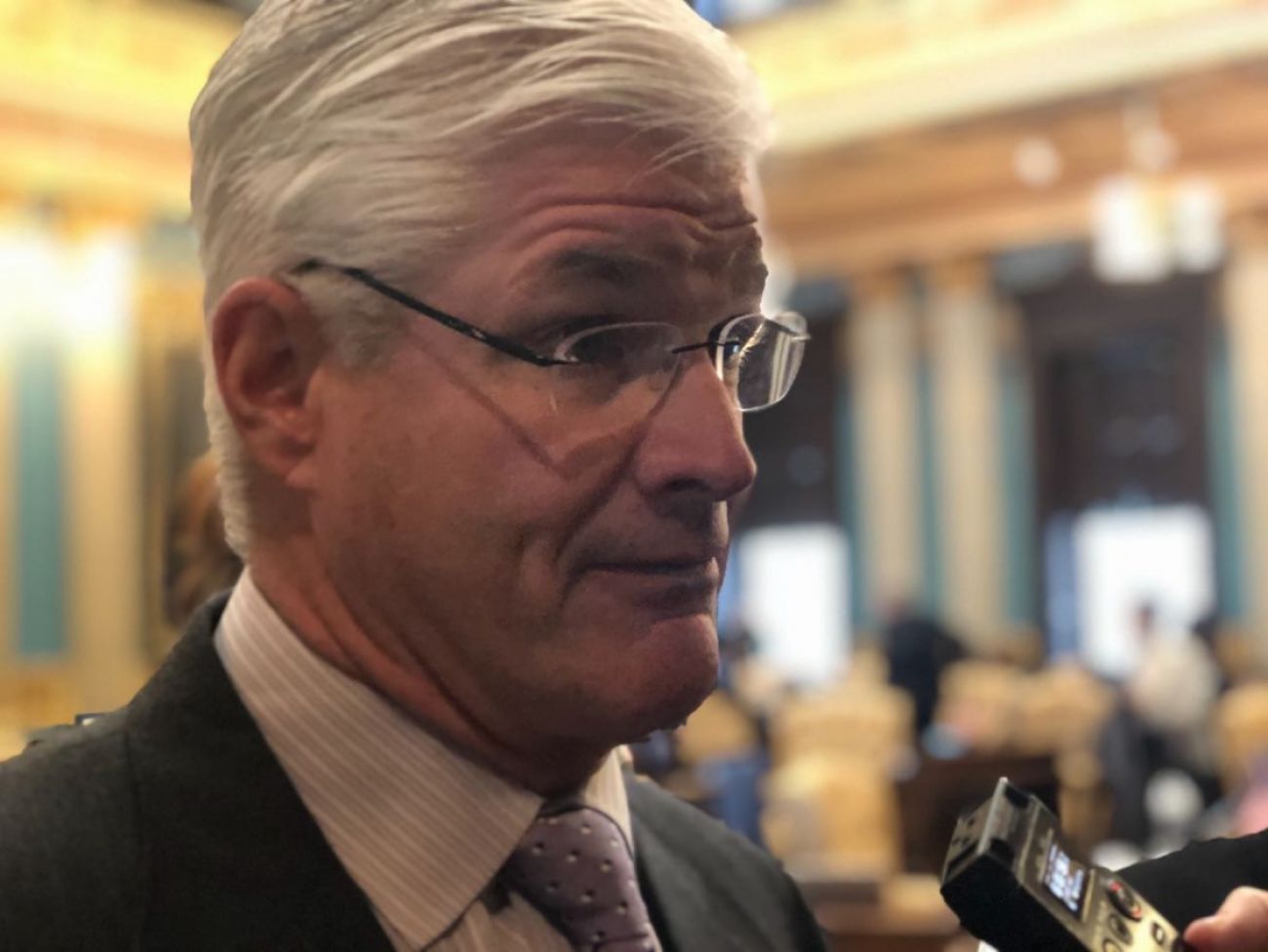 Republican Senate Majority Leader Mike Shirkey of Clarklake said state health officials have had enough time to give residents adequate notice of impending work rules. He says the rules promote self-sufficiency among Michigan's poor. (Bridge photo by Dale Young)
"They need time to do their job, and I'm not going to stand on the sideline and throw darts at them until they've had time to do that," Shirkey said of the state Department of Health and Human Services, which is responsible for outreach and will administer the program.
"But they know that we're going to have a conversation — maybe even an oversight hearing — pretty soon on how that rollout's going," Shirkey said.
For now, Michigan has the nation's only active program requiring those protected under state Medicaid expansion to work for coverage, with programs in several other states blocked by court orders.
The Trump administration opened the door to work rules in early 2018 when it issued guidelines that allowed states to compel working age, able-bodied Medicaid recipients to work or meet other requirements to receive benefits.
The federal government has since approved Medicaid work rules in 10 states, including South Carolina last month. Some states, like Ohio, are hammering out details of the program before launch.
Five states trying to implement work rules have seen their programs blocked in court or voluntarily suspended by the state.
The first attempt unfolded in a high-profile debacle in Arkansas in 2018, where more than 18,000 people lost Medicaid benefits under rules similar to those in Michigan. A report in the New England Journal of Medicine concluded that half of Arkansas's Medicaid recipients were confused, incorrectly believing they did not meet the work requirements. Others didn't have Internet access to meet that state's reporting requirements. (Arkansas, unlike Michigan, only allowed online filing of work documentation.)
U.S. District Court Judge James Boasberg blocked the Arkansas program, as well as programs in Kentucky and New Hampshire, finding the federal government had failed to show how setting employment conditions met the basic mission of Medicaid to provide health coverage. In December, Kentucky's new governor, Democrat Andy Beshear, signed an order to end the program installed by his Republican predecessor.
Indiana, which had begun to require work, pulled back its program in the face of court challenges and uncertainty, and Arizona announced in October that it was postponing its program because of the "evolving national landscape concerning Medicaid community engagement programs and ongoing litigation."
Though Whitmer and Gordon oppose work rules, Michigan's GOP-led Legislature left them little choice. State lawmakers passed a 2018 law, later signed by then-Gov. Rick Snyder, to require the implementation of work rules — leaving Whitmer no choice but to enforce them, said University of Michigan law professor Nicholas Bagley, who has written about the legal twists of the federal Affordable Care Act and its programs and problems since it was passed in 2010.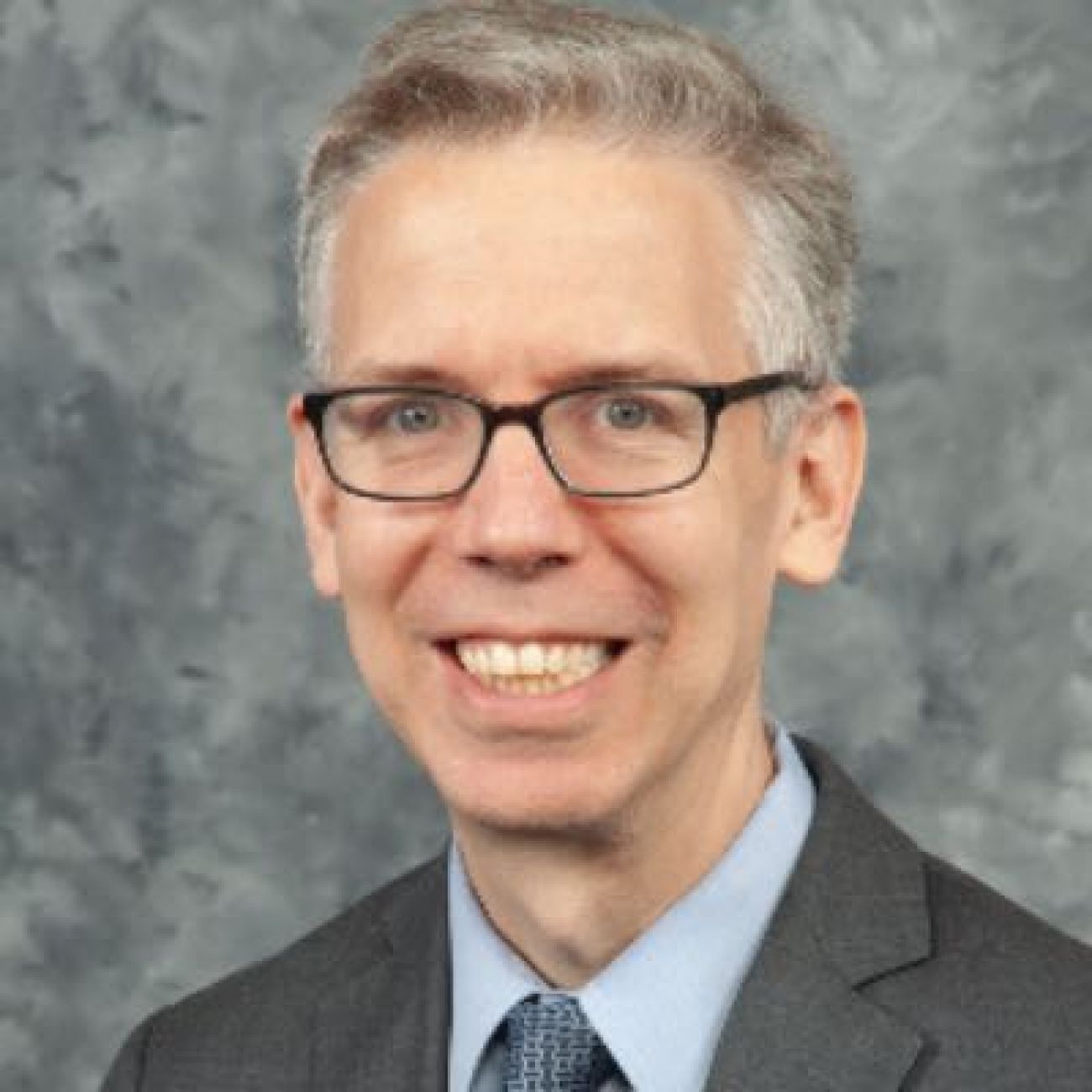 Some had criticized as "hush money" a $155,506 severance package when Robert Gordon left his job as director of the Michigan Department of Health and Human Services. (Courtesy photo)
Still, plenty of uncertainty lingers — what MDHHS director Gordon has called "a dark legal cloud" in a recent written statement.
His department has estimated the work requirement "will strip away health insurance from more than 100,000 Michiganders."
But with a legislative mandate to move forward, Gordon and his department last year overhauled its communication strategy as it tried to avoid the confusion that marred rollout of the Arkansas law.
In contrast to its first mailing last year that was criticized as bureaucratic and largely ignored, a second mailing to Healthy Michigan recipients was brightly colored, with simple language and bright blue and yellow caution triangles with large print that read "Don't lose your coverage."
The most immediate and direct legal threat to the Michigan work law was filed in November in U.S. District Court in Washington, D.C.— just as Michigan readied its third and final letters to beneficiaries alerting them to the pending requirements.
The case against work rules
In Young v. Azar, four women argue that Medicaid work requirements are politically motivated and run counter to the mission of Medicaid and the 2010 Affordable Care Act. Between 61,000 and 183,000 individuals will lose health coverage as a result of the work requirements, according to the suit, echoing a report released earlier in 2019 by the national law firm Manatt, Phelps & Phillips LLP.
The plaintiffs are described as people stitching together odd jobs, working part-time or are disabled, though they don't have an official designation as disabled. Some are helping with grandchildren and extended families, said Ruby, the attorney representing the four women.
"Most people believe that health leads to working," said Ruby, noting that the legal arguments mark an ideological divide. "I believe everyone should have health insurance."
Meanwhile, the Trump administration has appealed Boasberg's decision in the Kentucky and Arkansas programs to the U.S. Court of Appeals for the District of Columbia Circuit. That court's decision could have implications for Michigan's work rules, said Robin Rudowitz, vice president of the Kaiser Family Foundation, a nonprofit that focuses on health care and tracks legislation related to health reform.
Michigan's work rules could also be knocked sideways by another legal challenge, one that could take years to sort out.
As the last wave of third-round letters hit Michigan mailboxes in December, a federal court in Texas ruled the Affordable Care Act (ACA) invalid in a 2-1 decision. The court reasoned that the congressional decision in 2017 to eliminate tax penalties associated with the law's individual mandate renders the mandate, and therefore the entire ACA, invalid.
If the 10-year-old ACA topples, so too, will Medicaid expansion and the work requirements that are part of it.
Said U-M"s Bagley: "If the entire ACA goes away, there's no reason to continue fighting over work requirements."
Moving ahead
For now, Michigan moves ahead with its work rules, spending at least $28 million so far getting ready, with another $40 million in costs expected this fiscal year, Gov. Whitmer argued to the Legislature in December in another plea to stall the program.
All the while, consumer advocates say they worry about 238,000 people who in less than two weeks must begin documenting where they work or study, or why they should be exempt from the law.
"Some people are still in the dark, and that might be because they're not checking their mail or they haven't been in contact with MDHHS," said Stephine Deeren, who helps people obtain and keep health coverage at the Traverse Health Clinic in Traverse City.
Others are "frustrated and worried they could lose health coverage. Some people are in that panic survival mode. 'Do I qualify? Don't I qualify?'"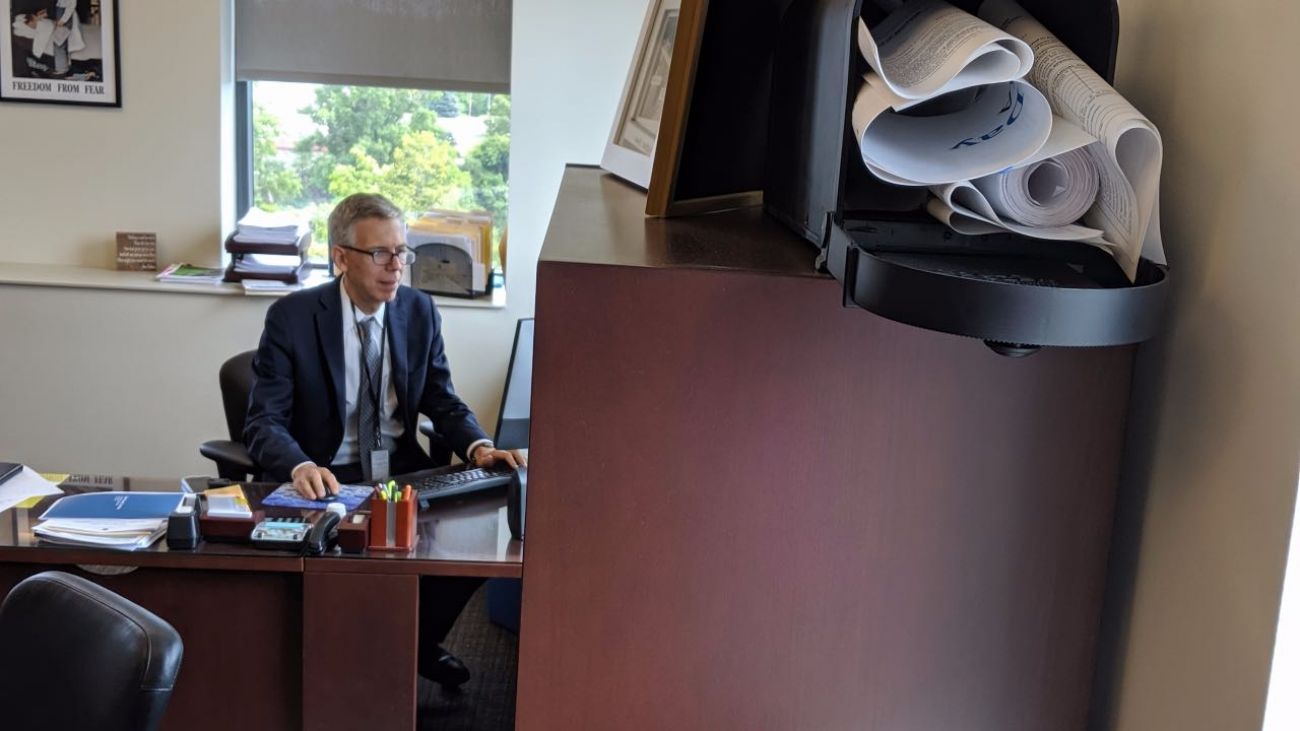 As a top state health official, MDHHS Director Robert Gordon has tried to simplify paperwork for Medicaid beneficiaries including what once was a 18,409-word application for public assistance. Gordon now oversees outreach to more than 238,000 low-income adults who — if not engaged — could lose health coverage under new work requirements. (Bridge photo by Robin Erb)
"There's still this confusion, and we're expecting people — people who are trying to pay their rent or keep their utilities on — to log on to some website they may or may not be able to navigate or to make a phone call and be put on hold for God-knows-how-long, just to make sure they're working?" said Krista Nordberg, who is Washtenaw Health Plan's director of enrollment and advocacy services in Ypsilanti. "It just doesn't make sense."
But at some point, the state must move forward, said Jarrett Skorup, spokesman for the Mackinac Center for Public Policy, a free-market think tank. The group supports work requirements as a way to incentivize people to work and reduce the state's budget burden.
Other benefits programs — food assistance, for example — require beneficiaries to work. "This shouldn't be overly difficult to do," he said.
"We certainly don't want people to be kicked off [health coverage] that shouldn't be kicked off," Skorup said. "On the other hand, we don't want a situation where the [state health] department stalls just because they don't want to implement it."
Bridge reporter Jonathan Oosting contributed to this report.
Only donate if we've informed you about important Michigan issues
See what new members are saying about why they donated to Bridge Michigan:
"In order for this information to be accurate and unbiased it must be underwritten by its readers, not by special interests." - Larry S.
"Not many other media sources report on the topics Bridge does." - Susan B.
"Your journalism is outstanding and rare these days." - Mark S.
If you want to ensure the future of nonpartisan, nonprofit Michigan journalism, please become a member today. You, too, will be asked why you donated and maybe we'll feature your quote next time!