Pressure mounts on Gretchen Whitmer to tighten Michigan COVID limits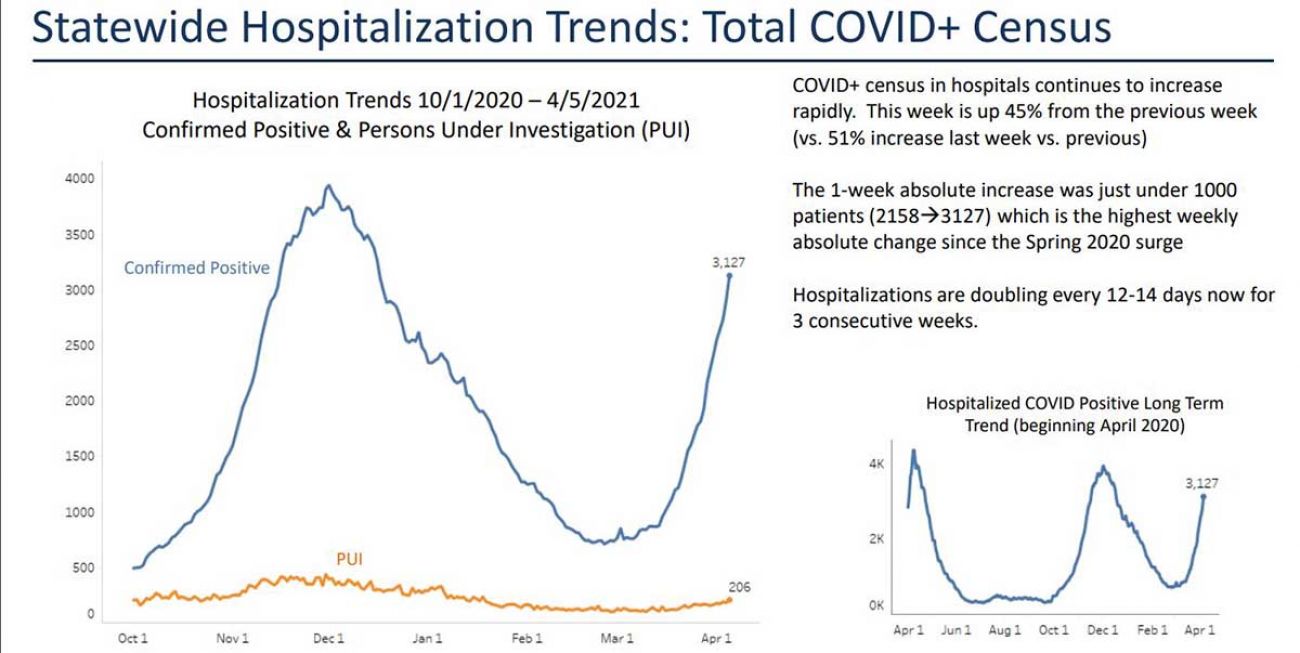 State data Wednesday underscored Michigan's grim reality: Cases and hospitalizations are surging again. At this rate, more people may be in the hospital by next week than at the height of the spring 2020 surge.
April 29 update: Michigan Gov. Gretchen Whitmer links easing COVID rules to vaccines
April 9 update: No new restrictions, but Michigan needs help amid COVID surge, Whitmer says
With Michigan on course to return to COVID case levels not seen since the pandemic's fall peak, Gov. Gretchen Whitmer faces increased pressure to resurrect orders that restrict movement, shut down in-person learning, and ensure Michigan residents mask up.
Wednesday delivered another onslaught of grim news to Michigan, with COVID-19 hospital numbers on a path to exceed those of last spring, positive test rates continuing to rise, and the head of the Centers for Disease Control and Prevention urging Michigan to adopt "stronger mitigation strategies."
Related:
For now, though, the Whitmer administration suggests that current measures — which include an increase in vaccines and pleas for residents to take personal responsibility — will best curb the virus' spread.
"While we see our positive numbers high, it's nothing like what we saw last fall, or last spring in terms of mortality rates, in terms of what it's meaning for people who are being on ventilators, so that's very positive," Whitmer told reporters Wednesday. "We bought a lot of time. Now we have vaccines and that's where we've got to spend our energy."
Michigan reported 8,015 new confirmed cases of COVID-19 Wednesday, the eighth most reported in a single day since the pandemic began. The state continues to lead the nation in case and hospitalization rates and in the rate of people testing positive for the virus.
The governor is in a "tough position," pressured both by politics and the reality of a deadly virus, said Dr. Matt Sims, director of infectious disease research at Beaumont Health.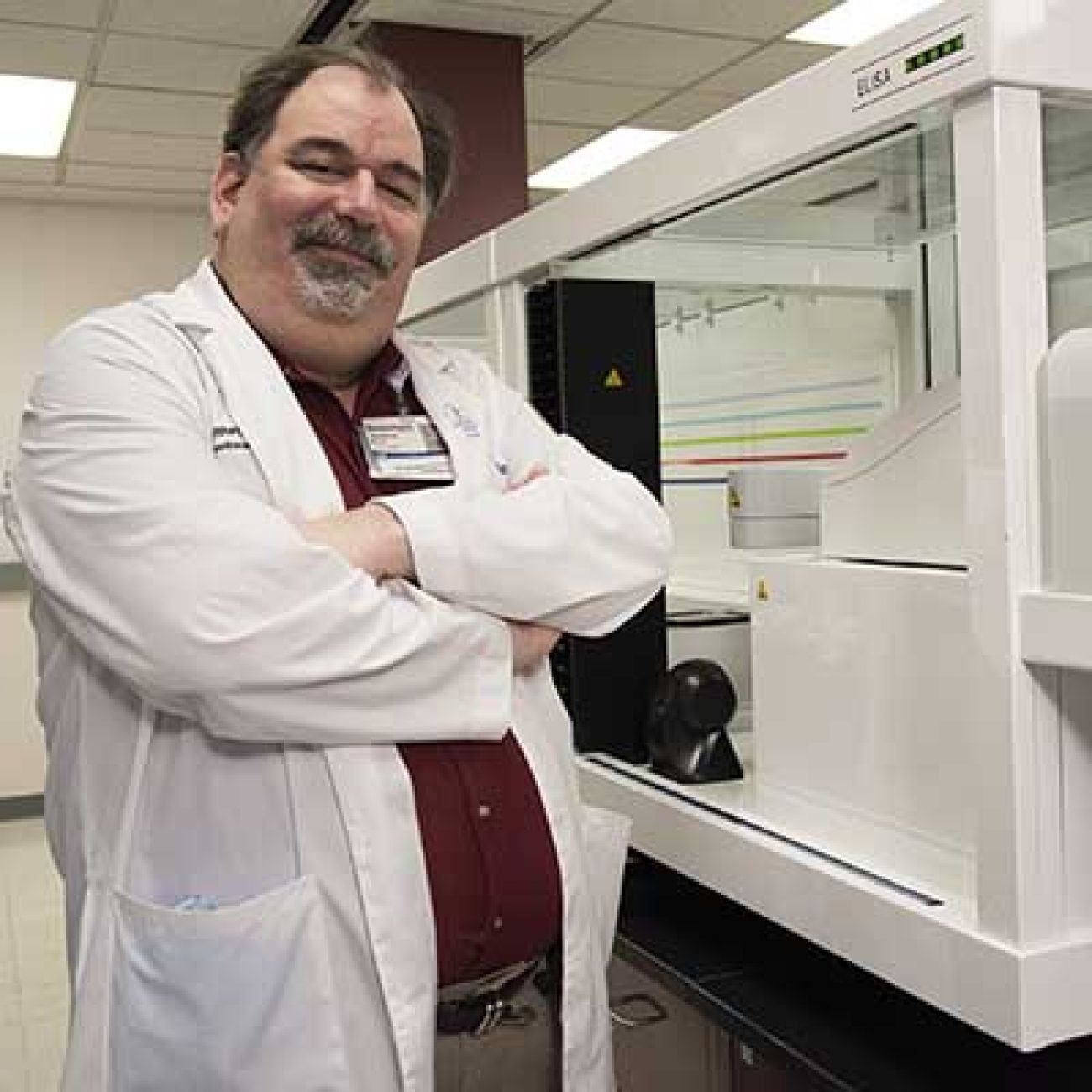 Michigan Gov. Gretchen Whitmer is in a "tough position," pressured by politics and the need to get COVID under control, said Dr. Matt Sims, infectious disease expert at Beaumont Health.
"I hesitate to call her to task, because she's done a very good job until this point. She shut us down when we needed to shut down," said Sims, who has led several research efforts to better understand the virus.
"But they're relying on the vaccine to get us to the end, and I don't think we're going to get where we need to be soon enough given how fast cases are growing," he said.
With graphs, charts and bullet points Wednesday, Sarah Lyon-Callo, the state's chief epidemiologist, outlined Michigan's stark reality.
Hospitalizations:

Michigan's hospitals are now admitting an average of 476 COVID patients a day as of April 3 and that rate is doubling every 12 to 14 days. While patients are not dying at the same rate as they did last year, they now occupy more than 1 in 10 hospital beds.

Variants:

At least 1,826 cases in Michigan hav been traced to one of three more contagious coronavirus variants. Variants have been confirmed in 46 counties, including four in the Upper Peninsula.

Positive test results:

Positivity rates through April 3 climbed to an average of 15.6 percent statewide, with the Saginaw region reaching 18.2 percent, and several northern counties and counties in Michigan's thumb nearing or surpassing 30 percent. The statewide positivity rate Wednesday afternoon reached 17.9 percent.

Outbreaks:

The state is now monitoring 991 new and continued COVID outbreaks, 301 of which are in K-12 schools.
Dashboard: Michigan coronavirus testing numbers, trends, COVID-19 data
The latest: Michigan coronavirus unemployment, map, curve, updated COVID-19 news
Given the data, University of Michigan forecasters now predict Michigan's hospitals could exceed 4,500 patients by April 12, which would exceed the peak of hospitalized patients last spring, when COVID first bore down on the state.
At a White House briefing Wednesday, CDC Director Rochelle Walensky suggested Michigan and some other states consider "stronger mitigation strategies" as a way to curb a steep surge in COVID cases.
Walensky didn't elaborate on which policies she referred to, but noted that the federal government has been in "close touch" with Michigan officials.
"I would advocate for, sort of, stronger mitigation strategies … (to) decrease the community activity, ensure mask wearing. And we're working closely with the state to try and work through — towards that," she said.
Walensky also noted that CDC advice is clear when it comes to youth sports at a time with high-level spread: "Our guidance on youth sports is actually pretty articulate with regard to having substantial or high transmission, and that these activities should be happening outdoors and more than six feet apart," she said.
As it stands now, Michigan allows high school sports — including indoor contact sports — as long as there is regular testing of those participating. At least 822 COVID-19 cases have been traced to three sports since January: basketball, hockey and wrestling.
Meanwhile, a petition sponsored by Black Lives Matter Michigan and other groups at change.org called on Whitmer to "pause in-person schooling in Michigan until it's safe." It had nearly 3,500 signatures Wednesday afternoon.
But Whitmer, who faced a torrent of criticism and legal challenges from Republicans and business groups last year for earlier economic restrictions, is looking at a different calculus now.
Her administration cites two variables in declining to tighten health rules: lower deaths counts, and the broadening availability of three vaccines.
More than a year into the pandemic, anyone 16 and older is now eligible for a vaccine, she noted. And, she said, people understand the importance of masks, handwashing and social distancing.
"National experts that we regularly talked to said 'You don't have a policy problem. You've got a compliance problem,'" Whitmer told reporters.
Whitmer noted, too, that many health orders remain in place.
Among them: A mask mandate in stores, schools, gyms, entertainment venues and other public spaces, crowd capacity caps at large gatherings, and rules that cap restaurant customers at 50 percent capacity.
Gov. Gretchen Whitmer discusses the surge of Covid-19 cases in Michigan: "Travel, variants... on top of the natural fatigue that comes a year into this is making our jobs a lot tougher and that's why we have to keep pushing through to vaccinate the people in this state." pic.twitter.com/EDZAbyrDq9

— The Situation Room (@CNNSitRoom) April 6, 2021
On CNN Tuesday evening, Whitmer suggested the state may be in line to further reopen the state this summer, assuming it can reach "herd immunity" levels of vaccinations.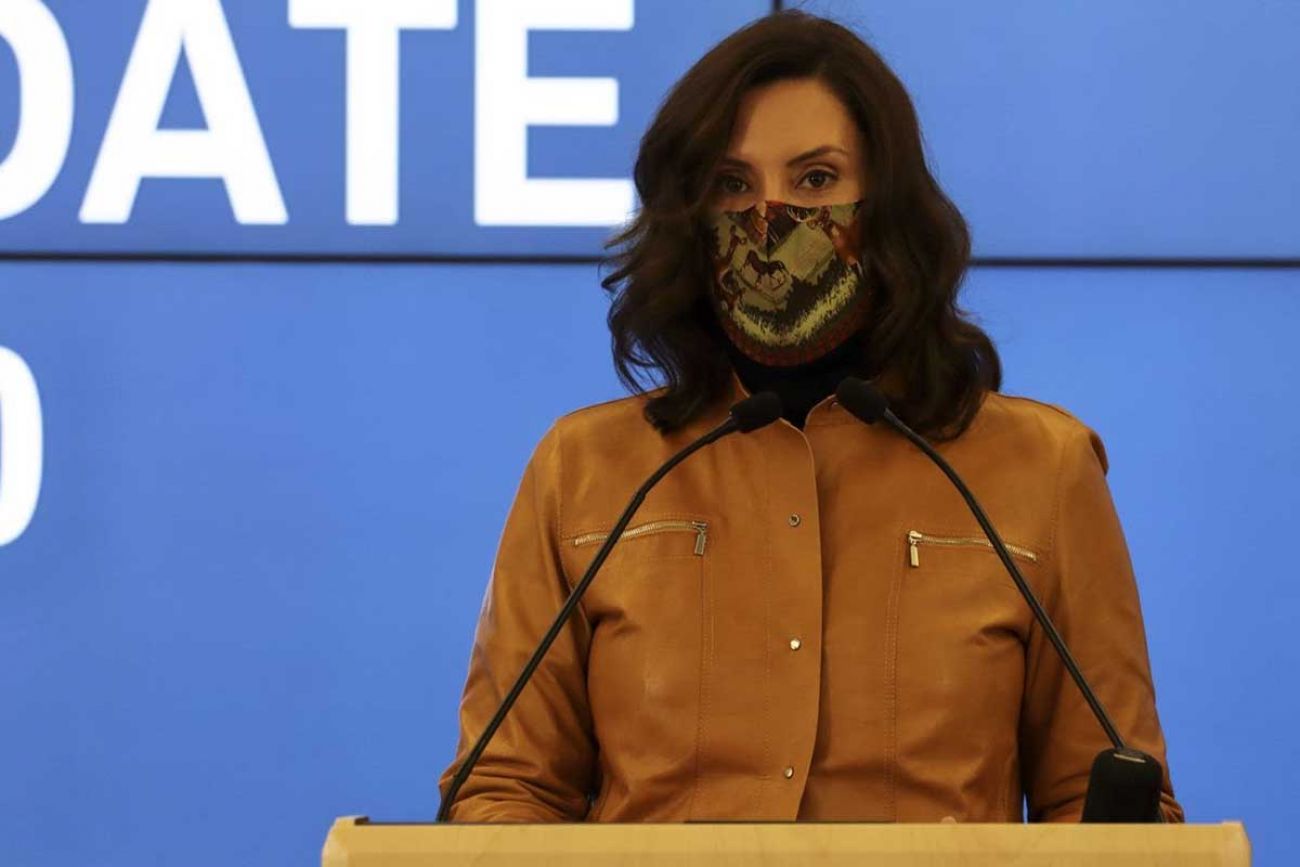 Gov. Gretchen Whitmer announced a new plan Thursday that would loosen state pandemic rules as more people get vaccinated against COVID-19. (Bridge file photo)
"I think it's very possible that there is a path out of a lot of the orders that we have issued to keep people safe," she said. "It all depends on getting to the 70 percent number of people eligible vaccinated. I think that 's the key to returning to some normalcy."
Elizabeth Hertel, director of the Michigan Department of Health and Human Services, also indicated Wednesday during Lyon-Callo's data presentation that it will be personal responsibility, locally made decisions, and other factors that will be most effective in reining in COVID.
The warming weather should help, too, she said, as winter sports — notably basketball, wrestling and hockey — will be replaced by sports that take place outdoors, where virus transmission is far less likely.
While the Whitmer administration has not tightened rules on in-class learning, it has encouraged schools to return to virtual learning for one to two weeks following spring break, Hertel noted.
An influential business group said it would strongly oppose additional economic restrictions.
"In every state, we see numbers rise, then slow, then plateau and then fall," Brian Calley, president of the Small Business Association of Michigan, said in a text.
"This happens in states with many restrictions and in states with few restrictions. Michigan's numbers will hit a plateau and fall with or without restrictions. This is because choices in personal life impact spread most and business restrictions have only a marginal impact."
Calley said the economic harm of additional restrictions would far outweigh any benefits.
"The Governor has smartly stayed focused on the vaccines," he said. "The U.S. is making great progress and Michigan is too."
We're not just a news organization, we're also your neighbors
We've been there for you with daily Michigan COVID-19 news; reporting on the emergence of the virus, daily numbers with our tracker and dashboard, exploding unemployment, and we finally were able to report on mass vaccine distribution. We report because the news impacts all of us. Will you please support our nonprofit newsroom?