Culture wars divide Michigan schools. How many rights should parents have?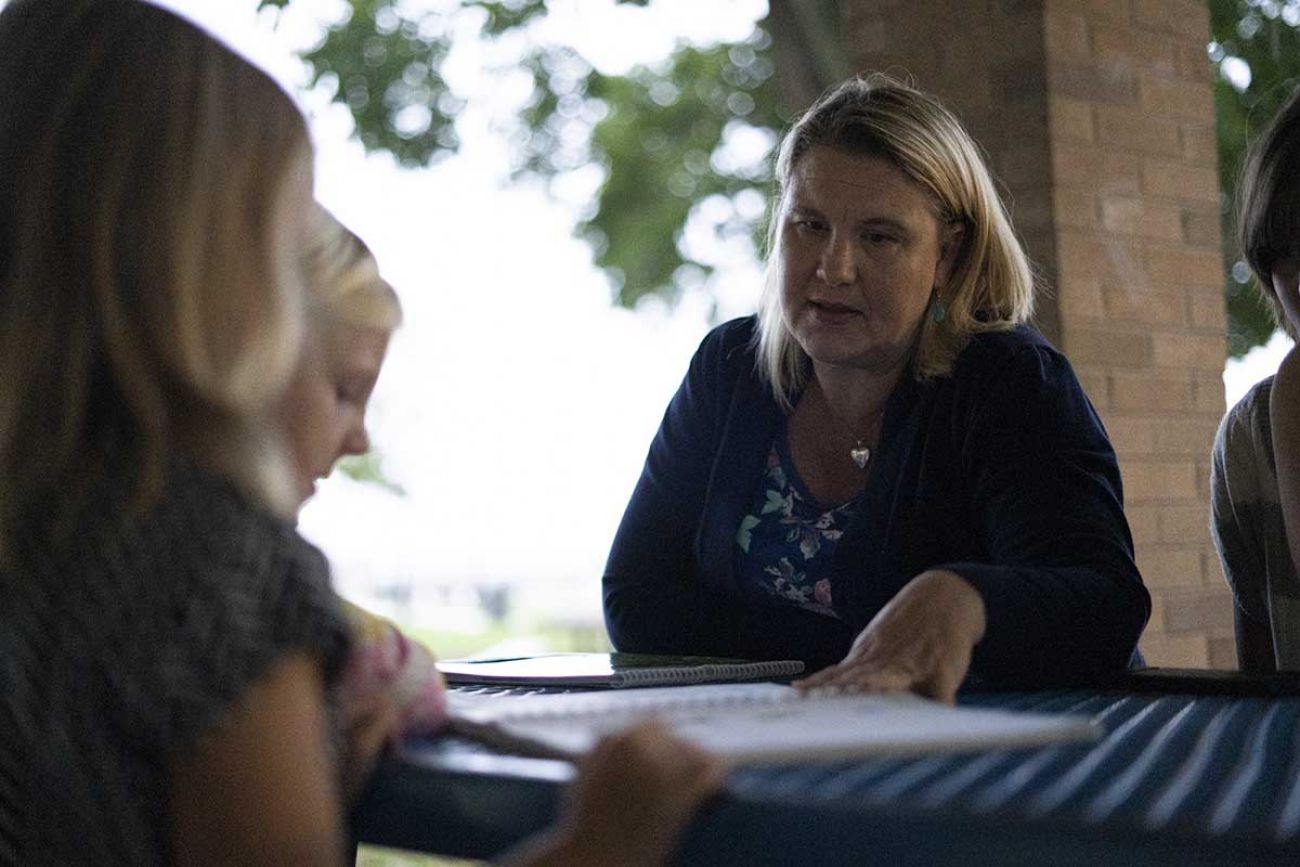 Wyandotte mother Shannon Ciecko says the pandemic opened a "COVID curtain" and led her to think more about how public schools were working.(Bridge photo by Cydni Elledge)
'Parental rights' is a new buzzword in education, as groups are peppering school boards
Activists say they want more transparency on curricula and finances. Foes say they prey on worst fears.
Either way, the movement has become a force in politics and influences school elections
---
TAYLOR — The Moms for Liberty Wayne County chapter meeting at the American Legion hall began with a prayer and the Pledge of Allegiance before moving on to the main order of business:
Learning how to search public school library databases for books with sexual content.
That day in August, a speaker used a laptop as about 10 parents followed along with their phones and learned how to enter names of objectionable materials into spreadsheets and lodge complaints with school boards.
The moms are on the front lines of a cultural war in Michigan and nationwide that stemmed from frustrations with COVID-19 policies and morphed into a new type of activism altogether.
Once apolitical, mothers like Shannon Ciecko say they're fighting to make schools more transparent and give parents more say in their children's education. Many contend classes are too focused on gender and diversity, rather than academics and improving test scores that have plunged since the pandemic.
"I value public school, and I feel like it has a lot of value too, but there's so many things that can go wrong," said Ciecko, of Wyandotte, the chair of the Wayne County chapter of Moms for Liberty, the group that organized the session about explicit material at school libraries.
Related:
Parents are "scared of what's going on because there's no transparency," said Ciecko, a nurse and mother of five.
School districts and opponents object to the characterization, saying there's already plenty of transparency. Critics accuse the movement of going too far and appealing to the worst, unfounded fears of parents.
But Ciecko said she was awakened during the 2019-2020 school year when her then-kindergarten daughter cried at the computer while following virtual learning during the pandemic.
Ciecko said raising concerns about her daughter's progress to her school didn't help. Administrators didn't listen, she said, so she began teaching her daughter with materials from Hooked on Phonics and eventually switched to Gibraltar School District, where Ciecko said her input is welcomed.
In May, she founded the Wayne chapter of Moms for Liberty, which is one of more than 200 in 40 states of the Florida-based advocacy group.
Its mission is to fight "for the survival of America by unifying, educating and empowering parents to defend their parental rights."
While banning books gets headlines, activists say they aren't trying to control how teachers run classrooms. Instead, they want to be a "partner" and have more say on curricula and budget spending, said Jessica Mathiak, a mother of two boys in the Huron Valley School District in west Oakland County.
"How does it impact my child?" asked Mathiak, who is an organizer of a private parental rights group on Facebook with more than 14,000 members.
"That's really the question that we want answered. How are you going to address the fact that my son or daughter is reading two levels behind?"
Her Facebook group features discussions about "liberal indoctrination" and government "override" of parental rights. In one post, Mathiak posted a photo of a school employee with long hair, a beard and purple eyeshadow who uses the pronouns "they/them."
"Never should small children be exposed to this ideology," she wrote.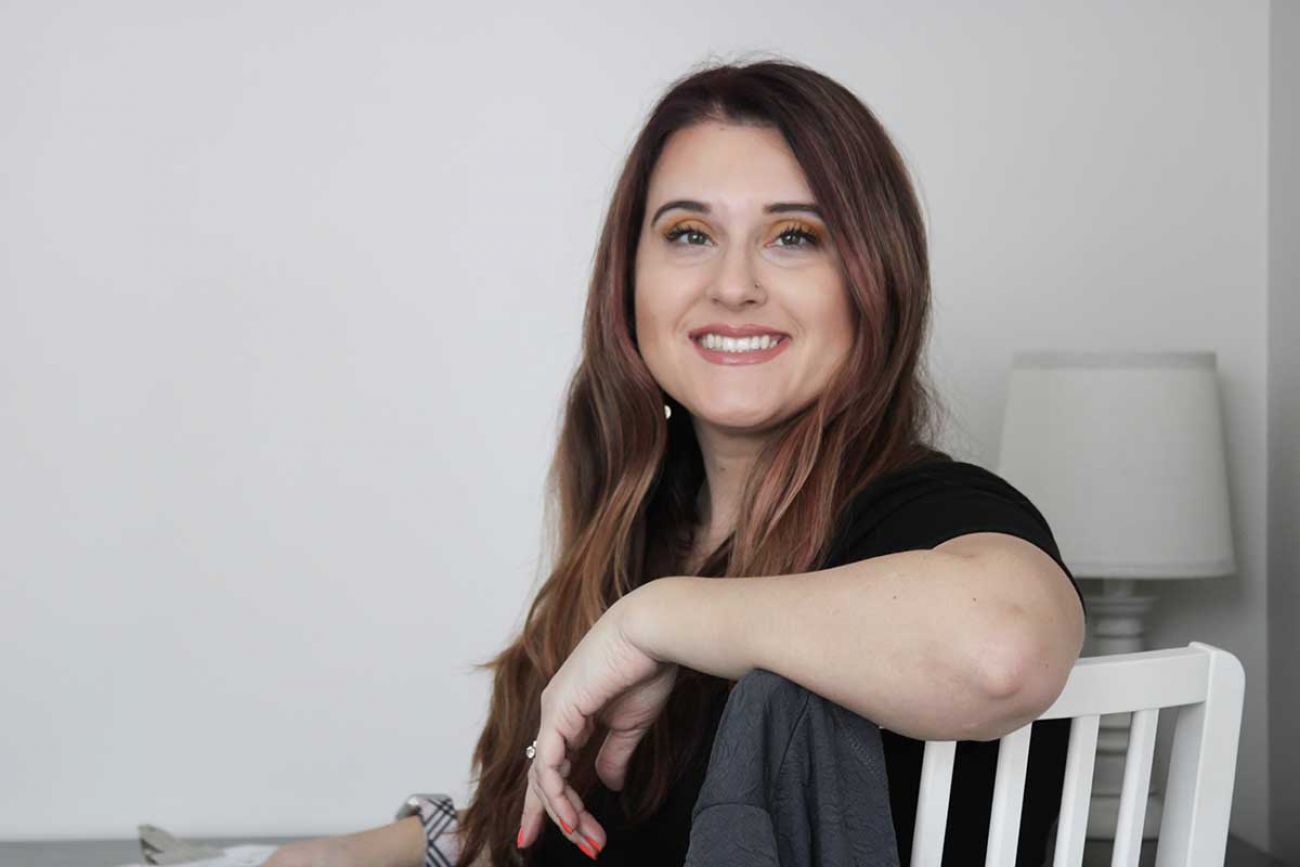 Jessica Mathiak is a mother of two Huron Valley School students. She helped lead the fight against mask mandates in schools and now said she's concerned about curriculum and budget transparency. (Courtesy photo)
Mathiak told Bridge that LBGTQ youths should be supported but students shouldn't know "personal information" about their teachers.
"If I'm a walking billboard for an organization that can be divisive or for things that not everyone is going to agree with, as a professional, that should not be a (distraction) for my child learning about English language arts," she said.
'Parents fell asleep'
Mathiak's activism began during COVID, when Gov. Gretchen Whitmer's administration first ordered schools to shut down in spring 2020 and, in September 2020, mandated mask wearing for contact sports such as football, soccer and volleyball in schools.
The shutdown and mask restrictions essentially took school sports away from Mathiak's fifth-grade son, who expressed suicidal thoughts due to isolation in winter 2020, she said.
"That was crushing to my children," Mathiak told Bridge. "When sports were removed from my kid, or when my children were outside wearing a mask playing soccer, that was just ludicrous."
Mathiak is the president of Huron Valley School Parental Advocates, Inc., a nonprofit formed in February, and administrator for the private Facebook group Michigan Save Our Kids Open Our Schools.
She helped lead the fight in August 2021 against Oakland County Schools' mask mandate — an order lifted in March.
Now, the group is focused on the upcoming election.
"We really support our parents stepping up and putting their money where their mouth is," Mathiak said.
"For a very long time, parents fell asleep. And we just circled or put a check in the box for our local school board candidates," she added. "We really want people that have skin in the game, and nobody has more skin in the game than a parent who has a child actively in that public school."
Huron Valley Superintendent Paul Salah told Bridge that the assistant superintendent who oversees finance has met with Mathiak to address her questions. The district is audited annually, board meetings include budget reports and finance and operations committees meet twice-monthly.
All are open to the public, and the district posts online its curriculum, unit calendars and course descriptions for English and math.
"I would say Huron Valley Schools is over the top in terms of its transparency," he said.
How many rights?
Michiganders advocating for more parental control have cited the state's revised school code of 1976 — a law deeming it the "natural, fundamental right" for Michigan parents to "determine and direct the care, teaching, and education of their children."
"PARENTS ARE IN CHARGE OF THEIR CHILDREN'S EDUCATION!" Michigan Board of Education candidate Tamara Carlone, a Republican, wrote on her Facebook page while referencing the law. "THE SCHOOLS ARE ONE TOOL AND THEY ARE TO COOPERATE WITH THE PARENTS."
Actually, public schools are designed to serve all children with different needs, said Jack Schneider, associate professor of education at the University of Massachusetts Lowell.
Parents can opt their children out of a certain school and elect school and education board members, he said. They can also opt out of sex education and, in some areas, move district through the state's Schools of Choice program.
"If we're talking about parents wanting to control every aspect of their children's education, unfortunately, that's not the system that we've designed in this country," Schneider said.
He and others noted that conservative parents' rights movements have sprung up repeatedly in the United States, from the Red Scare in the 1940s that led to mass teacher firings to backlash against "rainbow curriculum" during the 1990s.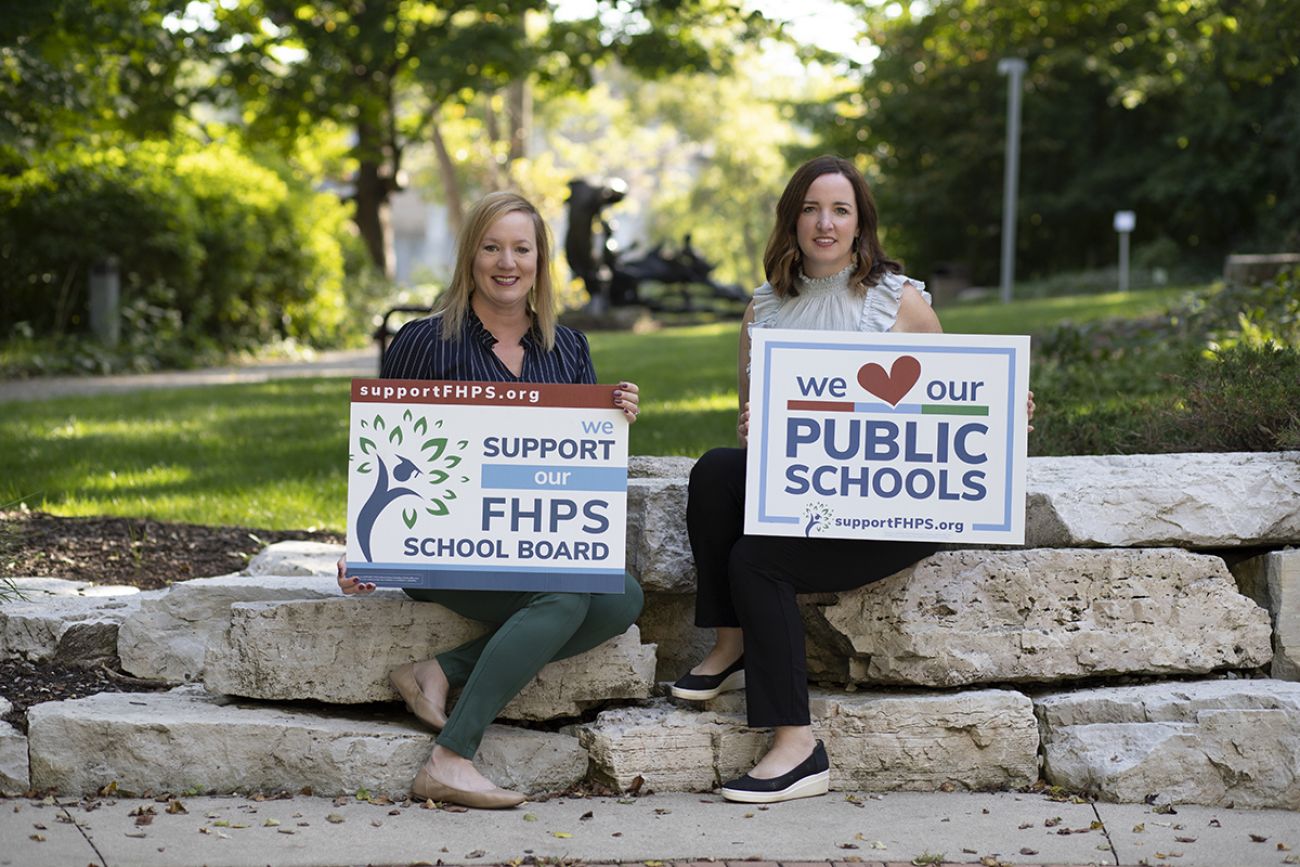 Christy Mayo and Becky Olson are two of the founders of the Support Forest Hills Public Schools group., which intends to "protect our public schools from partisan and manufactured attacks." (Courtesy photo)
Becky Olson, a west Michigan mother, said the "parental rights" movement is a misnomer to camouflage a well-orchestrated effort nationwide to "discredit public schools and work in a pro-privatization way."
"I really struggle to find where parents do not think that they have the rights if they're not looking," said Olson, co-founder of Support Forest Hills Public Schools, which aims to "support and protect our public schools from partisan and manufactured attacks."
She accused the mothers' groups of being "spoon fed these talking points," pointing to "tool kits" posted by conservative groups about how to identify what they consider critical race theory.
Schneider, the education professor, agreed. He said the movement is based on "wild, baseless conspiracy."
"Take what people would feel the highest level of discomfort with, claim that it's happening in the schools behind closed doors unbeknownst to them, and that there is a conspiracy involving leftist teachers," he said. "And now you have managed to gin up the conservative base."
'Rabbit holes' for some, focus areas for others
While Ciecko is still exploring focus areas for her Moms for Liberty Wayne County chapter, its sister group in mid-Michigan is in full swing.
Its main concerns: sexuality, gender and materials that "run along the lines of critical race theory," said Bree Moeggenberg, chair of Moms for Liberty in Isabella County.
Moeggenberg argued that discussions about sexuality and gender must occur between parents and their children. She acknowledged racism exists, but said the focus should be on progress rather than oppression.
"Like I said, history is history, we can't remove slavery, you know? But also in the same breath, I wasn't there, I didn't do that," Moeggenberg said. "And in fact, there were also all of the others that had fought to free the slaves."
Michigan's K-12 school leaders have repeatedly said they are not teaching critical race theory — a college level framework that analyzes the role institutions play in racism.
But some in the parental rights movement and Republican lawmakers say schools' diversity, equity and inclusion materials are derivatives of CRT in that they portray white children as oppressors who are meant to feel guilty about their race.
This summer, Sen. Jim Runestad, R-White Lake, provided Bridge with several examples of what he described as "vile, sick, psycho, hate-filled stuff" intended "to divide and get people at each other."
One of his examples was a July 2020 West Bloomfield video presentation on how parents could talk to their students about race after the killing of George Floyd in Minneapolis by a police officer.
In the video, a consultant described the United States and its institutions as "founded and framed around the ideologies of white supremacy."
Not all parents within the parental rights movement place the same emphasis on forbidding what they identify as CRT.
Mathiak told Bridge that focusing on critical race theory is a "rabbit hole" that distracts from what she is trying to accomplish.
She argued, however, it's not the schools' place "to teach on those subjects" and children "do not need distractions from learning loss."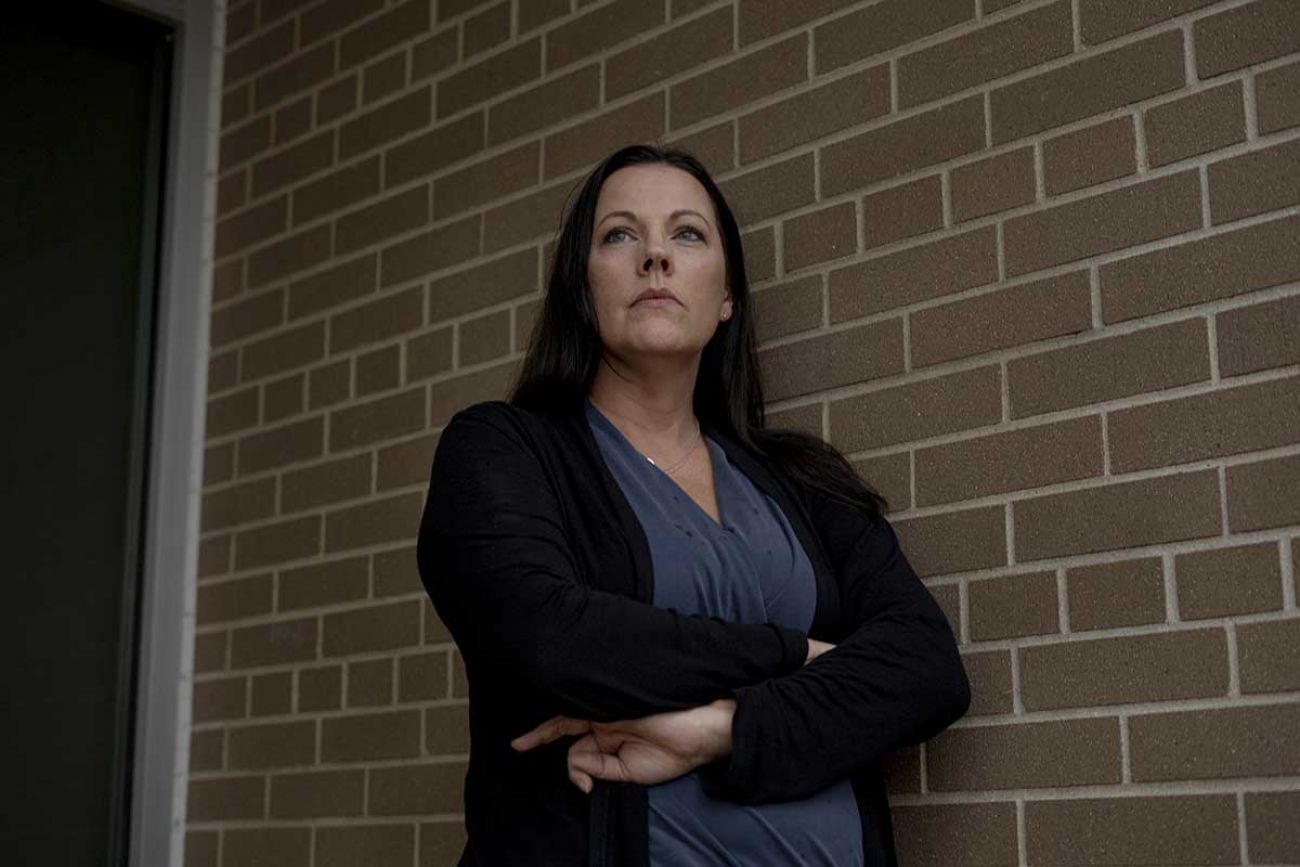 Tamara Oliverio lives in Wayne County and identifies as an Independent voter. She said both the left and the right have waged attacks on each other that get in the way of addressing learning loss (Bridge photo by Cydni Elledge)
Tamara Oliverio — a self-identified Independent voter in Livonia who helped manage the private Facebook group Wayne County Stop The Mandates On Our Kids — told Bridge she believes the fight over critical race theory and LGBTQ issues in schools comes from the "loud minority," just as there are radical voices on the other side calling concerned parents "bigots."
She said the core issue is learning loss.
"Do I need to be in the nitty gritty of … the history book that my child is using? Probably not. You'll probably talk to some people who will say otherwise," she said. "But at the end of the day, I think we all need all hands on deck."
From public meetings to private chatters
Many within the parental rights movement are concerned about books with LGBTQ or sexual themes — and air their complaints to board meetings as well as in private Facebook groups.
At a Sept. 16 state board of education meeting, attendees read aloud passages about sexual acts taken from books such as "On the Bright Side, I'm Now the Girlfriend of a Sex God," which Publishers Weekly rated as appropriate for children ages 12 and above.
Republican gubernatorial candidate Tudor Dixon recently said she would support a ban on "pornographic books" in schools.
Statewide, at least 40 books have been removed in Gladwin, Rochester, Novi and Hudsonville school districts, according to PEN America's Index of Banned Books.
Bridge reviewed almost 200 Facebook posts and comments of parent groups and found that many contain misinformation, violent memes and hateful messages.
In Livonia, one Facebook user shared an image with four rainbow flags pieced together to look like a swastika and called "white liberals" the new "21st century slave owners" for advocating for diversity, equity and inclusion training.
In Livingston County, a Moms for Liberty chapter hounded a radio journalist in an effort to get him fired, calling him a "scumbag" online who was "promoting child abuse" because he supposedly advocated gender neutral bathrooms in school.
Ciecko, chair of the Wayne County chapter of Moms for Liberty, said her group's Facebook page was formed before the chapter was established and personal attacks detract from the movement.
"I don't like bullies," she told Bridge. When people tell her she should take a stand on everything, Ciecko said her response is "No, I'm standing on education."
In Olson's district of Forest Hills, administrators pulled a book that featured a character with two moms from an elementary school after some parents complained.
"We actually have gay students, we have students with parents of the same sex, and that certainly does not make them feel included," she Olson.
In Huron Valley, superintendent Salah said the district's responsibility is to all its students and some of the controversies are "manufactured around LGBTQ, that we're trying to indoctrinate children to believe or think a certain way."
"Whose parents rights are we talking about? Because I've heard from parents who say, 'you're not doing enough to be inclusive of LGBTQ+ students.' So I hear the whole gamut," Salah said.
"We serve all."
Only donate if we've informed you about important Michigan issues
See what new members are saying about why they donated to Bridge Michigan:
"In order for this information to be accurate and unbiased it must be underwritten by its readers, not by special interests." - Larry S.
"Not many other media sources report on the topics Bridge does." - Susan B.
"Your journalism is outstanding and rare these days." - Mark S.
If you want to ensure the future of nonpartisan, nonprofit Michigan journalism, please become a member today. You, too, will be asked why you donated and maybe we'll feature your quote next time!