Kate Wells, Michigan Radio
Articles
November 20, 2020 | Dustin Dwyer, Michigan Radio, Kate Wells, Michigan Radio
The sadness and stress of handling so many COVID patients is getting to the state's frontline health care workers, many of whom already struggled to cope in a job with long hours, little gratitude and daily tragedy.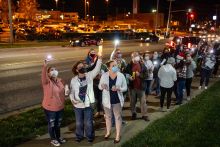 November 12, 2020 | Kate Wells, Michigan Radio
Santa Staples, born on Christmas Day, was a singular presence at McClaren, where she ran the operating room with military precision. A nurse for 33 years, she died Saturday of COVID-19, one of at least two Michigan nurses lost to the virus in the past week.
August 27, 2020 | Kate Wells, Michigan Radio
As the coronavirus surged through Michigan last spring, doctors often gave new patients unnecessary antibiotics as they awaited test results, resulting in resistance to antibiotics later in their hospital stays when they developed infections. 
August 20, 2020 | Kate Wells, Michigan Radio
The FDA has delayed approving broader use of convalescent plasma until more randomized studies are completed. But Henry Ford and U-M doctors will continue to study the promising treatment on coronavirus patients. 
July 2, 2020 | Robin Erb, Kate Wells, Michigan Radio
The drug's effects had been called into question after a series of studies and controversies since it was promoted by President Trump. A study at Henry Ford Health System found lower death rates when the drug is given early. 
June 3, 2020 | Kate Wells, Michigan Radio, Kelly House
Burnout and suicide rates were already high among health care workers. Now, hospital systems and mental health providers are responding to trauma caused by the intensity of responding to COVID-19.
May 5, 2020 | Kate Wells, Michigan Radio
Southeast Michigan doctors got a crash course in treating COVID-19, an experience that caused them to question what they thought they knew about the coronavirus and how to keep patients alive. Some hospitals reached different results.
April 24, 2020 | Kate Wells, Michigan Radio
You can now look up the number of COVID-19 patients at a particular hospital or health system, as well as the total capacity of beds being used, and the number of days of personal protective equipment left on hand.
April 23, 2020 | Kate Wells, Michigan Radio
Dr. Luda Khait-Vlisides had to look through her patient's phone to find his daughter's number, so she could tell her her father had died.