Less skiing, thinner ice, canceled fests. Michigan adapts to climate change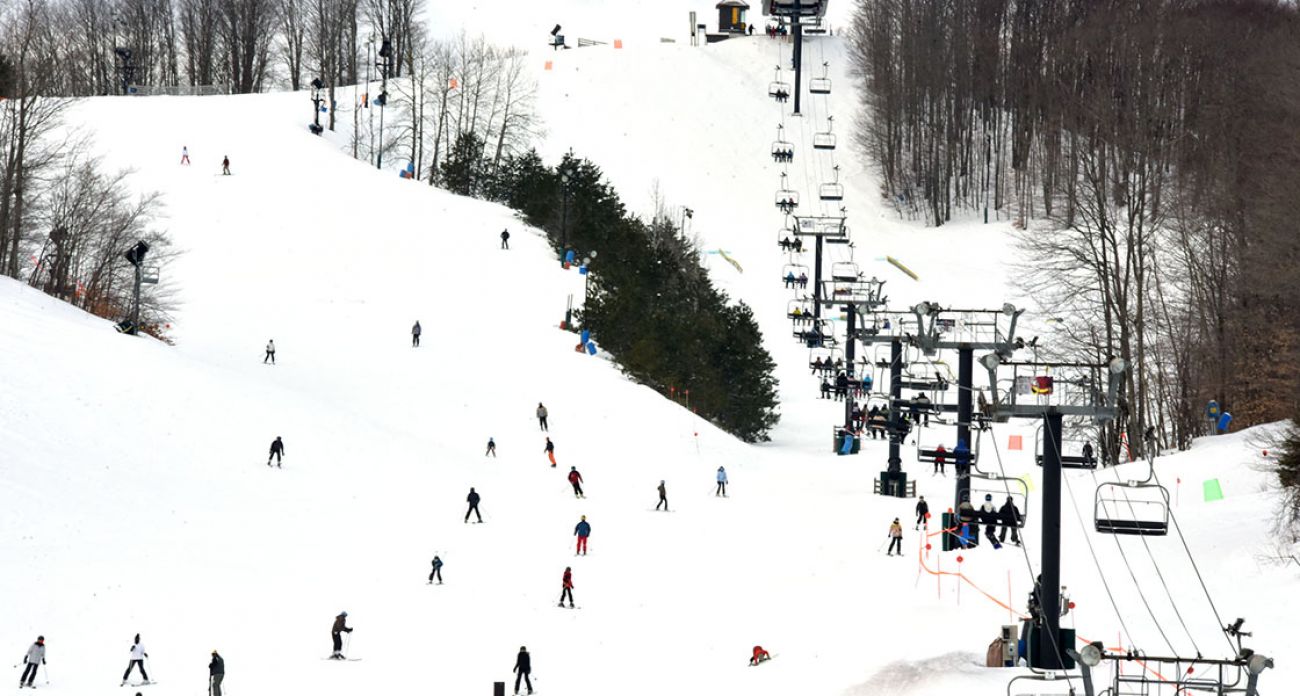 Jim MacInnes would rather not say how much money his northwest Michigan resort lost in December 2015. That's when temperatures in the 40s and 50s effectively closed 54 of his 58 ski trails by the end of Christmas week, a crucial stretch for the business.
"It cost us a lot of money," said MacInnes, the CEO of Crystal Mountain, a 1,400-acre resort in Thompsonville about 30 miles southwest of Traverse City.
Ski resorts across Michigan suffered with him, and MacInnes could not recall a worse holiday season for skiing in his 33 years at the resort. His slopes and trails have fared better in more recent winters, but he expects more such episodes as Michigan's climate warms.
By 2050, ski season could be shortened by 50 percent in much of the United States, according to a 2017 study published by the journal Global Environmental Change. The seasons are are expected to be truncated the most in the Northeast and Upper Midwest.
"It's not fast, but we can definitely feel it," MacInnes said of the shifting climate. "It's a probabilistic thing that's going to be happening more often."
Just a month after a polar vortex paralyzed much of Michigan with subzero temperatures and skin-stinging wind chills, warming winters may seem like an abstraction.
But experts say in coming years, climate change will shorten not only ski seasons, but lead to less ice on lakes, jeopardize winter festivals and gradually upend a winter tourism economy that state estimates say generated $2.15 billion in 2017.
"Climate change will indeed have harmful impacts for winter recreation," Michelle Rutty, a professor of sustainable tourism at Michigan State University.
Warmer weather may also bring other opportunities, she added, including longer seasons for visiting state parks, camping, biking and other warmer-weather activities.
Warming winters
All 83 Michigan counties have warmed on average over the past three decades, according to a 2018 Associated Press analysis. Average monthly temperatures across most of the Lower Peninsula rose about 2 degrees Fahrenheit during that time, and the statewide average 1.78-degree increase is the 16th highest in the United States.
No part of Michigan has warmed faster than northwest piece of the Lower Peninsula, home to Crystal Mountain and other wildly popular tourist destinations in Grand Traverse, Leelanau and Charlevoix counties.
Meanwhile, 76 percent of Michigan weather stations are reporting an increasing share of winter precipitation falling as rain, according to a 2016 study by the research group Climate Central.
Related: Warming temps mean many Michigan lakes won't freeze in coming years
Snowfall is changing across the Great Lakes region. Fewer region-wide snowstorms are blowing across the region, though communities around Lakes Superior and Michigan are seeing more lake-effect snow, according to Great Lakes Integrated Sciences, a federally funded team of University of Michigan and Michigan State University researchers. But that snow has been melting faster, leaving less cover in late winter and early spring.
And bad news for ice fishing fans: inland lakes now tend to freeze later and thaw sooner. Some lakes as far north as Muskegon occasionally see winters where they don't freeze at all.
In the western Upper Peninsula, thick snow this month and temperatures hovering in the teens and 20s meant snowmobilers were having a blast, said Charles Kerfoot, a professor of biological sciences and engineering at Michigan Technological University.
Kerfoot swears Tech's Winter Carnival — its 97th annual event — had a bigger turnout than normal thanks to cooperating weather.
"That's great for the hotels and businesses," he said.
"Unfortunately that's not the long-term trend," added Kerfoot, who said he has increasingly noticed thinner, more dangerous ice on U.P. lakes in recent years, though ice this February was thick and safe.
Michigan tourism didn't completely escape weather casualties even this winter.
Warm temperatures in early January forced organizers of Caro Winter Fest to cancel the event that would have brought more than 20 snowmobile teams — plus their families and spectators — into the Thumb town for a weekend of races and other entertainment, including a chainsaw carving competition.
"After several days of volunteers working diligently to build the necessary ice track, it became that Mother Nature won this race with her wild weather conditions," the organizers' cancellation announcement read.
It was the second time mild weather had cancelled the decade-old festival, a major setback for motels and restaurants in the town of 4,000.
"It's a huge loss to us as an organization, to the racers, to the community. It's a trickle down effect," ​Kris Reinelt, a festival board member and marketing liaison for the Thumb Area Tourism Council, told Bridge Magazine. "Unfortunately, Michigan winters aren't quite as they used to be."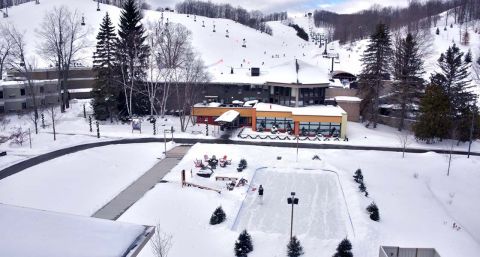 In Kalkaska, about 25 miles east of Traverse City, 68 teams competed last weekend in what organizers call the "largest sprint sled dog race in the Lower 48" states.
But that was only after organizers moved the 54-year-old festival from its original January date because mild weather had left a weak snow base for the dogs.
Warmer temperatures forced cancellations in 2017 and 2018, leaving grassy and muddy trails, according to local media reports.
Adaptation
For resorts like Crystal Mountain, which operates year-around, Michigan's warming only bolsters the importance of luring visitors in spring and summer, MacInnes said.
Crystal Mountain is among several northern Michigan ski resorts that have diversified their offerings in recent years, adding 36 holes of golf and improving hiking and biking trails.
Regardless of climate trends, that's good business: MacInnes in recent years has spent tens of millions of dollars on new facilities to attract weddings and corporate events.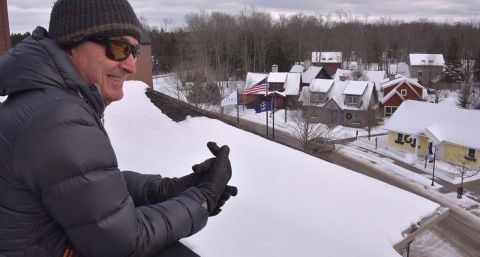 "There's winners and losers. Summer will probably be a winner for us," said MacInnes, a former electrical power engineer.
But MacInnes said he still sees winter as the resort's "mother," and that means adapting during ski season, too.
His insurance for warmer months? Making lots of snow as early as the beginning of November — if it's cold enough (snowmaking requires temperatures of 28 degrees or lower.)
It means spending on more snowmaking equipment, and burning lots more energy. That's where the CEO's experience as an engineer and consultant on electrical power projects comes in handy.
To reduce its energy bill in the long run — and do its part to limit greenhouse gas emissions that scientists say are driving global warming — Crystal Mountain over the years has spent millions of dollars making his facilities more energy efficient.
In 2012, Crystal Mountain swapped in efficient LED lighting at its 33,000-square-foot conference facility. That saves enough energy each year to power a plug-in Chevy Volt 200,000 miles, MacInnes said. (The resort also added electric vehicle charging stations).
The resort also buys energy-efficient snow guns, transformers and pumps. And Crystal Mountain uses a geothermal heat pump system to heat and cool a 31,000-square-foot expansion to its inn. Electricity comes from a contract with Cherryland, the local utility, that largely taps zero-carbon sources.
"We recognize that this is going to serve Crystal Mountain and property owners well for 50 years," MacInnes said.
Facts matter. Trust matters. Journalism matters.
If you learned something from the story you're reading please consider supporting our work. Your donation allows us to keep our Michigan-focused reporting and analysis free and accessible to all. All donations are voluntary, but for as little as $1 you can become a member of Bridge Club and support freedom of the press in Michigan during a crucial election year.