Gretchen Whitmer made a lot of promises in 2018. Here's how she's done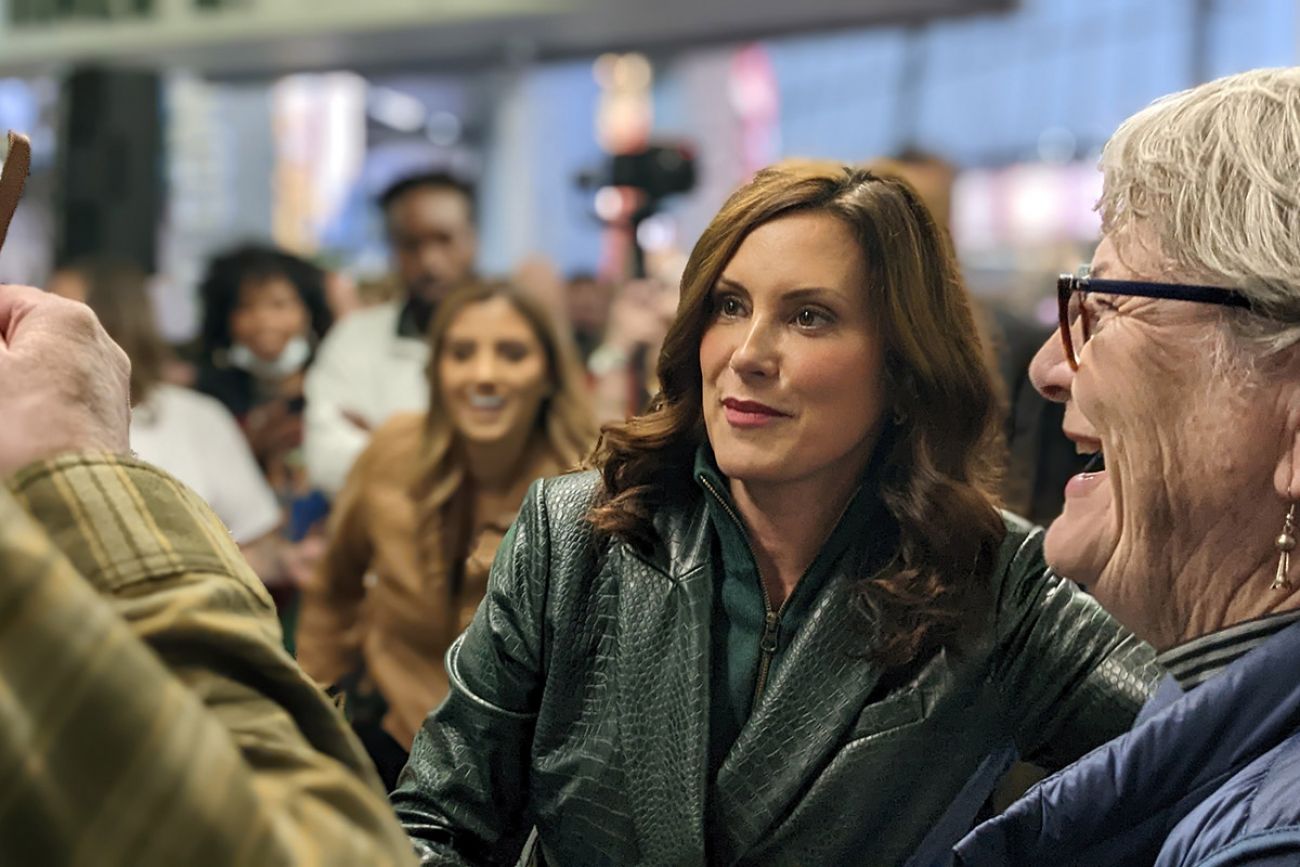 Promises made, promises kept? Gov. Gretchen Whitmer laid out 98 pages of promises in 2018. COVID-19 upended her priorities, changed her relationship with the Legislature but also provided billions in unexpected aid. (Bridge file photo)
Whitmer says fixing roads is going to take more than two terms
COVID, GOP Legislature upended Whitmer's agenda
Challenger says Whitmer 'has a record of broken promises'
---
LANSING — Michigan Gov. Gretchen Whitmer has followed through on 2018 campaign promises to expand access to childcare, fight to protect abortion access and create tuition-free community college programs, among other things.
But the first-term Democrat hasn't finished fixing "the damn roads," and she has not lived up to most of the government transparency pledges she made four years ago, according to a Bridge Michigan review of her 2018 platform.
COVID-19 upended Whitmer's agenda, demanding her attention for the better part of two years and straining her relationship with the Republican-led Legislature, where she needed GOP support to make major policy changes.
Related:
But the pandemic also led to a huge influx of federal relief and stimulus funds, which helped Whitmer achieve some of goals she can highlight in her Nov. 8 bid for re-election against Republican Tudor Dixon.
"Any person who's running for office states what their vision, what their values are, and then they do everything in their power to live up to that," Whitmer told Bridge Michigan last week as she prepared to sign a law funding a new college scholarship program she negotiated with Republicans in Lansing.
"That's precisely what I've done," the governor added. "Obviously, this is a democracy, I've got to work with a Legislature — and a Legislature that sometimes has a very different set of priorities than I. But I've stayed at the table, and we've staked out common ground in some really fundamental ways."
Republicans are hammering Whitmer for the condition of state roads and lambasted her for "moving the goalposts" after the governor acknowledged that reversing decades of under-investment will take more than a single term.
Whitmer "has a record of broken promises," Dixon said last week in the first of two televised debates against the incumbent Democrat.
"I'm running for governor because, quite frankly, Gretchen Whitmer has let us down. The last four years have been disappointing, at best."
Whitmer shared a broad vision in 2018, proposing dozens of potential policy changes through a series of at least eight issue papers that totaled a combined 98 pages. She described plans to fix crumbling infrastructure, battle poverty, improve health care, education, government accountability and more.
The governor's agenda was much more dense than the bullet points Dixon has so far relied on in her campaign, but the specificity opens Whitmer up to criticism that she did not follow through on some fronts, said Adrian Hemond, a Democratic strategist with the bipartisan Grassroots Midwest firm in Lansing.
"Republicans are going to try to attack her on anything on that list that has not come to fruition," Hemond predicted.
Bridge Michigan reviewed Whitmer's policy platform from 2018 and identified 25 key proposals she vowed to fight for in Lansing. Here is how she's done so far.
INFRASTRUCTURE
The pledge: 'Fix the damn roads'
As a candidate four years ago, Whitmer proposed $3 billion a year in new state spending through an infrastructure bank that would provide grants, loans and matching funds to "leverage" federal dollars for road, bridge, water system and broadband projects across the state.
At the time, Whitmer did not propose a specific funding mechanism for road repairs, and she scoffed at the suggestion she wanted to raise fuel taxes by 20 cents per gallon, calling the assertion "ridiculous" in a televised debate against GOP challenger Bill Schuette.
The performance: Three months into her term, Whitmer proposed a 45-cent-per-gallon fuel tax hike that would have generated about $2.5 billion a year for state and local roads. It went nowhere in the Legislature.
So Whitmer resorted to Plan B. In early 2020, she announced plans to sell $3.5 billion in transportation bonds over four years as part of a "Rebuilding Michigan" program expected to pay for 122 new or expanded road construction projects. The bonding did not require legislative approval, but it cannot be spent on local roads, meaning the Whitmer administration can only use the money on freeway and state trunkline projects, including a $296 million reconstruction project on I-96 in Oakland County and a $270 million project on I-275 in Wayne County.
Michigan has so far sold $1.6 billion in bonds, which must be repaid with interest and are ultimately expected to cost the state $2.7 billion through 2047.
That's a far cry from the $2.5 billion in annual spending Whitmer initially proposed.
Michigan's transportation budget totaled $4.8 billion when Whitmer took office. The state is poised to spend $6.1 billion in the current fiscal year, a $1.2 billion increase made possible by an increase in federal funding and state revenues.
The Whitmer administration expects to issue the remaining $1.9 billion in bonds by the end of 2023. The state has also only begun to tap into the nearly $8 billion the federal government is sending the state for road and bridge repairs over the next five years.
Michigan road quality improved a bit in 2021, the most recent year with available ratings from the state's Transportation Asset Management Council. But without a long-term funding solution, roads will still deteriorate and nearly half could be in "poor" condition by 2033, according to the council.
As of last year, 67 percent of state roads were rated in good or fair condition, up from 58 percent in 2020. Fifty-five percent of local roads were rated in good or fair condition, up from 50 percent the prior year. But 11 percent of bridges were rated in poor or "severe" condition, the worst rate among Great Lakes states.
Republicans are hammering Whitmer over roads, arguing in a new television attack ad that "they are still crumbling," which shows she "says one thing but does another."
Whitmer points to ongoing construction projects as evidence Michigan is "getting the job done." But "it's not going to be one term," she told Bridge. "It won't be two terms. This is going to need ongoing revenue."
While Whitmer hasn't secured a long-term funding solution for roads, she's tried, said Lance Binoniemi of the Michigan Infrastructure and Transportation Association, which has donated $34,000 to Whitmer's campaign but also contributed to Republican legislative campaign committees.
"We feel like she's done everything that she possibly could in her power to accomplish her goal," Binoniemi told Bridge.
The pledge: Clean water for Michigan
The governor in 2018 released a 14-page plan for fixing water systems and protecting the environment, including expedited lead service line replacement, upgraded drains and sewers, and cleanup of PFAS contamination
The performance: Michigan still has a long way to go to replace every lead service line across the state, but Flint's years-long project is nearly complete and Whitmer worked with the Legislature to expedite replacement in Benton Harbor too. That effort, and others, got a big boost when Whitmer and the GOP-led Legislature tapped federal funding for a $4.7 billion infrastructure deal, which includes some funding for roads but is primarily focused on water. It's headlined by $1.7 billion in funding to help local governments replace lead lines, upgrade other water systems and address emerging contaminants.
Related:
THE ECONOMY AND JOBS
The pledge: Repeal the 'pension tax'
One of Whitmer's chief campaign promises in 2018 was eliminating the so-called pension tax on retirement income by restoring an exemption that had been eliminated by then-Gov. Rick Snyder and the GOP-led Legislature in 2011.
The performance: Whitmer has repeatedly called to repeal what she calls a "retirement tax," including in her first state budget proposal and again this year as part of a broader tax relief proposal.
But the tax remains on the books as the governor and Legislature butt heads over competing tax plans, with Whitmer twice vetoing larger income tax breaks approved by GOP lawmakers.
The pledge: Scholarships for community college, skilled trades
Whitmer said in 2018 she would help Michiganders pursue "high-wage skills" by creating a MI Opportunity Scholarship for two years of debt-free college or skills training and the Michigan Reconnect program, "a two-year talent investment in non-traditional students seeking a technical certificate."
The performance: Whitmer worked with the GOP-led Legislature to create at least three major programs to make college and skilled trades training free or more affordable. The Michigan Reconnect program offers tuition-free community college or skilled trades training and Futures for Frontliners offers free community college to pandemic-era "essential workers." Last week, Whitmer signed a $250 million spending bill to fund a new Michigan Achievement Scholarship program that will provide high school graduates with up to $5,500 a year for public universities, $4,000 a year for private colleges and $2,750 a year for community college.
The pledge: Raise the minimum wage to $15
Whitmer in 2018 proposed phasing in a $15 minimum wage increase and said she would "protect Michigan's prevailing wage laws," which require union-level wages and benefits on government construction projects.
The performance: Whitmer last year proposed using federal stimulus funds to help businesses pay a minimum wage of $15 per hour, but the Legislature did not agree, and Michigan's rate is currently $9.87. Republicans repealed the state's prevailing wage law before Whitmer took office, but the governor last year unilaterally reinstated the wage rule as a state policy, a move lambasted by the GOP but upheld last week by a Michigan Court of Claims judge.
The pledge: Repeal right-to-work
Whitmer said in 2018 she would try to repeal the state's right-to-work law, which prohibits labor contracts that require union membership or fees as a condition of employment.
The performance: Whitmer has called for repeal as governor, but the issue has been a non-starter in the GOP-led Legislature. Right-to-work remains state law.
The pledge: Expand LGBTQ rights
Whitmer said in 2018 that she would work to expand the state's Elliott-Larsen Civil Rights Act to prohibit gay or transgender residents from being fired or evicted bcause of their sexual orienation or gender identity.
The performance: Whitmer has not persuaded the GOP-led Legislature to expand anti-discrimination protections for the LGBTQ community, but courts have done so under a series of major rulings the Democratic governor has pushed for and praised. Most recently, the Michigan Supreme Court in July ruled that an old state law that bans discrimination on the basis of "sex" also protects against discrimination based on sexual orienation. Early in her tenure, Whitmer issued an executive directive to strengthen protections for LGBTQ state employees.
EDUCATION
The pledge: Universal preschool
Whitmer said in 2018 she would work to "phase in quality, full-day universal preschool by expanding the Great Start Readiness Program and increasing the income threshold … until all four year-olds are eligible."
The performance: Michigan does not have universal preschool, but Whitmer has pushed for additional funding for the Great Start Readiness Program, to both expand available slots and increase payments to help recruit staff. The current budget she negotiated with the Legislature includes $452 million for the program, up from $257 million in 2019. That means free preschool for 22,000 additional four-year-olds, according to the administration.
The pledge: More child care
Four years ago, Whitmer said she would "raise Michigan's child care eligibility and reimbursement rates from one of the lowest in the country … so parents can make long-term plans for their children."
The performance: Whitmer last year negotiated a major spending deal that used $1.4 billion in federal COVID relief funds to increase payments to childcare providers and expand subsidies. The administration says the change allowed an additional 150,000 families to qualify for subsidies. Currently, a family with two kids can qualify if parents earn less than $55,000.
The pledge: More literacy coaches
Whitmer said in 2018 she would work to "triple the number of literacy coaches in Michigan so that every elementary school has a better ratio of literacy coaches to teachers to improve reading Instruction."
The performance: In her first year in office, Whitmer proposed — and the Legislature funded — a $24.5 million increase for intermediate school districts to triple the number of literacy coaches, from 93 to 279, as pledged.
The pledge: Ban guns in schools
Four years ago, Whitmer said she would try to "ban guns in our schools unless the person carrying is a trained, licensed law enforcement professional."
The performance: Whitmer was never going to persuade the GOP-led Legislature to ban guns in schools, even after a deadly shooting at Oxford High. But five months before she took office, the Michigan Supreme Court ruled that schools can ban guns on their own if they choose.
The pledge: Raise teacher pay
In 2018, Whitmer said that raising educators' pay and targeting resources towards competitive compensation are the best ways for Michigan to attract the best teachers of tomorrow and reverse the teacher shortage.
The performance: Neither Whitmer nor the Legislature can technically raise teacher pay, but they have sent more money to school districts that make their own budget and salary decisions. The current year education budget Whitmer signed in July totals $19.6 billion, up 33 percent from the $14.8 billion from 2019, thanks in part to federal COVID funds. The deal includes new funding to recruit teachers, including up to $10,000 in tuition fellowships for 2,500 college students and $9,600 stipends for student teachers.
The pledge: More school support staff
Whitmer said four years ago that she would work to "give students the in-school support they need, including: counselors, social workers, school nurses, school security, healthy meals and safe transportation."
The performance: It took a pandemic to make it happen, but Whitmer and GOP-led Legislature's fiscal year 2022 budget included $240 million in new grants for local school districts to hire additional mental and physical health support staff. As of December, 210 districts had applied for funding to hire 60 psychologists, 226 social workers, 146 counselors and 130 nurses.
The pledge: New school funding formula
As a candidate in 2018, Whitmer proposed a weighted foundation allowance for school funding "to address the higher costs of special education, at-risk pupils in urban, suburban and rural communities, and English language learners."
The performance: Michigan hasn't fully transitioned to a weighted funding formula for schools, but it's headed in that direction under Whitmer. The current year budget added $610 million to raise the state's per-pupil foundation allowance from $8,700 to $9,150 and then used another $481 million to send schools extra dollars for students who are economically disadvantaged, have disabilities, are learning English as a second language, live in rural or isolated districts or are enrolled in career or technical education programs.
GOVERNMENT TRANSPARENCY
The pledge: Open governor's office to public records requests
Whitmer said in 2018 that she would work to expand the Freedom of Information Act to include the governor's office and Legislature. She said she would open the offices of the governor and lieutenant governor to FOIA even if lawmakers didn't act.
"Michiganders should know when and what their governor is working on," Whitmer said in 2018.
The performance: Whitmer has not opened her office to public records requests. The Michigan House has twice passed bills that would subject lawmakers and the governor to some public records requests, but the Senate has not taken up the proposals and they have not reached Whitmer's desk.
The pledge: Live stream all board meetings
Whitmer said in 2018 she would strengthen Michigan's Open Meetings Act "to provide for the live streaming of all state board and commission meetings."
The performance: In a 2019 executive directive, Whitmer directed state departments and agencies to "identify opportunities to increase the use of live streaming," but she has not taken steps to require it. In May, she signed a new law that requires state boards and commissions to make audio recordings of meetings that would be available through public records requests.
The pledge: Accountability on tax incentives
Whitmer in 2018 called for "greater transparency requirements" for the Michigan Economic Development Corp., which awards business incentives grants, including "stronger accountability measures for job creation."
The performance: Whitmer worked with the GOP-led Legislature to create a business incentive program that is more transparent than prior versions because it requires public reporting on job creation performance, along with a clawback mechanism for companies that fail to create promised jobs.
However, public debate over government incentive awards remains a formality, with board approval typically coming minutes after terms of a deal are publicly disclosed. Whitmer has also personally signed at least one non-disclosure agreement with a company seeking incentives, which she defended as a necessary step to shield "proprietary information" from public view as the state attempts to lure major job creators to the state.
The pledge: Tough lobbying rules
Four years ago, Whitmer called for "tough new lobbying rules, including real-time expenditure reporting, and a five-year "cooling off" period for former legislators, which will be the longest in the nation."
The performance: Whitmer hasn't talked much about lobbying reform since taking office, and she hasn't signed any laws to change the rules. The GOP-led House approved legislation that would have prohibited lawmakers from becoming lobbyists for two years, but the Senate did not take up the measure and it did not reach the governor's desk.
The pledge: Personal financial disclosure
Whitmer in 2018 said she would work to pass "personal financial disclosure and conflict of interest laws for political candidates and senior appointees"
The performance: Michigan remains one of two states that do not require any form of financial disclosure by state officials, and Whitmer hasn't signed any laws to change that. Voters could this fall, however, with Proposal 1, which would pair a broad form of personal financial disclosure with modified term limit rules. Whitmer has voluntarily disclosed her own finances and tax returns each year, something Dixon has not yet agreed to do.
HEALTH CARE
The pledge: Protect abortion rights
Whitmer in 2018 vowed to protect abortion rights by repealing a 1931 law that would ban the procedure and "enshrine Roe v. Wade protections in state law."
The performance: Whitmer has not persuaded Michigan's Republican-led Legislature to repeal the 1931 abortion ban. But the governor's legal team did persuade a court to suspend enforcement of the statute, which would have otherwise taken effect following the U.S. Supreme Court's June decision to reverse Roe and end federal protections for abortion access.
Vowing to "fight like hell," Whitmer has also asked the Michigan Supreme Court to invalidate the 1931 law. That's a step justices appear unlikely to take before voters weigh in this fall on Proposal 3, which would write abortion and other reproductive rights into the state Constitution.
The pledge: Protect healthy Michigan
As a candidate, a key cog of Whitmer's health care plan was a promise to "protect Healthy Michigan," the state's expanded Medicaid eligibility program available to residents who earn less than 138 percent of the Federal Poverty Level — about $12,880 for an individual or $27,750 for a family of four.
The performance: Whitmer has been a staunch defender of the Healthy Michigan program. In 2020, the governor successfully petitioned a federal court to block Republican-sponsored work requirements that would have jeopardized coverage for an estimated 80,000 people. Enrollment Healthy Michigan has ballooned to more than 1 million enrollees under a federal emergency declaration that prevents anyone from losing access during COVID-19.
The pledge: Lower health care costs, prescription drug prices
Whitmer proposed lowering health insurance costs by creating a "reinsurance" program to cover "high-risk individuals who have very high claims that raise the total cost … for everybody." And she proposed lowering the cost of prescription drugs by implementing "transparency standards and strong consumer protections that facilitate better price negotiations between hospitals and the pharmaceutical industry."
The performance: Whitmer has not publicly pushed for a "reinsurance" program since taking office. As for prescription drugs, it's not exactly what she proposed, but Whitmer in February signed bipartisan legislation that for the first time will require "pharmacy benefit managers" to file transparency reports with the state that disclose backend costs and profits for prescription medications. This month, Whitmer directed state agencies to consider how or if Michigan should manufacture its own insulin to drive down costs for those with diabetes.
The pledge: Paid family leave
"My administration will work to enact strong paid family leave policies so everyone who works for a living can care for themselves and their loved ones when they get sick," Whitmer said in 2018.
The performance: Whitmer hasn't persuaded the GOP-led Legislature to mandate paid family leave in the private sector, but she has used her authority to do so in state government by offering nearly 50,000 employees 12 weeks of paid family leave upon the birth or adoption of a child.
As for paid sick leave, that issue has been tied up in the courts since 2018, before Whitmer took office, when Republicans adopted and amended legislation initiated by petition drive in what one judge has since called an unconstitutional maneuver.
The pledge: Fight the opioid epidemic
Whitmer said in 2018 that she would declare a "state of emergency" over the opioid epidemic, work to create "the best treatment system in the country," establish a more effective prescription drug monitoring system, provide adequate funding for mental health and educate residents about the problem.
The performance: Whitmer never declared a state of emergency over the opioid crisis, which has shown no signs of letting up,.
She created an opioids task force in 2019, and the state health department last year adopted a new strategy for fighting the epidemic. Her administration also helped implement new prescription monitoring rules that last year prompted 165 investigations into alleged overprescribing and overdispensing.
Michigan is poised to spend a lot more fighting the drug epidemic in coming years. Whitmer in May signed a new law to manage $776 million in opioid manufacturer settlement funds the state is expected to receive over the next 18 years. Last month, she expanded her opioid task force to ensure local governments have a greater say in how the funding is spent.
We're not just a news organization, we're also your neighbors
We've been there for you with daily Michigan COVID-19 news; reporting on the emergence of the virus, daily numbers with our tracker and dashboard, exploding unemployment, and we finally were able to report on mass vaccine distribution. We report because the news impacts all of us. Will you please support our nonprofit newsroom?