Tudor Dixon, riding Trump wave, wins big in Michigan GOP governor primary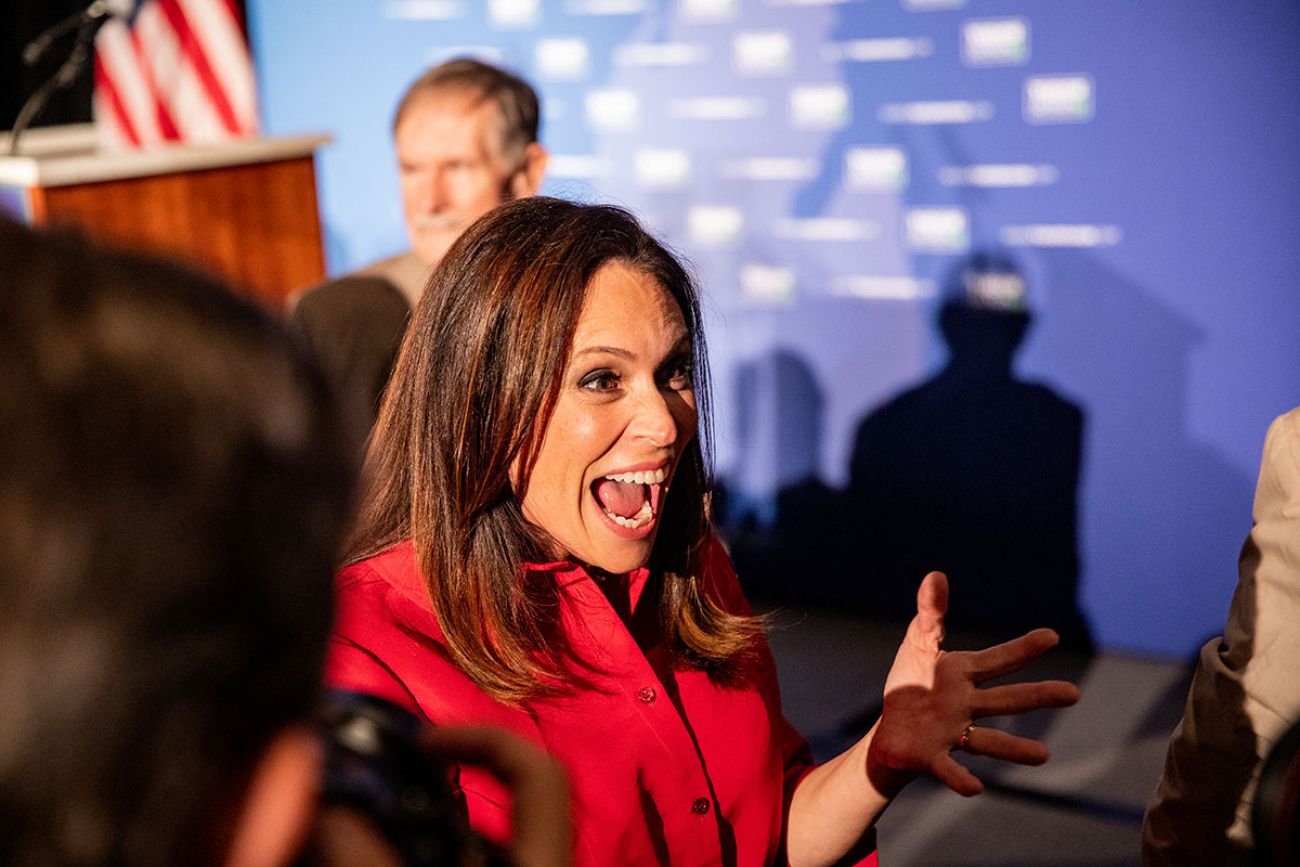 Tudor Dixon, Republican nominee
Tudor Dixon won big over four other Republicans
She was trailing in the polls just six weeks ago before five other candidates were disqualified
Her candidacy was buoyed by endorsements from Trump, the Michigan Chamber and others
---
LANSING — Tudor Dixon will be the Republican nominee for Michigan governor and take on Democratic incumbent Gretchen Whitmer in November.
Dixon, a 45-year-old businesswoman and conservative media host, won Michigan's GOP gubernatorial primary on Tuesday, according to projections by multiple media outlets. The Associated Press called the race for Dixon at around 9:40 p.m.
The Norton Shores mother of four, a breast cancer survivor who will become the Michigan Republican Party's first-ever female gubernatorial nominee, won a chaotic primary by walking a political tightrope.
Related:
She won support from establishment GOP figures like the DeVos family of west Michigan while also currying favor with former President Donald Trump, who endorsed Dixon late Friday.
With 84 percent of statewide ballots counted by Wednesday morning, 427,713 out of 1,055,313 GOP primary voters had backed Dixon, about 41 percent of the total, according to an unofficial tally from The Associated Press.
Dixon led Bloomfield Township businessman Kevin Rinke (22 percent), Mattawan chiropractor Garrett Soldano (18 percent), Allendale Township real estate broker Ryan Kelley (15 percent) and Farmington Hills retired pastor Ralph Rebandt (4 percent).
In population dense Oakland County, where Rinke lives, Dixon captured nearly 45 percent of the vote. Her margin of victory among in-person voters was larger than among absentee ballot voters, suggesting a bump from Trump's last-minute endorsement.
Dixon celebrated her victory around 10 p.m. in Grand Rapids, where she spoke to supporters while surrounded by mother, husband and four daughters.
"I'm doing this for you, girls, and every child in Michigan, to make sure the next four years are filled with opportunities, and not locked classrooms and massive grocery bills," Dixon said.
"And now we have the opportunity to truly hold Gretchen Whitmer accountable for the pain she has inflicted on each and every one of us during the past four years."
Dixon will face Whitmer, whose first term was marked by the COVID-19 pandemic. The Democratic incumbent has built a massive war chest for her re-election campaign and had nearly $15 million in the bank as of mid-July.
While Dixon is more conservative than recent GOP gubernatorial nominees like Rick Snyder and Bill Schuette, rivals attacked Dixon as a RINO — Republican in name only — because she is backed by former U.S. Education Secretary Betsy DeVos, a longtime Michigan GOP powerbroker who criticized Trump and resigned from his administration after riots in the U.S. Capitol on Jan. 6, 2021.
Rinke ran expensive television ads questioning Dixon's loyalty to Trump. And Soldano, who had previously sought an endorsement through surrogates, spent the last two weeks of the race urging Trump to "stay out" of the Michigan primary.
But Trump endorsed Dixon anyway, offering his support with just four days remaining in a primary race that Dixon had already been leading, but by single digits, according to most public polling.
In his Friday night endorsement, Trump called Dixon a "conservative warrior" who is "pro-God, pro-Gun and pro-freedom" and argued she was the best Republican in the field to take on Whitmer.
The former president vouched for Dixon again Monday evening in a tele-town hall, urging Republicans to vote for her when polls opened 12 hours later.
"Tudor will fight and strongly fight for election integrity, because what went on with the election in Michigan was outrageous," Trump said in the call, repeating his widely debunked claims the 2020 contest was rigged against him.
"She's really going to be something special," Trump added.
That endorsement was a deciding factor for Belinda Caswell of Eaton Township in Eaton County, a 65-year-old retired loan processor who said she had leaned toward Soldano until the former president backed Dixon.
"I voted for Trump in 2016, and I voted for him in 2020 and I'll vote for him again," Caswell told Bridge Michigan. "So anybody he endorses, I will follow."
Dixon has echoed Trump's claims about the 2020 election but her campaign has largely focused on culture war issues, including a fight against what she has called liberal "indoctrination" in Michigan schools.
She's also been a harsh critic of Whitmer's COVID-19 response policies, particularly their impact on Michigan businesses that were forced to close or limit customer access early in the pandemic.
After casting her own ballot Tuesday morning in her home town of Norton Shores, Dixon offered a message to Whitmer:
"We will hold you accountable for the things you did to this state, and we will take back our state," Dixon said.
Speaking to reporters Tuesday afternoon, Whitmer said does not know "a whole lot" about Dixon but lumped her in with other Republican candidates as a group that has been "radicalized" by Trump.
"You've got culture warriors, and you got someone who's a problem solver," Whitmer said."That's how I've always operated, and that's how I'll continue to."
The Trump factor
Dixon, who has never held elected office, announced her campaign in May 2021 but had polled near the bottom of the field for more than a year. She began to build momentum in late June after securing a series of notable endorsements in a GOP race that was rocked by high-profile candidate disqualifications.
A paid circulator signature forgery scandal kept five other Republicans off the primary ballot, including former Detroit Police Chief James Craig, who had led all polls of the race to that point, and Bloomfield Hills businessman Perry Johnson, who spent nearly $8 million of his own money on his campaign.
While Dixon had led most recent polls, Trump's endorsement likely had a "huge impact" on the outcome, said Steve Mitchell, a Republican pollster whose Sunday survey showed Dixon building her lead over Rinke to 14 percentage points, up from 6 points a week prior.
Trump announced his support on Friday night, but 60 percent of likely GOP primary voters had heard about it by Sunday, according to Mitchell, who had long predicted the endorsement would carry significant weight.
"I've said from day one that the candidate who wins the nominee will be the candidate that gets the Trump endorsement," Mitchell told Bridge Michigan. "Our polling has shown consistently that 60 percent of GOP voters are more likely to vote for a candidate endorsed by Trump."
The endorsement appeared siphon votes from Kelley, in particular, but "a lot of undecideds... who were perhaps waiting for a final determination from President Trump" also appeared to break late for Dixon, Mitchell said.
The nomination sets up a "fascinating" general election between Dixon and Whitmer, Mitchell said.
"I think you have two really very accomplished women, both of a similar age, both outstanding retail politicians — but diametrically opposed on the issues," he said.
Recent polls, however, suggest that Dixon would begin the race with a sizable deficit against Whitmer.
While Dixon raised the most from individual donors and PACs among GOP candidates, she still trails Whitmer by a wide margin when it comes to fundraising.
Dixon had raised about $1.8 million by Sunday, about 12 percent of Whitmer's tally. But Dixon also has support from two super PACs — Michigan Strong and DeVos-backed Michigan Families United — that have spent more than $2.2 million to support Dixon, including almost $2 million on ad buying and video production.
Dixon's win is proof that "money matters," said Adrian Hemond, Democratic consultant and CEO of bipartisan consulting firm Grassroots Midwest.
"The Republican primary electors, by and large, did not know who she was until a few weeks ago when she got this massive infusion of money into her campaign," Hemond said, referring to the financial backing of the DeVos family and other GOP power brokers.
Trump's endorsement helped her campaign further, Hemond said, but she now enters the general election with a significant fundraising deficit against Whitmer.
"She needs money very, very badly right now," he said of Dixon.
An aggressive conservative
Dixon staked out a number of aggressively conservative policy positions in the GOP primary.
She wants to "phase out" Michigan's 4.25 percent personal income tax, make it a "constitutional carry" state by eliminating the need for concealed pistol permits and "pardon" business owners penalized during what she calls "illegal lockdown policies" by Whitmer.
Dixon has echoed Trump's claims about the 2020 election, and in a May debate said she believes the former president won the state despite his 154,188-vote loss to Joe Biden confirmed by a GOP-led state Senate investigation.
But in an interview on Fox News Sunday, Dixon declined to say whether the 2020 contest was "stolen," signaling a potential pivot as she heads into the general election.
In addition to the DeVos family, Dixon was backed by leading business groups like the Michigan Chamber of Commerce and GOP lawmakers like state Senate Majority Leader Mike Shirkey, and U.S. Reps. Bill Huizenga and Lisa McClain.
Right to Life of Michigan also backed Dixon, who opposes legal abortion except to save the life of a pregnant woman. Dixon has praised a suspended 1931 law that would criminalize abortion providers and does not include exemptions for pregnancies caused by rape or incest.
Dixon supports a DeVos-backed plan for student scholarships to private schools and told Bridge she would support a Michigan-version of Florida's Parents Rights in Education law, which would prohibit any instruction related to sexual orientation or gender identity before fourth grade.
She has proposed a "Parents Right to Know Act" that would require schools to post online the name of every textbook or library book available to students, the course syllabus for every class and any "diversity, equity or inclusion" programs or consultants hired by the district.
Dixon has also said she wants to make it a crime for adults to bring minors to drag queen events. And she wants to limit transgender student athletes by only allowing students of the same biological gender to compete against one another in school-sanctioned, gender-specific athletics.
'The economy, stupid'
While Whitmer has raised more campaign funds than the five GOP candidates left on the ballot combined, experts say she and other Democrats face political headwinds this fall because of the unpopularity of President Joe Biden.
"To quote James Carville back when Bill Clinton ran for the presidency, it's the economy stupid," said Mitchell, the GOP pollster.
"This is going to be about inflation," he told Bridge. "This is going to be about the high price of gas. This is gonna be the high price of food. This is going to be about Joe Biden as much as the governor won't want it to be about Joe Biden."
With the Supreme Court overturning Roe v. Wade, abortion is also likely to be a big issue in the race, particularly as it relates to turnout. A petition could be on the ballot in November to enshrine abortion rights into the state constitution that could spike turnout.
Whitmer has vowed to "fight like hell" to protect abortion rights and overturn a 1931 ban. All five of the GOP candidates say they oppose legal abortion and all but Rinke would not allow exemptions for rape and incest.
"No matter who comes out of the primary, we're going to have someone who is an election denier, who doesn't believe in (gun restrictions) to keep kids more safe in schools, who doesn't embrace protecting women's reproductive rights," Whitmer told reporters Tuesday afternoon.
"I can't control inflation, but the things I can control, we delivered on," the governor added, noting $400 rebate checks that resulted from a bipartisan auto insurance reform law she signed, record spending on education and a new program for free community college.
Whitmer has vetoed major tax cut proposals from the Republican-led Legislature but said she remains willing to negotiate when lawmakers return from summer recess. She's proposed one-time tax refund checks, broad exemptions for senior income and expansion of the Earned Income Tax Credit.
Earlier Tuesday, Whitmer was joined by Biden — virtually, because the president has COVID — to celebrate a new federal law that aims to boost domestic semiconductor manufacturing and address a global shortage that has slowed production of consumer goods like cars, computers and medical devices.
Whitmer signed a related executive directive at Hemlock Semiconductor in Saginaw Township that she said will "empower Michigan" to compete for every project and resource made possible by the federal law. Biden, who had intended to visit MIchigan for the event, spoke by live video feed.
From steel to the silver screen
Dixon was born in Pennsylvania and grew up in suburban Chicago before moving to Michigan in 2002, when she took a job at a Muskegon steel foundry her father had purchased.
She worked as an executive at Michigan Steel Inc. until 2009, when she left to start a family. The company collapsed three years later, forcing her dad to lay off the full workforce.
Dixon also acted in some low-budget independent films and in 2017 co-founded Lumen Student News, a subscription based service for schools she touted as a conservative answer to CNN 10.
In 2019, Dixon joined Real America's Voice, a right-wing streaming news channel that produces shows for conservative figures like Steve Bannon, a former White House strategist under Trump.
Dixon co-hosted a daily show called America's Voice News, which introduced her to a national audience and influential GOP leaders until she stepped down last summer to focus on her run for Michigan governor.
Caswell, the Eaton Township voter who was swayed by Trump's endorsement, said she likes Dixon's opposition to so-called Critical Race Theory instruction and support for police.
Dixon seems to have less baggage than candidates like Kelley, who is facing criminal charges stemming from a pro-Trump rally at the U.S. Capitol, and she is "probably one of the better" options to take on Whitmer, Caswell said.
"She's got children, so she knows about the critical (race) thinking and transgender and all that type of stuff," she added, arguing those topics don't "really pertain to that age group" and should not be discussed in school.
Carl Christenson, 72, from Holt, said he voted for Dixon because of "Right to Life," a reference to the anti-abortion group that endorsed her over fellow abortion opponents in the GOP primary.
"She's conservative," Christenson said. "The others are too, but that Right to Life is a very strong issue for me."
Nicole Murphy, a 53-year-old resident of Marion Township, said she backed Dixon because of her economic policies and opposition to mask mandates. Trump's endorsement did not affect the decision, she said.
"I feel like she's got most things I believe in," Murphy said of Dixon. "I do not 100 percent agree with one side or the other, but you have to go with who is carrying what you believe in the most."
Only donate if we've informed you about important Michigan issues
See what new members are saying about why they donated to Bridge Michigan:
"In order for this information to be accurate and unbiased it must be underwritten by its readers, not by special interests." - Larry S.
"Not many other media sources report on the topics Bridge does." - Susan B.
"Your journalism is outstanding and rare these days." - Mark S.
If you want to ensure the future of nonpartisan, nonprofit Michigan journalism, please become a member today. You, too, will be asked why you donated and maybe we'll feature your quote next time!