What's next after Roe in Michigan: Lawsuits, a ballot measure and uncertainty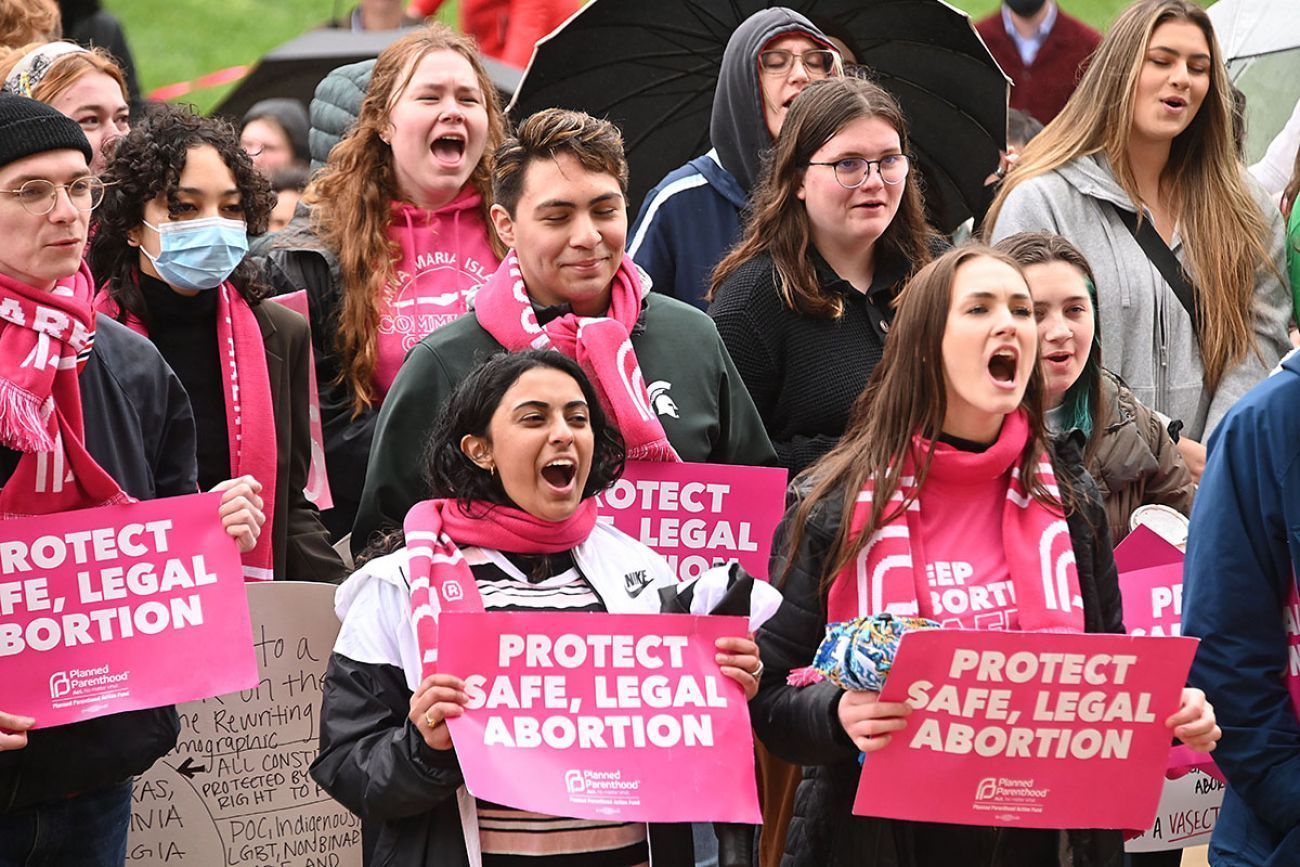 Abortions were still being performed in Michigan on Friday, but uncertainty over the law abounds. (Dale Young/Bridge Michigan)
Michigan Government
What's next after Roe in Michigan: Lawsuits, a ballot measure and uncertainty
LANSING — The U.S. Supreme Court on Friday ended nearly 50 years of federal protection for women seeking legal abortions, but experts say the blockbuster decision is unlikely to cause immediate changes to abortion access in Michigan.
"Everything remains the same as it was yesterday at this time," Michigan Attorney General Dana Nessel told reporters after the Supreme Court struck down Roe v. Wade.
"But just for now," she added, noting separate legal battles over an old abortion ban that remains on the books in Michigan, an ongoing petition drive that seeks to overturn it and fall elections that could decide who is in position to repeal or enforce or replace existing laws.
Related:
Questions abound, and Bridge Michigan has answers.
How did the court rule?
The Supreme Court ruled 6-3 in support of a Mississippi law making most abortion illegal after 15 weeks. The conservative majority went a step further to strike down Roe altogether, ruling that abortion it not protected by the U.S. Constitution and should be regulated by states.
Chief Justice John Roberts joined the conservative majority in voting to uphold the Mississippi law but criticized colleagues for taking the "dramatic step of altogether eliminating the abortion right first recognized in Roe."
Three Democrat-appointed justices — Stephen Breyer, Sonia Sotomayor and Elena Kagan — dissented.
What were the arguments?
Writing for the majority, Justice Samuel Alito called Roe "egregiously wrong." The U.S. Constitution does not guarantee a right to abortion and that the decisionmaking power must be returned to the states, he wrote, adding that Roe has "enflamed debate and deepened division."
But Breyer, Sotomayor and Kagan argued the Friday decision would allow more states to pass laws to "coerce" a woman to give birth following Roe's downfall. "A State can force her to bring a pregnancy to term, even at the steepest personal and familial costs," they wrote in dissent.
Is abortion still legal in Michigan?
Yes, for now.
Michigan has an old abortion ban that remains on the books. But enforcement of the 1931 law was suspended in May by Michigan Court of Claims Judge Elizabeth Gleicher, a temporary move as she considers a lawsuit challenging the constitutionality of the law.
In issuing her injunction ahead of Roe's expected downfall, Gleicher said abortion providers and patients could "face a serious danger of irreparable harm if prevented from accessing abortion services" if the law went back into effect.
Are abortion still being performed in Michigan?
Yes, the temporary suspension of Michigan's 1931 law means "abortion is still legal in Michigan, and our doors are still open," Dr. Sarah Wallett, chief medical officer for Planned Parenthood of Michigan, said Friday morning after the U.S. Supreme Court decision.
Planned Parenthood, the largest abortion provider in Michigan, operates 14 health centers in the state: Ann Arbor, Detroit, Ferndale, Flint, Grand Rapids, Jackson, Kalamazoo, Lansing, Livonia, Marquette, Traverse City, Petoskey and Warren.
"Come to your appointment next week," Wallett said. "Come to your appointment this afternoon. We are here for you."
Overall, the state has 27 clinics, down from 70 in 1998. Access in Michigan, like much of the nation, is limited outside of population centers: Clinics are open in 13 of the state's 83 counties.
What's next in the legal battle?
Gov. Gretchen Whitmer, a Democrat, is also asking the Michigan Supreme Court to weigh in on the state's 1931 abortion ban. She argues it's unconstitutional and should be struck down, but the state's highest court has not yet ruled on her request.
The governor on Friday filed a motion with the court to expedite the hearing on her suit to "conclusively settle whether Michigan's criminal abortion ban … violates the Michigan Constitution."
Gleicher's injunction is only temporary, and it's not clear how long it will last. Anti-abortion groups and Michigan's Republican-led Legislature have already challenged the decision, and Gleicher has not yet ruled on larger questions about the law.
If her suspension is lifted, the state's 1931 abortion ban could go back into effect, and clinics could be forced to either close or stop performing the procedure.
What does Michigan's 1931 abortion law actually say?
The long-dormant statute makes if a felony crime for any person to induce an abortion unless it is necessary to preserve the life of the pregnant woman.
That means abortion providers —including physicians at hospitals or clinic — could face up to four years in prison if they preform the procedure. But the law does not include any punishments for women who choose to obtain an abortion from one of those providers.
The 1931 law does not define when a pregnancy might be considered life threatening,and it does not include any other exceptions allowing abortion in the case of rape or incest.
What if the 1931 law goes back into effect?
That will depend on prosecutorial discretion.
Nessel has repeatedly said she will not use any state resources to enforce the law or prosecute violators. And so have local prosecutors in seven of 13 Michigan counties with abortion clinics.
"As long as I'm in office, I will not prosecute women, girls, or their doctors for seeking or providing abortion services," Nessel reiterated in a Friday statement after Roe was struck down. "Nor will my staff seek licensure discipline against medical professionals who safely perform these procedures."
Nessel is seeking re-election, but if she loses, she could be out of office by the end of the year. Her Republican challenger, Matthew DePerno said Friday he would enforce the law and finds it deeply troubling" that Nessel would not.
Local prosecutors in Kent, Jackson and Macomb counties have also joined legal fights to defend the 1931 law, signaling they may choose to enforce it if the injunction is lifted.
What does the Michigan Legislature plan to do, if anything?
Don't expect Michigan's Republican-led Legislature to repeal the state's 1931 abortion ban, which they've already challenged in court.
In a Friday statement, Senate Majority Leader Mike Shirkey, R-Clarklake, called the U.S. Supreme Court ruling a victory for people "who believe in the precious miracle of life and said it "affirms the importance of federalism and states' rights."
Shirkey's office did not respond to Bridge Michigan questions on Friday asking if he'd be open to making any changes to the 1931 law, short of repealing it.
State Rep. Steve Carra, R-Three Rivers, has proposed making the law even tougher. He introduced a bill this week that would subject abortion providers to up to 10 years in prison and fines of up to $100,000.
Are the other measures as well?
Yes. Abortion rights activists in Michigan want to enshrine reproductive rights into the state constitution and are gathering signatures to force a November election on the issue.
The Reproductive Freedom for All initiative, which would nullify Michigan's 1931 abortion ban, has gained 30,000 volunteers since it launched, said Sommer Foster, co-director of Michigan Voices, part of the coalition pushing for the ballot measure. The coalition must gather at least 425,059 valid signatures by July 11 to make the ballot in November.
The American Civil Liberties Union reported an influx of 25,000 volunteers in a week this spring after a draft opinion of the Supreme Court reversal was leaked.Foster said Friday she expects more to come.
The ballot measure has received national attention. U.S. Sen. Elizabeth Warren, D-Mass., urged her supporters to donate to the petition drive in a Friday tweet.
How will this impact Michigan elections in November?
It's too soon to tell. But with Whitmer and Nessel seeking-relection, and every seat in the Michigan House and Senate up for grabs this fall, expect positions on abortion access to be a major issue on the campaign trail for candidates across the state.
While most Republicans are celebrating Roe's downfall, experts say it could give a boost to Democrats, who are otherwise facing headwinds because of public frustration with national issues like inflation, gas prices and the unpopularity of President Joe Biden.
As of May, roughly 55 percent of Michigan voters supported leaving Roe v. Wade in place, while roughly 59 percent supported an amendment to the Michigan Constitution that would make abortion legal at the state level, according to a Glengariff Group Inc survey.
"The discussion over Roe has provided a jolt of motivation, particularly to Democratic women," pollster Richard Czuba said at the time. "I'm surprised they aren't lined up to vote already."
What about abortion pills?
U.S. Attorney General Merrick Garland said Friday that states cannot ban services outside their borders and "may not ban" Mifepristone, a so-called abortion pill, "based on disagreement with the FDA's expert judgment about its safety and efficacy."
But that position is sure to be challenged in states like Michigan, where another part of the state's 1931 abortion ban would also make it a misdemeanor crime to sell "any pills, powder, drugs or combination of drugs" designed to induce abortions.
Whether abortion pills would remain legal is an "open question," David Kallman, senior attorney with the faith-based Great Lakes Justice Center, told Bridge Michigan last month.
It's a big question, too: Of the nearly 30,000 Michigan abortions in 2020, more than half involved pills taken at home to end a pregnancy, rather than a surgical procedure at a clinic or hospital.
Only donate if we've informed you about important Michigan issues
See what new members are saying about why they donated to Bridge Michigan:
"In order for this information to be accurate and unbiased it must be underwritten by its readers, not by special interests." - Larry S.
"Not many other media sources report on the topics Bridge does." - Susan B.
"Your journalism is outstanding and rare these days." - Mark S.
If you want to ensure the future of nonpartisan, nonprofit Michigan journalism, please become a member today. You, too, will be asked why you donated and maybe we'll feature your quote next time!