Biden vaccine mandate: What's it mean for Michigan schools, those who refuse?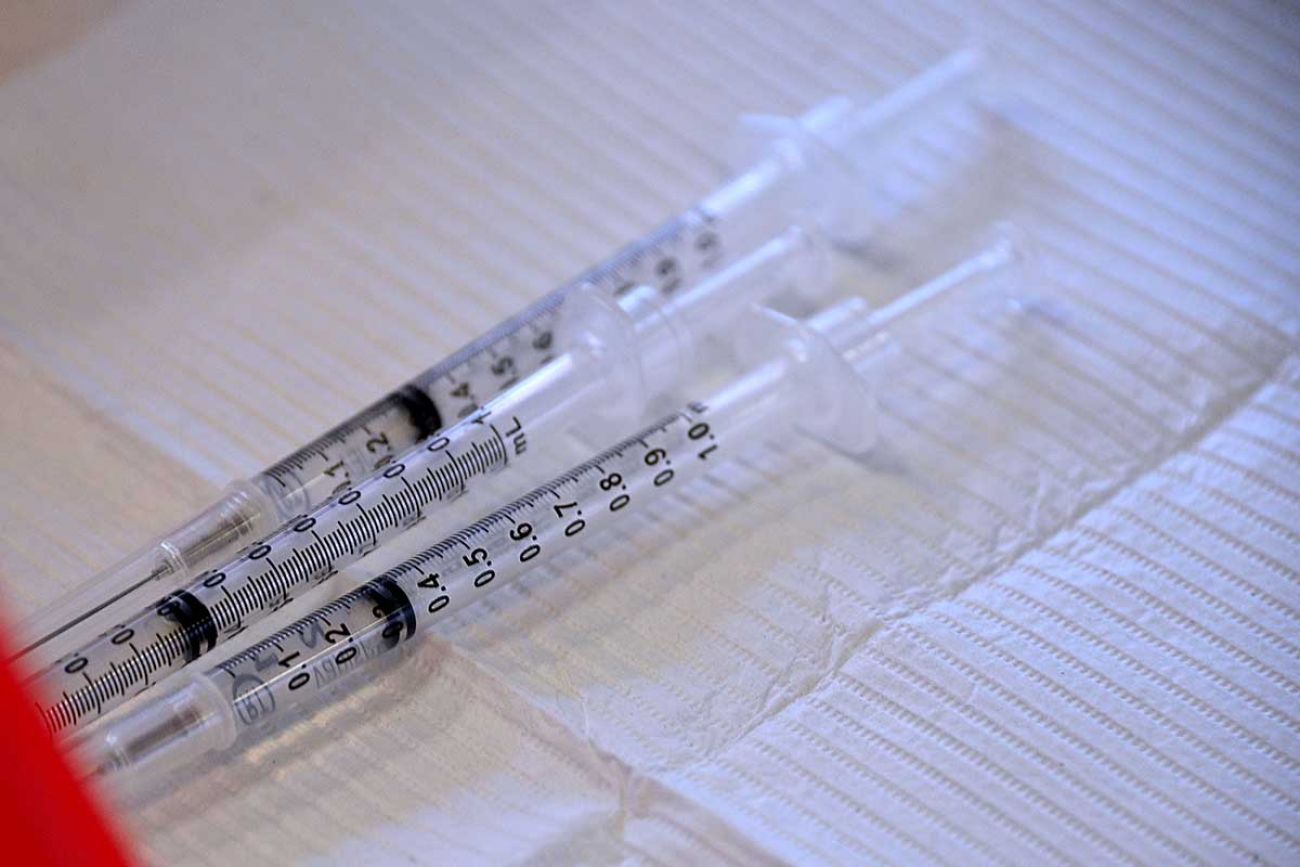 Democratic President Joe Biden's vaccination or testing requirement has sparked many questions that employers in Michigan and statewide are still figuring out. (Bridge photo by Dale Young)
Businesses with more than 100 employers know they'll be subject to new rules requiring all employees to be vaccinated or submit a negative testing result each week, but they don't yet know when those rules will take effect or how they'll be expected to validate vaccine status.
Related:
School districts and local governments in Michigan suspect they may also be required to mandate vaccines or weekly testing for their employees.
But, without being able to see actual rule language yet from the Occupational Safety and Health Administration, "we're in the same boat everybody else is: No one really knows," said Chris Hackbarth of the Michigan Municipal League.
Here's what we do know, so far:
Who is affected by the mandate?
Employees at any company with more than 100 total workers. In Michigan, that's roughly 2 million workers at more than 6,000 companies, according to a Bridge Michigan analysis.
Workers at any hospital or other medical facilities that receive Medicare or Medicaid payments from the federal government. Michigan hospitals alone employ a combined 234,000 people.
Federal workers and contractors who do business with the government. According to an executive order signed by Biden, businesses will have to agree to the policy when signing any new federal contract or renewal. There are about 27,000 federal employees in Michigan.
What about schools, state and local government employers?
Biden said the mandate will apply to private employers and the federal government, but it appears it also covers public employers in states like Michigan that have their own workplace safety and health program approved by the federal Occupational Safety and Health Administration.
Michigan's state plan, approved by OSHA in 1973 and last amended in 2011, applies to private-sector workplaces. But it also applies to both state and local governments.
That means the rules will also likely impact local school districts with more than 100 employees, according to a preliminary assessment by the Michigan Association of Superintendents and Administrators. That would include 462 of 889 traditional districts and charter schools. Total public school employment in the state is about 338,000.
Because Michigan has its own OSHA-approved plan, "all of Michigan's school employees (in affected districts) will have to be vaccinated or submit to weekly testing," the association said in a Friday statement.
State officials on Friday say they still weren't certain state school employees would fall under the mandate, but wouldn't try to add any roadblocks if they are.
Local government groups also suspect the vaccine and testing mandate will apply to cities, townships and counties with at least 100 employees.
That includes about 40 percent of Michigan cities (114 of 276), 57 townships, all but 13 of Michigan's 83 counties — and perhaps the state government, even though Democratic Gov. Gretchen Whitmer before the mandate said she has no plans to require vaccinations for the state's 48,567 workers.
Whitmer spokesperson Bobby Leddy declined to weigh in on that possibility Friday, saying only that the administration is "still working through a review of the president's plan to understand what this means for the state."
What about employees of colleges and universities?
Private colleges, yes; public universities, it's unclear.
Virtually every institution of higher education in the state would qualify for the mandate by employing more than 100 people. What's uncertain is whether the edict will apply to the state's public universities and community colleges.
Bob Murphy, chief policy officer at the Michigan Association of Public Universities, told Bridge Michigan that universities are awaiting the draft rules. "It seems like (colleges across) the whole country are waiting," Murphy said.
Dan Hurley, CEO of the same organization, said most of the state's 15 public universities have immunization-or-frequent-testing protocols for their employees, so "at first blush, it may not have a large impact on the universities."
The state's 25 private colleges and universities assume the federal mandate will apply to them, said Colby Cesaro, vice president at the Michigan Independent Colleges and Universities association.
"Most of our institutions have not put in requirements for vaccinations for faculty and staff, but their vaccination rates are high," Cesaro said.
When will vaccines or testing be mandatory?
It could take a few weeks.
After OSHA issues the rule, Michigan and other "state plan" states will have 30 days to adopt it, and there will likely be a "period of compliance" for employers to begin implementation without penalty, according to the Michigan Association of Superintendents and Administrators analysis.
Earlier this summer, OSHA issued a COVID-19 workplace safety rule specific to the healthcare industry and gave employers 14 days to comply.
Is this legal?
That depends who you ask.
There will be lawsuits — Republican National Committee Chair Ronna McDaniel of Michigan said Thursday night the GOP plans to sue the Biden administration once "his decree goes into effect."
While critics call the rule a constitutional overreach, other legal experts believe the emergency rule could survive legal challenges.
The Supreme Court grappled with the issue way back in 1905, upholding a smallpox vaccine mandate in Cambridge, Massachusetts.
The New York Times reported the Biden administration is relying on a 51-year-old law that gives the federal government power to safeguard employees from "grave dangers" in the workplace, like asbestos.
"There is no constitutional problem with requiring people to be vaccinated," Erwin Chemerinsky, dean of the Berkeley Law School, told Law & Crime.
How do I prove I've had my shots?
We don't know yet if OSHA will mandate a specific form of proof of vaccination, such as a copy of a CDC immunization card, or how it will expect employers to verify that documentation.
Michigan residents can look up their vaccination records, which include COVID-19 vaccinations, online at the Michigan Immunization Portal.
At Michigan State University, which has its own vaccine mandate program, students are asked to fill out a vaccination form indicating the dates and location of their shots, along with the name of the vaccine manufacturer.
The school was expected to conduct random checks throughout the year and investigate tips regarding potentially fraudulent proof of vaccination.
What if I don't want to get vaccinated?
That's your choice, but you'll have to get tested every week instead.
Under the pending rules, "any workers who remain unvaccinated" will be required to "produce a negative test result on at least a weekly basis before coming to work," according to the White House.
The president on Thursday also vowed to increase access to rapid tests that workers could use at their own home before heading to work.
By next week, Biden said, major retailers like Walmart, Amazon and Kroger's will begin selling those rapid at-home tests "at cost," without a markup, for three months.
Biden said his administration will also expand free testing at 10,000 pharmacies across the country and will purchase nearly 300 million rapid tests for community health centers, food banks and schools.
Would I have to pay for my own tests if I choose not to get vaccinated?
No, you will not have to pay unless you want an at-home rapid test.
Free COVID-19 tests are widely available at health centers and select pharmacies across the country, and Michigan is no exception.
However, rapid tests that can be conducted at home do cost money.
One example: Online Friday, CVS Pharmacy was selling a two-test kit for at-home COVID testing for $23.99.
Will there be religious or other exemptions?
Yes.
In a May guidance, the U.S. Equal Employment Opportunity Center said private employers can legally require COVID-19 vaccines so long as they allow medical and religious exemptions required under federal disability and civil rights laws.
What's not yet clear is whether the Biden administration will direct employers how or if to scrutinize vaccine exemption requests.
At Michigan State, students and staff requesting a medical exemption must include documentation from a medical provider. The school specifies that religious exemptions are reserved for "sincerely held religious beliefs" precluding vaccination, not philosophical, moral or conscientious objections — and 98 percent of the staff is vaccinated.
How many Michigan workers are already vaccinated?
Census data indicates the mandate would apply to 2 million or more workers, likely half the state's workforce. Add in federal and state employees and the number is likely far higher.
While we don't know how many are vaccinated, we do know that 53 percent of Michiganders between the ages of 20 and 64, an age group that would include most workers, are fully vaccinated.
What if I just refuse to get a shot or take weekly tests? Can I be fired?
The federal Equal Employment Opportunity Commission says your employer can terminate your employment if vaccinations or testing are required and you decline. The same is true for workers who refuse to wear masks if face coverings are mandated by their employer.
What happens to employers that don't require vaccines or weekly testing?
Employers with more than 100 workers who are caught failing to comply with the vaccine or weekly testing mandate could be fined up to $13,653 per day for each violation. Willful or repeat violations could result in fines of closer to $140,000 per violation.
OSHA is also preparing a rule that will require employers with more than 100 workers to give them paid time off to get vaccinated or recover from any adverse reactions they have. Again, employers who violate that rule are expected to face fines of up to $13,653.
How will the vaccine and testing rule be enforced?
OSHA relies on federal and state "compliance safety and health officers" to inspect businesses across the country, and it has the authority to inspect workplaces without advance notice to ensure standards are being met.
With 7 million businesses under the agency's jurisdiction, inspectors traditionally target workplaces with suspected imminent danger, severe illnesses or injury and worker complaints.
Because of limited staffing levels, universal enforcement is unlikely. As of 2011, the AFL-CIO union federation calculated that it would take OSHA 129 years to inspect every workplace under its jurisdiction.
However, the threat of random inspections often leads to compliance, such as the case with government workplace smoking bans of the past 25 years.
How long will OSHA's emergency rule remain in effect?
Six months.
That's the maximum amount of time OSHA can enforce an emergency rule without making it permanent, a more complicated process that includes committee evaluations, industry consultations and public comment.
According to OSHA, it can issue temporary emergency standards if "workers are in grave danger due to exposure to toxic substances or agents determined to be toxic or physically harmful or to new hazards."
The emergency rules can be challenged in federal appeals court, but the rules remain active during litigation unless specifically overturned by a judge.
Only donate if we've informed you about important Michigan issues
See what new members are saying about why they donated to Bridge Michigan:
"In order for this information to be accurate and unbiased it must be underwritten by its readers, not by special interests." - Larry S.
"Not many other media sources report on the topics Bridge does." - Susan B.
"Your journalism is outstanding and rare these days." - Mark S.
If you want to ensure the future of nonpartisan, nonprofit Michigan journalism, please become a member today. You, too, will be asked why you donated and maybe we'll feature your quote next time!