Anguish in Benton Harbor as years of mistakes lead to a school's likely demise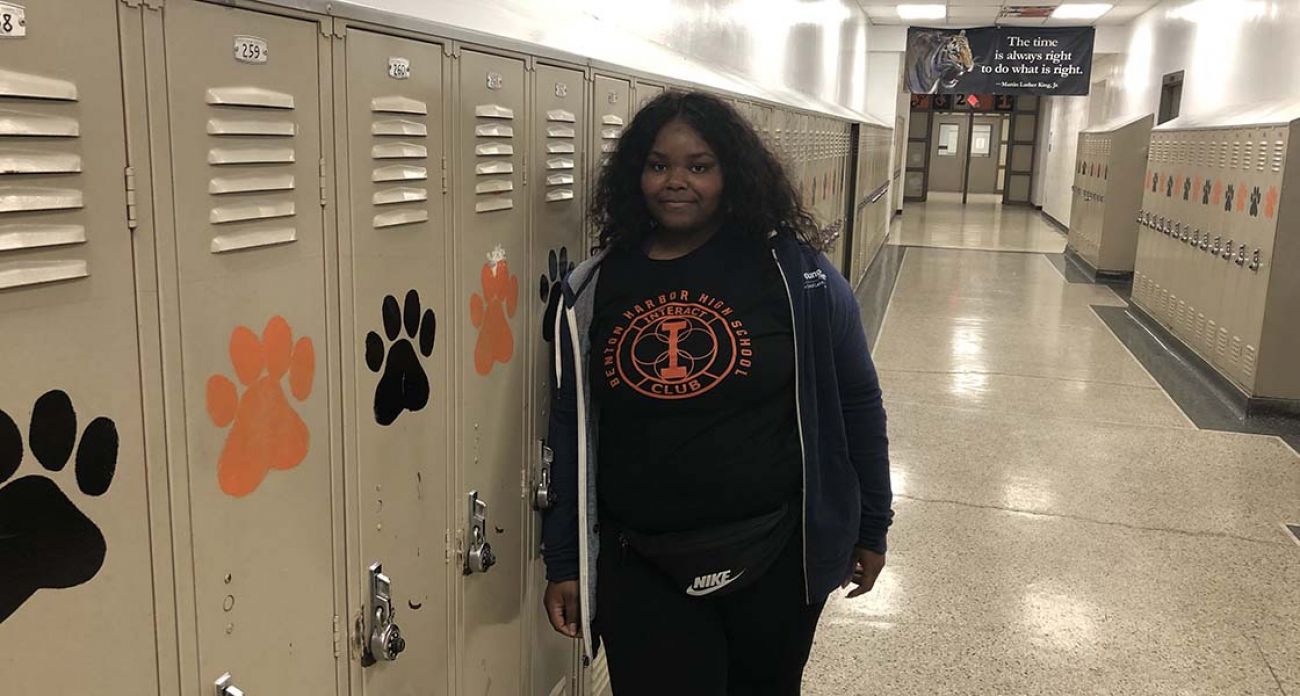 Talent & Education
Anguish in Benton Harbor as years of mistakes lead to a school's likely demise
Update: New Michigan school superintendent: Keep Benton Harbor High open
Update: Gov. Whitmer to Benton Harbor High: Raise scores, balance books or close
Update: Gov. Gretchen Whitmer, Benton Harbor reach tentative deal to save high school
BENTON HARBOR—There is a glass case at the main entrance to Benton Harbor High School filled with state championship trophies. That case is just for the school's basketball teams. Walk down the cracked-floor hallways toward the main office, and there are at least three more trophy cases recognizing the school's illustrious past.
But along the same hallways are signals of the school's uncertain future. Signs, orange poster board taped to white plaster, are hand-written in black marker. "Keep our school open," pleads one.
"I just feel like yall shouldn't close down the school," reads another. "Because what other high school gonna accept us?"
"Folks underestimate our students and their commitment to their own learning. It's the adults who have let them down, from the Department of Education down to the school board." — Robert Herrera, CEO, Benton Harbor Area Schools
Gov. Gretchen Whitmer wants this community's one high school to close and students to be dispersed among as many as 10 other area schools. The Benton Harbor School Board has until June 14 to approve a plan to close the high school or risk dissolving the entire district.
The school board has vowed to not even take a vote on the Whitmer plan, meaning if Whitmer follows through on her threat, the Legislature may vote to dissolve the entire school district in this low-income city. It's an outcome that became more likely Wednesday when Senate Majority Leader Mike Shirkey, R- Clarklake, came out in favor of closing the high school or dissolving the district if the school board didn't get on board with the plan.
Related: Albion lost its high school; students did better. Is Benton Harbor next?
Opinion: Please, Gov. Whitmer, fix Benton Harbor High. Don't close it.
Teachers blame administrators. Administrators blame the board. The board blames the state. And caught in the middle are some of Michigan's most vulnerable students with some of the lowest academic achievement in the state.
"The students are symptoms of extremely poor adult behavior and decision-making," said Robert Herrera, CEO of Benton Harbor Area Schools. "Folks underestimate our students and their commitment to their own learning. It's the adults who have let them down, from the Department of Education down to the school board."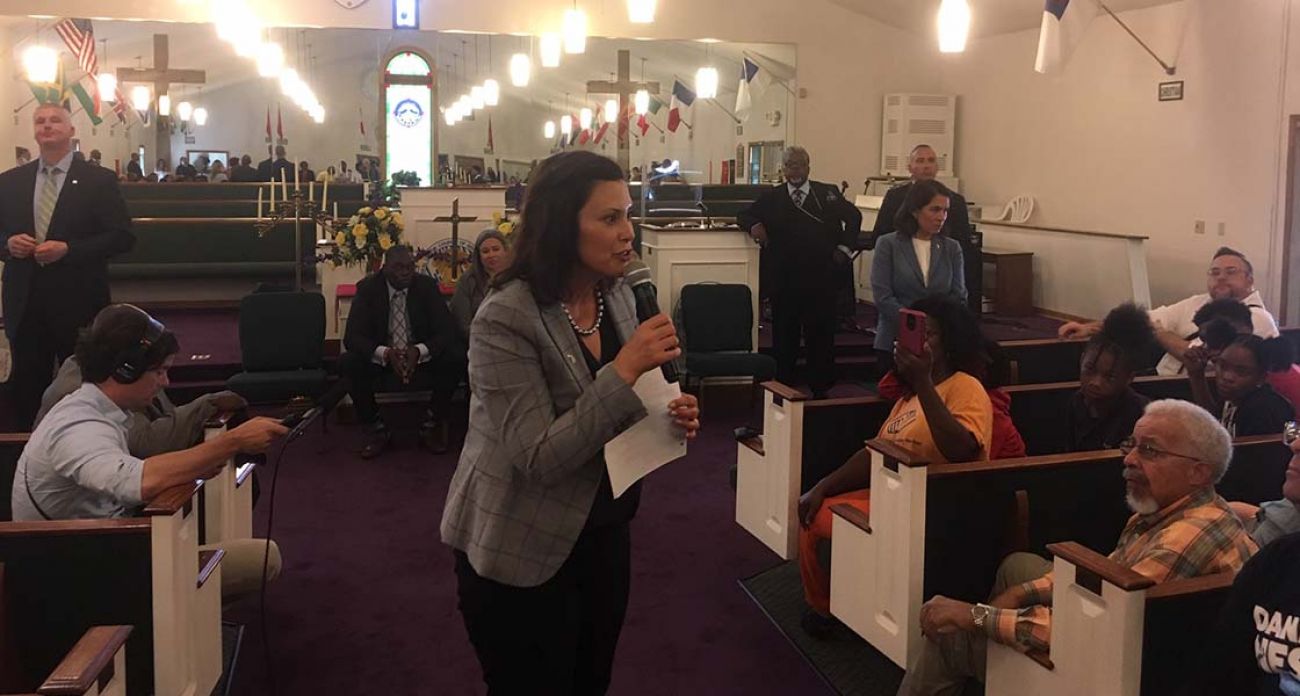 Low scores, high debt
While the state wants to close just the high school, the entire district has devastatingly poor academic achievement.
Just 3 percent of third-graders scored proficient or higher in English Language Arts on the M-STEP, the state's standardized test, in 2017-18. The state rate was 44 percent.
Just 1 percent of 8th graders were proficient in math, compared to 33 percent statewide.
An analysis by Bridge Magazine and Stanford University found that Benton Harbor had the lowest achievement among eighth-graders in Michigan, with the typical eighth-grader testing at a level below that of a fifth-grader.
Six out of 10 Benton Harbor students are chronically absent, more than triple the statewide average.
Related: In Benton Harbor schools, a lesson for – and about – Gretchen Whitmer​
Related: Candidate Whitmer: A right to literacy. As Michigan Guv: No need to address.
The high school's graduation rate was 66 percent in 2017 compared to 81 percent statewide. And among 2011-12 graduates, just 6 percent went on to earn an associate's degree or higher six years after getting their Benton Harbor diploma. That's one-sixth the state rate.
"This is an academic emergency," said a spokesperson for the governor's office, who talked on condition they not be named. "The governor is thinking what is in the best interests of these students, right now."
A jaw-dropping 64 percent of K-12 students who live within district boundaries already attend school in surrounding traditional school districts or charter schools, taking their $8,000-a-year state funding with them. As students fled the district, the schools had less and less money for services for the children who remained, sending more families toward the exits.
"Why would you take it away from us? Honestly, we don't deserve this. We are way smarter than you make us out to be." — Ta'nae Allen, 10th grade, to Gov. Whitmer
A district that enrolled more than 10,000 students in the 1970s has under 2,000 today.
Meanwhile, the school district is $12 million in debt, which means $700 out of each student's $8,000 per-pupil funding going toward loan repayment rather than the classroom.
And those classrooms are often led not by certified teachers, but by long-term substitutes, who are only required to have 60 hours of college credit in any subject. This year, 45 percent of Benton Harbor classrooms were long-term substitutes; next school year, the district estimates the figure to be 60 percent.
The impoverished district has difficulty attracting teachers because it offers the lowest pay in the county, with first-year teachers earning about $28,000 ‒ low enough for a family of four to receive food stamps.
The upshot: The children in Berrien County with the greatest need for good teachers are the least likely to have them in their classroom.
"How can you ask (students) to meet standardized testing, when in their core classes, they're led by people who know nothing about education?" asked Joseph Taylor, vice president of the Benton Harbor school board.
The high school's library was chained shut for several years because the district had run out of money to operate it. Community volunteers reopened it and stocked it with books they purchased at garage sales, hauling the books to the school in the trunks of their cars.
"This is the Flint water of education," school library volunteer Enid Goldstein said. "It's educational apartheid."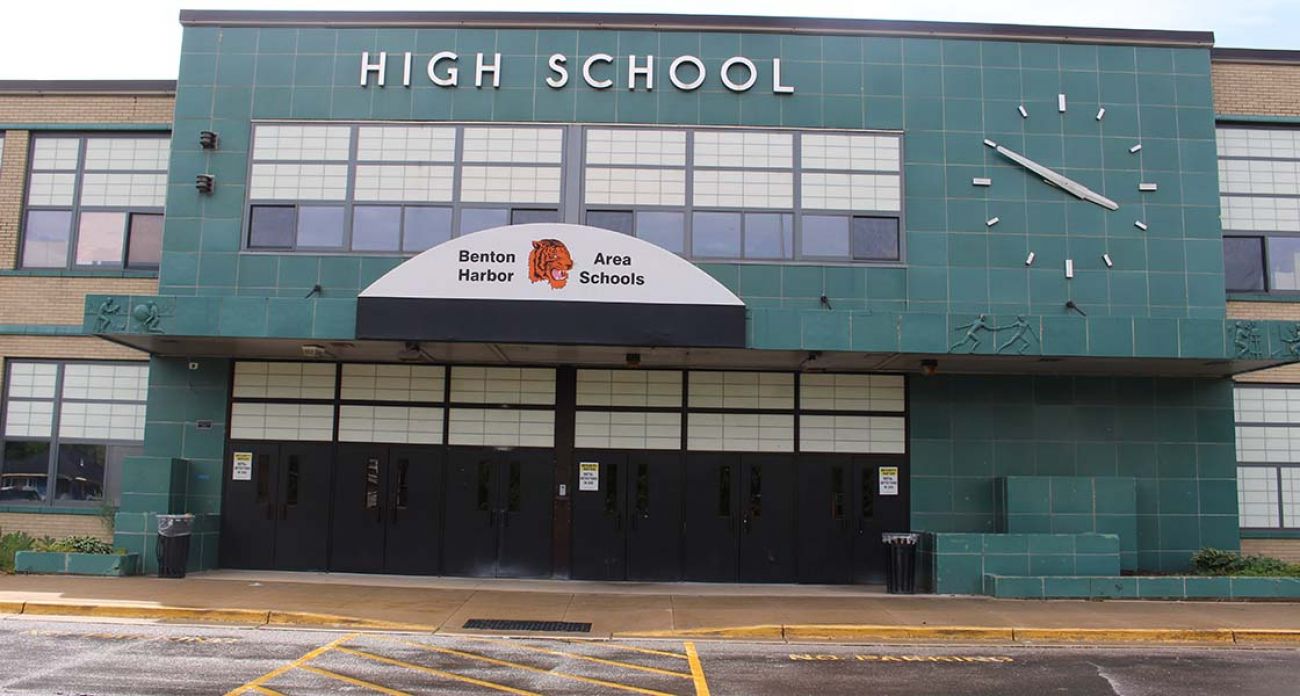 Whitmer faces Benton Harbor
At a small church a few blocks from Benton Harbor High School, Whitmer on Wednesday did her best to explain the closing to a skeptical crowd.
Few in the audience of about 200 were buying her plan.
"Benton Harbor High School is not only a high school. It's a home," said Ta'nae Allen, a tenth grader, who faced Whitmer at a hastily-called town hall. "Why would you take it away from us? Honestly, we don't deserve this. We are way smarter than you make us out to be."
Whitmer argued her plan to close the high school is the best way to spare a district saddled with debt and poor test scores from dissolution, a claim Benton Harbor resident Marvin Haywood said he can't accept.
"How can you close down something that's part of the community? That's not even an option. It would destroy the community," said Haywood, a 1983 graduate of the high school.
As one angry speaker followed another, Whitmer at one point conceded: "I can see (my plan) is not being met with a lot of enthusiasm with many people in this room."
Still, Whitmer insisted in the long run it is the best path forward for district students.
"This is tough stuff we are talking about," she told the crowd. "It's a big problem we've got to confront. We've got to get serious about supporting our children."
Having originally set a deadline of Friday, Whitmer said she would give the school board another week to consider the plan. That drew sarcastic hoots from the crowd, some of whom had asked for a year or two to develop a way of saving the high school.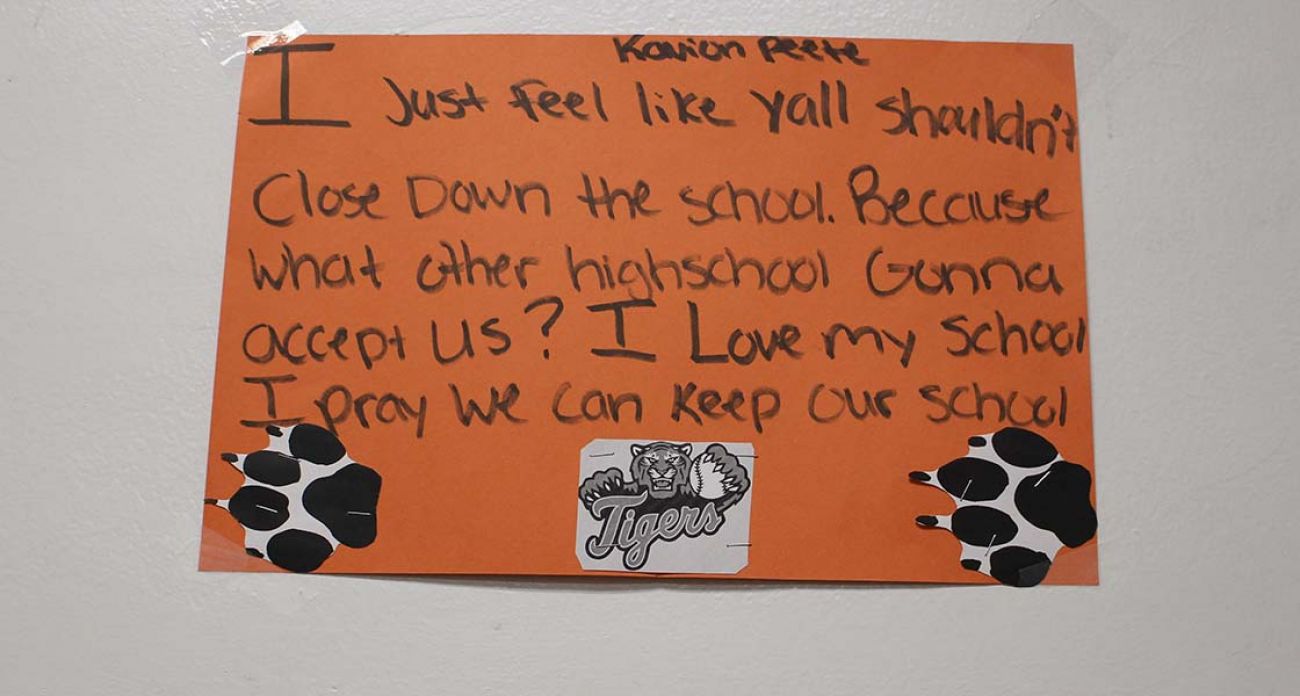 Downward spiral
A similar public meeting at the high school Tuesday evening drew more than 200 community members. They sang the school fight song and railed against the state's threat to close the school.
Benton Harbor High senior Tamia Clay spoke to the crowd, urging them to recognize that the community and its schools have problems.
"You have a broken community with broken children inside of it," Clay said.
Benton Harbor is one of the poorest communities in Michigan. The median household income is $20,157 (the state median is $52,668); among the city's 10,000 residents, 48 percent of adults and 68 percent of children live below the federal poverty line.
Academic achievement is stubbornly tied to income, so it's not surprising Benton Harbor students perform below the state average. But even among low-income districts, Benton Harbor stands out for its low achievement.
The district has been under the eye of the state Department of Education since 2010 because of low student achievement. The district hasn't made significant progress, and last year, MDE threatened to close the high school unless the board agreed to enter a partnership agreement with the state. Under that agreement, the board gave up most of its power to operate the district and put state-named CEO Robert Herrera in charge of what was supposed to be a five-year turnaround plan.
Herrera, who helped lead a successful district turnaround effort in Adrian, told Bridge Magazine he had a three-year plan that included consolidating several school buildings in the district and paying down debt. In his first year, scores on a standardized mid-year test showed growth, Herera said.
But after that one year, the state pulled the plug ‒ a shock to local school officials.
"This is just like a hammer out of nowhere, saying you will do this or else," said Kevin Ivers, superintendent of Berrien Regional Education Service Agency, which provides services to school districts in the county. "I've tried to figure out, what is the end game? What's the hidden agenda? I honestly don't know."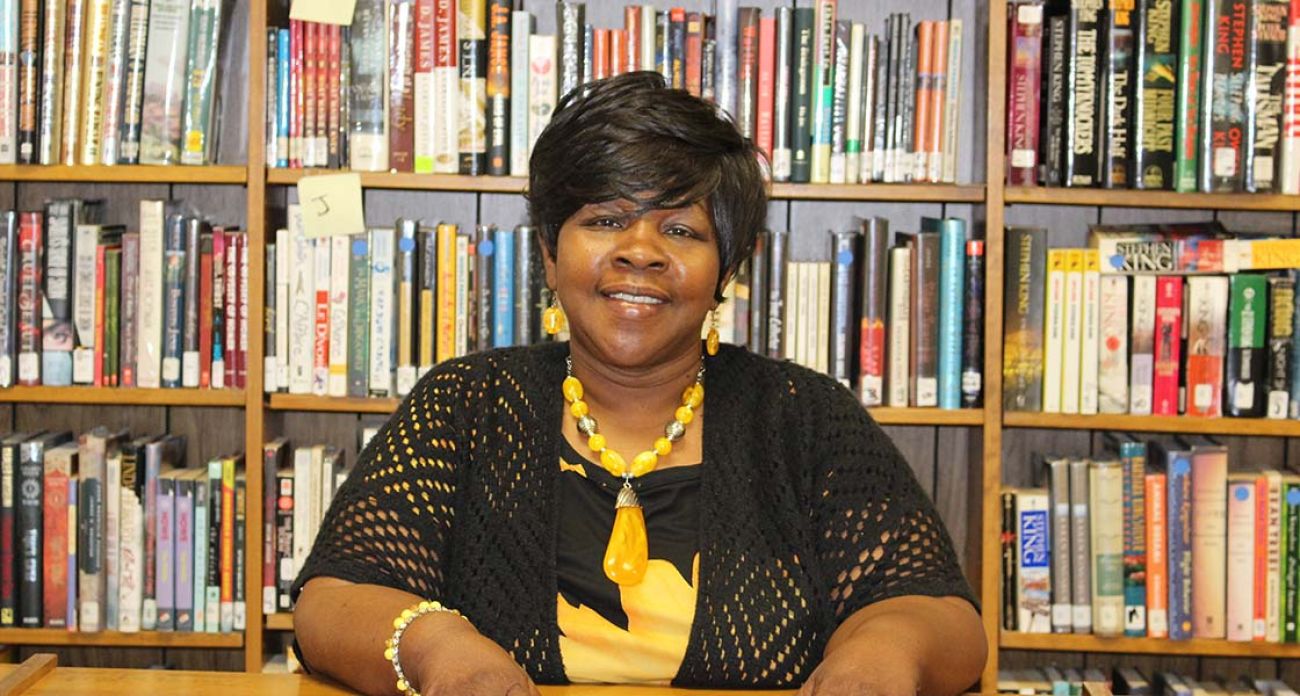 Lame duck surprise
Triggering the state decision was one line added to a bill in the waning hours of the Legislature's lame-duck session in December. In the hours before a bill to create an A-to-F school accountability system was passed, a line was added that terminated the School Reform Office, an office that oversaw the one-of-its-kind partnership agreement with Benton Harbor.
It's unclear who added the language or why it was added. But the possibly unintended consequence of that one line is that the partnership agreement will end as of June 30, and control of the district will return to the elected school board.
The administration was concerned about turning control back to the same Benton Harbor board that had run up a deficit and failed to take actions over many years to improve learning, the Whitmer spokesperson said.
"That was part of the urgency, not wanting to just hand the district back to the local school board and it not be in a place it could be financially solvent," the spokesperson said.
"What the governor couldn't ignore was the academic emergency in the high school, not wanting to wait another five or 10 years to see some improvement and allowing those students to graduate without real options in life."
The median SAT score for Benton Harbor juniors is 765. Not a single student from the high school scored high enough on the SAT or ACT to be considered "college ready" in the past five years.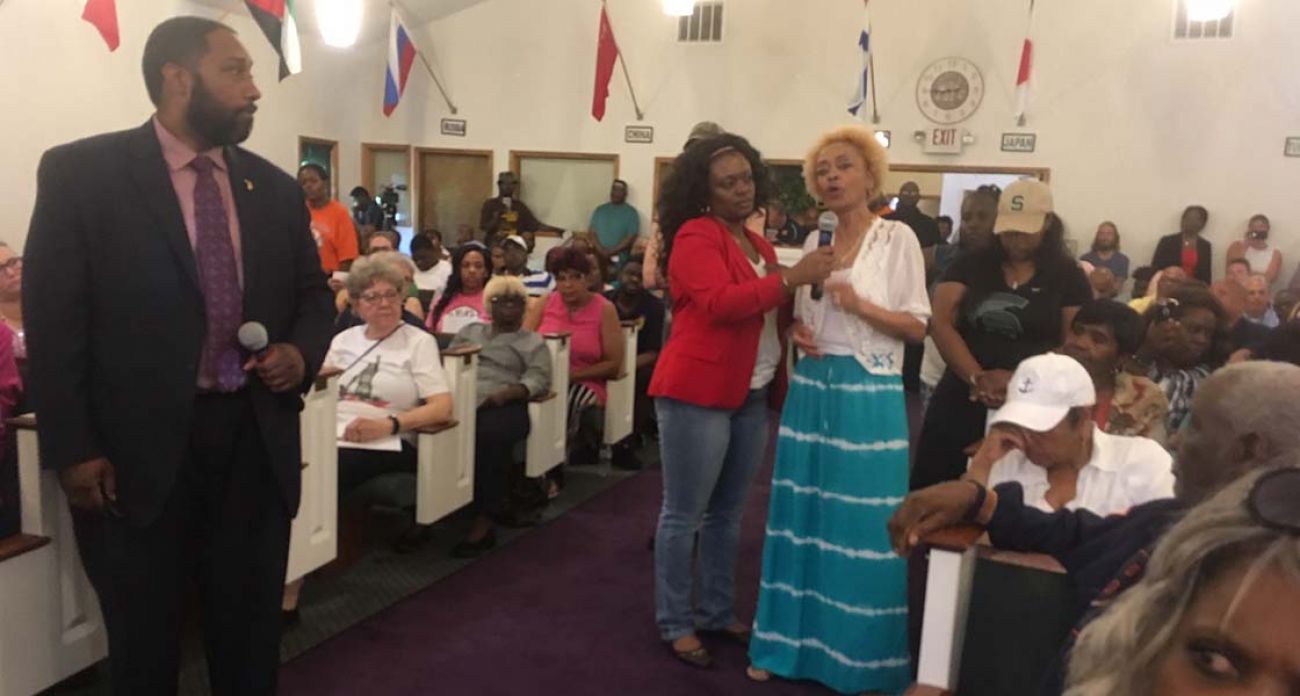 Different school, better outcome?
Under Whitmer's plan, Benton Harbor high schoolers would enroll in several charter schools or eight neighboring traditional school districts.
"We're thinking about those 14, 15, 16-year-olds, giving them a chance to complete their education with certified teachers, with access to counselors and wraparound services and opportunity for early college credit and post-secondary advisors," the spokesperson said. "This governor has always put student academic success as the number one driver, period."
But would switching schools lead to better academic achievement? Studies are mixed on that question. But a 2014 University of Chicago study of more than 200 Michigan school closings found students from low-performing closed schools improved academically at their new schools.
Academics aren't the only concern among Benton Harbor residents worried about being bused to other districts. Nine out of 10 Benton Harbor students are black; the traditional districts they would be able to transfer to range from 26 percent to 2 percent African-American.
Six of the 10 traditional districts have student populations that are 10 percent black of lower.
"I don't think if Johnny's little brother was shot last night, if he's bused to Watervliet (2 percent African-American), they'll understand that," said Marilyn Ross-Golden, who has taught social studies at the high school for 31 years. "I was raised a Southern Baptist, and I wouldn't feel confident knowing how to teach Hindu in India."
Ross-Golden said she's "lost count" of the number of superintendents and principals she's worked under. Both CEO Herrera and Benton Harbor High Principal Lanada Avinger are in the first year of their jobs and neither is from the community. Herrera is leaving to become superintendent in Farmington, meaning the district will have its sixth superintendent in 10 years next school year.
"They (students) are so used to people running out on them," Ross-Golden said. "They need someone who's going to be here for them. They have enough challenges (outside of school)."
Even if students struggle academically now, Ross-Golden said she doesn't believe Benton Harbor students will be better off if the high school closes. That would just compound mistakes made over the years that have hurt students. "Some of the decisions that are made, you can't convince me they're made with the children in mind."
That sentiment was repeated by Berrien RESA Superintendent Ivers. The problems in Benton Harbor over the past decade are "an example of lack of focus on children at all levels," Ivers said.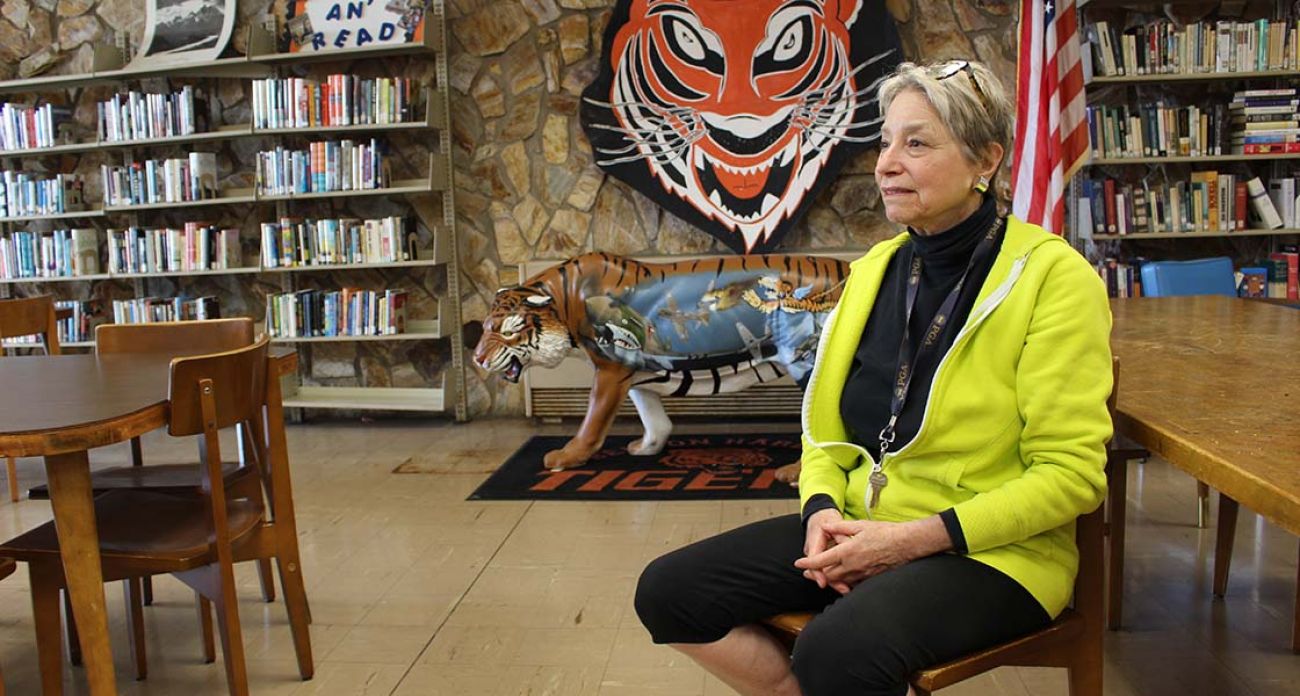 What's next
On Wednesday, Whitmer gave the school board until June 14 to approve the plan to close the high school and turn Benton Harbor into a K-8 district.
Board vice president Taylor told Bridge the board won't vote on the plan. "We're giving the state the finger," Taylor said.
If the board doesn't vote or votes down the state plan, the governor will "discuss next steps with the Legislature," which could vote to dissolve the entire district, the spokesperson said.
Whether that will happen is unclear. Shirkey, the Republican Senate Leader, said Wednesday he supports Whitmer's plan.
"This is a thoughtful plan that ensures a Benton Harbor K-8 district and will provide every student better opportunities to graduate and prepare for his or her career plan," Shirkey said in a statement.
If the school board doesn't approve the plan, "The alternative is dissolution. While we acknowledge that as an option, we are hopeful the local school board will support the state's plan and do the right thing for the students and families of Benton Harbor."
Sen. Kim LaSata, R-Bainbridge Township, whose district includes Benton Harbor, could not be reached Wednesday for comment on the potential closing of the high school.
But she introduced a bill that would assure Benton Harbor students can qualify for the Benton Harbor Promise, which pays tuition and fees to community colleges and career tech programs, no matter what high school they attend.
(Magdalena Mihaylova contributed to this report)
Only donate if we've informed you about important Michigan issues
See what new members are saying about why they donated to Bridge Michigan:
"In order for this information to be accurate and unbiased it must be underwritten by its readers, not by special interests." - Larry S.
"Not many other media sources report on the topics Bridge does." - Susan B.
"Your journalism is outstanding and rare these days." - Mark S.
If you want to ensure the future of nonpartisan, nonprofit Michigan journalism, please become a member today. You, too, will be asked why you donated and maybe we'll feature your quote next time!