Michigan colleges tout nonpartisan efforts to get more students to vote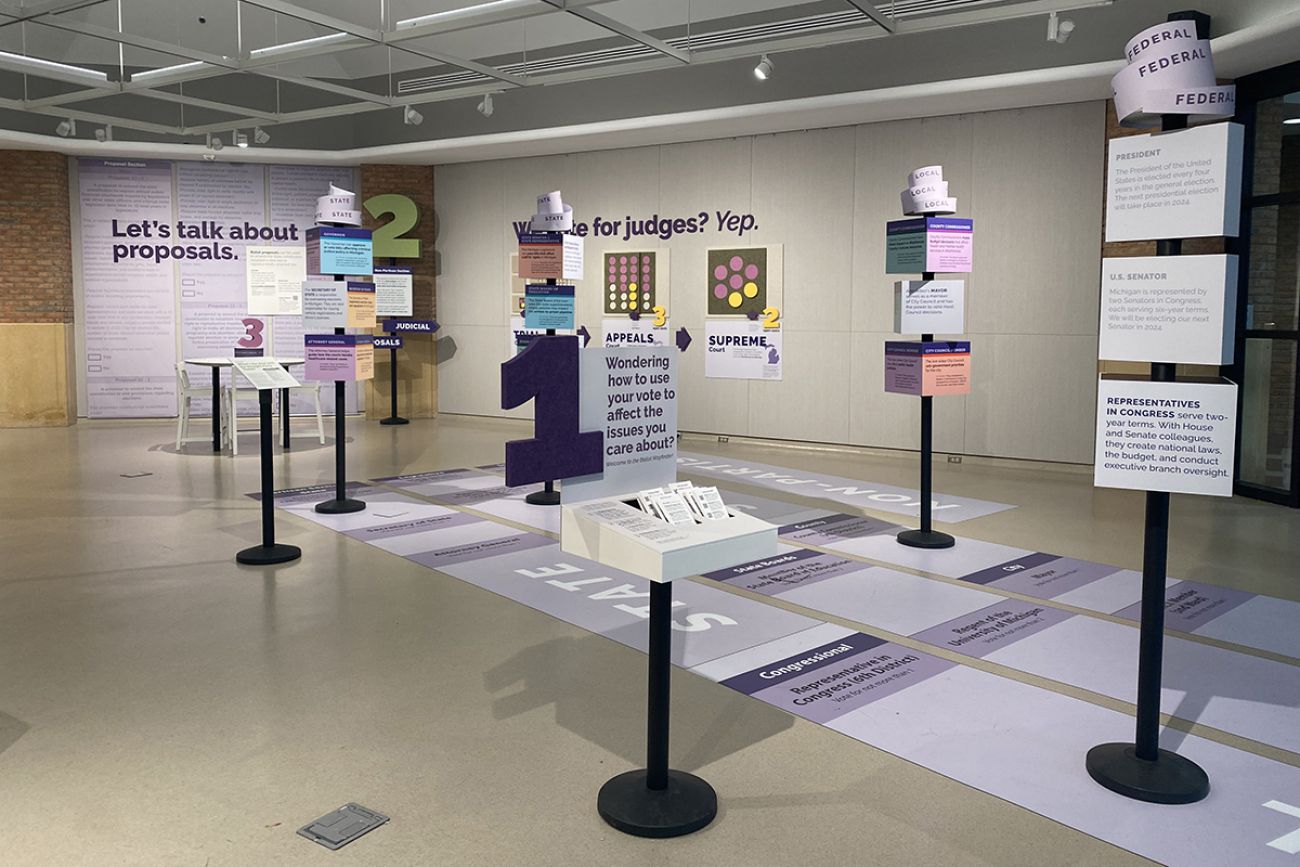 The University of Michigan and the Ann Arbor City Clerk's Office have partnered to help students vote. Students can register to vote, request a ballot, vote early and learn more about what's on the ballot at an exhibit at Duderstadt Gallery on the school's North Campus. Another exhibit exists at the University of Michigan Museum of Art on main campus. (Bridge photo by Isabel Lohman)
Michigan college students care about the upcoming election but often have questions about voting logistics
Several campuses have nonpartisan initiatives to help answer student question
Michigan has the highest increase in voter registration amongst 18 to 24 year olds, according to a new report
---
ANN ARBOR — On a Wednesday evening on the University of Michigan's North Campus, students pass a colorful exhibit filled with information on how to vote.
Staffers from the Ann Arbor City Clerk's office sit in front of green banners ready to help students register to vote.
It's part of a larger mission to help students understand the process of voting and participate in next Tuesday's midterm election. Colleges across Michigan are in the home stretch of voter engagement initiatives, and leaders at several schools say the aim extends beyond any single election: it's about getting students to become engaged long term in civic life.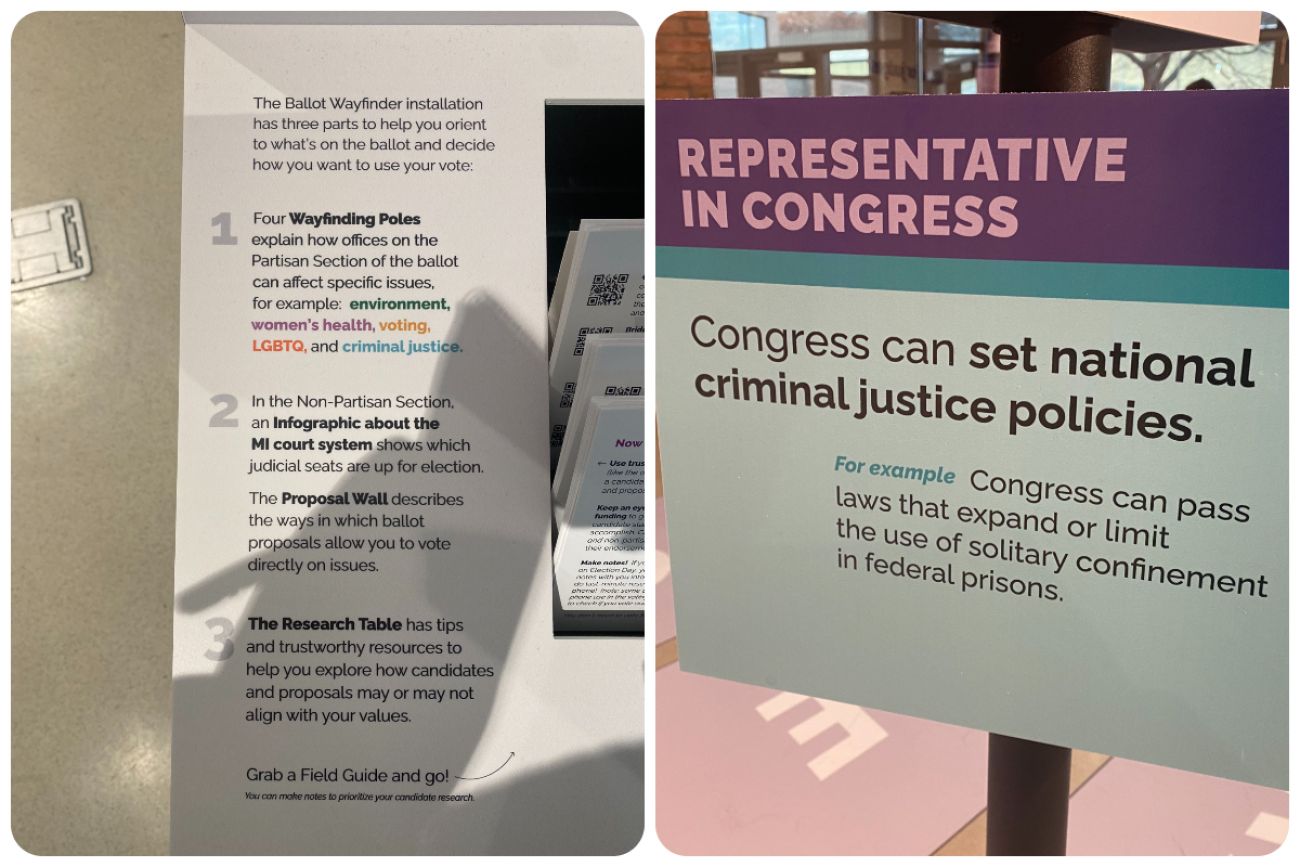 At the exhibit in Ann Arbor, students can see how a specific issue they care about is impacted by elections. For example, a student can see that "criminal justice" is color-coded a teal blue on this guide. From there, they can walk through the exhibit and see how their congressional vote affects national criminal justice policies. (Bridge photo by Isabel Lohman)
Niki Patel, 20, a computer science student at U-M, said she plans to turn in her ballot in-person in Oakland County's Rochester Hills, where she is from. She said that within her friends and family, it seems like people under 30 are more passionate about voting than older people.
"We should care because this is going to be our future," she said.
Related:
Broader voting patterns show Patel's experience to be an outlier. While people ages 65-74 turned out at the highest rates in the last presidential election, voters 18-24 were the least likely to vote.
So in recent years, Michigan colleges have increased efforts to lower voting barriers for students, from setting up voting displays like the one at U-M to, in the case of Wayne State in 2020, creating a class holiday on Election Day to encourage more students to cast ballots, a practice the Detroit school is repeating Tuesday.
In 2018, during the previous midterm election, 72 percent of Michigan college students registered to vote, but just 53 percent of those who registered cast a ballot, according to data from the National Study of Learning, Voting, and Engagement, which matches enrollment and voting records.
The numbers were far higher in 2020, during the Trump-Biden race for president, when 87 percent of Michigan college students registered and 75 percent of them turned out.
The state also has the highest increase in voter registration amongst 18 to 24 year olds in the country when compared to November 2018. Voter registration is up 38 percent, according to the Center for Information & Research on Civic Learning and Engagement at Tufts University.
"I would say it is important when considering a voting rate to take into consideration the demographics of the student population and the convenience of voting in that state," said Nancy Thomas, director of the Institute for Democracy & Higher Education at Tufts, which oversees the national college voting study.
She said reshaping campus climate to encourage more students to care about voting is "not a quick fix."
Convincing peers voting is worth it
At Saginaw Valley State University, Nikolas Baker, 20, works with Cardinals Vote, a nonpartisan group focused on getting students to not only register to vote but actually vote.
He sits at a table on campus throughout the week with a wheel students can spin to earn prizes while he and student volunteers talk about voting. The group also hosts a mock polling event to familiarize students with the voting process.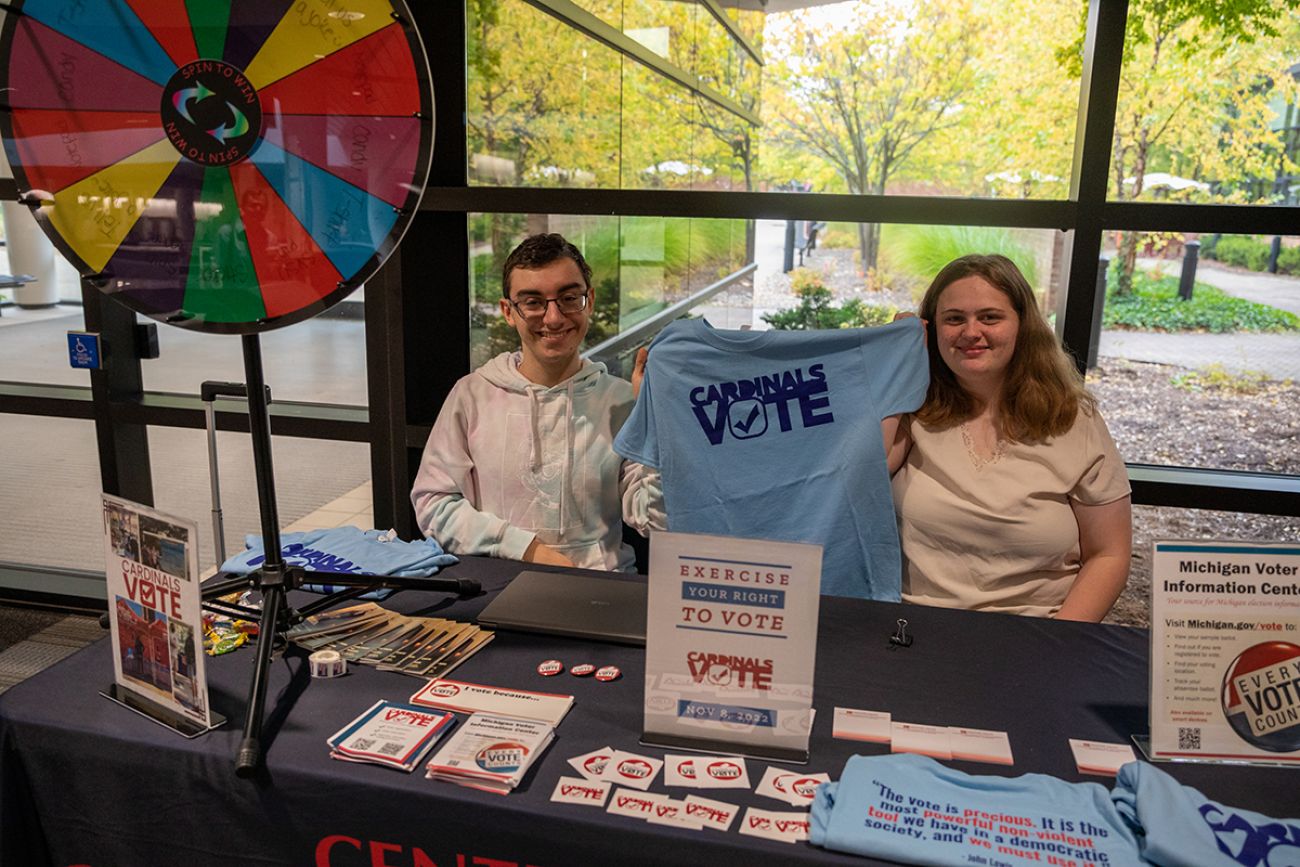 Saginaw Valley State University student volunteers Noah Johnson and Dahlia Terry sit at the Cardinals Vote table where they aim to get students interested in voting. The nonpartisan group gives students free stuff while answering election questions. It also hosted a mock polling event recently. (Photo courtesy of Riley Hupfer)
Baker, who is also the vice president of the chapter of college Democrats, said his friends are engaged and planning to vote but that's not the case for a lot of young people.
He asks students where they are from to better understand which congressional and state house races they could be voting on.
"I try to talk about what's on the ballot, how important it is without saying which way I would vote on it, of course," he said.
Riley Hupfer, the director who oversees SVSU's voting education program, said it's important for the group to be nonpartisan so students feel comfortable asking questions.
"We have students coming from very different backgrounds and so they're going to have very different belief systems," he said. "So to be a neutral party, we can help to navigate and encourage those conversations without offering our opinion."
Baker also is a member of the Michigan Department of State's Collegiate Student Advisory Taskforce, which last month released recommendations to college and university presidents on best practices for raising voting rates. In addition to a school holiday, the group encouraged students and faculty to serve as poll workers and draft campus-wide messaging on voting.
Dahlia Terry, 19, also works with Cardinals Vote and is vice president of SVSU campus Republican chapter. She said that students who visited the nonpartisan group's table on Wednesday seemed to be most interested in abortion and reproductive rights, which is the subject of state Proposal 3. Other concerns dealt with combating misinformation on social media, economics and the environment.
Terry said she noticed hesitation among students to talk politics because they are worried those sitting at the table will try to debate with them.
She said "people don't like politics, they don't like confrontation, and they don't like to have to justify their beliefs, generally speaking."
Renee Brown, co-director of nonpartisan MSUvote at Michigan State University, said that it's important to communicate to fellow students that every issue is on the ballot in some way.
"Students are very issue based," she said. "And one of the things that we've been sharing is: all of those issues in one way or another are on the ballot. They're on the ballot by who you vote for, and what committees they're on, and how they vote, and how present or absent they are during important times. And that's a lot to take in."
At MSU in East Lansing, the city clerk has opened satellite offices on campus to help answer student questions. There are also smaller table tents that include information about voting and signs with Zeke the Wonderdog (a frisbee catching dog who performs at halftime at MSU football games) encouraging students to vote.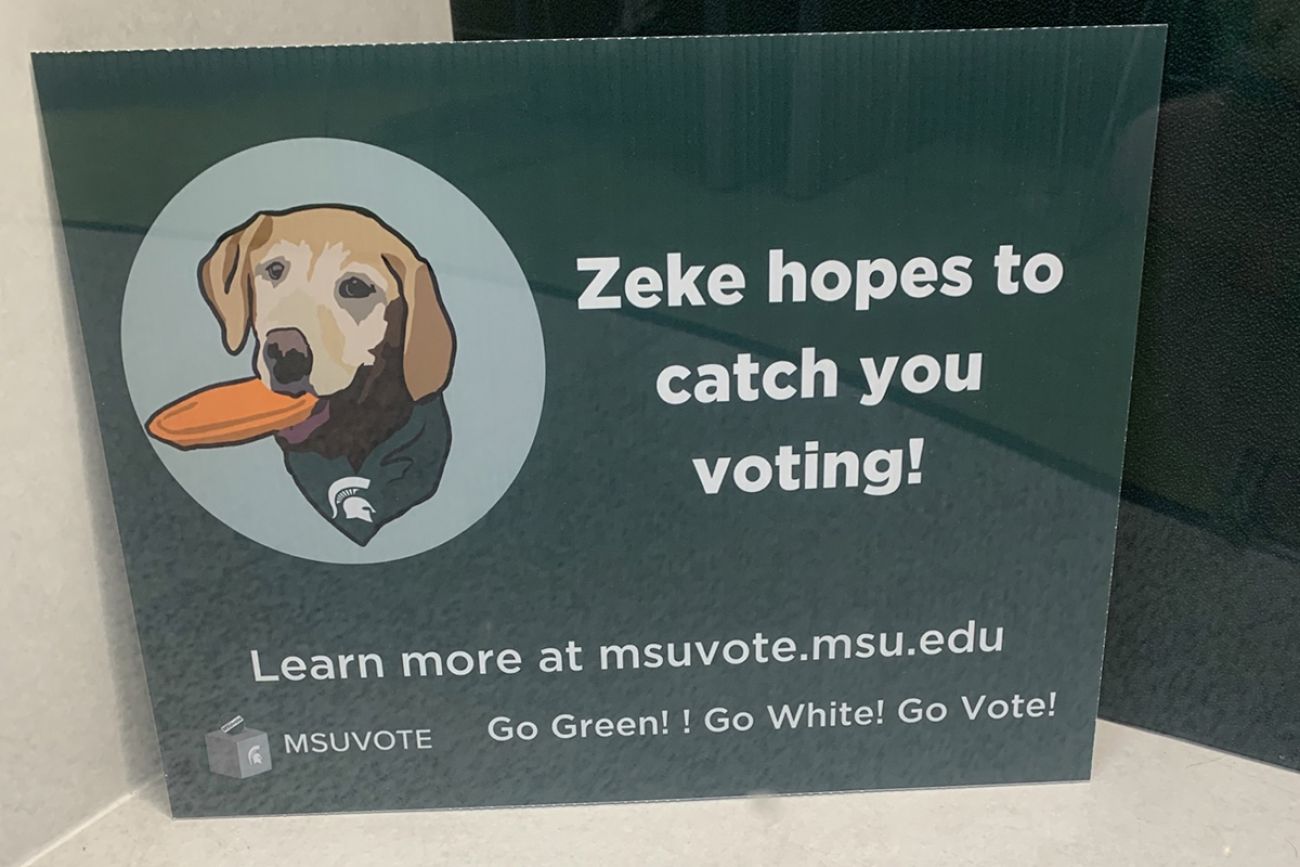 Michigan State University leaders are working to increase student voter registration, education and participation. A sign with Zeke the Wonderdog, a trained dog who catches frisbees at halftime at MSU football games, encourages students to vote. (Photo courtesy of Renee Brown)
"A lot of the work that we do is simply demystifying the process for them," said Suchitra Webster, an MSUvote co-director. "This isn't some, you know, mysterious, esoteric thing which is only for some people. We want to make it as accessible for all eligible voters as best we can."
After a watch party for the most recent gubernatorial debate in late October, about 10 SVSU students hung back in the alumni lounge to discuss their views on abortion. Terry, the student volunteer, said there was a range of perspectives.
It was primarily Republicans, she said, but there was nuance in views on how available abortions should be, what counts as fetal viability and even when there should be exceptions provided.
"It was really interesting to have a conversation and understand everyone's opinions on it," Terry said. "And I felt like we all came to a general consensus of understanding each other's perspectives. I mean, there wasn't really much change in people's minds, but we were understanding."
Listening to young people
David Dulio, a professor of political science at Oakland University and director of the school's Center for Civic Engagement, said predicting midterm turnout among college students is tricky since issues can be more locally based in a midterm than in a presidential election. For example, he hypothesized that students in East Lansing are likely hearing a lot about the seventh congressional district race between Elissa Slotkin and Tom Barrett compared to students at OU in Oakland County.
He said he believes OU does decently well in voter turnout because a lot of them are commuters and can go home to cast a ballot. Still, he said, there remain barriers to converting students from registered voters to actually voting.
"I think our students at OU are pulled in any number of directions. I mean, school, family, many many of them work part time if not full time. They are really stretched thin when it comes to available time," Dulio said, though he also noted that "it's like that for a lot of Americans."
Logan Givens, 19, a sports management student from Georgia studying at U-M, agreed, saying he doesn't think voting is a priority amongst people his age because "you have to go out of your way" to vote. While acknowledging that "it's important to have your say," he said there isn't one specific issue motivating him to vote. He is voting by absentee ballot in Georgia.
John Clark, chair of Western Michigan University's political science department, told Bridge that candidates face a challenge when developing political strategies aimed at college-age voters: Do they host campaign events targeted at young people when they know generally speaking that young people are less likely to vote?
Slotkin, a Democrat, who is in a tight, closely watched congressional race against the Republican Barrett, did take the time to address student turnout at a campaign event Tuesday in East Lansing.
"If Michigan State students don't come out on Election Day, I might not win," she said, according to MLive. "That's how close it is."
Dulio, the political science professor, cautioned that it would be a mistake to assume that college students are only concerned about issues like abortion or student debt relief.
Kitchen table issues like the economy and inflation — which are animating many Republican campaigns — affect students as well. If students are commuting to school each day, they too are facing pain at the pump like their older counterparts.
"I think we try to paint young people and college students as vastly different from the electorate and I'm not sure that's the right way to go," Dulio said.
Jailynn Sprewer, 22, a biology student at U-M, said she plans to vote next week. She said she knows more about Proposal 3 than about individual candidates but plans to look up their positions before voting. Sprewer, a certified doula, supports legal abortion and said abortion along with voting access are two of the main issues she cares about.
Brown said MSU students often have questions about the logistics of voting, from where to buy a stamp for an absentee ballot to how to avoid accidentally spoiling their ballot.
Patel, the U-M student who plans to return home to vote in Rochester Hills, said she recently drove her boyfriend to the post office and they were "so stressed" making sure they got there in time to buy a stamp before the office closed.
University of Michigan students encounter green signs across campus encouraging them to vote in the 2022 midterms. (Bridge photo by Isabel Lohman)
Edie Goldenberg, the faculty advisor to students in Turn Up Turnout, a U-M organization focused on increasing student civic engagement, said she empathizes with the obstacles some students face.
"I think there's a little nervousness about the poll and whether they are going to run into people that are going to hassle them," she said. "I think the nervousness they have even more, when they look at a ballot, it seems like an awful lot."
She encourages students to find information about candidates and proposals before they go to vote. She directs them to nonpartisan sources of information and compares that research to the type of studying students do before an exam.
"We're working to build a culture of voter engagement on campus," she said.
Brown, co-director at MSU, has a similar hope as she plans to build a curriculum around democratic engagement.
"Elections are always going to be fast and furious. And there's lots to do during that time," she said. "But this is intended to be a part of the Spartan experience, long term. And that's what we've been working for all along."
Only donate if we've informed you about important Michigan issues
See what new members are saying about why they donated to Bridge Michigan:
"In order for this information to be accurate and unbiased it must be underwritten by its readers, not by special interests." - Larry S.
"Not many other media sources report on the topics Bridge does." - Susan B.
"Your journalism is outstanding and rare these days." - Mark S.
If you want to ensure the future of nonpartisan, nonprofit Michigan journalism, please become a member today. You, too, will be asked why you donated and maybe we'll feature your quote next time!