Michigan governor final debate: Fact checking Tudor Dixon-Gretchen Whitmer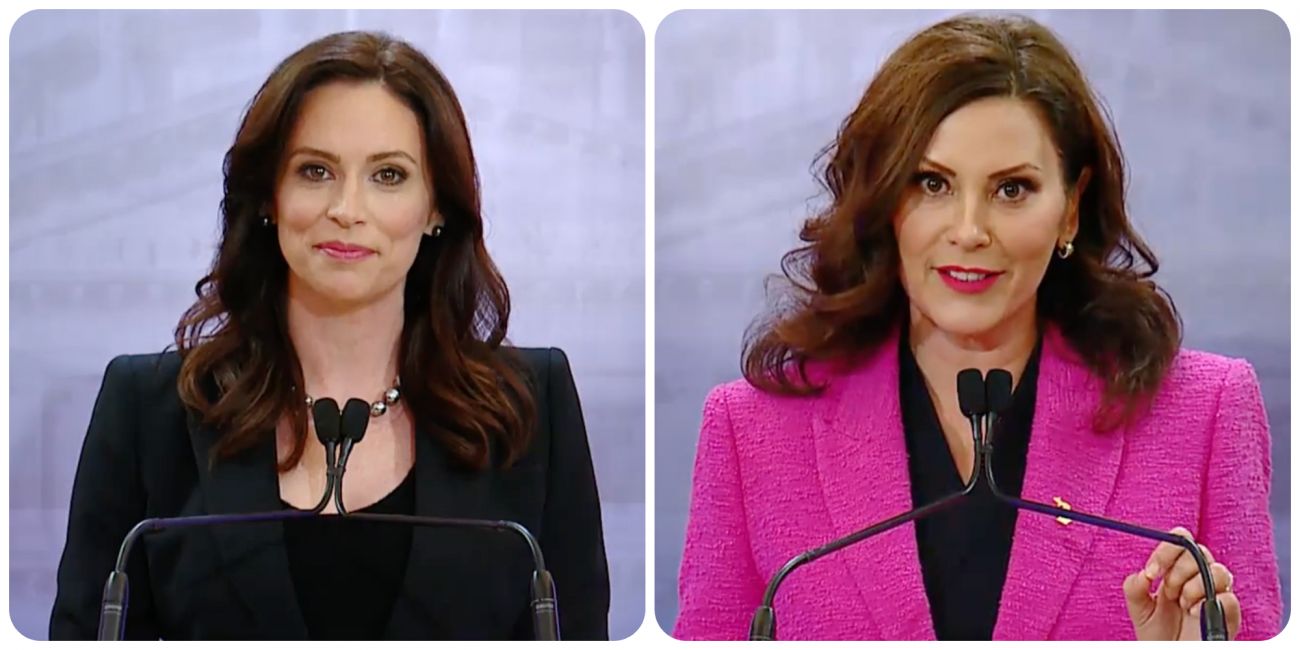 Republican challenger Tudor Dixon and Democratic incumbent Gov. Gretchen Whitmer debated for an hour on Tuesday at Oakland University in Rochester. (Screenshots)
ROCHESTER — Michigan can either "step on the accelerator" or decide to "change course" in the next 14 days, Democratic Gov. Gretchen Whitmer and Republican challenger Tudor Dixon said Tuesday in their second and final televised debate before the Nov. 8 election.
Each occasionally stretched the truth as they offered competing visions for the state in a one-hour debate at Oakland University. They sparred over COVID-19 vaccines, school closures, legal abortion access, the 2020 election, tax cut vetoes and more.
"Do you really think books are more dangerous than guns?" Whitmer asked Dixon after they quarreled over firearm restrictions and school library books that have caused controversies in some schools and Dixon has said she may try to ban at the state level.
"I think there are dangers all over for our children," Dixon told reporters after the debate, in which she argued school gun bans create "sitting duck" zones. "I don't rank one as different than the other. I want to make sure our kids are safe no matter what."
Related:
The debate came as polls suggest Dixon is gaining ground in the gubernatorial race, pulling within the margin of error despite Whitmer's continued fundraising and advertising advantage. Both candidates are going all-out in the last two weeks, as former President Barack Obama is set to campaign with Whitmer on Saturday and Dixon plans a large rally Sunday in Dearborn.
The debate was the final televised matchup between Whitmer and Dixon and the first before a statewide audience. The Oct. 13 debate in Grand Rapids wasn't televised in southeast Michigan.
Bridge Michigan fact-checked their first debate, and we're doing so again here. Read on to review some of Whitmer and Dixon's notable claims and the facts that sometimes were omitted.
COVID-19 VACCINES
Dixon's claim: "She was forcing the vaccine on people. You remember her program, 'Vacc to Normal?' You could only get your liberties and freedoms back if you got your neighbor vaccinated."
The facts: Whitmer released her 'Vacc to Normal' plan in April 2021. It set milestones for reopening based on the number of Michigan residents 16 and older who received their first dose of the COVID-19 vaccine. The ultimate goal was to get 70 percent of residents vaccinated, at which point the all remaining COVID-19 restrictions would be lifted.
That plan was shelved when vaccination rates in Michigan rose slower than other states.
Whitmer on July 1, 2021, lifted remaining restrictions, which included capacity restrictions on conference centers and weddings and 11 p.m. closures for bars and restaurants.
At no point did the Whitmer administration advocate for requiring COVID-19 vaccinations among adults or children once the vaccine was deemed safe for kids.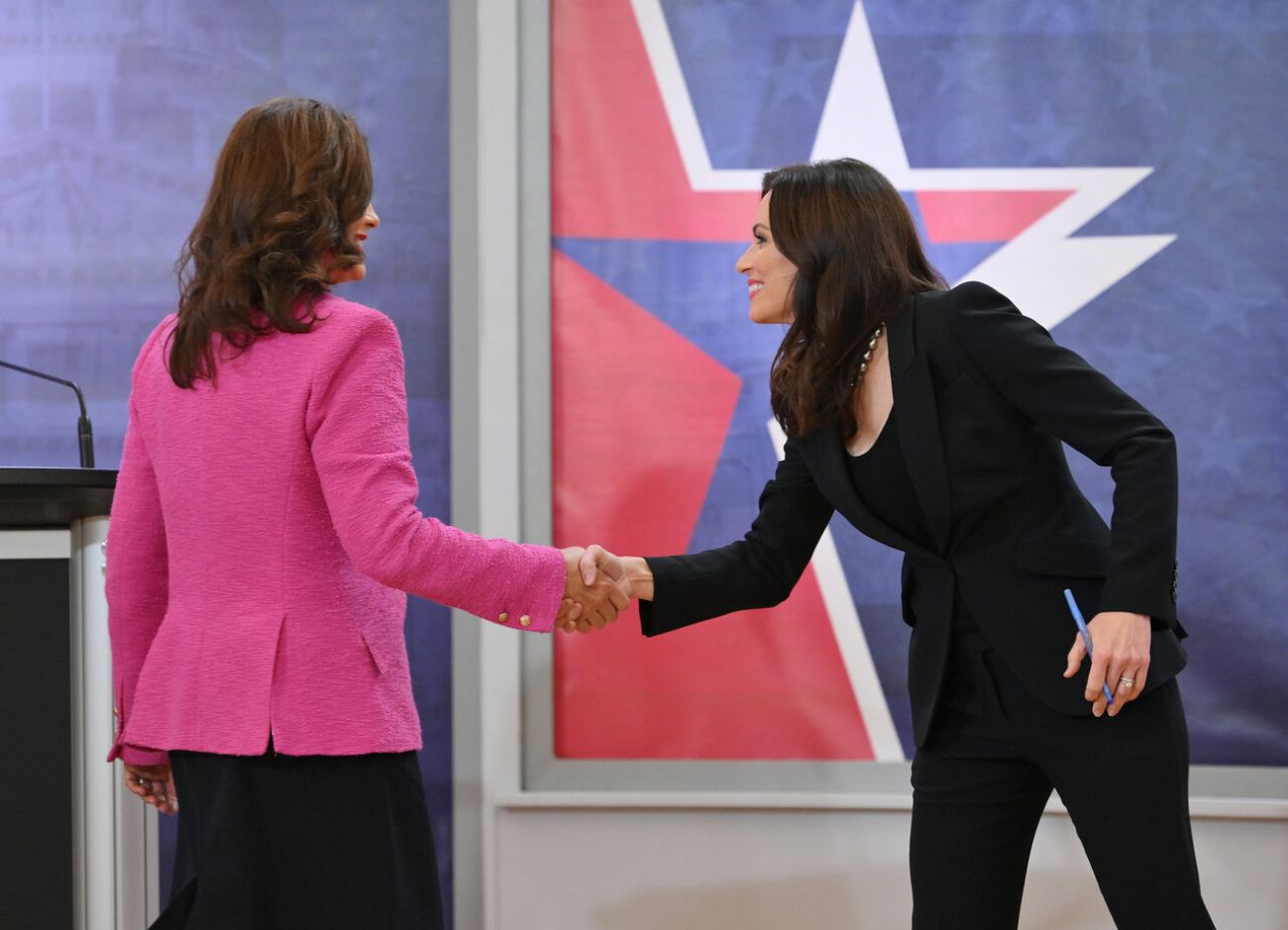 Gov. Gretchen Whitmer, left, shook hands with Republican challenger Tudor Dixon before the debate in Rochester. (Photo courtesy of Robin Buckson/The Detroit News)
K-12 SCHOOL CLOSURES
Whitmer's claim: "Mrs. Dixon says that I kept students out longer than any other state. That's just not true….Kids were out (of school) for three months" during the COVID-19 pandemic.
The facts: Some Michigan districts kept classrooms closed for much longer than three months, but those were local decisions made after Whitmer and the GOP-led Legislature struck a deal that gave districts flexibility to develop their own return-to-learn plans.
Whitmer, like many governors, closed Michigan schools for the remainder of the academic year through an executive order on April 2, 2020. That was about two months early for schools that would have ended their years in early June. In November 2020, after Whitmer lost authority to issue her own orders, her health director ordered all schools to go back to remote learning for three weeks — through the winter break — amid another COVID surge.
Many districts, including Detroit, Ann Arbor and Grand Rapids, remained closed to in-person instruction for much longer. Some stayed fully remote much of the 2020-21 school year.
"I'm pretty sure I just heard an audible gasp around town when Gretchen Whitmer said that kids were out of school for three months," Dixon said in the debate. "Perhaps she wasn't paying attention to what was actually happening."
Speaking after the debate, Whitmer argued she was only talking about closures that were the direct result of her or her health department's orders.
ABORTION RIGHTS AND PROPOSAL 3
Whitmer and Dixon exchanged competing versions of what would happen if voters approve the Proposal 3 constitutional amendment guaranteeing reproductive rights.
Whitmer's claim: "Parental rights and consent will still be effective. We know that regulations will still be in effect."
Dixon's claim: "Proposal 3 does remove parental consent. It also makes it so that you don't have to be a doctor to perform an abortion."
The facts: Under state law, people under 18 seeking an abortion need written consent from one of their parents or legal guardians, unless they petition the court and prove they are "sufficiently mature" and a waiver of the law would be in their "best interests."
Should Proposal 3 pass, the parental consent law would likely remain until it is challenged in court or changed by lawmakers. Ultimately, the courts would likely have to decide if parental consent laws remain.
Whitmer's claim: "(Dixon) is the one that said a 14-year-old child, raped by her uncle is the perfect example of someone who should not have reproductive rights, and the ability to choose."
The facts: Whitmer misrepresented a statement Dixon made to Detroit podcaster Charlie LeDuff.
His "No BS Newshour" show initially published a clip showing him asking in July if a 14-year-old abused by her uncle should be forced to carry a pregnancy to term.
"Perfect example," Dixon said.
But the clip was edited in a way that shortened her response. An extended video clip later published by the "No BS Newshour" confirms that Dixon was arguing it could be harder to catch child abusers should Proposal 3 eliminate parental consent for abortions.
Related: Tudor Dixon opposes abortion after rape, but Dem attack ads twist her words
Dixon's claim: "Proposal 3 allows abortion up to the moment of birth for any reason, including sex selection."
The facts: The proposal allows the state to continue restrictions on abortions after the point of fetal viability, which it defines as when a fetus can survive outside the womb without "extraordinary medical measures." But the ballot proposal also includes exceptions that would allow abortions after viability if an "attending health care professional" believes the procedure is necessary to protect the life, physical or mental health of the patient.
Opponents have argued the lack of definition for "mental health" in the proposal could allow anyone to receive an abortion — up until the moment of birth — because of anxiety issues.
Abortion later in pregnancy is rare, according to the Centers for Disease Control and Prevention. Less than 1 percent of the 629,898 abortions nationwide in 2019 were performed beyond 21 weeks. Experts say abortion up until the moment of birth theoretically could happen under the proposal, but not realistically.
It is unlikely the proposal would allow late-term abortions because of "sex selection," as Dixon claimed. The ballot measure would allow the state to prohibit abortions if there is a "compelling state interest" to do so that is achieved by "the least restrictive means."
ELECTION DENIAL
Whitmer's claim: Dixon "refuses to accept the outcome of the last election. She has not yet said she will accept the results of the next election… She is an election denier."
The facts: Dixon in 2020 accused Democrats of "obvious" and "sloppy" voter fraud. As recently as May, she publicly claimed former President Donald Trump won Michigan despite his 154,188-vote loss to current Democratic President Joe Biden.
Dixon has also declined to pledge she will accept the results of this year's gubernatorial election if she loses to Whitmer, telling reporters in September that she will "look at what happens" and "make sure that the secretary of state follows the law."
The Norton Shores Republican has criticized Secretary of State Jocelyn Benson for a series of election moves the first-term Democrat made before the 2020 election, a contest marked by the COVID-19 pandemic and an influx of absentee ballot voters.
The Michigan Court of Appeals ruled Benson was within her authority to mail out absentee ballot applications to all voters. But after the election, a state judge ruled that Benson erred when she instructed local clerks to presume that signatures on absentee ballots were accurate.
After Tuesday's debate, Dixon stood by her previous comments on the upcoming election: "I just made it clear that if (Benson) runs an illegal election again, that would be a problem," she said.
Dixon's claim: Whitmer's lieutenant governor, Garlin Gilchrist II, is "an election denier."
The facts: In 2017, Gilchrist unsuccessfully ran for Detroit city clerk against incumbent Janice Winfrey, calling Winfrey's handling of the 2016 election in Detroit a "complete catastrophe."
After a narrow loss, Gilchrist requested a recount, citing a host of irregularities and writing in the Michigan Chronicle "it's no surprise that residents do not trust the integrity of our elections." After a recount certified Winfrey's win, Gilchrist called for greater oversight, saying there "continue(s) to be issues and reasons why people in Detroit do not trust the voting process."
Following the debate, Gilchrist told reporters that Dixon's comparison is "laughable:" "It differs because I accept the results. She doesn't. She didn't."
TAX CUTS AND BUSINESS INCENTIVES
Whitmer's claim: "I have tried to get rid of the retirement tax, but the Republican Legislature is standing in the way."
Dixon's claim: "When she's had the opportunity to actually do that, she's vetoed it."
The facts: One of Whitmer's chief promises when she ran for governor in 2018 was to eliminate the 4.25 percent income tax on pensions, by restoring an exemption eliminated in 2011 by then-Gov. Rick Snyder and the GOP-led Legislature.
It's true that Whitmer has repeatedly called to repeal what she calls a "retirement tax," including in her first state budget proposal and again this year as part of a broader tax relief proposal. But the tax remains on the books amid a stalemate between Whitmer and the GOP-led Legislature.
Dixon's claim that Whitmer vetoed senior tax cuts is also accurate. Whitmer in June vetoed a $2.7 billion GOP plan that would have cut the state's personal income tax rate for all earners and expanded exemptions for senior income. In a veto letter, Whitmer argued the Legislature sent her a constitutionally defective bill but she again urged a retirement tax repeal deal.
Related: How do tax cut plans of Gov. Gretchen Whitmer, Republicans compare?
Dixon's claim: Whitmer "just offered $715 million of your taxpayer dollars to a Chinese corporation to come to the state of Michigan...battery plants are going outside of Michigan, unless they're owned by the Chinese, and have strong ties to the Chinese Communist Party."
The facts: Dixon referred to the incentives offered to Gotion, a Chinese company that plans a $2.36 billion facility near Big Rapids that will create 2,350 jobs. The company took advantage of tax incentives created by Whitmer and the GOP-led Legislature.
Dixon was wrong to say only Chinese companies are benefiting from the incentive.
New battery plants are planned by Novi-based Our Next Energy in Wayne County's Van Buren Township, while General Motors and LG Energy Solutions are partnering on new plants in Lansing Township and Orion Township.
Collectively, the four projects could add about 7,300 new advanced-manufacturing jobs and an estimated EV battery investment of $8.5 billion to the state.
AUTO INSURANCE REFUNDS AND FEES
Dixon's claim: "You're going to get a bill for $48" because Whitmer's push for $400 refunds for Michigan drivers from the Catastrophic Claims fund came "just a little too soon."
The facts: Michigan drivers got a $400 check earlier this year from the Michigan Catastrophic Claims Association, an industry-led nonprofit that collects an annual fee from all Michigan motorists to cover large medical care bills for severely injured crash victims.
The $3 billion refund, pushed by Whitmer's administration in the aftermath of reforms aimed at cutting high auto insurance costs, left the association's fund with a $2 billion surplus at the time.
But a Court of Appeals decision determining the new no-fault policies can't be applied retroactively to past accident victims changed the equation.
In its latest report, the association determined the court decision could result in a $3.7 billion loss, meaning annual per-vehicle assessments will go up to at least $48 per vehicle — or $4 a month — and more if drivers have unlimited personal injury protection coverage.
Only donate if we've informed you about important Michigan issues
See what new members are saying about why they donated to Bridge Michigan:
"In order for this information to be accurate and unbiased it must be underwritten by its readers, not by special interests." - Larry S.
"Not many other media sources report on the topics Bridge does." - Susan B.
"Your journalism is outstanding and rare these days." - Mark S.
If you want to ensure the future of nonpartisan, nonprofit Michigan journalism, please become a member today. You, too, will be asked why you donated and maybe we'll feature your quote next time!