As automakers win incentives for EV plants, Michigan pays for polluted past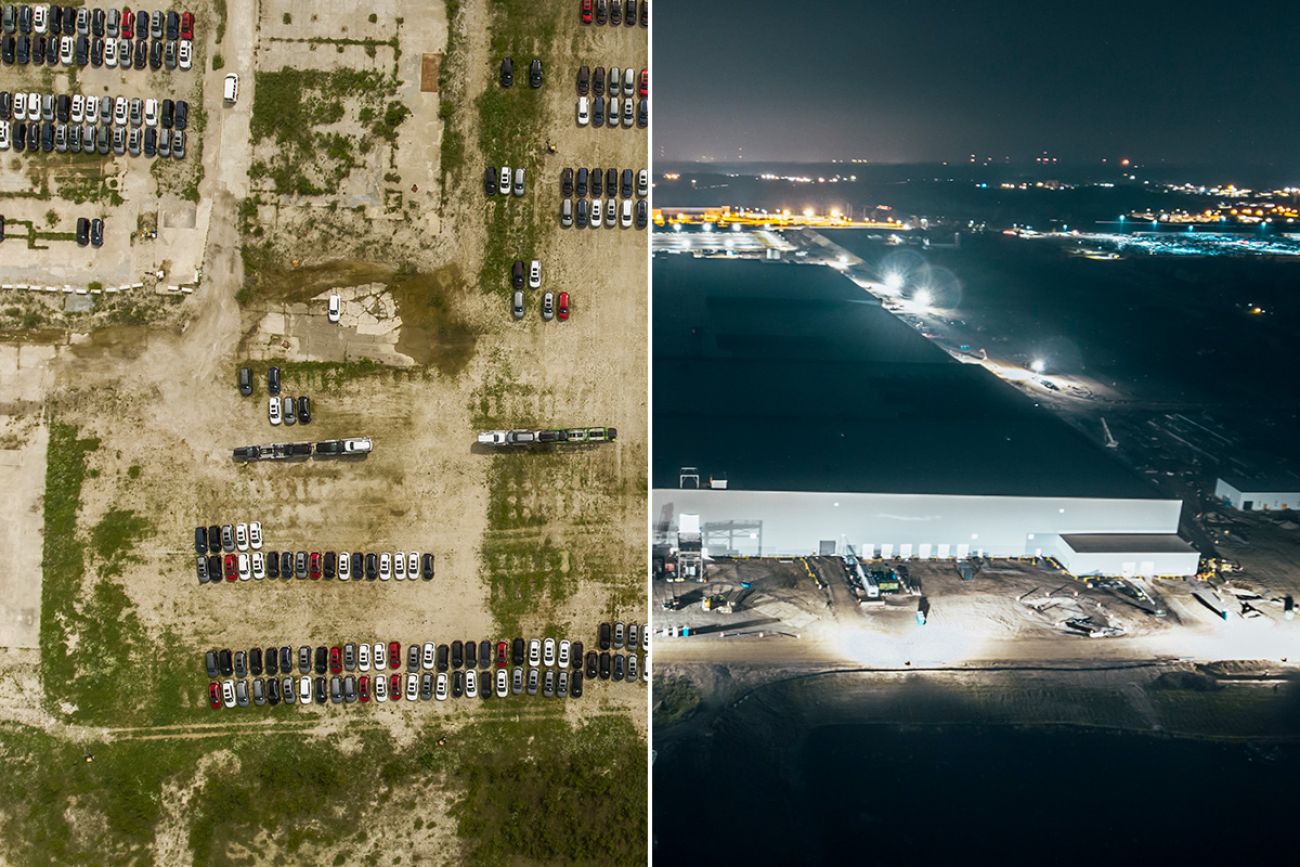 The contaminated grounds of three former General Motors factories, shown on left, remain vacant and undeveloped along the Lansing and Lansing Township border. Seven miles to the west, a new GM joint venture battery plant rises in rural Delta Township, shown on right. (Bridge photos by David Ruck)
While Michigan subsidizes the auto industry's EV future, the public is still paying to clean up the industry's polluted past
Bridge identified $259 million in taxpayer-funded cleanups at more than 100 auto-related properties. The true toll is far larger
The state has done little to build environmental oversight into EV incentive deals, but that may soon change
---
LANSING TOWNSHIP—The Westgate Tavern & Grill was once a vibrant hub of factory life, named for the entrance where generations of autoworkers started and ended their workday.
The tavern would "open at six in the morning, and people were waiting in line to come in" for a beer or a bite when their shift ended, said Bob Fata, who now runs the place.
Today the business faces out on a wasteland of broken concrete — all that's left of three General Motors plants that were razed in the 2000s in the runup to GM's bankruptcy. The vast site along the Lansing-Lansing Township border now sits vacant, its grounds tainted with chemicals ranging from PCBs and 1,4-dioxane to PFAS, including some that seeped into surrounding neighborhoods.
Bars, restaurants and corner shops have vanished. The township's tax base cratered. And taxpayers — not General Motors — are stuck with the cleanup costs.
"I think they just forgot about it, you know?" neighbor Carol Garza said of the automaker. "It's done, it's not their problem anymore."
Carol Garza gazes from her yard at the vacant former factory complex across the street. "I think they just forgot about it," she said of GM, the company that exited Lansing Township and left a mess behind. (Bridge photo by David Ruck)
But GM has not abandoned the region. Far from it.
Seven miles to the west, on farmland in Delta Township, the company broke ground last year on a $2.6 billion battery plant as GM and other automakers transition to an electric vehicle future. A low-slung building has replaced farm fields. When the plant becomes fully operational in 2025, it will supply battery cells for GM's next generation of Ultium Platform-powered EVs.
It's the beginning of a new era.
But here's what's not new: Taxpayers will still foot much of the bill. And the agreement GM struck with the state, obtained by Bridge Michigan, says nothing about the condition in which GM must leave the Delta plant when it eventually closes.
History repeats itself
Across Michigan, scores of communities are seeing new EV investment, or are footing the bill for the industry's polluted past.
Places like Romeo, Milan, Flint and Wyoming are stuck with hulking remnants of closed plants as automakers leave for new projects, with generous public subsidies. Jobs and tax revenue are lost. And residents are sometimes stuck with other costs, like higher water bills, as the town's largest employer exits.
With more openings and closings likely, experts say history is poised to repeat itself if Michigan doesn't change its approach.
"We pay for the cleanup of abandoned structures — industrial, residential and commercial," said Rex LaMore, director of the Michigan State University Center for Community and Economic Development. "And then we subsidize the construction of new ones without any consideration of their end of life."
About 26,000 Michigan properties have been identified as contaminated, a good chunk of them tied to the state's signature industry. The precise number is impossible to calculate because the majority of listed properties contain no information on the industry or people responsible, or what they will cost to clean up.
Even so, Bridge Michigan has identified $259 million in publicly-subsidized cleanups at more than 100 sites linked to the auto industry. Experts say the true cost is far higher.
That's in part because Michigan's business-friendly cleanup laws generally excuse landowners from reporting legacy pollution on their land. Companies need not actively look for it and, in many cases, can avoid public disclosure if they find it. Cleanups are technically required, but that, too, can often be done in secret with no regulatory oversight. Which means the 26,000 sites in the state database are an undercount.
"You don't have to report what you're doing," Joshua Mosher, assistant director of the Remediation and Redevelopment Division in the Michigan Department of Environment, Great Lakes, and Energy (EGLE), told Bridge.
Join us for live discussion Thursday on Michigan's industrial legacy
On Thursday, Sept. 28 at 12 noon, Bridge Michigan business editor Paula Gardner and environment reporter Kelly House will discuss their industrial legacy reporting project. Senior editor David Zeman will moderate this interactive discussion. Bring your questions!
"You can discover it and then self implement (a cleanup), and only come to us if you want approval of your plan."
Regulators typically discover new pollution in one of two ways: when contaminants spread beyond a factory fenceline, or when prospective buyers conduct tests on the property before buying it and then alert the state to contaminants so they aren't held responsible.
And because Michigan has limited money for cleanup (averaging $61.3 million annually over the past five years), state regulators are able to remediate only a few hundred sites a year, while thousands languish. Even with an extra $100 million one-time windfall in the budget for the coming year, it will take generations to clear the backlog.
All of which makes it impossible to hold many polluters responsible. The state estimates half of Michigan's known contaminated properties, about 13,000, are so-called "orphan sites," where the original polluter has gone bankrupt, closed shop, died, or otherwise escaped responsibility, leaving the public to pick up the tab.
Charting a new path
As the Legislature's fall term unfolds, decades of environmental and business practices may hang in the balance. The state can continue to hand out few-strings-attached incentives to automotive and other industries to build new plants, while allowing many of the same companies to close or abandon polluted sites when they're no longer needed.
Or it can chart a new path, in which companies are held responsible for toxic chemicals spilled into soil and groundwater, and towns that build their economies around factories aren't left on their own to clean and redevelop them when they close.
In interviews with more than three dozen lawmakers, industry analysts, local officials, business leaders and affected residents, the seeds of that path are beginning to take shape. A growing number of legislators from both parties are asking sharper questions about the billions of dollars in incentives that Gov. Gretchen Whitmer's administration has steered to automakers and other industries such as semiconductors, with little transparency.
Democrats say they plan to introduce bills this fall changing how the state structures its Strategic Outreach and Attraction Reserve (SOAR) Fund for large-scale projects. And they're eyeing changes to Michigan's pollution laws, arguing for more accountability as the state fights to keep an important industry.
"This whole idea that we're just going to trust the responsible parties to do the right thing?" said Sen. Jeff Irwin, D-Ann Arbor. "I don't think it's working well."
Irwin wants to require companies to inform regulators when they find contamination, and give EGLE more oversight over cleanups. To avoid cases where corporate bankruptcy shifts pollution costs to the public, he said Michigan should consider requiring financial assurances from companies that operate in contamination-prone sectors.
That does not appear to be happening now.
Consider GM's Delta Township battery plant.
Last year, Michigan awarded GM and partner LG Energy Solution $344 million in state subsidies to build the joint-venture Ultium Cells battery plant. The companies also received part of a $2.5 billion federal loan, and will be eligible for a state tax break on their equipment worth millions more.
In return, GM and LG Energy promised 1,700 jobs and a cleaner, greener future for Michigan-made vehicles.
But the state incentive agreement contains no provisions on how the companies are to handle or remove contaminants left in their wake, though Michigan Economic Development Corporation spokesperson Otie McKinley noted that companies must follow all state environmental laws. It's the kind of free pass that has become typical as states compete for large-scale projects.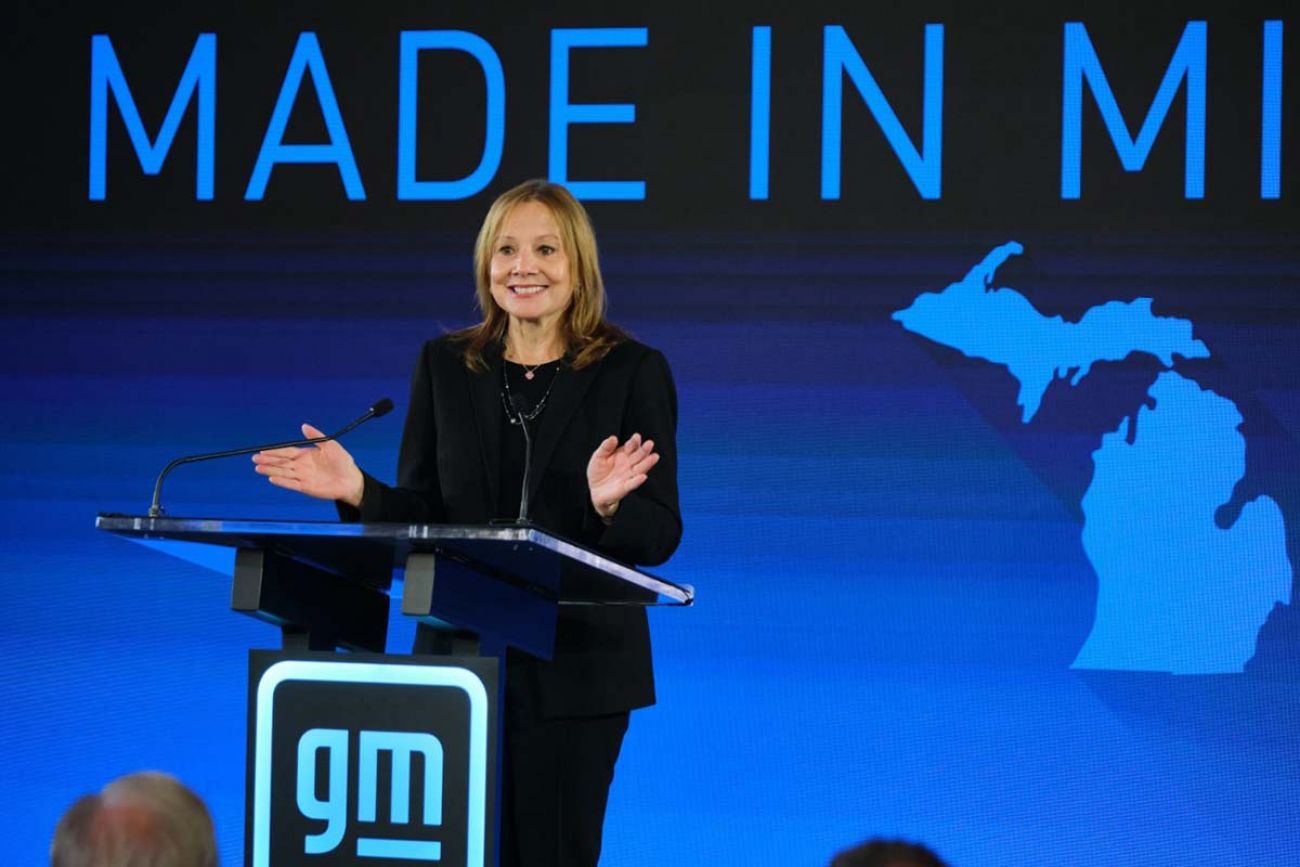 General Motors Chair and CEO Mary Barra announces a GM investment of more than $7 billion in four Michigan manufacturing sites that includes building a new Ultium Cells battery cell plant. The project received $344 million in state subsidies, plus part of a $2.5 billion federal loan. It also will be eligible for millions in state tax breaks for its equipment. (Courtesy photo)
"When states are trying to lure industry, they don't want to create regulatory or financial barriers," said Jackie Gardina, dean of the Colleges of Law in Santa Barbara and Ventura, California, who has studied the environmental consequences of industrial bankruptcies. "So they often don't require businesses to provide the financial assurance necessary to perform cleanup, or it is so minimal that it doesn't cover the expenses."
That leaves state and local officials vulnerable for future cleanups, especially when businesses go bankrupt, as happened to GM, Chrysler (now owned by Stellantis) and many automotive suppliers.
"Without financial assurance," Gardina said, "the government entity is simply an unsecured creditor (with exceptions) and may get nothing or pennies on the dollar."
Business groups say they're happy with Michigan's existing laws and leery of burdensome regulations. But they also say they're open, at least in concept, to discussions on broadening transparency around contamination and finding new mechanisms to pay for orphan clean-ups.
"The rhetoric around polluter pay is one thing," said Michael Alaimo, director of environmental and energy affairs at the Michigan Chamber of Commerce. "How it translates into policy is another…We have concerns that if you make really strong substantive changes, you rock the boat too hard."
Republican lawmakers may also be skeptical. Sen. Jonathan Lindsey, R-Allen, said he favors easing regulation to make Michigan more competitive.
Lindsey said he's not familiar with the details of Democrats' planned bills, but pledged an "open mind about it." And he counts himself among those fundamentally opposed to state business incentives for new plants.
Mallory McMorrow, D-Royal Oak, is leading incentive reform in the Senate. She told Bridge that members of her caucus are concerned about a range of issues, from making sure recipients of SOAR funds pay workers enough to justify the investment, to ensuring companies don't repeat contamination problems they've caused in the past.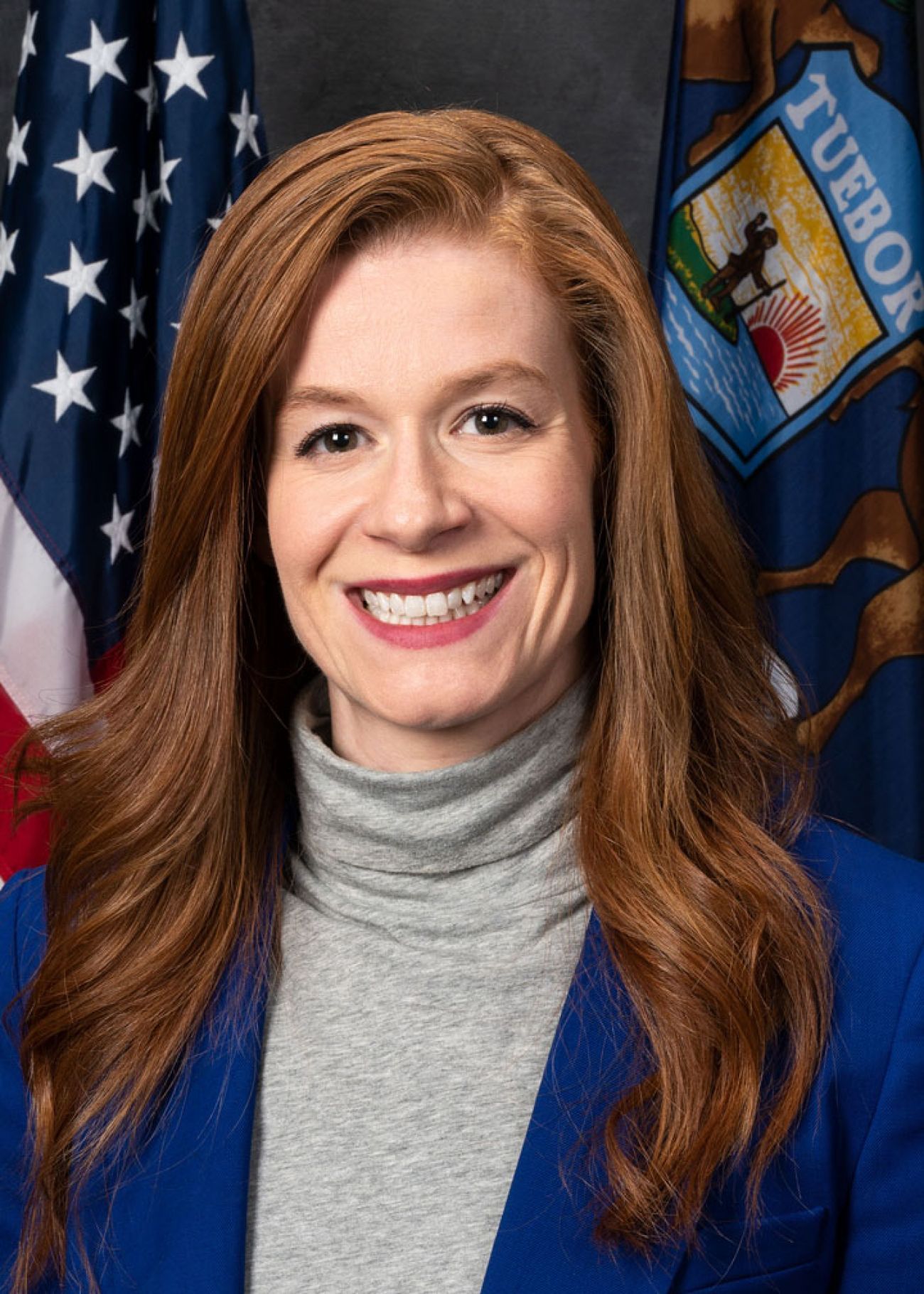 Sen. Mallory McMorrow, D-Royal Oak
That includes renewed debate over whether and under what circumstances Michigan should give incentives to companies that build on greenfield land — as GM is doing in Delta Township, and Ford Motor Co. is doing in Marshall — when the state is already dotted with brownfields left by many of the very same companies.
Gov. Whitmer's office declined an interview request for this report and did not respond to written questions. Whitmer has strongly supported the use of SOAR incentives to court EV manufacturing. She has also called for more stringent pollution cleanup laws.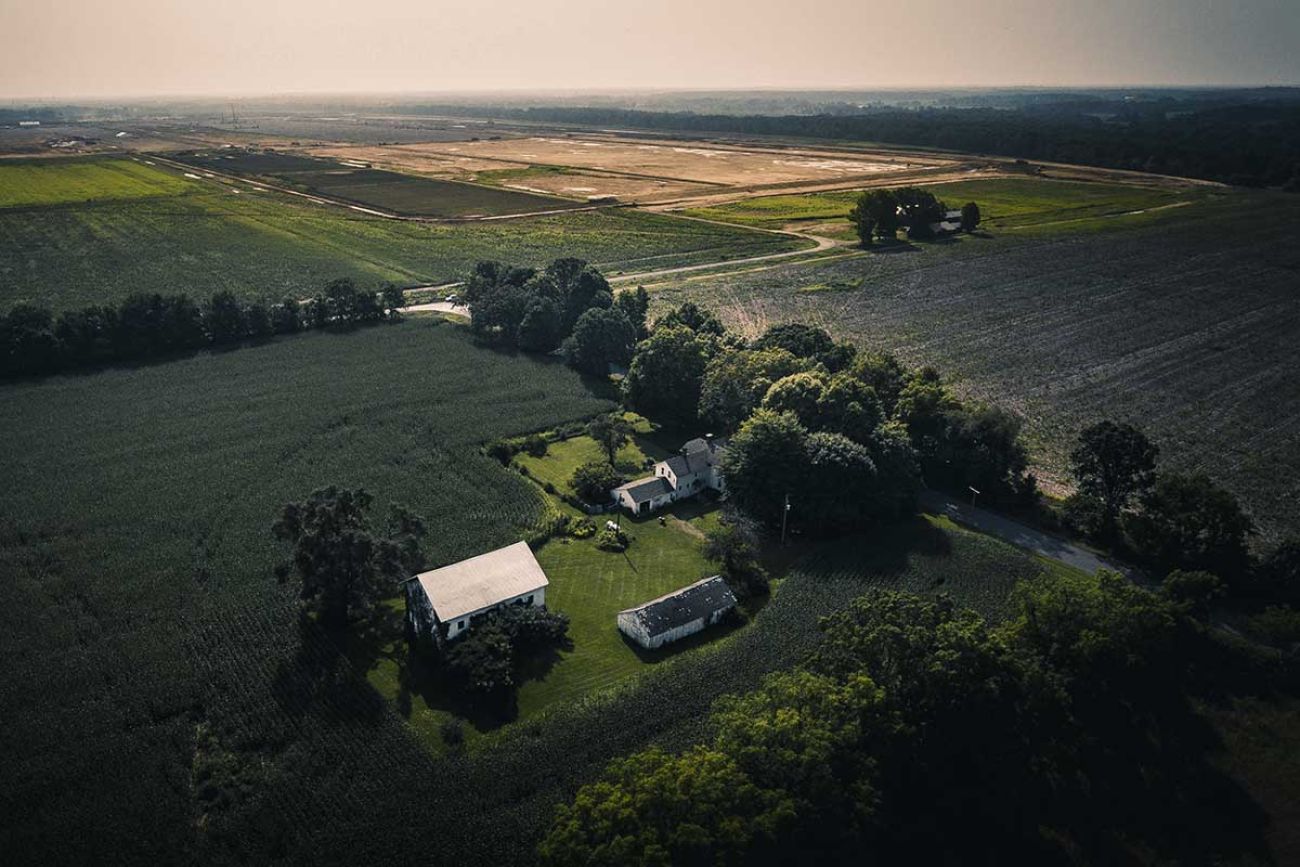 A working farm near where Ford's BlueOval Battery Park is being constructed in Marshall. (Bridge photo by David Ruck)
A perilous shift to EVs
The transition to electric vehicles holds promise, with billions of dollars in federal funding and corporate investments underwriting the transformation for General Motors, Ford, Stellantis and their suppliers.
To be sure, the state's SOAR incentive program has been a valuable tool to help ensure Michigan is a leader in EV battery production by 2030.
But that transition will carry some pain. Jobs will be lost, and more traditional auto plants will likely shutter.
Ford, for example, warned last year that EV production will require 40 percent less labor, as fewer parts and more technology go into vehicles, making the shift to EVs a critical subtext in the UAW strike against Detroit automakers. And Stellantis reportedly wants the right to close multiple Michigan facilities, including the Trenton Engine Complex.
Electric vehicles represent "a sweeping retooling of the U.S. auto industry," said Devashree Saha, director of clean energy research at the World Resources Institute, a nonprofit research organization focused on sustainability issues.
"Manufacturers are going to try to modernize all factories and also break ground on new ones for the electric era."
Where that happens is up for grabs. Retooling an existing factory is not always feasible, even for companies eager to stay in a community. Battery plants need more electrical power than many existing plants can provide, and suppliers want to be near those new plants to cut production time and shipping costs.
The number of EV factories in the U.S. is expected to nearly double as half of the nation's gas-fueled vehicle plants are expected to close, according to AutoForecast Solutions (AFS), an industry data-tracker. By 2030, 42 percent of vehicles on the road are expected to be EVs.
By then, EV production is likely to reach "the point of no return," Joe McCabe, president and CEO of AFS, said at an August industry event in Traverse City.
"This is a full commitment by the manufacturers that they have to make money," he said, calling the transition to electric a "too-big-to-fail proposition."
As automakers quietly make location decisions, the impact will trickle down to suppliers, with downsizing and consolidation predicted. Many of the old sites will be contaminated, said David Rosner, an industrial pollution historian at Columbia University, because they were built before the nation began seriously regulating industrial pollution.
It's an open question what legacy Michigan's new battery plants will leave when they, too, eventually close. Much of it depends on how automakers care for chemicals used to make lithium-ion and other EV batteries.
The EPA in November said hazardous waste streams at Delta Township's planned Ultium plant would include electrolyte, battery cell material and "lab chemicals," but concluded waste management "would be conducted in a manner that does not pose a threat."
Even industry critics acknowledge today's auto manufacturing plants are less likely to contaminate than their predecessors, thanks to environmental laws that weren't around when earlier plants were built.
Even so, federal regulators were called in last month to probe a chemical spill at an Ultium battery plant in Ohio, which leaked battery materials and hazardous solvent. And this summer, the UAW criticized Ultium's management of toxic substances at the Ohio plant in a white paper, calling EV jobs "far more dangerous" than the engine jobs they'll replace.
Bridge reached out to GM, Ford and Stellantis about their environmental stewardship at production plants and how they approach cleanups if those sites are contaminated. None made representatives available for comment.
State efforts to secure new EV plants increasingly come down to incentives: Michigan is competing against other states by offering billions in grants or tax breaks for factories promising thousands of jobs. So far, the $2 billion put into the SOAR fund has mostly funded auto-related ventures, including three massive new EV battery factories on rural land, along with retooling several existing plants.
Ford's BlueOval Battery Park in Marshall, GM's plant in Delta Township and Gotion Inc.'s battery factory near Big Rapids — a combined $8.3 billion investment promising 6,550 new jobs — are being built on greenfields. Another is planned by local startup Our Next Energy, which plans a $1.6 billion battery factory in Van Buren Township in Wayne County with $726 million in state support.
"They're so critical for the automotive industry right now," John Walsh, president and CEO of the Michigan Manufacturers Association, said of public subsidies. "If we want to have a part of that … we have to entice our companies to stay in Michigan and perhaps bring others here to do the same."
Cheering from a factory rooftop
But that's left several communities wrestling with the wreckage of Michigan's automotive past.
For generations, the GM plants along the Lansing-Lansing Township border hugged the sidewalks in densely-populated neighborhoods. Autoworkers walked to jobs and their kids attended school in the factories' shadow.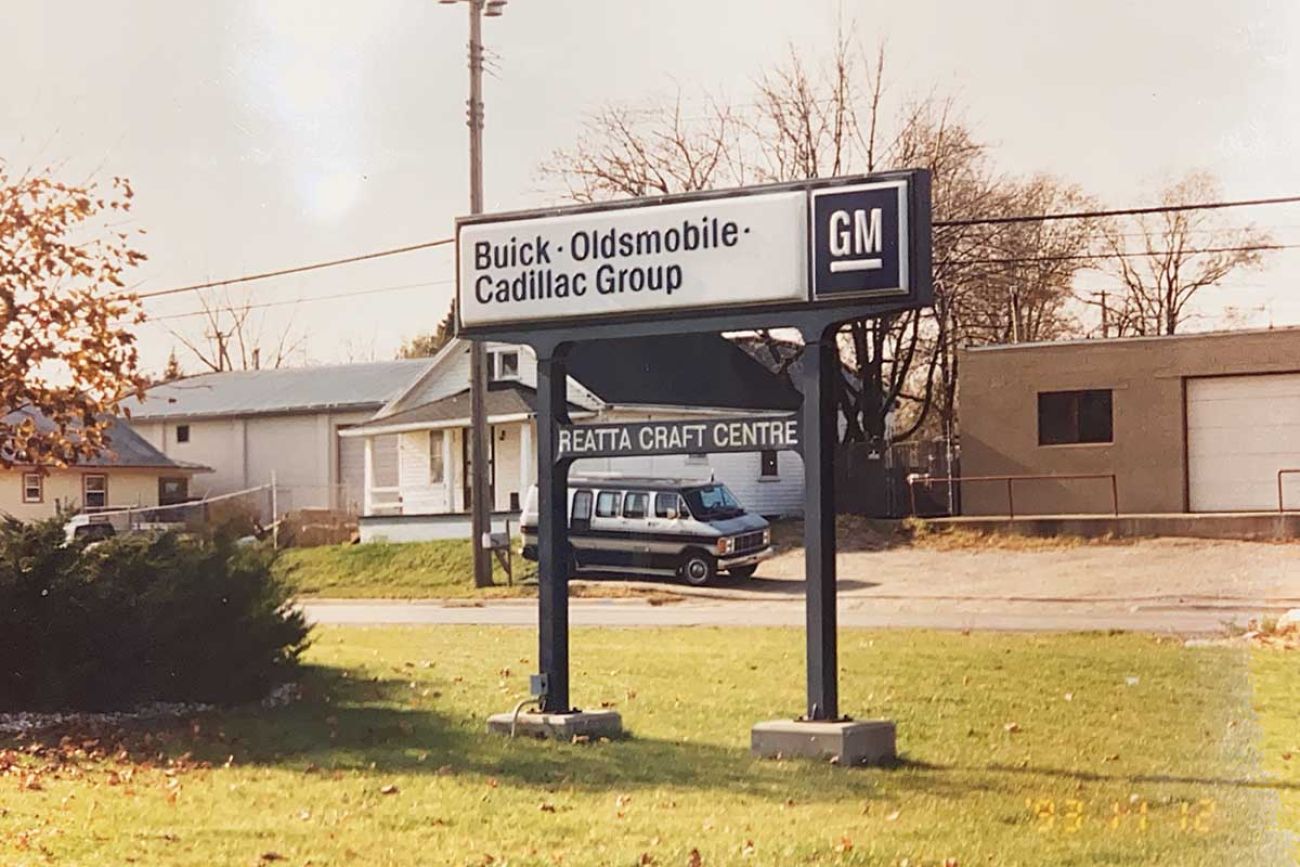 The now-demolished GM plants in Lansing and Lansing Township were centerpieces of densely-populated neighborhoods. Now, they're empty space. (Courtesy R.E. Olds Transportation Museum)
Students at J.W. Sexton High School, across the street from one plant, learned to drive in GM-donated cars, and played sports while GM workers cheered from the factory rooftop.
At the time, said Alex Hernandez, 62, a third-generation GM worker who grew up in the neighborhood, it was easy to overlook the occasional controversy over factory dust landing on neighborhood cars, or unpleasant smells wafting through the air.
"That area was happening," Hernandez said.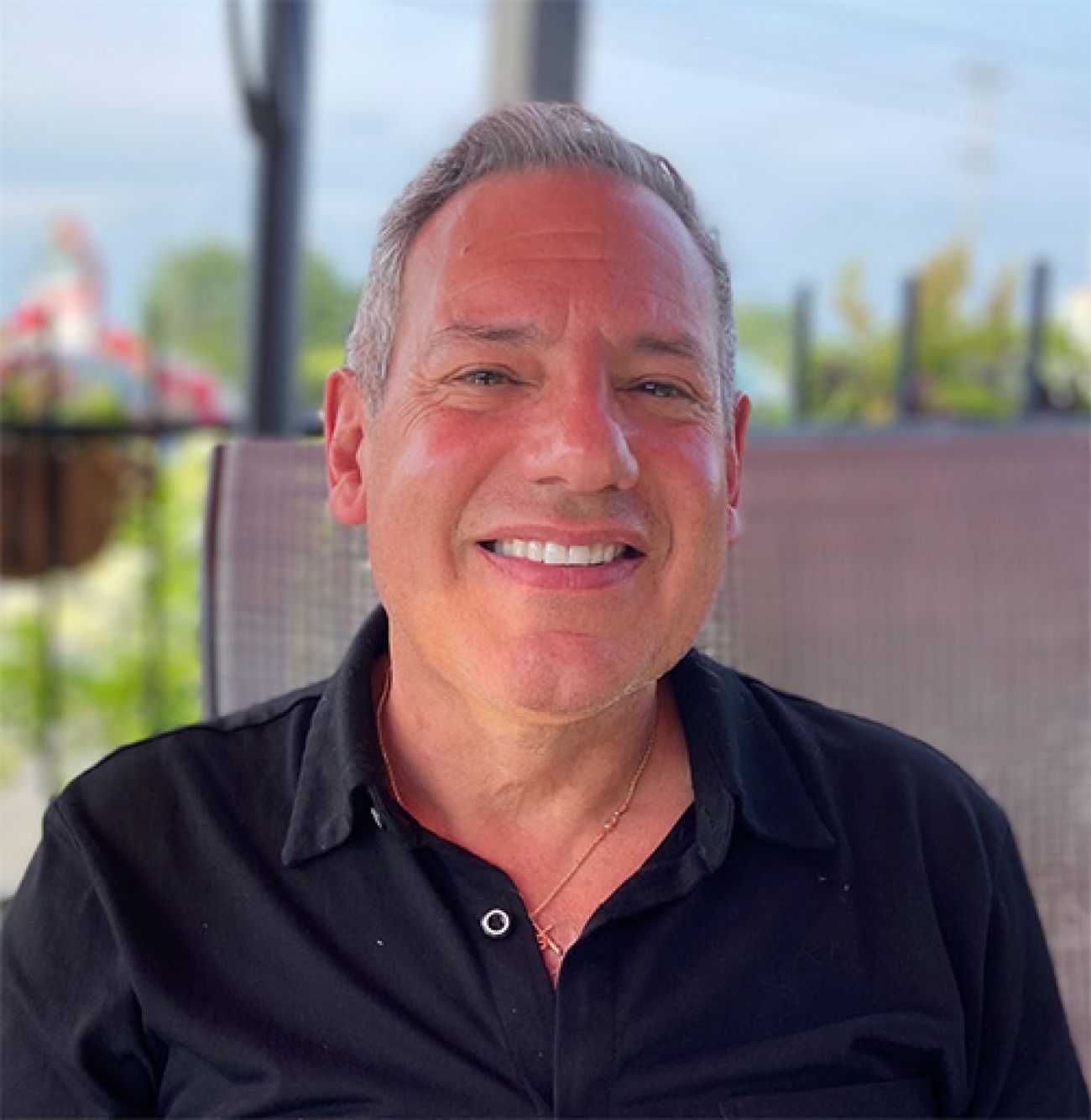 Alex Hernandez, a GM worker who grew up and worked in the neighborhood near the Lansing plants before they were demolished. (Bridge photo by Kelly House)
GM's Lansing-area workforce peaked at about 23,000 in the late 1970s. At shift change, the community was alive with activity.
"Nowadays, it's dead," said Jeff Mascoli, whose body shop adjacent to the old GM complex is among businesses that remain.
By 2007, financially-struggling GM demolished the plants, leaving concrete rubble and polluted soil and groundwater. GM was later allowed to abandon the sites along with 86 other unwanted properties in 14 states during its 2009 government-orchestrated bankruptcy.
The move freed the company from hundreds of millions of dollars in environmental and tax liabilities, leaving the public to cover cleanup costs.
Two years later, the U.S. Bankruptcy Court created the RACER Trust — an acronym for Revitalizing Auto Communities Environmental Response Trust — which is responsible for cleaning up the abandoned properties and preparing them for redevelopment. The trust was given nearly $500 million to get the job done.
But RACER officials soon learned some properties were dirtier than anticipated.
At the closed Lansing sites, they discovered groundwater containing 1,4-dioxane, an industrial solvent that can cause cancer in those chronically exposed. In 2016, they found PFAS "forever chemicals" that are also likely carcinogens.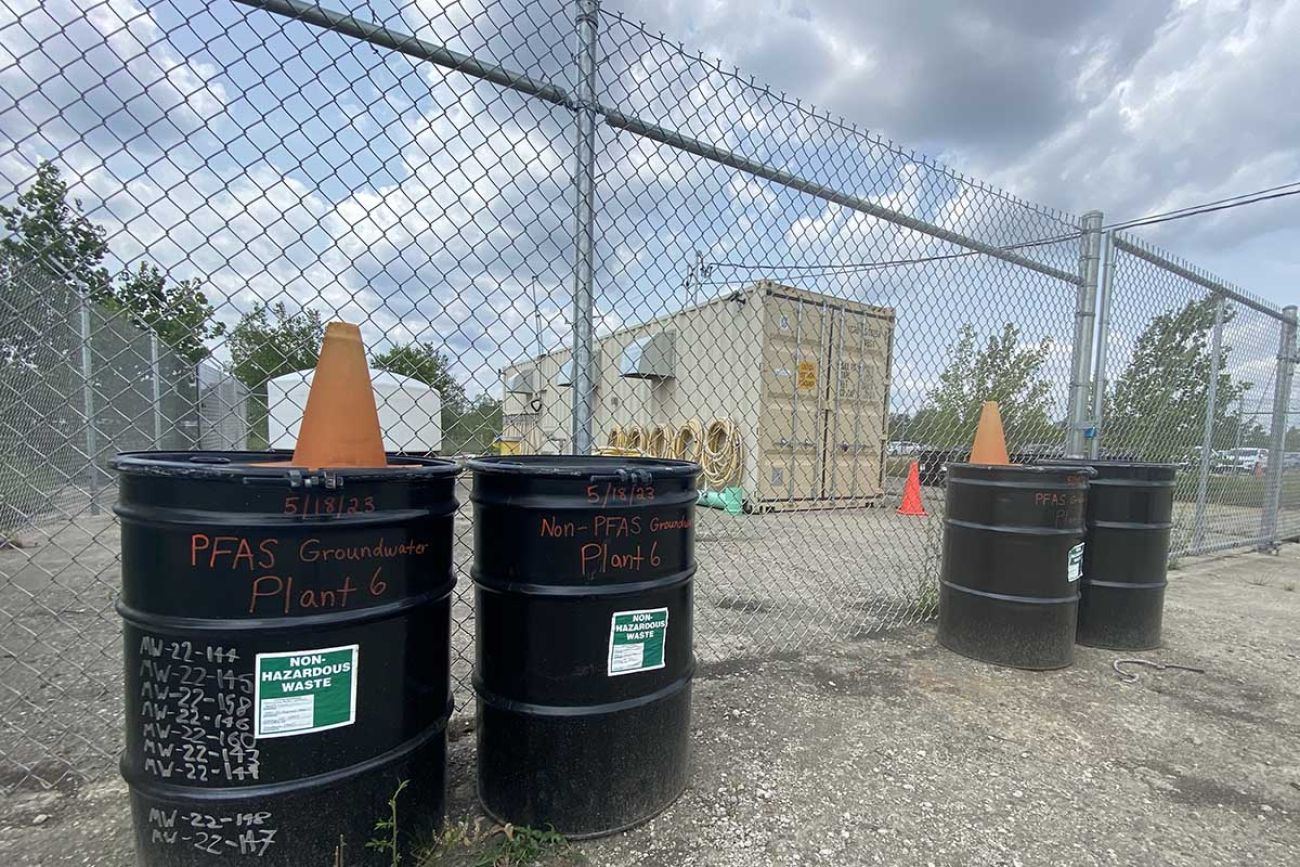 Drums full of PFAS-tainted groundwater rest in front of a biosparge system, which pumps bacteria and propane underground to break down 1,4-dioxane at the former General Motors property in Lansing. (Bridge photo by Kelly House)
The response to those newfound pollutants broke the $14.7 million budget for cleanup at the Lansing sites, forcing Michigan to dip into a "cushion" fund shared with other states. Spending so far approaches $22 million. Dave Favero, RACER's deputy cleanup manager for Michigan, said millions more are needed to finish the job.
GM, which posted $9.9 billion in net profits last year, is under no obligation to help cover those new costs. After its bankruptcy reorganization, today's GM is legally considered a different company than the one that abandoned the factories.
Similar cost-overruns complicate efforts at other former GM properties, including the sprawling former Buick City complex in Flint. There, it has cost the public $31 million so far to get a portion of Buick City cleaned for redevelopment, plus tens of millions in state and local subsidies to clear concrete.
Developer Ashley Capital has promised to return jobs to Buick City, but only after Flint agreed to $72 million in tax incentives to reimburse Ashley for the expense of building on a brownfield. It was a contentious decision in a city with a general fund budget of just $66.7 million. But some city leaders saw no other option.
"Nobody wants to buy a property that's contaminated," said Quincy Murphy, who represents surrounding neighborhoods on the Flint City Council. "It's unfortunate that we have to give them a tax break because they've got to come and clean up a site that they didn't create, nor did the residents create."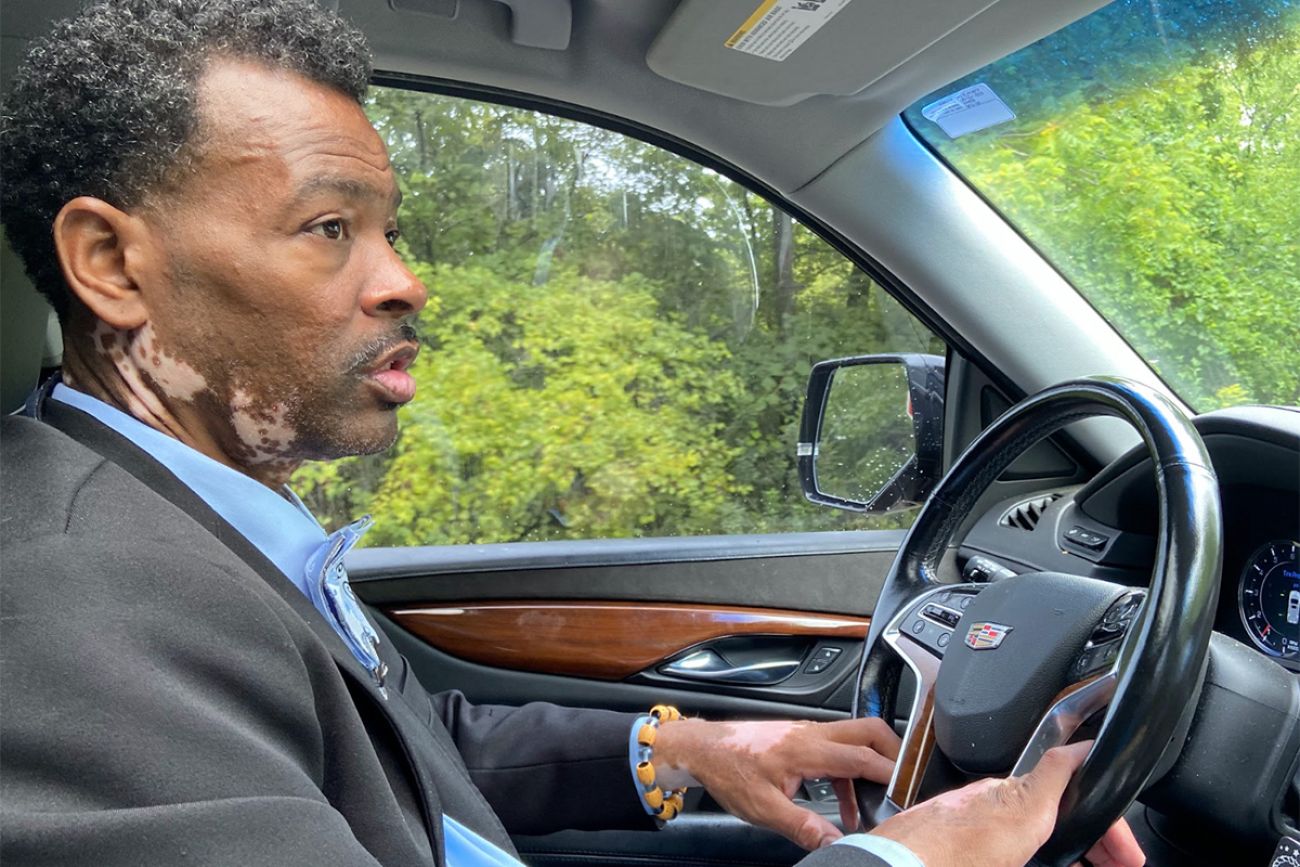 Flint City Councilman Quincy Murphy drives through his childhood neighborhood, adjacent to the former Buick City complex that employed thousands of Flint residents. After the plants disappeared, so did many of the neighborhood's residents. (Bridge photo by Kelly House)
That's unlikely to be the last public payout.
Bill Callen, a spokesperson for RACER, said the cushion funds being used to address PFAS-related cost overruns at Buick City and other former GM sites are "not expected to be sufficient." If money runs out, Callen said, other state or federal dollars will be required to finish the job.
Lansing Township pays the price
While the 235-acre Lansing properties sit vacant, the community is left waiting for a turnaround.
The neighborhood thinned out after workers and neighbors left. The tax base in Lansing Township declined 27 percent. Neighbors watched property values suffer and wondered if their health would, too.
"My biggest frustration is that we're left with this property," said township Supervisor Maggie Sanders. "We're left with the contamination and the state is giving money to other areas to develop battery plants and develop parts suppliers. And here we sit."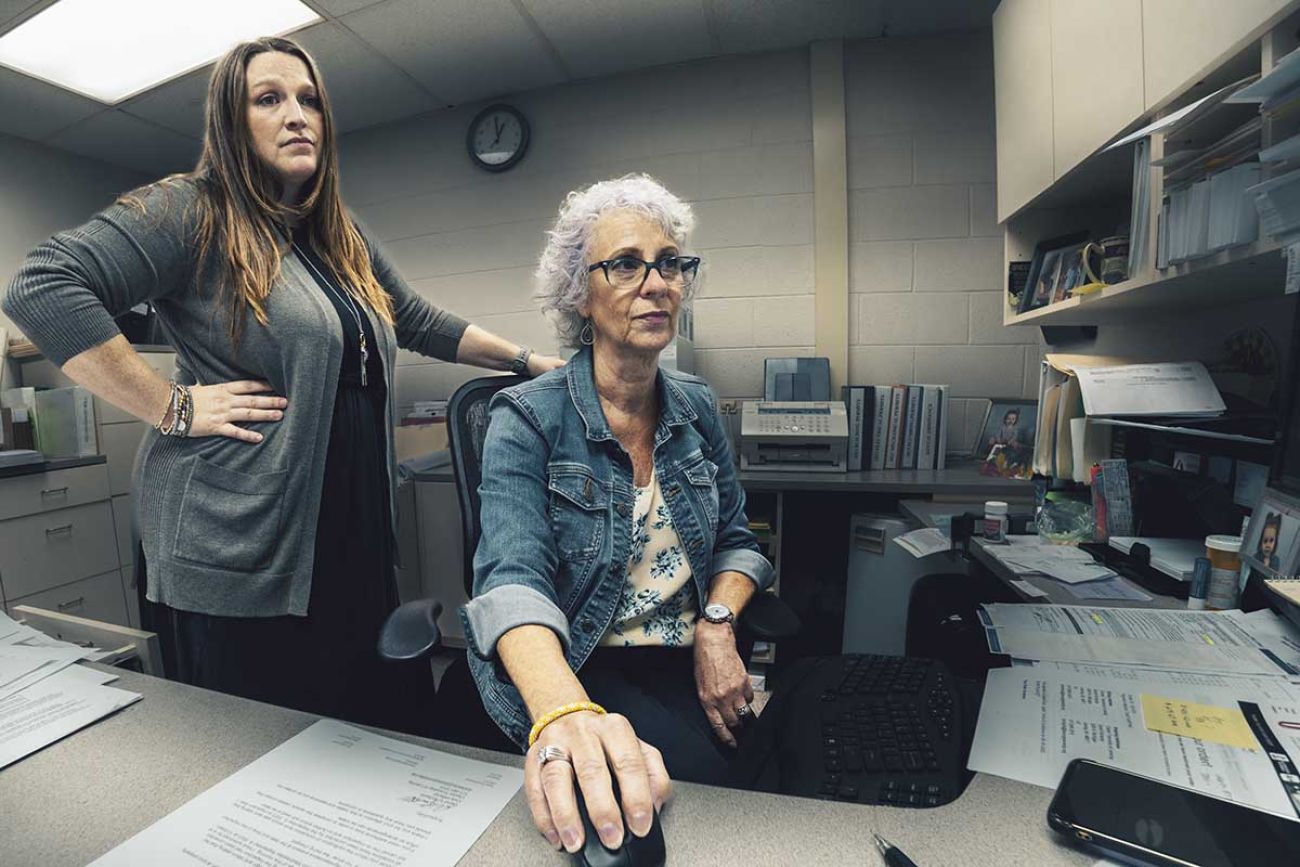 Maggie Sanders, Lansing Township supervisor, and DeeAnn Overton, her deputy, say the community hasn't financially recovered since General Motors closed its three Lansing-area factories. (Bridge photo by David Ruck)
GM would not discuss the Lansing plants or the environmental practices at the planned Ultium battery facility in Delta Township. The company redirected questions to an Ultium spokesperson, who said waste management will comply with "all applicable federal, state, and local environmental regulations."
NorthPoint Development, a Kansas City company that specializes in industrial redevelopment, agreed to buy the former GM sites in 2016, but seven years later the deal still hasn't closed.
While cleanup continues, Lansing officials say they will soon ask the state for $15 million to remove concrete and asphalt to make part of the property more enticing.
Hernandez, the third-generation worker, said he recognizes auto jobs are fewer, lower paid and more tenuous than before. But he said GM takes environmental issues more seriously these days, and he's confident its new plant in Delta Township won't join its predecessors as poisonous brownfields when it closes.
That's little consolation to neighborhood residents like Garza, the woman who lives across the street from the former Lansing plants, and next door to a contaminated former metal plating shop.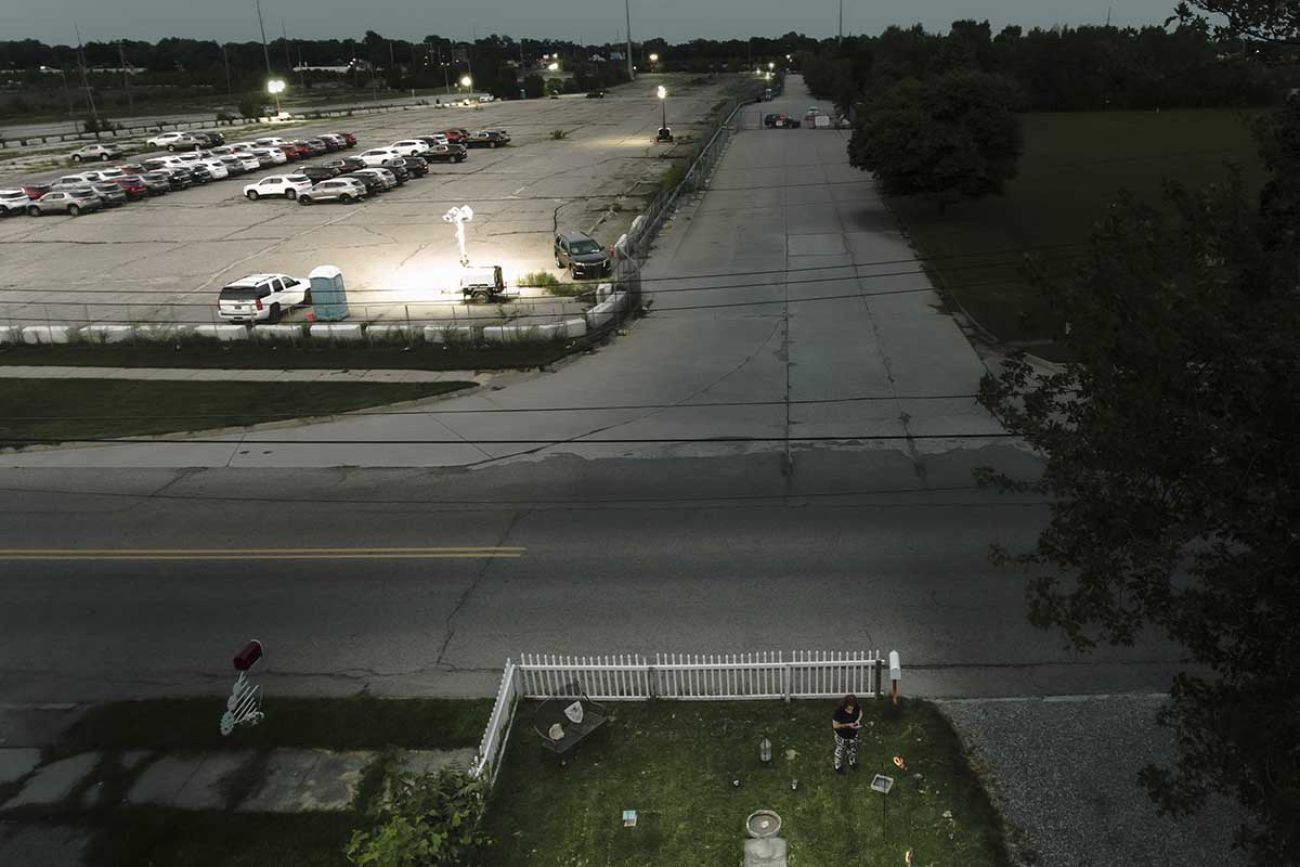 Carol Garza stands in her yard, illuminated by the floodlights in the vacant former auto factory across the street. (Bridge photo by David Ruck)
Garza said she tries to make the most of her situation. Bright flowers grow on her freshly painted deck. Solar lights twinkle after sunset. There's a pool for her grandkids in the backyard.
With few nearby jobs to match her skills, she commutes to work at a factory in the suburbs. She said she sometimes thinks about how nice it would be if she could simply walk to work, like generations before.
Gesturing at the blight across the street, she said, "But who would want to buy that?"
Photography and graphics
David Ruck is principal photographer on this project. Sean Coté of Data Driven Detroit is principal graphics/data design specialist.
Michigan Environment Watch
Michigan Environment Watch examines how public policy, industry, and other factors interact with the state's trove of natural resources.
Michigan Health Watch is made possible by generous financial support from:
Our generous Environment Watch underwriters encourage Bridge Michigan readers to also support civic journalism by becoming Bridge members. Please consider joining today.
Only donate if we've informed you about important Michigan issues
See what new members are saying about why they donated to Bridge Michigan:
"In order for this information to be accurate and unbiased it must be underwritten by its readers, not by special interests." - Larry S.
"Not many other media sources report on the topics Bridge does." - Susan B.
"Your journalism is outstanding and rare these days." - Mark S.
If you want to ensure the future of nonpartisan, nonprofit Michigan journalism, please become a member today. You, too, will be asked why you donated and maybe we'll feature your quote next time!