Small supplier, big mess: Jackson pays the price of auto industry pollution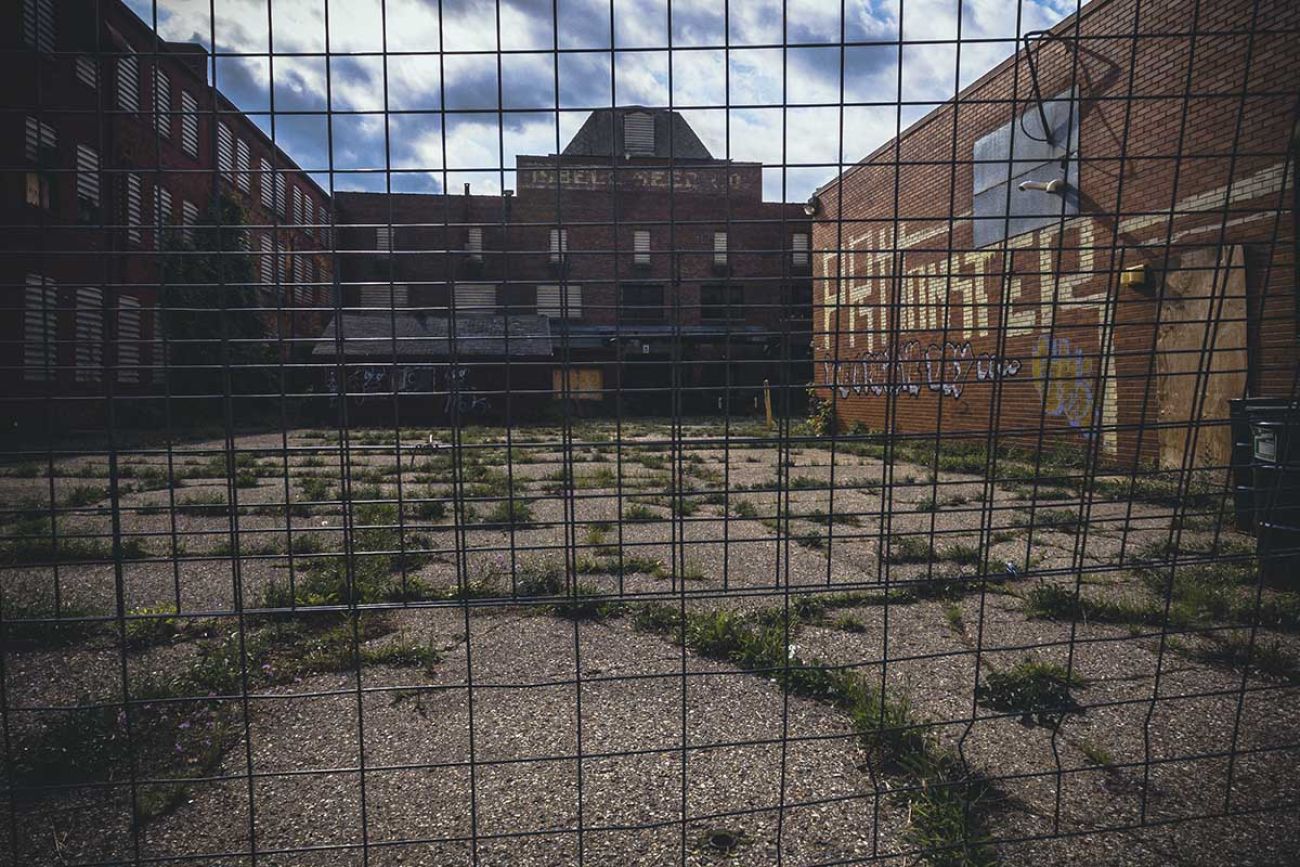 Michner Plating operated for nearly seven decades at this facility in Jackson, before closing and leaving toxic chemicals in the soil and groundwater. (Bridge photo by David Ruck)
Michner plating spent 7 decades adding shine to seat belt buckles before closing shop and leaving behind a multimillion dollar cleanup tab.
It's among a host of contaminated sites in Michigan linked to small auto suppliers that went bankrupt, leaving contamination behind.
JACKSON — Just north of downtown Jackson, tucked between a residential neighborhood and the Grand River, a graffiti-tagged former metal plating shop has the sad distinction of being Michigan's newest federal Superfund site.
Michner Plating spent nearly seven decades adding shine to seat belt buckles and other automobile parts at 520 N. Mechanic St., before declaring bankruptcy in 2007 and closing shop. The facility, soil and groundwater were left soaked in noxious chemicals.
Only when the U.S. Environmental Protection Agency arrived in 2015 did Karen Muse realize that she and her husband, Jeff Froelich, were living next to a toxic site.
"We saw guys with hazmat suits walking around and carrying out barrels of stuff," said Muse, whose basement is now equipped with a fan system that keeps cancer-causing vapors from escaping the soil into her home.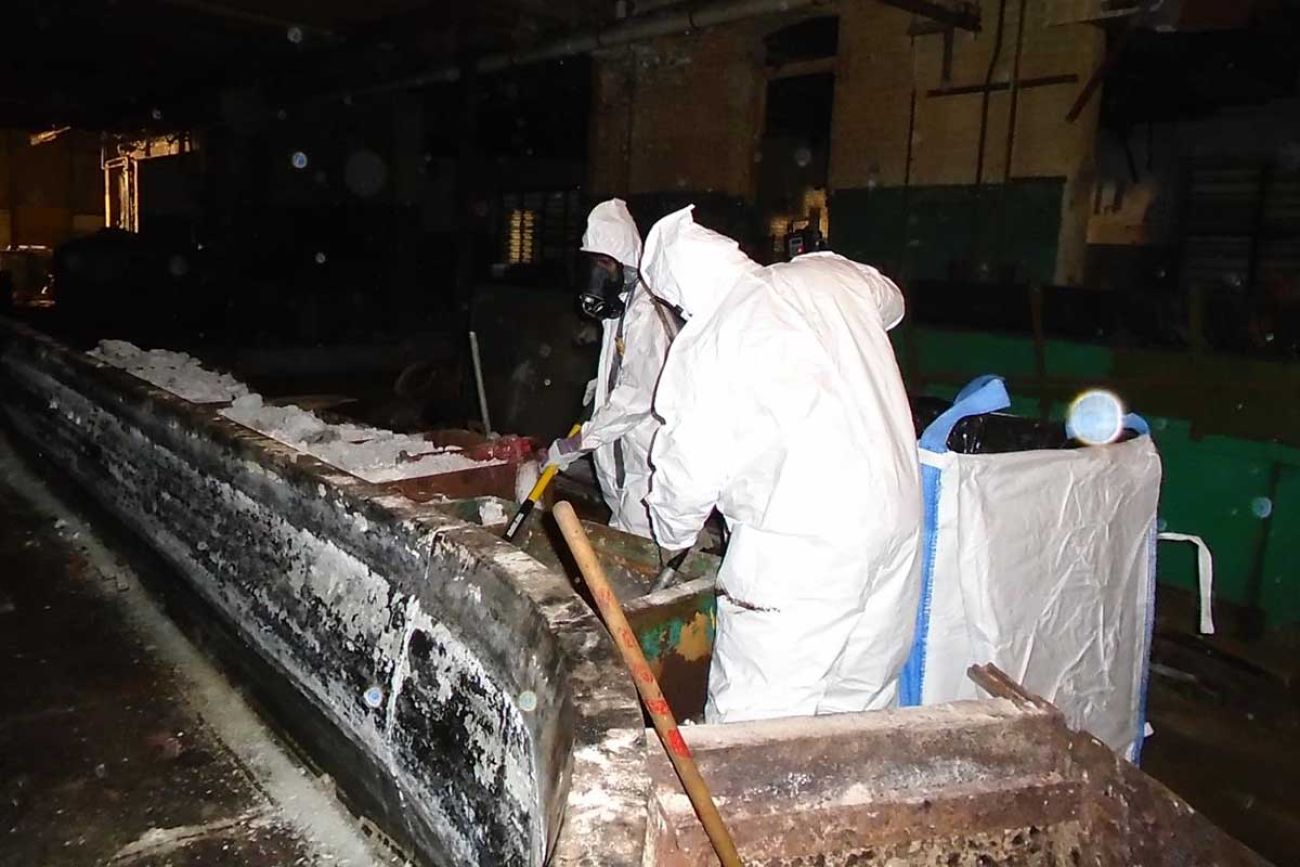 Workers remove solid waste from a vat at Michner Plating during an emergency cleanup operation in which crews removed 1,100 drums and hundreds of other containers of hazardous waste. (Courtesy U.S. EPA)
Records show state and federal taxpayers have spent $4.6 million on cleanup so far at this and a second former Michner factory in Jackson. The Mechanic Street property was designated last year as a Superfund site — a term for the nation's worst-of-the-worst contaminated properties — which likely means years of work and millions more dollars to complete the job.
Until then, the city is left with blight on otherwise desirable riverfront property adjacent to Jackson's resurging downtown.
"For lack of a better term," said Aaron Dimick, the city's spokesperson, "they pollute, and then we get screwed over."
Join us for live discussion Thursday on Michigan's industrial legacy
On Thursday, Sept. 28 at 12 noon, Bridge Michigan business editor Paula Gardner and environment reporter Kelly House will discuss their industrial legacy reporting project. Senior editor David Zeman will moderate this interactive discussion. Bring your questions!
Communities across Michigan continue to pay for the auto manufacturing industry's polluted past, while the state doles out record-breaking incentives to subsidize the industry's future. The pollution is most visible in massive closed factory sites that burden communities from metro Detroit to Grand Rapids.
But small suppliers like Michner represent some of the costliest sites in Michigan. They often handled hazardous chemicals with financial margins that made them ill-equipped to cover cleanup costs when something went wrong. And when they go out of business, taxpayers are often left with the bill.
'Captive' suppliers
Jeff Gearhart, research director at the Ecology Center, a national environmental health nonprofit based in Ann Arbor, said the Michner saga represents an overlooked aspect of the auto industry's environmental costs.
"The (auto) plants are the things you notice," he said, but "the supply chains are really deep, too."
Of 109 contaminated sites in Michigan where Bridge Michigan could quantify costs the public is paying for auto industry contamination, half are suppliers, including companies that provide plastics, chemicals, textiles, metals and more to automakers.
Plating facilities, which coat metal and plastic parts with shiny metal coatings, are especially prominent on the state's cleanup list. Most in Michigan cater to either the automotive or aerospace industry, said Beth Gotthelf, general counsel for the Michigan chapter of the National Association of Surface Finishers.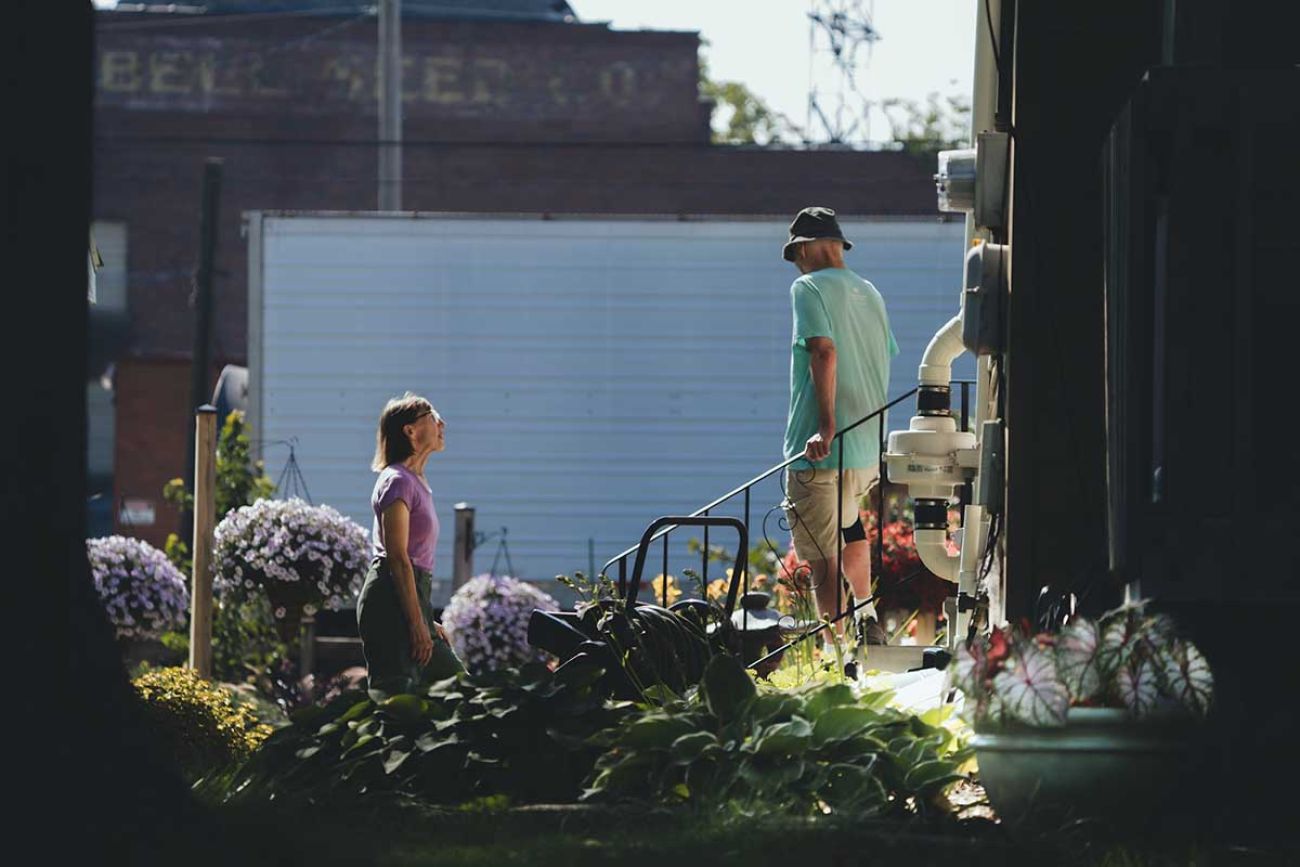 Karen Muse and Jeff Froelich stand in their garden across the street from the polluted Michner Plating site. In the foreground, a special system keeps toxic chemical vapors out of their basement. (Bridge photo by David Ruck)
These facilities often handle dangerous substances including carcinogenic hexavalent chromium used to coat some products, PFAS-based mist suppressants that protect workers from hexchrome fumes, and volatile organic compounds used in degreasing and cleaning solvents.
The process poses such an environmental hazard, experts told Bridge, that automakers largely stopped doing plating in-house by the 1980s. They preferred to contract out the work to suppliers, which often could do it for less while bearing liability for any environmental mishaps.
The move also helped automakers evade the PR consequences of being linked to contamination, said Gearhart of the Ecology Center. When problems emerged at no-name shops that supply companies like Ford, Stellantis and General Motors, "there's no brand risk of them being tied to it."
The financial burden has often landed on the public.
Michigan's plating industry includes some bigger suppliers, along with many small companies that tend to be more likely to pollute, and less likely to afford the cost of cleanup.
"The ones that we struggle with are the old ones that started up in a pole barn somewhere, and just did stuff in tanks," said Joshua Mosher, assistant director of the Michigan Department of Environment, Great Lakes and Energy's Remediation and Redevelopment Division. "They probably didn't have environmental personnel, any type of experience or education on how to handle" hazardous chemicals.
Michner's poor maintenance had been on regulators' radar as early as the 1970s. Before closing in 2007, the company's Mechanic Street facility received state environmental violations nearly every year for two decades, along with repeated local violations.
Shane LaPorte, Jackson's community development director and a former police officer, remembered his first call there, years before the business closed. Its interior seemed ancient and disorganized, he said.
"I remember just looking around and not being that familiar with industrial chemicals, but being familiar enough to think to myself, 'This looks very outdated,'" LaPorte said.
The full extent of contamination wouldn't be known until 2015, when Jackson County foreclosed on Michner's two properties after the company racked up $1.6 million in back taxes. Treasurer Karen Coffman soon realized that the county had inherited an environmental emergency.
"We found a significant and substantial amount of hazardous materials on both of these properties," she told EPA officials in a request for help.
At Mechanic Street, there were crumbling drums of hazardous waste in seemingly every corner. Many of them lacked proper labeling, with terms like "good cyanide" scrawled on paper taped to the containers. There were open carts of unlabeled white powder, and chemical vats leaking onto the floor.
In an emergency cleanup soon after, crews removed 1,100 drums and hundreds of other containers of hazardous waste, many of them leaking. More drums remain buried under the building, which backs up to the Grand River. Tests have revealed arsenic and hexchrome in drains that discharge into the river, volatile organic compounds in the soil, and PFAS in the groundwater.
The EPA is still studying the contamination, a process that could take years, said EPA spokesperson Macy Pressley. Only afterwards will the agency finalize a cleanup plan, figure out how to pay for it, and then begin the job.
'Taxpayers are being stiffed'
Bridge was unable to reach Jason Michner, who is listed on state regulatory records as the last in a string of successors to lead the family corporation before its foreclosure.
Given the site's history of problems, some in Jackson wonder why regulators didn't come down harder on Michner sooner, before the company was able to escape liability through bankruptcy.
"The taxpayers are being stiffed," said LaPorte, the community development director.
He sees the Michner saga as an example of how weak environmental standards and lax enforcement have allowed industrial pollution to fester unchecked across Michigan, saddling communities with health risks, cleanup costs and blight.
Manufacturing and plating industry officials say companies like Michner are an outlier — bad actors whose behavior does not reflect the broader sector. Today's plating industry is cleaner, with better waste management thanks to regulations passed in the 1970s and 80s, said Gotthelf said of the surface finishers association.
But many platers in Michigan have been in operation since before those regulations took effect. And state law doesn't compel companies to actively search for contamination from the past, or disclose contaminants they discover to regulators.
"Some of the old ones, they just keep going generation after generation," Gotthelf said. "So is there contamination? Probably."
Modern plating sites have sometimes had problems, too. An example is Tribar Manufacturing in Wixom, responsible for PFAS pollution in the Huron River and a weekslong public health scare following a spill from the facility last year.
Some say automakers should share some of the blame. Suppliers like Michner are captive to the industry, which dictates their manufacturing processes down to exacting specifications. Gearhart, of the Ecology Center, argued that automakers could set higher environmental standards, too.
For more than a year, the Ecology Center has been pushing the industry to stop demanding parts plated with hexavalent chromium, a toxic metal that gives rims, mirrors and grilles a distinctive shine. There are safer alternatives for many applications, though the shine would look different.
"We haven't gotten any commitments from them to do such a thing," Gearhart said.
Gotthelf, of the platers association, said its members have been "aggressively" lobbying to switch to safer trivalent chromium. But their customers, including automakers and the Department of Defense, are hesitant to let go of hexchrome.
"Nothing would make the platers happier than to see that switch," Gotthelf said.
Ford, Stellantis and General Motors did not grant interview requests, though the companies sent emails touting their environmental and sustainability standards.
A new regulatory paradigm?
It's not uncommon for industry to repeatedly stonewall regulators on pollution issues, only to declare bankruptcy after deeper contamination comes to light.
In Flint, Lockhart Chemical Company is among the latest to pollute Michigan then walk away. The company, which manufactured chemicals for industries including the auto sector, was cited repeatedly for decades over environmental violations at its factory north of downtown Flint.
Most recently, in 2021, regulators raised concerns about a utility tunnel Lockhart was using to contain tainted wastewater. The tunnel was not designed for that purpose, and regulators feared it could leak. Lockhart claimed it was structurally sound.
As negotiations over a solution dragged into June 2022, a fisherman reported a major spill in the Flint River. The source was a breach in Lockhart's tunnel. With response costs mounting, Lockhart declared bankruptcy four months later.
For now, Lockhart's roughly $6.7 million estate is paying for cleanup efforts. But Michigan is competing with dozens of creditors for a share of the funds.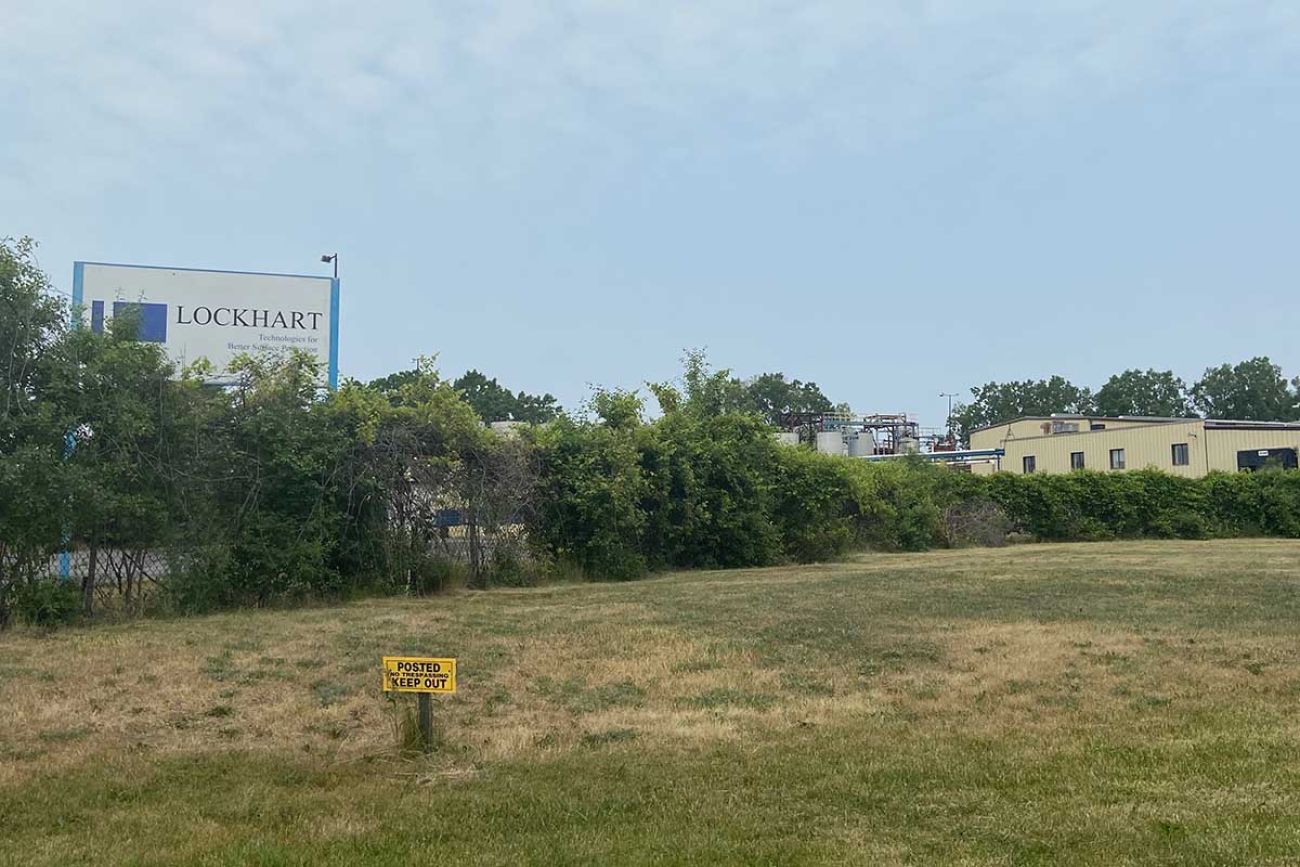 Lockhart Chemical in Flint stalled as regulators pressed it to address environmental risks at its chemical plant. The company then went bankrupt after causing a major spill in the Flint River. (Bridge photo by Kelly House)
Cheri Meyer, an EGLE field operations manager, said in addition to polluting the river, the breach likely contaminated onsite soil and groundwater. It's not clear how much it will cost to remediate, and whether taxpayers will wind up covering those costs.
As Michigan continues to absorb private industry's pollution bills, lawmakers say they'll soon consider reforms designed to force industry to disclose contamination problems sooner, and give the state greater oversight over cleanups.
Lawmakers may also consider requiring pollution-prone industries to set aside funds for eventual cleanup or pay fees into a state cleanup kitty, making it less likely taxpayers will pick up the tab when polluters go bankrupt.
It's not clear what will happen to the Michner site in Jackson once environmental remediation is complete. Ideas include redeveloping it into affordable housing, or maybe a riverside park. All of those possibilities are years away, at best.
As for Muse, whose property is polluted by the vacant factory? She'd take anything, she said, so long as it was cleaner.
Michigan Environment Watch
Michigan Environment Watch examines how public policy, industry, and other factors interact with the state's trove of natural resources.
Michigan Health Watch is made possible by generous financial support from:
Our generous Environment Watch underwriters encourage Bridge Michigan readers to also support civic journalism by becoming Bridge members. Please consider joining today.
Only donate if we've informed you about important Michigan issues
See what new members are saying about why they donated to Bridge Michigan:
"In order for this information to be accurate and unbiased it must be underwritten by its readers, not by special interests." - Larry S.
"Not many other media sources report on the topics Bridge does." - Susan B.
"Your journalism is outstanding and rare these days." - Mark S.
If you want to ensure the future of nonpartisan, nonprofit Michigan journalism, please become a member today. You, too, will be asked why you donated and maybe we'll feature your quote next time!