For small town battling Nestlé, Michigan's permit doesn't end water saga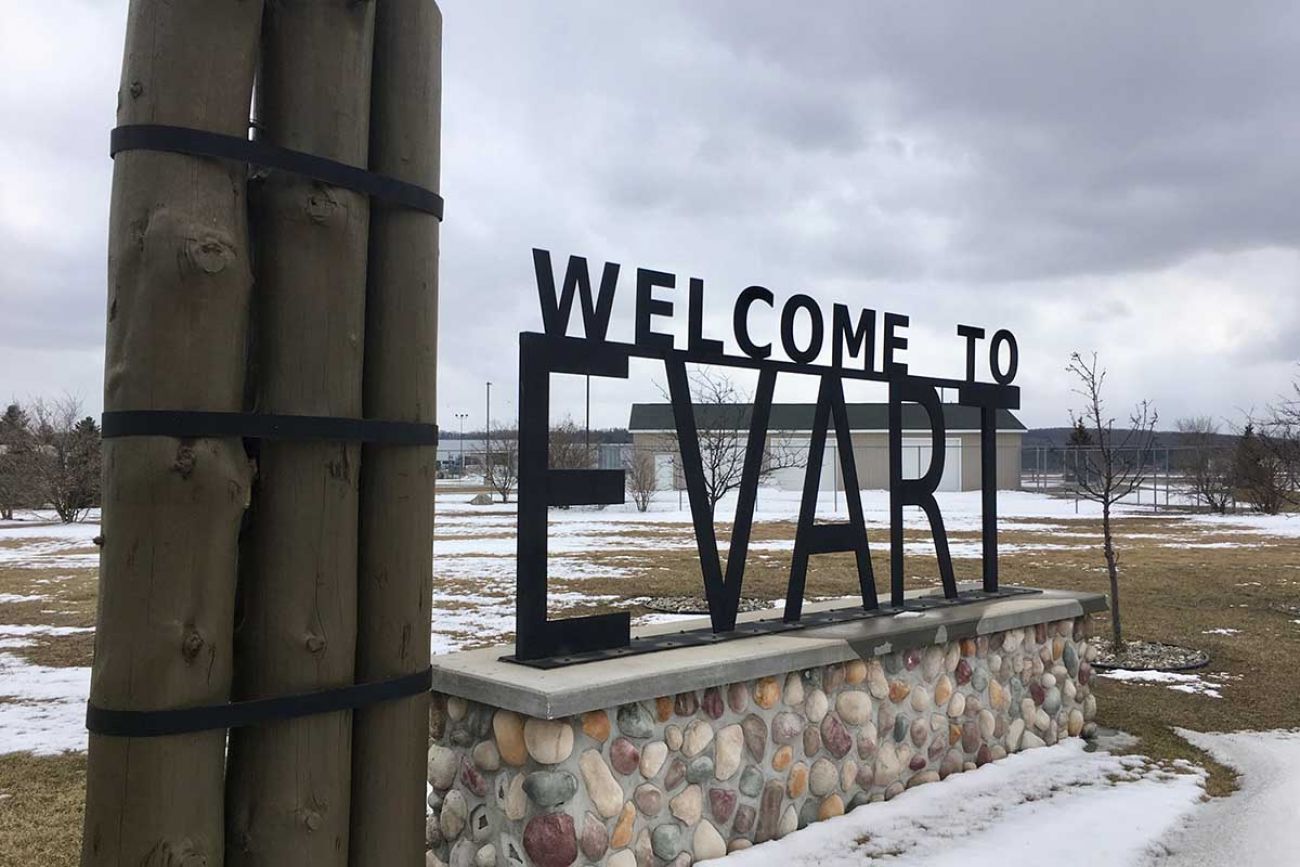 Update: Nestlé to allow feds to monitor water withdrawals in central Michigan
EVART — Manning the grill in his one-window burger joint, Jerry Collins briefly contemplated his northwestern Michigan community's relationship with Nestlé Waters North America Inc.
"They're taking a lot of water," said Collins, who moved the diner to this side of Main Street from the other in "let's say '73."
"I don't like it, but it won't make much of a difference."
Collins may be resigned, but others are energized and vowing a fight after the Michigan Department of Environmental Quality in April approved plans to allow Nestlé's Ice Mountain water bottling brand to pump up to 400 gallons per minute — more than 210 million gallons per year — from a well just outside of Evart.
Related: Most states charge little for water bottlers like Nestlé, like Michigan
Related: Michigan Truth Squad: Democrat candidates blast Nestlé's 'free' water
The proposal generated statewide outrage, and the larger fight against Nestlé's withdrawals may have just begun.
Water lawyers are eying several avenues for challenging the DEQ permit, first at the agency and possibly in court. Such a battle would echo an early 2000s courtroom showdown, when conservationists and property owners — worried about environmental damage — successfully limited Nestlé's pumping in nearby Mecosta County.
"The DEQ's permit is by no means the last word," said Noah Hall, a professor of environment and water law at Wayne State University who has represented conservation groups in past challenges of Nestlé.
Michigan Citizens for Water Conservation, a group that previously sued Nestlé over its withdrawals, said last week it was preparing to contest the permit.
"The state of Michigan has clearly bent the law to favor Nestlé," the group wrote in a statement, arguing the state granted the permit without "real data" about the environmental impact of the withdrawal.
"It is a backwards approach to the requirements of law and science."
Blessed with water
Evart, population 1,900, sits along the Muskegon River about 80 miles northeast of Grand Rapids. Besides Nestlé's footprint, the town is known as host of the "Grand Daddy" of all dulcimer festivals — the world's largest gathering of those who play the typically trapezoidal stringed instrument.
Residents crave jobs, and maintaining city services is a challenge. Surrounding Osceola County has a poverty rate of 23 percent — eight percentage points above the state average, according to U.S. Census Bureau. At least half a dozen storefronts along Evart's Main Street are vacant. A note on the door of City Hall last month informed visitors mold spores had forced staffers to relocate to the municipal airport.
Related Michigan water stories:
But the area is blessed with a vital resource: high-quality groundwater.
Nestlé Waters North America sees dollar signs in the water. The company churned out $4.5 billion in sales last year from 27 bottling factories for a dozen brands in the U.S. and Canada — including the Ice Mountain facility in Stanwood, about 30 miles southwest of Evart. Nestlé isn't the only water bottler in Michigan (Plymouth-based Absopure is the biggest in-state competitor), but it's by far the biggest water consumer among such companies.
The Ice Mountain plant draws 1.1 million gallons each day from nine wells, according to the DEQ. Evart owns two of the wells, charging Nestlé the same $3.50 per-thousand gallon rate residents pay. Last year, the conglomerate paid the town $313,000 for 88 million gallons of water, according to City Manager Zackary Szakacs.
Two wells are at the plant site and others are dispersed around the countryside outside of municipal water systems. They include the White Pine Springs hole in Osceola Township, where Nestlé has bought hundreds of acres of land. That's where Ice Mountain in 2016 sought to boost pumping from 250 to 400 gallons per minute, triggering the latest controversy.
The proposal drew a record 81,020 public comments to the DEQ, only 75 of which were in favor.
"Most of them related to issues of public policy which are not, and should not be, part of an administrative permit decision," DEQ Director Heidi Grether said in awarding the permit last month in what she called "most extensive analysis of any water withdrawal in Michigan history."
Local reaction
Several locals told Bridge Magazine they were uncomfortable — if not outraged — by the decision, though a few who opposed it suggested the community would feel differently had Nestlé built its factory here rather than miles away.
Nestlé, which would not make anyone available in an interview but answered emailed questions, called itself a "good neighbor and an active partner in Michigan for 16 years."
"We value our positive relationships with residents and community leaders, "the company told Bridge.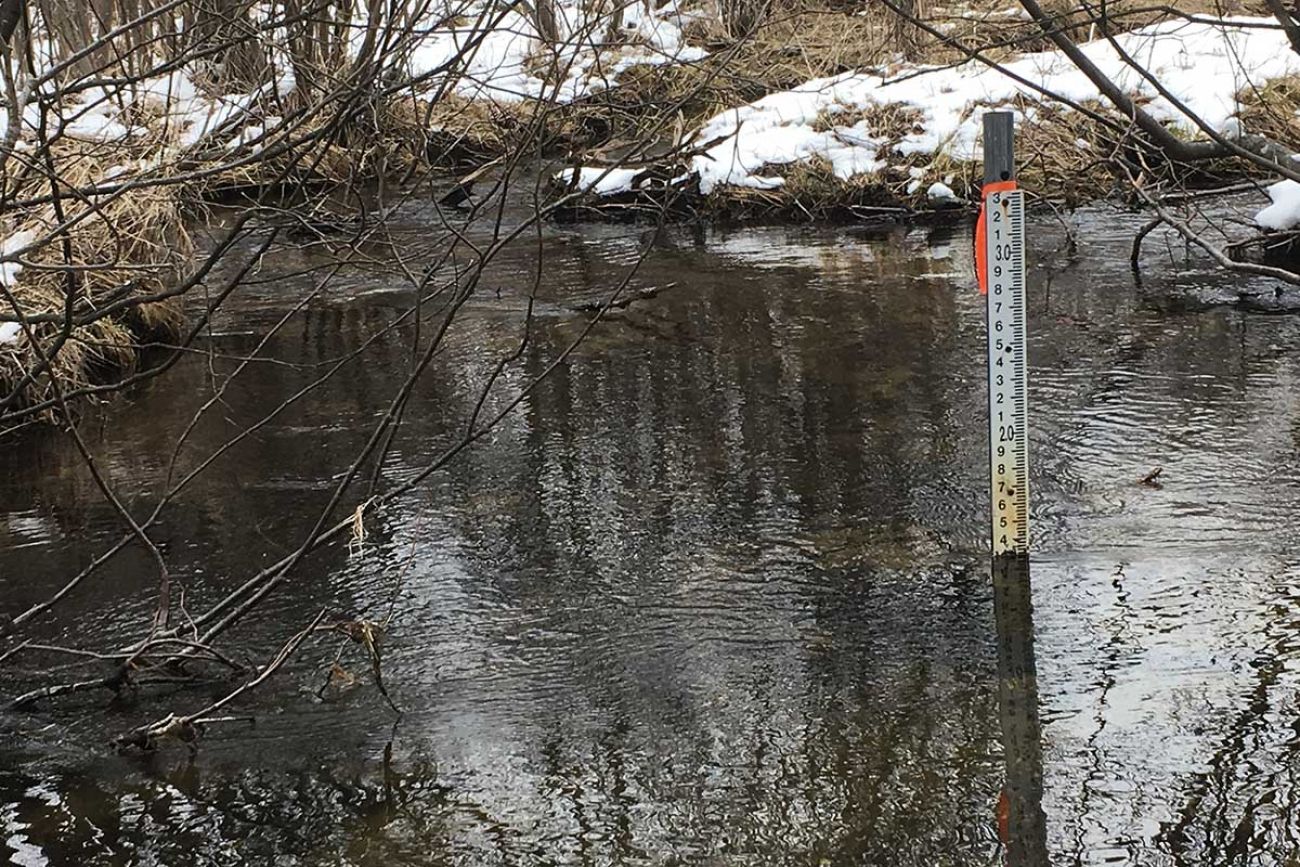 That includes Szakacs, Evart's city manager.
Bristling at the negativity, he argues the city benefits plenty. A handful of Evart residents commute to work at Ice Mountain, he said. (Nestlé says more than 50 live "in the Evart area.") More crucially, he said the company's water contract has kept the city from hiking rates even higher after another huge user, auto parts supplier Ventra, dramatically reduced its consumption.
"I really like what Nestlé does for the city of Evart," Szakacs said. "We generate a lot of revenue. If I didn't have that revenue, I'd have to lay a lot of employees off."
Rich, but finite supplies
Michigan is more freshwater-rich than any other state. Still, the resources are finite. Voluminous withdrawals in some — but not all — areas can strain local supplies and damage ecosystems, according to a 2006 legislatively mandated study.
A small stream with any amount of groundwater feeding it "can be adversely impacted by a single high-capacity well," the study says.
That's why the DEQ regulates major groundwater withdrawals, while environmentalists and citizens groups apply their own scrutiny. Science alone is supposed to drive decision making.
Statewide, water bottlers guzzle less than 1 percent of total consumptive water use, according to the DEQ. Nestlé is the Michigan's 85th biggest water user, excluding public water and energy providers. Some 90 percent of large water withdrawal requests came from the agriculture sector, according to DEQ data analyzed by Trout Unlimited, which advocates for anglers.
But that has little bearing on whether Nestlé's pumping from one township would harm local ecosystems, the 2006 state study suggests.
And springs — where Nestlé is legally required to pump its water if it's to use the "spring water" label — are often some of the most "fragile and vulnerable water resources," according to Hall, the Wayne State University professor.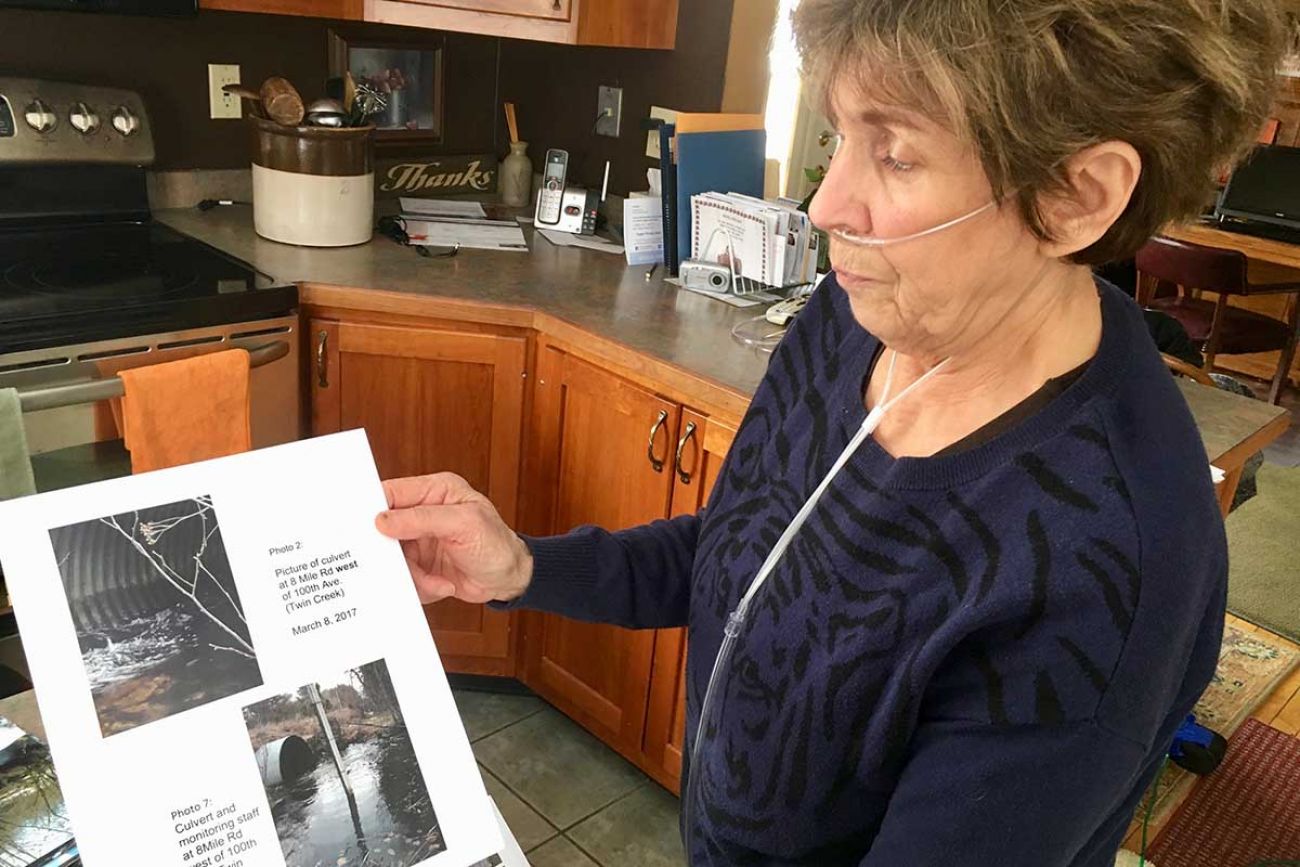 Though Nestlé hasn't yet fully increased its pumping in Osceola County, Maryann Borden, who lives close to the well, is among those who believe the company's actions have already shrunk local streams.
"This is what I panicked about," she said on a snowy April day as she descended a short hill behind her home, peeled back a tree branch and pointed at the trickling waters of Twin Creek.
For decades, the retired truck driver said she could stand on her deck and hear the creek "babble along" — the sound of a mini waterfall splashing onto rocks. Not anymore. The creek, which Borden figures is now half the size it was just a few years ago now gently edges islands it once flowed over.
Nestlé denies that it's to blame.
The company says its scientists have seen no sign of lower flows in streams from its years of monitoring, and "there are multiple private dams on the streams in the vicinity of Evart, which can impact natural water levels at certain points along the river."
The DEQ's decision, Nestlé said, supports its argument that more withdrawals "will not have a negative impact."
Historic court battle
Nestlé's critics call that argument far-fetched.
They point to a landmark legal case in which Michigan landowners argued — with some success — that Nestlé's plan to pump 400 gallons per minute in Mecosta County, just south of here, would wreak hydrological havoc.
Michigan Citizens for Water Conservation sued after DEQ permitted pumping from Mecosta wells in 2001 and 2002. Following a 19-day trial that featured thousands of pages of documents and scientific analysis, a Circuit Court judge ordered Nestlé to halt its pumping.
In 2005, the Michigan Court of Appeals reversed some of the lower court's findings but held that Nestlé's proposed pumping rate was "unreasonable." The parties would later settle on a pumping rate of 218 gallons per minute.
Jim Olson, a Traverse City environmental attorney with For Love of Water, a nonprofit advocacy group, was among those challenging Nestlé in the Mecosta case and his firm is representing the conservation group this time around. He said pumping from Osceola Township would likely cause harm, particularly because headwaters in the area — small tributaries flowing into larger rivers or lakes — tend to behave similarly.
"We know what happens in headwater creeks and streams in Michigan from (the Mecosta Township) case," he said. "We have a real-world litmus test here."
Olson said Nestlé's opponents may also try to poke holes in the way DEQ handled the permit application — such as requiring the company to submit a water monitoring plan after securing the permit, instead of before.
Last week, Michigan Citizens for Water Conservation noted the state gave Nestlé a permit the same month it stopped providing bottled water to residents of Flint, and Detroit was preparing to shut off water to thousands residents for nonpayment.
"Those people should have first rights to the water that Nestlé is being given for free," the group said in a statement. "Instead they are asked to pay some of the highest bills in the country."
DEQ spokeswoman Tiffany Brown defended her agency's decision. "We take great care to assure that the process and outcome conform to the requirements of the law," she said.
The citizens group will first challenge the decision through a contested case overseen by an administrative law judge.
In response, Nestlé said it had "the highest degree of confidence" in the data supporting its application "and in the professional scientists who collect and evaluate the data for the state."
A separate challenge
Meanwhile, Osceola Township is trying to thwart Nestlé's expansion plans through a zoning action that the company has thus far successfully challenged in court. Unlike Evart, township officials don't run a municipal water system and say they don't benefit.
"In another five to 10 years, maybe not even that long, the footprint of this township and the surrounding communities are going to change," said Tim Ladd, the township supervisor.
"You see into the ground, but you can't take out a half a million gallons of water every 24 hours and not think that over time there's going to be a change."
Last year, the township denied Nestlé's zoning request to build a 12-foot by 22-foot booster pump house, a crucial building needed to move extra water from to the Stanwood plant.
Nestlé sued, and in December, Mason County Circuit Judge Susan Sniegowski sided with the company, ordering officials to issue a permit. The township is appealing, funding its legal fees through tens of thousands of dollars in donations from across the country.
Nestlé contends it has met the conditions and says its presence benefits the township, even if it doesn't pay for the water.
"In Osceola Township, Nestlé Waters pays the costs to build and maintain the infrastructure, energy and taxes, like all other Osceola Township businesses who do not rely on the neighboring Evart municipal supply, Nestlé told Bridge.
Michigan Environment Watch
Michigan Environment Watch examines how public policy, industry, and other factors interact with the state's trove of natural resources.
Michigan Health Watch is made possible by generous financial support from:
Our generous Environment Watch underwriters encourage Bridge Michigan readers to also support civic journalism by becoming Bridge members. Please consider joining today.
Only donate if we've informed you about important Michigan issues
See what new members are saying about why they donated to Bridge Michigan:
"In order for this information to be accurate and unbiased it must be underwritten by its readers, not by special interests." - Larry S.
"Not many other media sources report on the topics Bridge does." - Susan B.
"Your journalism is outstanding and rare these days." - Mark S.
If you want to ensure the future of nonpartisan, nonprofit Michigan journalism, please become a member today. You, too, will be asked why you donated and maybe we'll feature your quote next time!