With thousands of tainted sites, Michigan Dems eye return to 'polluter pay'
For nearly three decades since Michigan weakened its 'polluter pay' law, lawmakers have debated whether to reverse course
The move hastened redevelopment of contaminated sites, but left thousands of properties for taxpayers to clean up
Democrats say they're planning a renewed push for reforms, with Republicans and business groups seeing some common ground
---
In the span of five years — from 1990 to 1995 — Michigan whipsawed from passing some of the nation's toughest industrial pollution laws, to among the most lenient.
In the decades since, lawmakers have debated endlessly about whether it was the right choice.
Now, amid a recent power shift in Lansing, Democratic legislative leaders are vowing a renewed push this fall for so-called "polluter pay" legislation that would hold companies more accountable for cleaning up the pollution they created.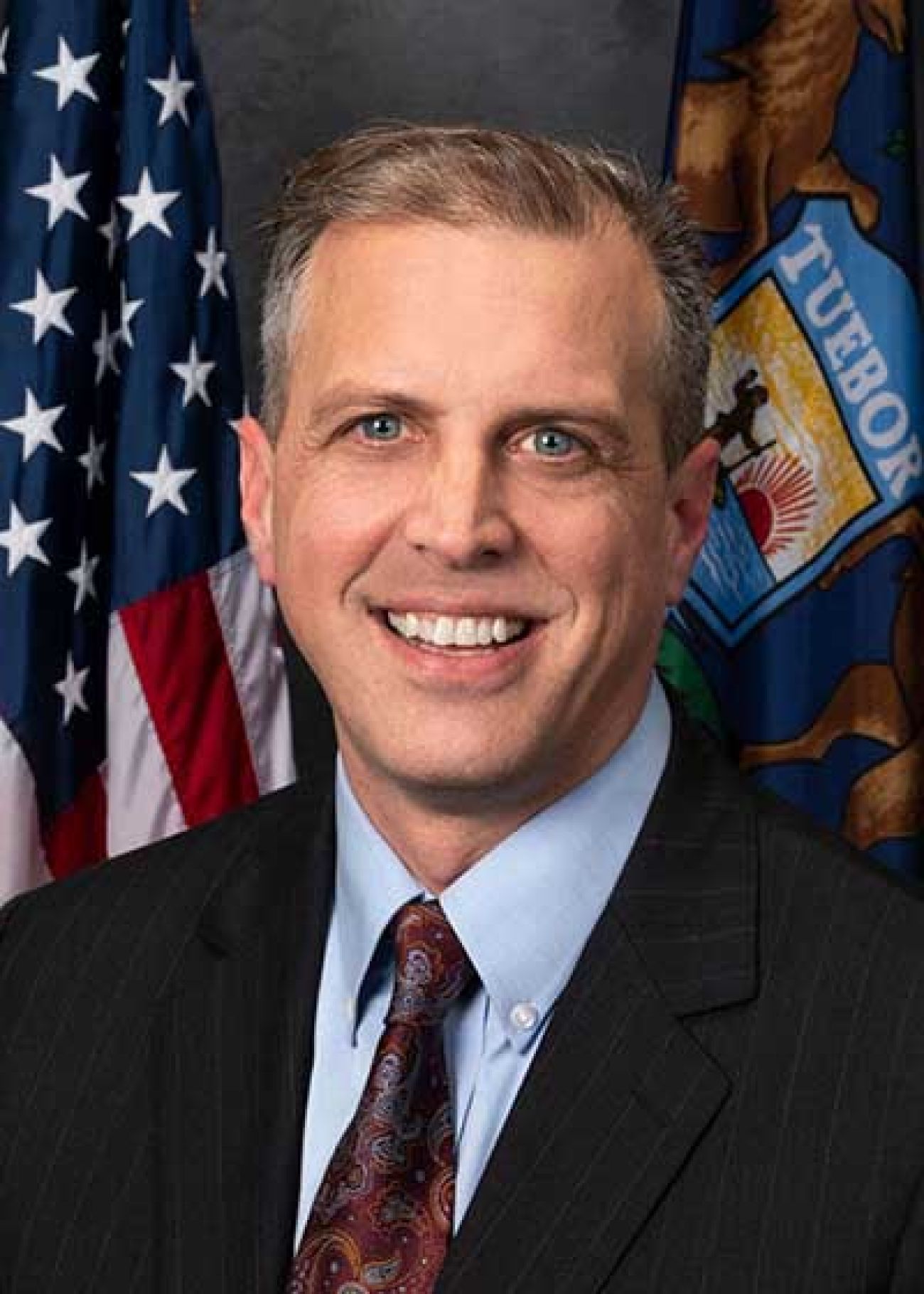 Sen. Jeff Irwin, D-Ann Arbor
"Our laws were geared to cater towards the needs of the businesses," said Sen. Jeff Irwin, an Ann Arbor Democrat, "not the needs of the people downstream or downwind of the business."
Irwin told Bridge Michigan he will push for more transparency from companies responsible for pollution, stronger regulatory oversight over cleanups, and more funds to address a growing backlog of contaminated sites yet to be remediated.
Supporters of the existing law say they're wary of big changes. And with limited time to pass legislation before lawmakers break for the year, it's unclear whether the "polluter pay" debate will gain more traction this year than in years past. Still, the two sides are finding some common ground.
How clean is clean enough?
The debate has roots dating back to 1990, when state lawmakers passed what at the time was considered among the nation's most stringent environmental cleanup laws.
Modeled after a similar federal law, the Michigan Environmental Response Act cast a wide net as lawmakers looked to hold industry responsible for generations of accumulated pollution. Anyone who owned or operated a contaminated site at any point in its history could be held responsible for cleanup. If they believed they didn't cause the problem, it was up to them to prove it.
The law forced more polluters to pay the cost of contamination. Records show that state collections of private money for cleanups skyrocketed from nothing in 1990 to $18 million in 1994. Beyond that, said Lana Pollack, the former state senator who authored what came to be called the "polluter pay" law, the threat of future liability scared Michigan industries into operating more cleanly.
"It was the anticipation of costs that changed behavior," said Pollack, who left the Senate in 1994. "That often gets missed in the discussion."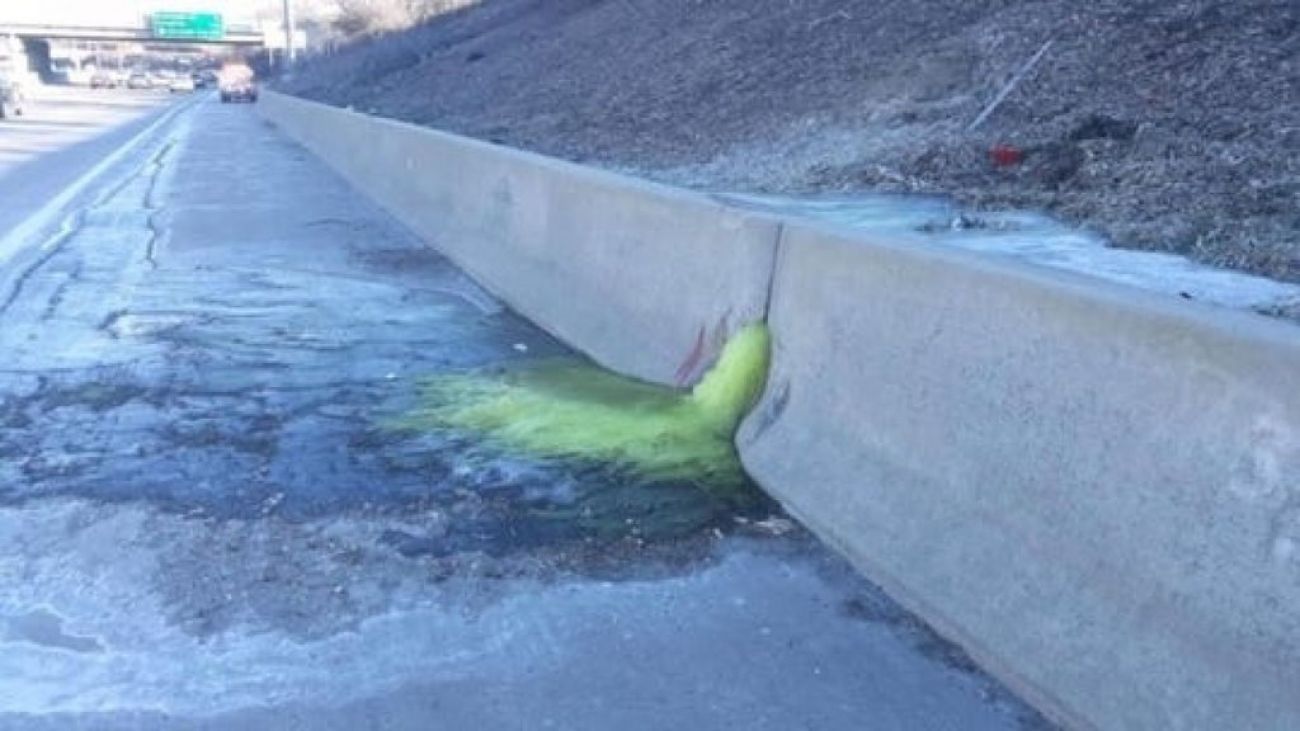 The 2020 "green ooze" incident on I-696 in Madison Heights is an example of how legacy pollution can linger unaddressed at Michigan industrial sites, only to bubble to the surface. (Bridge file photo)
But some saw the law's "strict, joint and several" liability as unfair to property owners, some of whom could be forced to remove decades-old pollution they didn't cause. The fear of inherited liability began to chill the real estate market in urban areas with the highest density of polluted sites. In turn, developers set their sights on greenfields.
"They were abandoning our core urban areas, because they realized the cost of that investment under the current environmental cleanup laws was just impossible," said Ken Sikkema, R-Wyoming, who was House Majority Floor Leader in the mid-1990s.
So at the urging of business groups and urban mayors, Sikkema led an effort to change the law. [Disclosure: Sikkema formerly served on the steering committee of The Center for Michigan, Bridge's nonprofit parent.]
Join us for live discussion Thursday on Michigan's industrial legacy
On Thursday, Sept. 28 at 12 noon, Bridge Michigan business editor Paula Gardner and environment reporter Kelly House will discuss their industrial legacy reporting project. Senior editor David Zeman will moderate this interactive discussion. Bring your questions!
New standards enacted in 1995 transformed Michigan from among the most stringent pollution cleanup states to among the most lenient. Under changes still in place today, state officials must prove who caused the contamination before they can force anyone to fix it.
That has proven difficult. In a state with 26,000 known polluted industrial sites, some of which have changed hands repeatedly, it can be near-impossible to prove who spilled what.
Adding to the challenge: State government has 43 fewer people dedicated to monitoring and rectifying contamination today than 30 years ago, when the list of known polluted sites in Michigan was far smaller.
The 1995 law also lessened requirements for those found responsible, tying cleanup thresholds to the land's intended use. A school, for instance, must be left cleaner under state law than a factory. And polluters can often avoid removal costs if they make sure no one is exposed to the pollution. That might involve, for instance, capping tainted solids under a parking lot rather than removing them.
Proponents of the 1995 laws credit them with lowering cleanup costs and jumpstarting reuse of vacant industrial land. The next year, 29 of 33 municipalities polled by the state reported an uptick in brownfield redevelopment.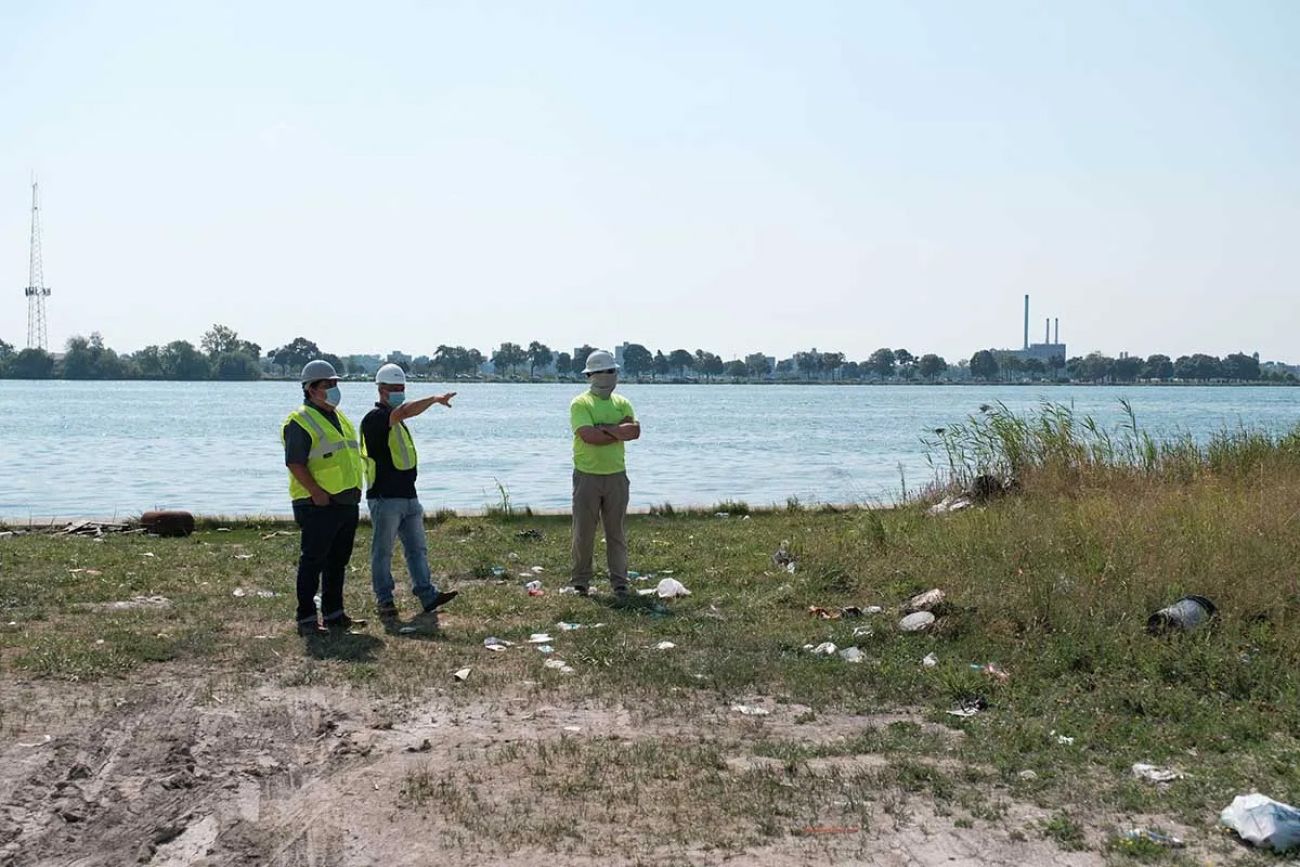 State officials spent years tracking down historical records dating back to the 1920s to prove Michelin, DTE, DuPont and Enodis contaminated the 40-acre former Uniroyal Tires site in Detroit. But with 26,000 contaminated sites in Michigan, it's impossible to do that kind of spade work for every site. (BridgeDetroit photo by Keenan Rivals)
A growing backlog
Environmentalists argue it wasn't worth the tradeoff.
"It's absolutely bananas to argue that allowing corporations and polluters to externalize the cost of their business by polluting air, water and soil is a good development tactic," said Christy McGillivray, political and legislative director at the Sierra Club's Michigan Chapter.
"Like, nobody's flocking to Three Mile Island."
After Michigan limited pollution liability, state taxpayers inherited thousands of so-called "orphan sites," contaminated property that couldn't be tied to polluters because they are no longer in business, bankrupt, unfindable or otherwise able to escape liability.
Architects of the 1995 law anticipated the public would have to pay for more cleanups, but the state has not given pollution cleanup programs enough money or staff to keep up.
Part of the problem is that legislative analysts in the 1990s dramatically underestimated how many contaminated sites exist in Michigan. They estimated there were 2,800, and figured it would take $4.3 billion to clean them all up.
Today, the list of known contaminated sites has ballooned to 26,000, half of which are orphans. And the true number of tainted properties is likely larger, but unknowable because most property owners aren't required to tell state regulators when they find contamination.
Records show the state has spent more than $1.5 billion on contamination cleanup, but officials acknowledge it has barely made a dent in the backlog. Officials at the Michigan Department of Environment, Great Lakes, and Energy (EGLE) estimate there are about 7,000 sites with unknown risks and not enough resources to investigate. Getting to all of them would take several billions of dollars, plus extra staff.
State funding routinely falls far short of that.
Bonding programs for contaminated sites have repeatedly run out of money, sending lawmakers scrambling for more. Cleanup funding within EGLE's Remediation and Redevelopment Division last year was just under $75 million.
Even with a boost to $174.6 million this year thanks largely to one-time dollars, it will take generations to clear the backlog at current rates of funding.
Communities living in the shadow of contaminated sites complain that cleanup delays stifle redevelopment, and perpetuate the greenfield sprawl that architects of Michigan's 1995 cleanup law said they wanted to prevent.
"At some point, we have to say we're not going to support destroying more land," said Shane LaPorte, community development director for the city of Jackson.
A push for reforms
Those critical of existing laws have not been able to change them. Now, with Democrats holding power for the first time in decades, Irwin said the timing is right for reform.
Irwin said he does not want to go back to the 1990 law that held anyone who owned contaminated land responsible. Instead, he said, he wants to boost state oversight of contaminated sites along with funding to remediate orphan sites.
He said he is working on legislation to require property owners to tell regulators when they find pollution, give EGLE more oversight over cleanup plans, and require more robust cleanups in some instances. A key goal is making it harder for industry to avoid pollution removal by defaulting to so-called "institutional controls" such as capping polluted soil.
"There should be some sort of path towards getting sites cleaned up, not just cordoning this resource off forever for the people of Michigan," Irwin said. "That to me is an unacceptable appropriation of public resources for private interests."
EGLE officials said they support some reform, including more transparency and regulatory oversight in the cleanup process.
Environmentalists want more sweeping efforts — namely a return to the stringent liability standards of 1990.
"Until the actual cost of production, which includes the cost of managing waste, is something that corporations absolutely must account for, we're going to continue to have generational public health problems that Michiganders personally foot the bill for," said McGillivray of the Sierra Club.
Republicans, who declined to entertain bills to strengthen Michigan's cleanup laws when they held a legislative majority until last year, say they remain hesitant.
"I sometimes think that the laws we put in place to stop that 10 percent (of bad actors), they just go find a new way to still disobey the law," said Dan Lauwers, a Brockway Republican and minority vice chair of the Senate Energy and Environment Committee.
Representatives for the Michigan Chamber of Commerce, the state's largest business lobby, said they are open in concept to changes, such as requiring more transparency from owners of polluted land. But they worry that requiring industry to remove more pollution, instead of containing it, raises the cost of redevelopment.
"We could sink $100 million into a single site, depending on what that cleanup standard is," said Mike Alaimo, the chamber's director of environmental and energy affairs. "That's the reality of living in a manufacturing state."
The need for more reliable cleanup funding appears to be an area of shared agreement among environmentalists, business groups and some lawmakers in both parties.
Where that money should come from is up for debate.
One option, Irwin said, is to mimic the federal Superfund program, which is funded in part by fees on chemicals that often cause contamination. Michigan could require polluting industries to pay into a kitty to cover costs at orphan sites.
Alaimo pointed to a similar model for the state's landfills. Landfill owners are required to carry assurances there will be funds to maintain the landfills after they close. But Alaimo cautioned that the chamber's support for such a solution would hinge upon how much of that cost businesses would be expected to shoulder.
Sikkema, the Republican who championed the 1995 changes, has another idea. If Michigan truly wants to see contaminated industrial sites revitalized, he said, it should devote as much public money to that effort as it does to other priorities, such as business incentives.
"My goodness," Sikkema said, "if you can give Ford Motor Co. a billion dollars to build a new site out in Marshall, you ought to be able to put another billion dollars into the state cleanup fund. That would go a long way."
Michigan Environment Watch
Michigan Environment Watch examines how public policy, industry, and other factors interact with the state's trove of natural resources.
Michigan Health Watch is made possible by generous financial support from:
Our generous Environment Watch underwriters encourage Bridge Michigan readers to also support civic journalism by becoming Bridge members. Please consider joining today.
Only donate if we've informed you about important Michigan issues
See what new members are saying about why they donated to Bridge Michigan:
"In order for this information to be accurate and unbiased it must be underwritten by its readers, not by special interests." - Larry S.
"Not many other media sources report on the topics Bridge does." - Susan B.
"Your journalism is outstanding and rare these days." - Mark S.
If you want to ensure the future of nonpartisan, nonprofit Michigan journalism, please become a member today. You, too, will be asked why you donated and maybe we'll feature your quote next time!