James Craig seeks to stay in Michigan governor race, says campaign 'defrauded'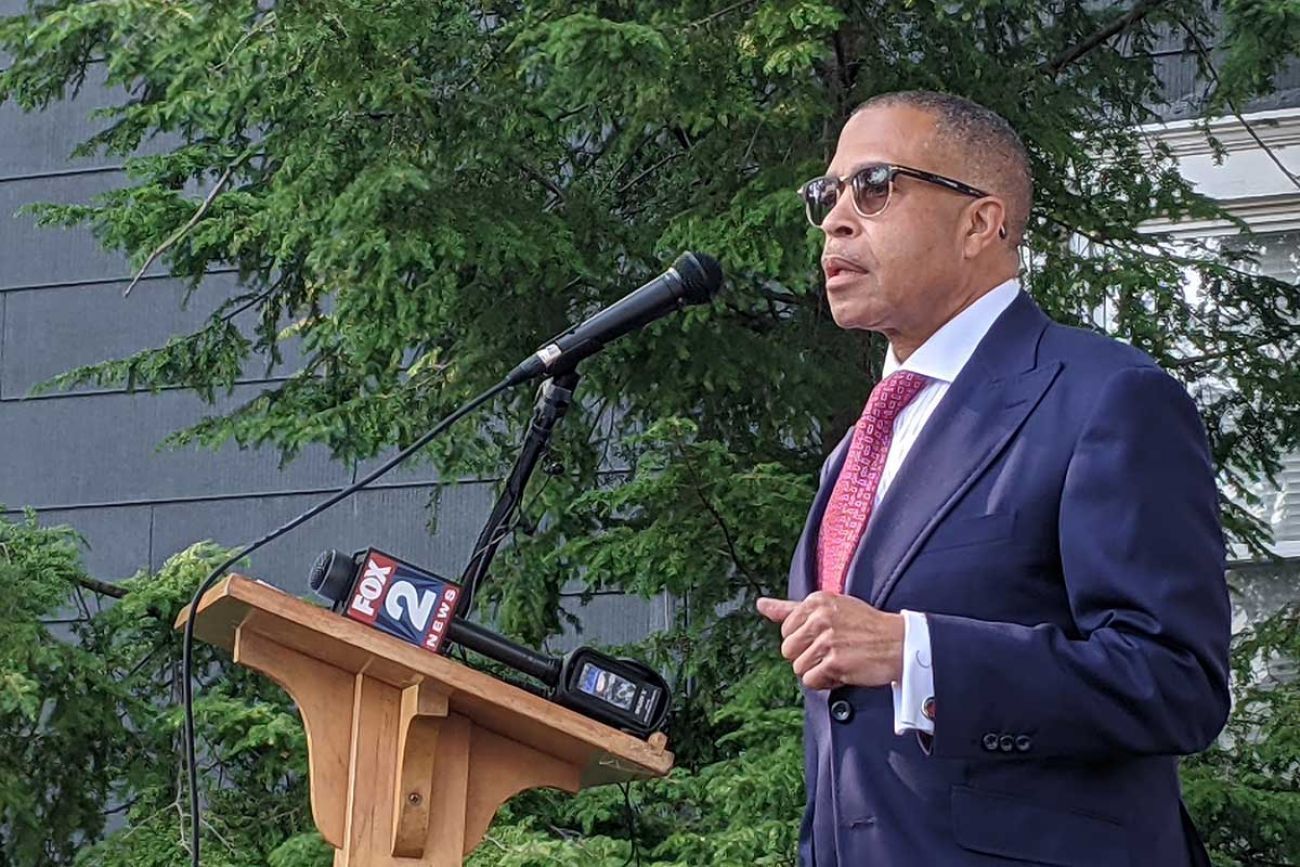 Former Detroit Police Chief James Craig says his campaign is a victim and shouldn't be bounced from the gubernatorial ballot. (Bridge file photo)
Michigan Government
James Craig seeks to stay in Michigan governor race, says campaign 'defrauded'
May 25: Michigan board to decide if Craig, Johnson, others make ballot: What to expect
May 24: GOP vows fight to keep candidates on Michigan ballot. 'This is far from over'
May 23: James Craig, Perry Johnson, three others shouldn't make GOP ballot, state says
LANSING – An attorney for James Craig says the Republican gubernatorial hopeful should still qualify for the primary ballot even if his campaign was "defrauded" by an alleged forgery ring.
The former Detroit police chief and GOP front-runner is battling ballot access challenges from both Republicans and Democrats.
Democrats want the state to toss out 6,933 nominating petition signatures collected by circulators involved in what they claim is a "massive forgery scheme."If their signatures are invalidated, Craig would be short of the 15,000 required to qualify for the August primary ballot.
Related:
Democrats have also challenged signatures submitted by Republican gubernatorial hopefuls Perry Johnson and Tudor Dixon, who are competing with Craig for the chance to take on incumbent Gov. Gretchen Whitmer, a Democrat.
In rebuttals filed with the state in the past few days and obtained by Bridge Michigan, attorneys for all three Republican candidates argue the challenges are flawed and should not disqualify them.
Craig's attorney acknowledged the alleged signature forgeries by eight circulators from Detroit and Mississippi, arguing that if true, "the instances of fraud injure not only the campaign and the voters whose names were wrongly affixed to the petition, but all of Chief Craig's supporters."
Still, the Michigan Bureau of Elections should review every signature filed by those circulators and not just invalidate every sheet they submitted, wrote Edward D. Greim, an attorney with the Graves Garrett law firm in Missouri, who twice referred to Craig as "Chief Clark."
"It is our belief that the petition remains valid," Greim wrote. "...A signature comparison will likely show that the circulators did not write in a sufficient number of false signatures to erase the comfortable cushion of supporters amassed by the campaign."
The Craig campaign filed its rebuttal on May 9 after missing the state's official May 6 deadline. The Bureau of Elections "will share that information with the Board of State Canvassers, and it's up to the Board whether they will accept it or not," state spokesperson Aneta Kiersnowski told Bridge Michigan.
Mark Brewer, an attorney with the Goodman Acker law firm who prepared the Craig challenge for the Michigan Democratic Party, said he agrees that the state should — and will — examine every signature on the petition forms.
"When that review is done, I believe (Craig) will not make the ballot," Brewer said. The campaign "will not have enough signatures," he predicted.
Michigan Strong, a super PAC supporting Dixon, has also challenged Craig's petitions, alleging a "combination of incompetence, invalidity, unregistered voters, and apparent fraud" should keep him off the ballot.
But both complaints rely on a "mass of hyper-technical challenges" and should be dismissed by the state, Greim wrote in the Craig campaign rebuttal.
'A complete waste'
Challengers claim the forgery ring used a "round-robin" technique to fill out each other's petitions by faking signatures from a list of legitimate voters. Tell-tale signs made fakes easy to spot: Similar handwriting, repeated spelling errors and consistent patterns across multiple petition sheets, according to the challenges.
As Bridge Michigan reported last week, many of the circulators accused of fraud on Craig petitions also collected signatures for at least three other candidates, including Johnson, the Bloomfield Hills businessman also competing for the Republican gubernatorial nomination.
In a Wednesday statement, Johnson campaign consultant John Yob argued it "a complete waste of government resources" for the state to investigate the Democratic challenge because it does not actually question enough individual signatures to keep Johnson off the ballot.
The complaint challenged 6,065 signatures, but Johnson submitted 22,700, which is 7,700 more than are required.
Democratic attorney Steven Liedel asked the state to investigate 343 petition sheets from the Johnson campaign that include signatures collected by six of the eight circulators accused of forging signatures for Craig.
But the state should not even investigate those petition sheets because the Democratic complaint did not actually make any concrete allegations of forgery, attorneys Jonathan Koch and Jason Torchinsky wrote in a Johnson campaign rebuttal.
The complaint "fails to point to a single fraudulent signature filed by the six circulators," Johnson's attorneys wrote. "Speculation isn't enough to invalidate signatures and deprive voters of their right to support a candidate for access to the ballot."
"Simply put, almost every aspect of his filing is disingenuous and wrong," said Yob. "It was a partisan and cynical attempt to disenfranchise the thousands of Michigan voters who signed the petitions to put Perry Johnson on the ballot."
Democratic claims that Johnson filed signatures from at least 66 dead voters also lack merit and should be ignored, the attorneys continued.
Other questionable signatures should be considered valid if they have "any redeeming qualities" to the version in the Qualified Voter File, they wrote, citing a standard Democratic Secretary of State Jocelyn Benson established for absentee ballots in the 2020 presidential election.
Liedel, an attorney who prepared the Johnson challenge, did not immediately respond to a request for comment on Wednesday.
Brewer, former chair of the Michigan Democratic Party, accused both Craig and Johnson of trying to "cover up forgery."
"They're desperately trying to avoid the overwhelming evidence," Brewer said.
'Puerile theory'
Attorneys for Dixon, meanwhile, accused Democrats of pushing a "puerile theory that insults the intelligence of Michigan voters and Bureau of Elections Staff" by attempting to keep her off the ballot because of an apparent error on her petition headers.
The Democratic complaint, also prepared by Liedel, alleges Dixon's petitions have a "fatal flaw" because every one indicated she is running for a term that expires in 2026. Under the Michigan Constitution, the next gubernatorial firm will actually expire at 11:59 am on January 1, 2027.
That should not keep Dixon off the ballot because petitions are not actually required to include an end-date, and it is "common public understanding" that a gubernatorial term ends four years after the election, wrote attorney Charlie Spies of the Dickinson Wright law firm.
The state of Michigan's own website indicates that former Gov. Rick Snyder and Jennifer Granholm's terms ended in 2018 and 2010, four years after their re-election, as opposed to January 1 of 2019 and 2011, respectively, Spies noted.
Regardless, "there is no ambiguity for petition signers or Bureau staff as to what office Ms. Dixon is running for" because her petitions clearly noted she was seeking to qualify for the Republican gubernatorial primary election in August.
"Michiganders – and Bureau of Elections staff – are smart enough to understand that there is only one gubernatorial election on the 2022 ballot, and for all practical purposes the term for
that office expires in 2026," Spies concluded. "Arguments to the contrary border upon frivolous."
Dixon turned in 29,735 nominating petition signatures, far more than the 15,000 required.
Democrats, however, have compared the Dixon petition error to a 2018 petition mistake by Democratic congressional candidate Matt Morgan, who was kept off the ballot that year after listing a P.O. Box on his nominating petition instead of a street address.
"The inaccurate, misleading and false information" included in the header of "every petition filed by the Dixon campaign violates the Michigan election law and voids those petitions," Liedel argued last week.
The Michigan Bureau of Elections is reviewing all nominating petitions, including the gubernatorial filings that have been challenged. The bipartisan Board of State Canvassers is scheduled to meet on May 26 for votes on whether to certify candidates for the ballot.
We're not just a news organization, we're also your neighbors
We've been there for you with daily Michigan COVID-19 news; reporting on the emergence of the virus, daily numbers with our tracker and dashboard, exploding unemployment, and we finally were able to report on mass vaccine distribution. We report because the news impacts all of us. Will you please support our nonprofit newsroom?