Michigan GOP mounts 'election integrity' push. Democrats fear suppression.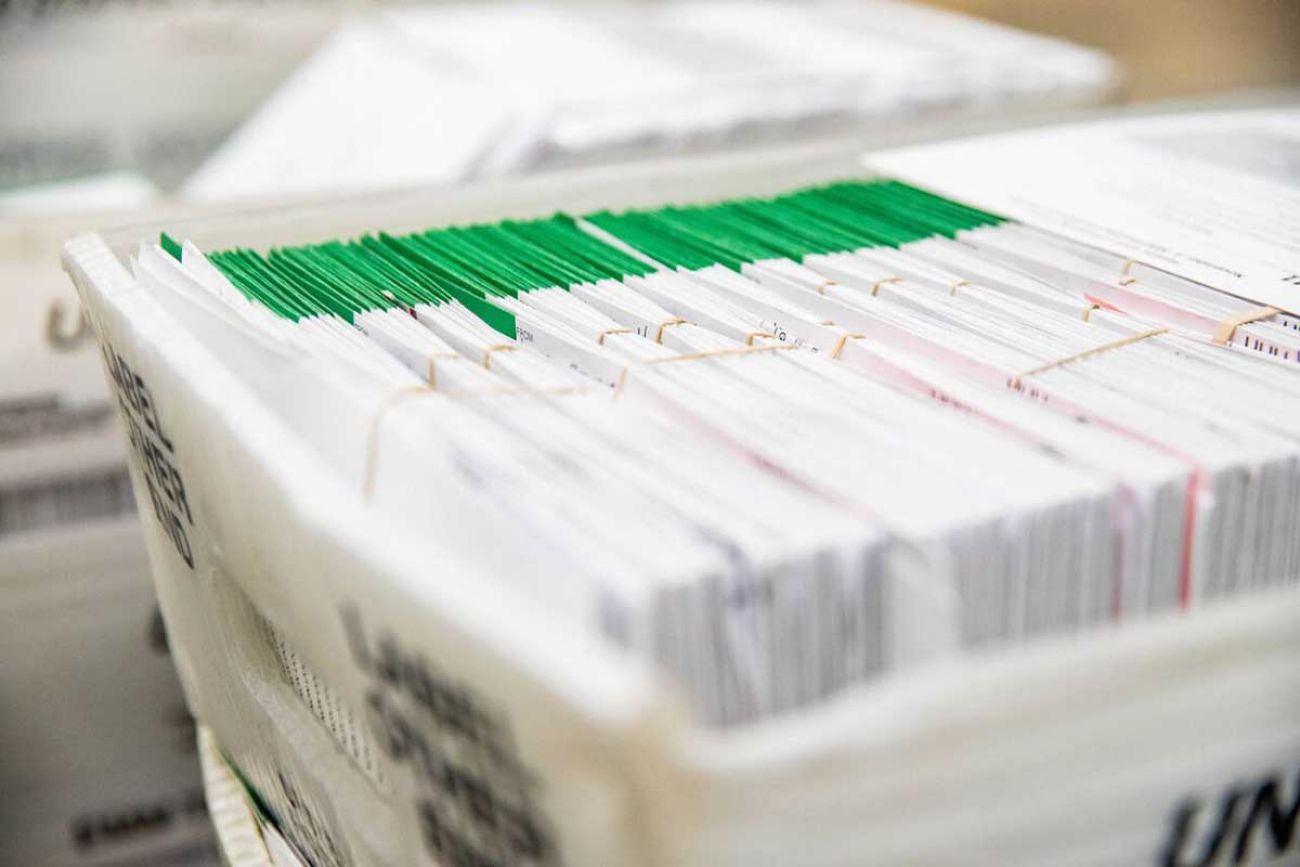 (Bridge file photo)
June 23: GOP investigation finds no Michigan vote fraud, deems many claims 'ludicrous'
April 9 update: We read all Michigan election reform bills. Many would add hurdles to voting.
LANSING — Republican activists who pushed false election fraud claims last year are planning a petition drive to tighten voting laws through legislation the GOP-led Legislature could enact without Democratic Gov. Gretchen Whitmer's signature.
Draft language unveiled this week by the newly formed Rescue Michigan Coalition would require photo identification for all absentee ballot applications, ban absentee ballot drop boxes and require clerks to verify absentee ballot signatures in public meetings, among other things.
Critics say the proposal would target Democrats and disproportionately affect minority voters, just over two years after Michigan voters overwhelmingly approved no-reason absentee balloting and other reforms.
Related stories:
The plan comes as Michigan Republicans prepare to introduce their own reforms that Majority Leader Mike Shirkey, R-Clarklake, said would include signature verification and photo identification proposals.
Following former President Donald Trump's false claims of fraud, Republicans nationwide are pushing hundreds of new bills to make voting harder. One group, Heritage Action for America, is reportedly planning to spend at least $10 million in TV ads and lobbying to persuade lawmakers in Michigan and seven other swing states to tighten voting laws.
"It's important for all people that they are able to have confidence in our elections, and they're able to know that the process has been carried out faithfully, and what we had in the last election was far from that," said activist Adam de Angeli, who is helping with the Michigan petition drive.
Among other things, the proposal would bar county canvassers from certifying an election if more than 5 percent of precincts are "out of balance" by more than one vote, meaning the number of ballots does not match poll book records.
That is "insane" and would punish voters for procedural errors by election workers, said Jonathan Kinloch, a Democratic Party official and former Wayne County canvasser who is now a county commissioner.
"It would be the biggest infringement on voter rights to ever be put into public policy in this state," he told Bridge Michigan.
The proposal would have effectively invalidated all votes last year in Wayne County, where about 29 percent of precincts were not balanced or explained.
Without Wayne County, including Detroit, Trump would have won Michigan by about 178,000 votes instead of losing by 154,188 votes.
The proposal could also impact other large counties including Oakland and Macomb, where 10 percent and 8 percent of precincts were reportedly out of balance in 2020, respectively.
Last year, de Angeli worked with Michigan United for Liberty, a group that rallied at the state Capitol against Gov. Gretchen Whitmer's lockdown orders, and was among the activists who urged state canvassers to refuse to certify President Joe Biden's win in Michigan.
In this campaign, he's working with Shane Trejo, the chair of the 11th Congressional District Republican Committee who runs a conservative blog called Big League Politics that Attorney General Dana Nessel last year accused of posting "misleading and deceptive information online that alleged Detroit poll workers were being trained to commit illegal acts."
Drop boxes targeted
Organizers say their language is subject to revision, and they're seeking public feedback before launching a statewide petition drive, which would require a massive volunteer network or upwards of $1 million to pay a signature collection firm.
The draft proposal would require absentee ballot applicants to provide a copy of their state ID or driver's license. Those without an ID could still vote, but their ballot would be considered "provisional" and subject to additional scrutiny.
The proposed "election integrity" initiative would also ban absentee ballot drop boxes that give voters an alternative to visiting their local clerk's office during business hours or trusting the U.S. Postal Service, which was plagued by service delays last year.
De Angeli and Trejo contend the drop boxes are vulnerable to tampering and are "not necessary given Michigan's extraordinarily long six-week absentee ballot period."
But the boxes are valuable for voters who don't want to rely on the U.S. Postal Service to deliver their absentee ballot on time or do not live near a clerk's office, said Ingham County Clerk Barb Byrum, a Democrat, who slammed the proposed initiative.
Under current Michigan law, voters applying for an absentee ballot only need to provide photo identification if they have never voted in an election before, which would have required identification or an affidavit of eligibility at some point in the past, she said.
Requiring ID for all applicants is concerning because older voters who stop driving may allow their license to lapse, Byrum told Bridge, and requiring applicants to provide a photocopy of their ID is "unreasonable because the average person does not have a printer."
"This is indicative of what we are seeing in Georgia and other states," she said, referencing a controversial election reform bill in Georgia that also proposes new absentee ballot ID requirements and limits on drop boxes.
"It is a tactic to disenfranchise voters," Byrum added.
The Rescue Michigan Coalition initiative would also:
Require clerks to verify absentee ballot signatures in public meetings, which election officials contend could create a logjam for clerks, whose staff typically verifies each signature on an absentee ballot at the time it is received.
Allow video recording of absentee voter counting proceedings, which the group claims would allow for "documentation of any evidence of misconduct" but critics say would jeopardize the guarantee of a secret ballot
Prohibit private entities from funding public election administration. The provision appears to target groups like the Center for Tech and Civic Life, which used a $350 million contribution from Facebook CEO Mark Zuckerberg and his wife to provide election administration grants to local clerks across the country in 2020.
Allow county canvassers to "rescind certification" if the initial vote occurred "under duress." Wayne County GOP canvassers Monica Palmer and William Hartmann last year tried to rescind their votes for certification that came after two hours of intense criticism during a public comment period.
The petition group is not coordinating with state lawmakers and not yet prepared to launch its planned petition drive, de Angeli said.
But if organizers are eventually able to collect more than 340,000 signatures required to advance the initiative, the GOP-led Legislature would have 40 days to consider the proposal and potentially enact it into law.
That would allow them to avoid a veto from Whitmer, which would be all but certain if the Legislature sent her similar bills.
Voter suppression?
Separately, Senate Republicans are expected this week to introduce a new election reform package that Shirkey, R-Clarklake, has said will cover "the gamut of everything to training election workers and observers... to signature verification, photo ID and so forth."
In a Tuesday tweet, Senate Minority Leader Jim Ananich, D-Flint, questioned "who is paying for this nationwide voter suppression effort."
But Shirkey claims his goal is to make it "easier to vote" but "harder to cheat."
The majority leader's office offered no additional details on Tuesday. Senate Oversight Committee Chairman Ed McBroom, whose panel heard hours of testimony over alleged irregularities in the 2020 election, also declined to discuss the pending legislation.
Groups like Voters Not Politicians, which spearheaded a 2018 ballot proposal to create an independent citizens redistricting committee, are bracing for a fight over bills they fear will create new and unnecessary burdens to voting.
"We know that a coordinated, partisan national effort is underway to make it harder for people to vote," VNP Executive Director Nancy Wang said Monday.
As of Feb. 19, lawmakers this year had already proposed 253 bills in 43 states with provisions that would restrict voting access in some way, according to an analysis by the Brennan Center for Justice at New York University School of Law.
That's roughly three times the number of similar bills introduced at the same point last year, the Brennan Center said, describing the push as a "backlash to historic voter turnout" fueled by a "rash of baseless and racist allegations of voter fraud and election irregularities."
Trump claims in Michigan
Michigan and its largest city, Detroit, played a central role in Trump's false fraud claims that culminated in the Jan. 6 insurrection at the U.S. Capitol, where his supporters and other activists tried to block Congress from accepting the final election results.
Shirkey and former House Speaker Lee Chatfield, R-Levering, had rebuffed calls from Trump and his attorney Rudy Giuliani to block Michigan electors, but 15 state legislators and four congressional Republicans still signed on to a U.S Supreme Court lawsuit that unsuccessfully sought to overturn the election.
The Brennan Center had identified just two new bills in Michigan that propose to curtail voting access, including a House-approved measure that would require the Secretary of State to remove voters from the rolls if they did not respond to a mailed notification that they have a "placeholder" birthdate in state files or have not voted since 2000.
DeAngeli argued that new voting protocols are warranted given unilateral moves by Michigan Secretary of State Jocelyn Benson in last year's unique pandemic election.
Michigan Court of Claims Judge Christopher Murray this month struck down a Benson directive that had instructed clerks to presume absentee ballot signatures were valid unless they differed "in multiple, significant and obvious respects from the signature on file."
Murray, a Republican appointee, ruled the directive was illegal because Benson did not use a formal rule-making process that would involve legislative review.
Benson has called the 2020 election one of the most secure — and heavily audited — in Michigan history. Turnout set a record, with 5.5 million votes, and 3.3 million of them were absentee.
Benson has proposed her own election reform plan, which she said Monday would make it "easier to vote and harder to cheat," echoing comments Shirkey made last week.
Among other things, Benson proposed requiring a statewide risk-limiting audit of election results prior to final certification of vote totals by county and state canvassers, who were heavily lobbied last year but resisted calls to block the election results.
She's also backing a Democratic bill that would require clerks to count any ballots received up to 48 hours after polls close, so long as they were postmarked and in the mail by Election Day, and another measure that allow clerks to process absentee ballots up to 22 days before Election Day, as opposed to the one-day head start they had in 2020.
"All voters deserve convenient and equal access to their right to vote absentee," Benson said in a Monday statement urging legislative action. "Clerks deserve time and support to process absentee ballots in the days leading up to Election Day so that we have results shortly after polls close. And a post-election audit should be conducted before results are certified."
State and federal courts rejected a series of lawsuits that had alleged election fraud in Michigan, including a complaint filed by former Trump attorney Sidney Powell.
Powell is now battling proposed sanctions and a defamation lawsuit after falsely claiming that a human error in Antrim County was evidence of an international conspiracy involving Dominion Voting Systems machines used in many parts of the state and country.
Dominion sued Powell for $1.3 billion, but in a Monday filing seeking to dismiss the case, her defense attorneys said no "reasonable people" could have viewed her claims as factual, arguing she had simply voiced protected political opinions.
The Michigan Senate Oversight Committee last year investigated allegations about Dominion and an initial results reporting error by Antrim County Clerk Cheryl Guy but found no evidence of intentional wrongdoing.
"Our investigation, which has been very intense, discovered none, none of the allegations and accusations against Dominion (are) true," Shirkey said in December.
Only donate if we've informed you about important Michigan issues
See what new members are saying about why they donated to Bridge Michigan:
"In order for this information to be accurate and unbiased it must be underwritten by its readers, not by special interests." - Larry S.
"Not many other media sources report on the topics Bridge does." - Susan B.
"Your journalism is outstanding and rare these days." - Mark S.
If you want to ensure the future of nonpartisan, nonprofit Michigan journalism, please become a member today. You, too, will be asked why you donated and maybe we'll feature your quote next time!