Michigan Sen. Patrick Colbeck attacks 'inaccurate' reporting on social studies role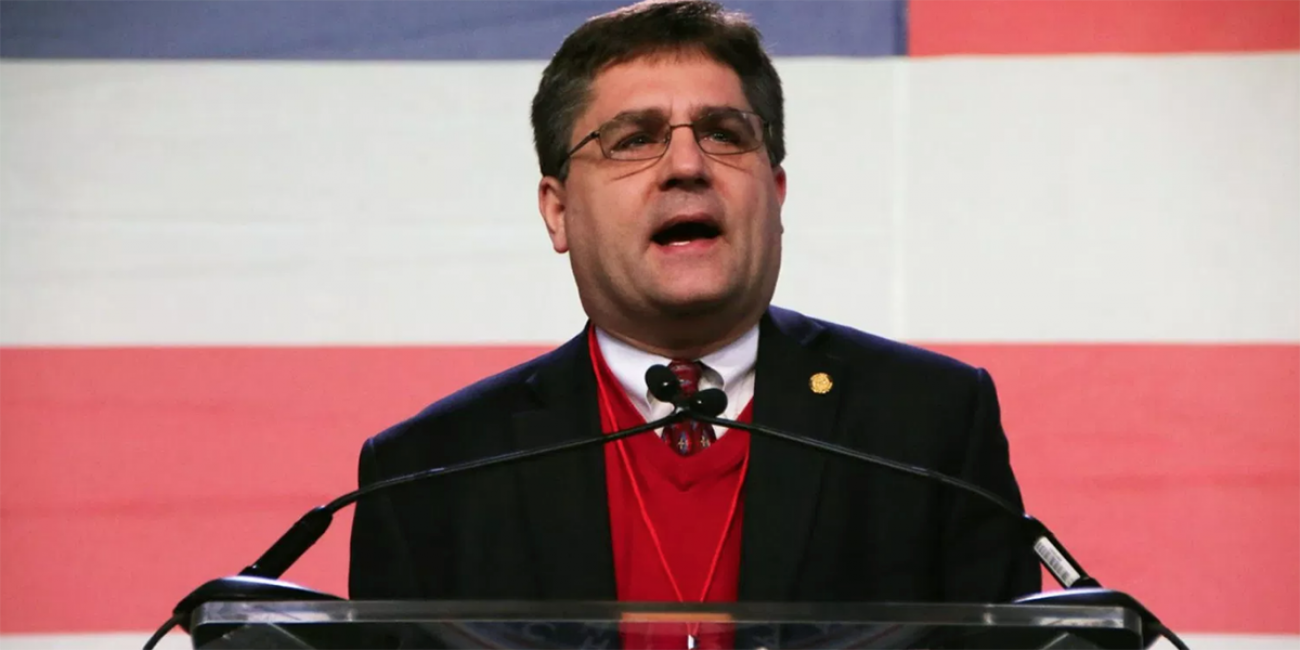 Michigan Government
Michigan Sen. Patrick Colbeck attacks 'inaccurate' reporting on social studies role
Related stories on Michigan social studies controversy:
Here is the text of the news release, with Bridge's responses in gray at pertinent points. Bridge Magazine stands by its reporting.
Patrick Colbeck called out Bridge Magazine for its inaccurate portrayal of his role on a focus group reviewing Michigan's social studies standards in the school curriculum. The article is entitled "History Gets a Conservative Twist in Michigan Social Studies Standards" and was written by Lindsey Van Huille and Paul French.
The Bridge reporters on the story are named Lindsay VanHulle and Ron French.
"My interest in participating in the focus group was to provide balance on a committee comprised of individuals representing a variety of viewpoints. After much debate and time, we came up with a consensus and I'm proud of the work as are many of the focus group participants. In fact, many of those with diametrically opposed views expressed true appreciation for the substantive, professional discussion on sensitive discussions. This level of discussion stands in stark contrast to the current attempts by political opponents to disparage our work. It's interesting in particular, how my contribution is being singled out," said Colbeck.
The article quotes five people who served on the standards committee or in a supervisory role with the Michigan Department of Education. None are quoted disparaging Colbeck or his work. Rebecca Baker-Bush, a social studies consultant with the Ottawa Area Intermediate School District who served on the standards committee and who is also president of the Michigan Council on the Social Studies, is quoted saying Colbeck was "obviously an advocate for a certain partisan viewpoint … But he was very willing to listen to others." The article also states, "Despite the number of conservatives on the committee, education department officials and committee members who spoke to Bridge said they felt debates about the standards were balanced."
The article portrays Colbeck as the primary ringleader on the focus group which was formed in 2017 to review changes to Michigan's social studies curriculum. The Michigan Department of Education asked Colbeck to participate after he, with the support of 17 legislators, presented a 13 page memo on where they thought the social studies curriculum needed more balanced scrutiny. He was not given any more authority than any other member on the panel.
The article makes no mention of Colbeck as ringleader of the group. It states that Linda Forward of the Michigan Department of Education asked Colbeck to participate. The article does not state Colbeck was given more authority than other members; it does say he and other conservatives had "influence" on some of the changes, which Colbeck acknowledged to Bridge.
Second, the article states that Colbeck invited outside individuals sharing his viewpoint without the knowledge of the Michigan Department of Education. Senator Colbeck did ask MDE if he was welcome to invite other individuals and they said yes. These individuals participated in no more than 3 of the meetings and did not control the panel, as the article suggests.
Education department officials told Bridge that Colbeck invited others to join the group, as Colbeck states and which was confirmed by two people invited by Colbeck. But officials say they were unaware that the additional individuals had been invited until those individuals showed up at a meeting. The article does not state that conservatives controlled the panel, but it does report that conservatives influenced some of the revisions, as the article explains in detail.
Third, the article suggests that Colbeck and Colbeck alone removed references to the Ku Klux Klan and other civil rights issues. The KKK references are still in the standards and Colbeck had no such role of authority as the panel was a focus group comprised of 21 members.
The article does not say Colbeck alone was responsible for removing Ku Klux Klan or civil rights references. References to the KKK are decreased from two to one in the standards. The original version of the article said the sole remaining reference to the KKK was as an optional example; the article was updated with the correct total Wednesday morning, before Colbeck's press release. The article states that most of the suggestions made by Colbeck in his 13-page memo were ignored by the committee, which indicates Colbeck could not make changes on his own.
Additionally, the article is presented as a news report but instead contains phrases that suggest commentary such as "soft-pedaling that the Ku Klux Klan" and "cadre of conservatives." Part of the article portends to give Colbeck a civics lesson, such as "the d-word in 'core democratic values' pertains to America's system of democracy, not to the Democratic Party. Core democratic values generally include fundamental beliefs and constitutional principles, such as life, liberty and the pursuit of happiness."
In his 13-page memo to the State Board of Education, Colbeck wrote, "the assertion that Progressivism was a response to the civil rights infractions of the KKK denies that fact that it was often the advocates of so-called progressive policies who supported the KKK. The KKK was founded as an anti-Republican organization not an anti-black organization. It just so happened that the majority of Southern blacks were in fact Republican due to the strong anti-slavery stance of Republicans. In fact, of the 4,743 lynchings between 1882 and 1964, 3,446 were blacks and 1,297 were whites."
Colbeck, an aerospace engineer by training who has spent years on his own studying the Constitution, wasn't referring to political party as the reporters incorrectly assumed. He advocated for removal of the word "democratic" not because it sounds similar to "Democrat" but because students in school learn that the American system of government is a "democracy" when it is in fact, a "republic."
Colbeck told Bridge the following in a recorded interview at the Mackinac Policy Conference in May: "They had this term in there called 'core democratic values. I said, 'Whatever we come up with has to be politically neutral, and it has to be accurate.' I said, 'First of all, core democratic values (is) not politically neutral.' I'm not proposing core republican values, either." In a subsequent telephone interview, Colbeck repeated the same thinking almost word-for-word: "It's not politically neutral …. It's got the word Democrat in there, and like I said, I didn't pursue the word Republican for the same reason."
"It is disappointing when members of the media can't put aside their world view when doing their jobs. This is why the public has lost trust in mainstream reporters who act as neutral observers but instead use their pulpits to portray a particular narrative, often one promoting progressive values and this needs to stop," said Colbeck.
Reporting for this article was based on reviews of state education records, and interviews with educators, state officials and four of the five conservative members participating in the focus group.
Bridge's mission is to provide in-depth, data-driven, fact-driven, nonpartisan, professional journalism we can produce on issues of high importance to Michigan's future.
We respect every candidate of every political party who makes the personal sacrifice to run for public office. We intend no disrespect to Sen. Colbeck. To this point in 2018, Bridge has critically analyzed and reported on every Republican and Democratic candidate for governor. At some point this year, supporters of every single one of those gubernatorial campaigns have not liked Bridge's news coverage of their favored candidate.
We respect Bridge readers' ability and right to draw their own conclusions about our published coverage.
Colbeck proudly calls himself conservative as a legislator and candidate for governor. He believes education should be put back into the hands of teachers, parents and students and not governed by a top down approach in which a few individuals determine what children should learn.
Only donate if we've informed you about important Michigan issues
See what new members are saying about why they donated to Bridge Michigan:
"In order for this information to be accurate and unbiased it must be underwritten by its readers, not by special interests." - Larry S.
"Not many other media sources report on the topics Bridge does." - Susan B.
"Your journalism is outstanding and rare these days." - Mark S.
If you want to ensure the future of nonpartisan, nonprofit Michigan journalism, please become a member today. You, too, will be asked why you donated and maybe we'll feature your quote next time!