Republicans launch 'secure MI vote' drive to reform Michigan election laws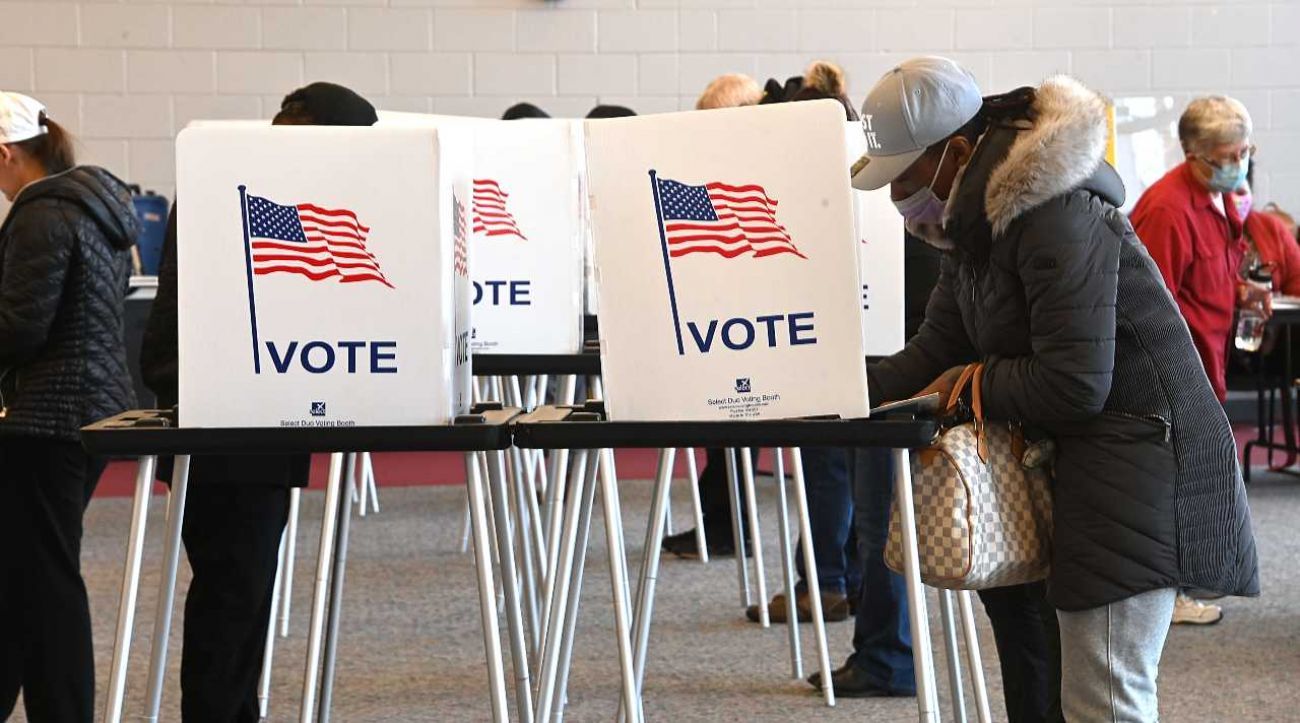 Michigan Republicans want to bypass Gov. Gretchen Whitmer and implement a host of voting reforms that opponents say are tantamount to suppression. (Bridge file photo)
Sept. 23: What to know about Secure MI Vote initiative: security or suppression?
Sept. 14: Ballot drive, suits eyed to fight Michigan vote reforms blasted as suppression
LANSING — Michigan Republicans are launching a petition drive to tighten state voting laws following a combative 2020 election marked by former President Donald Trump's false claims of widespread fraud.
The "Secure MI Vote" committee on Monday was expected to file proposed petition language with the Michigan Secretary of State that would make identification mandatory for in-person and absentee voting, prohibit absentee ballot application mass mailings and bar election funding by private groups.
"What we are trying to do here is just restore the confidence and the belief in the integrity of the system," said spokesperson Jamie Roe, a GOP consultant who is working on the new committee along with veteran Republican operative Fred Wszolek.
Related:
The committee is seeking state approval for the form of its petition, the first step in a plan to bypass Democratic Gov. Gretchen Whitmer, whose promise to veto any legislation making it harder to vote has complicated similar efforts in Michigan's Republican-led Legislature.
Because of a unique provision in the Michigan Constitution, GOP organizers can evade Whitmer by collecting at least 340,047 valid signatures to send the initiative to the Legislature, which could then enact it into law rather than send it to the 2022 ballot.
Michigan Republican Party Chair Ron Weiser first outlined the plan in March as an effort to rebuild trust among GOP voters ahead of midterm elections. But planning delays mean any changes made to Michigan voting laws are not likely to take effect until after the 2022 election.
Voting rights advocates argue tighter ID rules would amount to "voter suppression" and have a disproportionate impact on low-income and minority residents. Roe called such claims "nonsense" and touted polling suggesting most Michigan voters support the reform.
"We're pretty hopeful and optimistic here that we can get this process moving quickly, and get these enacted into law," Roe said. "I would hope that the legislature would take immediate action particularly, please if we act with dispatch to get support from across the state."
What the initiative would do
According to an outline shared with Bridge Michigan, the initiative would:
Require in-person voters to present a photo ID. Acceptable forms of photo ID would include a driver license, state ID card, passport, military ID, tribal ID or student ID issued by a university, junior college or community college.
Michigan already has a voter ID law, but the initiative would eliminate a rarely used affidavit option that allows voters without an ID to cast a normal ballot on Election Day if they attest that they are who they say they are under penalty of perjury.
In-person voters without a valid photo ID would instead be allowed to cast a provisional ballot, but it wouldn't count on Election Day and would only be tabulated if the voter returned to their local clerk's office and presented a valid ID within six days after the election.
GOP organizers say the proposed initiative would reduce the potential for fraud in future elections, but Michigan clerks say the change is not warranted because there is no evidence of significant voter impersonation fraud. Eliminating the option would make it harder for some Michiganders to vote.
Require voters applying for an absentee ballot to include their driver license or state ID number, along with the last four digits of their Social Security number, on their application.
Michigan does not currently have ID rules for absentee ballot applications, but voters are required to show ID when registering, and election clerk workers perform a form of identity check on absentee ballot applications by comparing voter signatures to those on file with the state.
Organizers say the proposal would reduce the potential for election fraud. But election clerks opposed similar legislation in Lansing, arguing the change is unnecessary because there is no evidence of significant absentee ballot fraud. The proposal could make it harder for some people to vote, and clerks have raised concerns that requiring voters to mail their state ID numbers could make them more susceptible to identity theft.
Prohibit the Michigan Secretary of State and local election clerks from sending absentee ballot applications to voters who did not request them.
Secretary of State Jocelyn Benson mailed absentee ballot applications to every voter in the state in 2020, a decision upheld by federal courts and one that likely contributed to record election turnout despite the COVID-19 pandemic.
Republicans contend the mailings opened the door to potential voter fraud, and they accurately note that some applications were inadvertently sent to an address where the intended voter no longer lived. But filling out an application for another voter is already a crime, and there's no evidence the mailings led to any significant ballot fraud last year.
Prohibit outside "corporate entities" from funding Michigan elections.
The nonprofit Center for Tech and Civic Life last year provided "COVID-19 response" grants to election officials across the country to buy absentee ballot drop boxes, hire more staff and implement safety measures to pull off a pandemic election. Democratic and Republican officials in more than 465 Michigan cities, townships and counties applied for and received the assistance, securing private money to help perform public elections.
There is no evidence the grants were used for political influence, but Trump supporters falsely alleged the funds were directed only to Democratic cities, a conspiracy fueled by the involvement of Facebook CEO Mark Zuckerberg, who donated $400 million to the nonprofit.
Prohibiting election administration grants in future elections will cut off a funding source that Michigan clerks say helped them manage a successful election despite a global pandemic. It could also reduce the potential for outside groups to try to influence future elections by ensuring they don't direct funding to preferred communities.
Create a new "voter access fund" with $3 million to provide free state ID cards to residents who may struggle to obtain one because of financial hardships.
State IDs cost $10 in Michigan, and the state already has a program to waive those fees for low-income residents who qualify for other forms of government assistance.
But organizers of the GOP petition drive say their plan would make that process easier and help the state pay for it. The appropriation would also make it harder to overturn the proposed voting reforms because the Michigan Constitution does not allow voter referendums that challenge spending provisions.
Trump looms large
Michigan's Republican-led Senate proposed a more extensive and aggressive voting reform package in March, but the legislation was slowed by disagreements with the GOP-led House. None of the major legislative proposals have reached Whitmer.
Republicans on the Senate Oversight Committee in June debunked claims Trump and some of his supporters continue to make about Michigan's 2020 election, which Democratic President Joe Biden won by 154,188 votes.
The panel's investigation found "no evidence of widespread or systematic fraud" in the Michigan election. However, the committee did warn that "severe weaknesses" and vulnerabilities in the Michigan election system should be fixed to avoid potential fraud in future elections.
The new Michigan initiative is the latest front in a nationwide Republican reform movement. So far this year, officials in Georgia and 17 other states have enacted a combined 30 laws that restrict access to voting in some way, according to an analysis by the Brennan Center for Justice at New York University School of Law.
More than 400 such bills have been introduced in 49 states.
The new Michigan initiative is not about Trump or any particular individual, said Roe, the GOP consultant who is working as a spokesperson for the petition committee.
"I'm not one who's been out there crying about that the election was stolen — I don't believe it was — but I do believe that there are people who think that it was just as there are people who thought wrongly after 2016 that that election was stolen," Roe said. "So, let's do something common sense that restores confidence in the system and empowers our clerks to do it right."
Michigan Democratic Party Chair Lavora Barnes bashed the new initiative, accusing Republicans of "creating barriers to voting so fewer people have access to the polls." The GOP "will try every trick in the book to confuse and intimidate voters," she said.
A tight timeline for 2022
The Michigan Constitution allows citizens — including political operatives and special interest groups — to initiate legislation through a petition drive and advance the measure to the Legislature and potentially the statewide ballot.
Michigan is one of two states with a constitutional provision that expressly prohibits the governor from vetoing resident-initiated legislation that is adopted by the Legislature instead.
That's the plan for Secure MI Vote, but the committee is facing a tight timeline to change any laws by the 2022 election, when Republicans hope to unseat Whitmer and fellow Democrats like Secretary of State Jocelyn Benson and Attorney General Dana Nessel.
Senate Republicans do not have the two-thirds majority needed to give legislation "immediate effect," meaning Secure MI Vote would need to complete the petition process — including signature collection and state review — this year for the changes to take effect in 2022.
"Unless they have plans to spend just a ton of money per signature and flood the streets to get the signatures quickly, it's hard to imagine that they can get 350,000 plus enough cushion in order to have it certified by the Secretary of State in calendar year 2020," said Jeff Timmer, a former Michigan GOP official who opposes Trump and the effort to tighten voting laws.
A more likely scenario: Any new voting laws approved through the initiative process would instead take effect in 2023 and be operative for the 2024 election, when Trump could again seek a second term.
It's possible Republicans could pivot and decide to put the initiative on the 2022 ballot instead to try and drive turnout among voters who believe the "stop the steal big lies," Timmer speculated earlier this month.
"It certainly would be a motivator for the Republicans to get out and vote," he said, "but I think it would be a double edged sword and be a bigger motivator for Democrats — especially in urban areas — to vote."
Roe told Bridge Michigan the Secure MI Vote committee is focused on securing legislative approval rather than putting the measure on the 2022 ballot, which could trigger a very expensive campaign.
"Getting it done by the end of the year is a very daunting hurdle," Roe acknowledged. "But you never know. We'll see what the reaction is. We're very very excited about the opportunity to get it rolled out and to get people fired up."
Only donate if we've informed you about important Michigan issues
See what new members are saying about why they donated to Bridge Michigan:
"In order for this information to be accurate and unbiased it must be underwritten by its readers, not by special interests." - Larry S.
"Not many other media sources report on the topics Bridge does." - Susan B.
"Your journalism is outstanding and rare these days." - Mark S.
If you want to ensure the future of nonpartisan, nonprofit Michigan journalism, please become a member today. You, too, will be asked why you donated and maybe we'll feature your quote next time!