Articles
The report from the Groundwork Center for Resilient Communities seeks to turn up the heat on state officials weighing Line 5's future and rebut Enbridge Energy's contention the pipeline delivers a crucial supply of energy to Michigan.
An uncontrolled spill lasting just two hours could cost Michigan at least $6 billion, say two Michigan State University researchers
Enbridge Energy will pay up to settle the federal government's claims it violated a $177 million settlement for the Kalamazoo River oil spill. The company allegedly failed to properly inspect certain sections of its pipelines — including parts of Line 5.
Bridge Magazine embarks on a year-long tour of Michigan at the tip of the Mitten, and finds that jobs, tourism and schools aren't the biggest worry. It's fear of an Enbridge Line 5 leak in the Straits of Mackinac.
After Enbridge admitted breaching public trust, Michigan is paying a pair of experts big money to monitor the company's studies of its controversial pipeline across the Straits of Mackinac.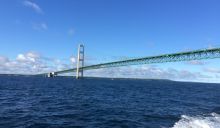 A strange-bedfellows coalition of Trump supporters and progressive Democrats are finding common ground in opposing the Enbridge oil lines in the Straits of Mackinac, united by deeply personal ties to the Great Lakes.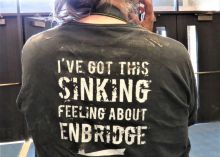 Give us five minutes, we'll give you the basics on this environmental showdown under the Straits of Mackinac.
Pages