Articles
Still reeling from damage by serial sexual abuser and former university doctor, Michigan State University said the changes are intended to help rebuild trust and accountability.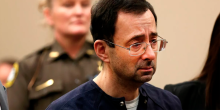 At a news conference Thursday, Michigan's attorney general said she's frustrated with Michigan State University's level of cooperation in the investigation surrounding Larry Nassar.
A state GOP ad accuses Democratic governor candidate Gretchen Whitmer of doing nothing as Ingham County Prosecutor when informed of damaged evidence in pending criminal cases. That's patently untrue.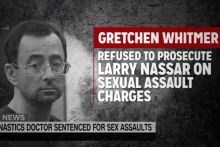 The prosecution of Larry Nassar, who was convicted of sexually abusing his former patients, has emerged in new attacks in the Michigan governor's race.
Hours after two students had sex, the man touched the woman's breast without asking. He was later disciplined. But the process left both students feeling betrayed by Michigan State University's response.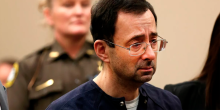 Lansing is debating more than 30 (mostly bipartisan) bills following the horrific crimes of MSU and USA Gymnastics doctor Larry Nassar. Here's what's in them — and what experts say.
Rachael Denhollander says MSU interim leader John Engler and his team are using the same smears against Larry Nassar's female victims as Nassar's defense lawyers.
John Engler called rape and harassment claims by women prisoners "baseless" and "without merit" when he was Michigan goveronor. He was wrong. The state eventually paid $100 million to more than 500 women assaulted by male prison guards. Engler was named interim president of Michigan State in the wake of the Larry Nassar scandal.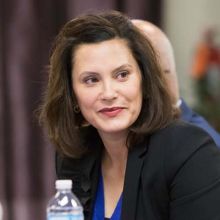 Truth Squad explores Gretchen Whitmer's mantle as an advocate for sexual assault victims after a cop accuses her of hesitating to prosecute a sexually abusive doctor.