Where Michigan Republican governor candidates stand on jobs and the economy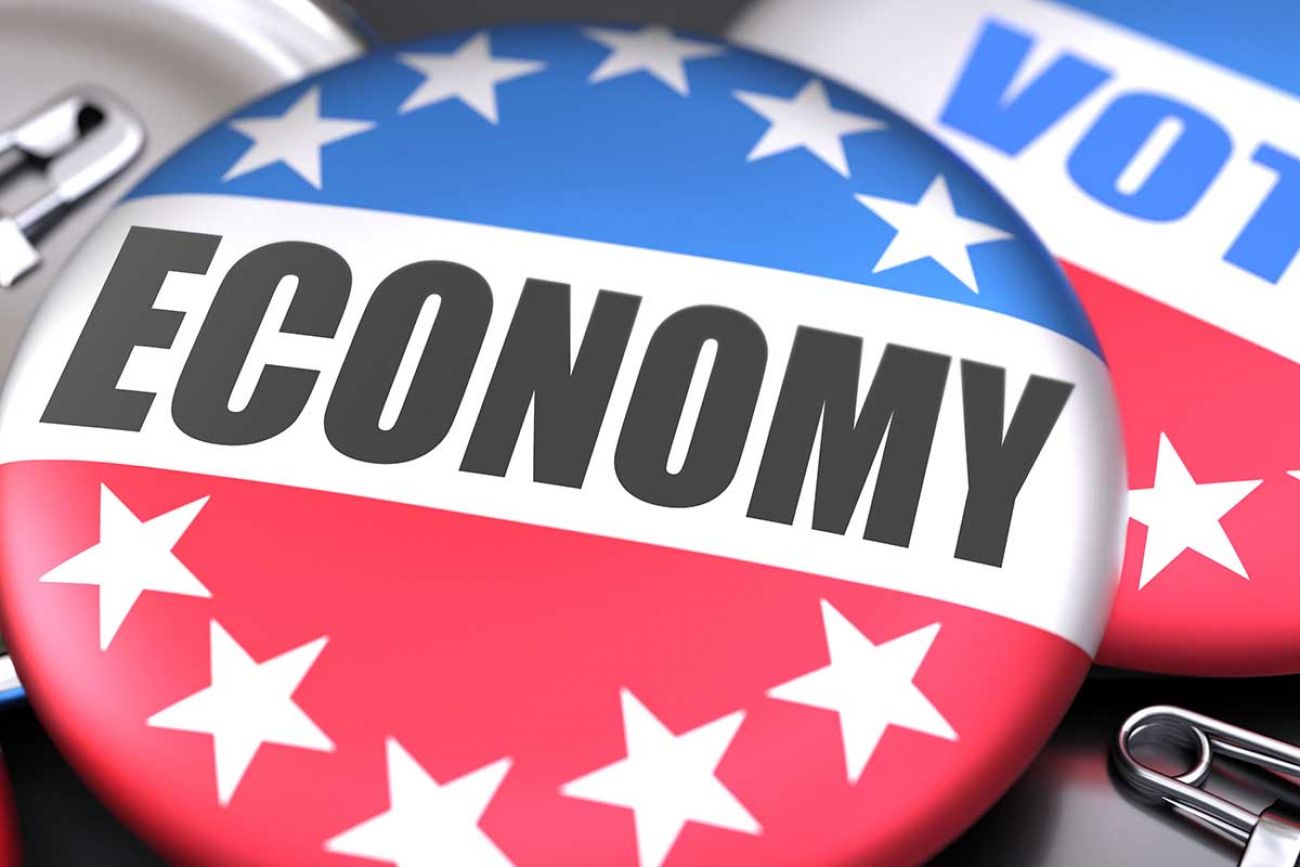 Republican voters head to the polls Aug. 2 to choose a gubernatorial candidate. (Shutterstock)
The economy is a top national issue, but is getting less attention in the GOP primary

Republican candidates want cuts to taxes and regulation, but details are scant

Experts say the winner needs to quickly pivot to economic issues to beat Gov. Whitmer
---
With days until Republican voters go to the polls for the August 2 primary, candidates seeking the party's nomination are still publicly defining their approaches to economic issues facing Michigan.
Economic proposals, so far, have been overshadowed by arguments over where candidates stand on fraud during the 2020 presidential election, who better supports former President Donald Trump, what pandemic restrictions have done to the state and cultural issues including abortion and gun laws.
But with inflation at a 40-year high and a looming national recession, the candidates are offering few details on how they would steer the Michigan economy.
"Voters should be insisting that these candidates give them a coherent plan for Michigan's future," said Patrick Anderson, CEO of Anderson Economic Group in East Lansing.
"And right now … we really don't have a good roadmap for the future from our gubernatorial candidates."
The situation "for issues-based voters is quite frustrating," Anderson said, noting that he counts Gov. Gretchen Whitmer as among the candidates who needed to offer more specifics.
Nationally, a Gallup poll this month showed that voter interest is higher among Republicans and Democrats for November's midterm elections than for any midterm over the past two decades. In early July, the economy overtook six other issues — including gun policy, abortion, immigration and taxes — as very important or extremely important to 85 percent of U.S. voters.
In Michigan, recent statewide polling by the Detroit Regional Chamber showed voters from both parties are energized to cast ballots, with the economy identified as the top issue in mid-May by one-third of the respondents. Next up were roads and infrastructure, at 13.4 percent, and — a month ahead of the Supreme Court decision that overturned it — Roe v. Wade/abortion at 10.9 percent.
Yet the five Republicans on the ballot have released few details on their economic plans. What we do know:
They all want tax cuts. They cite government regulation as a hindrance to expanding new businesses. Most have a distaste for the state bestowing large-scale business incentives. But no candidate has laid out a detailed blueprint for what a pro-growth state would look like.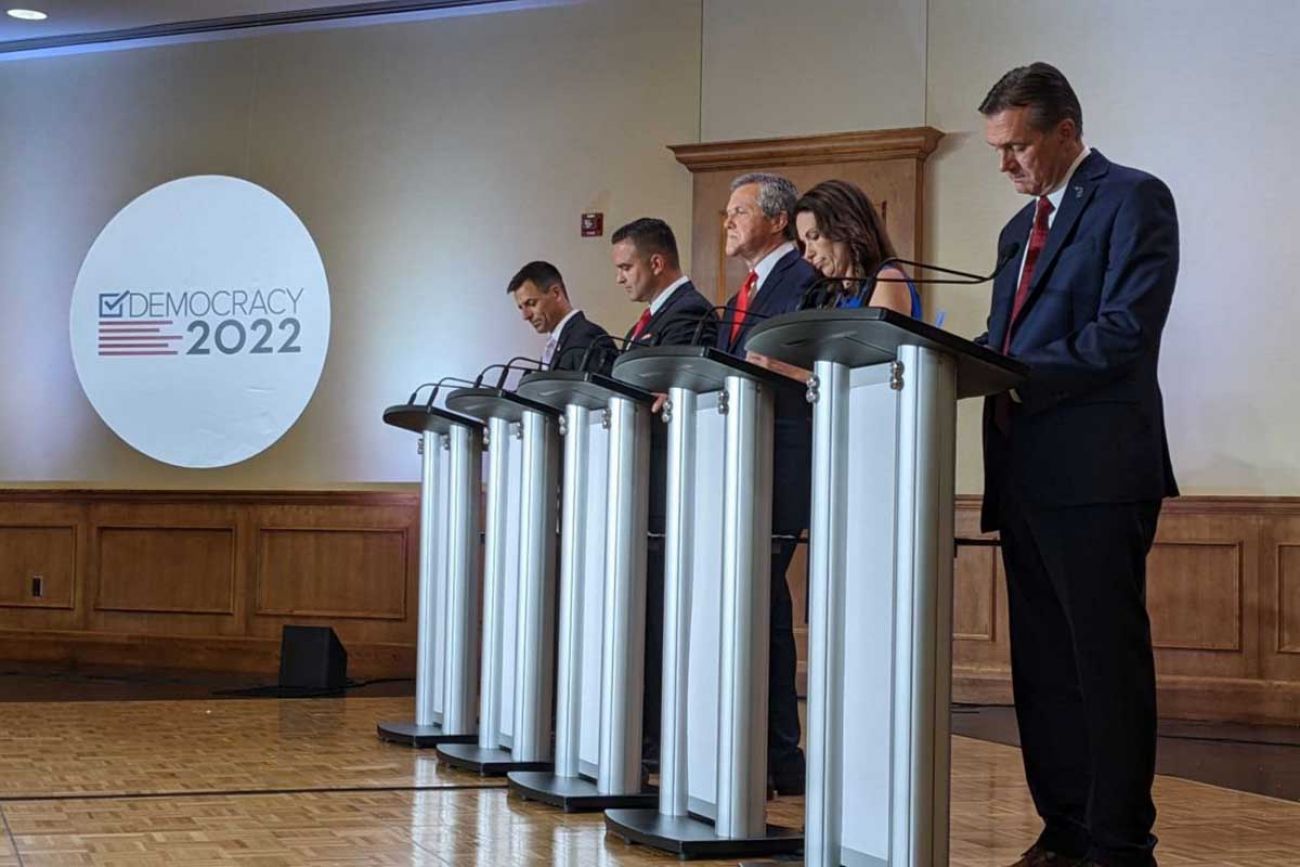 Republican governor candidates, from left, Ryan Kelley, Garrett Soldano, Kevin Rinke, Tudor Dixon and Ralph Rebandt squared off in a debate July 20 at Oakland University. (Bridge photo by Jonathan Oosting)
Their emphasis on tax cuts comes in a year when the state just reached a $77 billion budget following a surplus of nearly $9 billion. Whitmer and the Republican-led Legislature are still negotiating the details of a tax cut, made possible by one-time federal pandemic relief funds and an unexpected bump in sales tax revenues.
"Tax cuts are a really easy narrative for politicians to push to get people's attention right now," said Neva Butkis, tax policy expert at the Washington D.C.-based Institute on Taxation and Economic Policy, a nonpartisan and nonprofit organization that analyzes tax proposals for equity and sustainability.
"We're seeing conversations around tax cuts specifically around the income tax at the state level across the nation, and have for about a year since states really saw their revenue surging and saw these giant surpluses."
Debate remains active in the legislature on how the state will provide personal income tax relief, meaning that today's Republican candidates may not know how deep cuts will go by the November election.
Whitmer has said she wants a one-time $500 rebate to taxpayers earning less than $250,000 per year, along with a $100 rebate for each dependent. Republicans want to reduce the state's personal income tax rate from 4.25 percent to 4 percent.
Both parties support expanding the state's Earned Income Tax Credit for the lowest-wage earners.
Beyond tax cuts, the candidates must craft an economic plan that also appeals to statewide voters.
"The budget right now is in really good shape," said John Truscott, CEO of Truscott Rossman communications firm in Lansing and spokesperson for then-Republican Gov. John Engler.
Truscott said efforts to strengthen the state's balance sheet — this year's version includes paying down debt and a contribution to the rainy day fund — started years ago.
Gov. Rick "Snyder set things up as far as some of the long-term liabilities and the ability to pay them down," Truscott said.
Whitmer and the legislature continue along those lines today when it comes to the overall budgets, Truscott added.
"I think a lot of progress has been made," he said. "And that probably makes concern about the budget less of a campaign issue."
The candidates
In alphabetical order, here is what the candidates say about their economic priorities if elected:
Tudor DIxon: The Norton Shores news host for a conservative streaming service targets five areas in her economic plan:
develop a plan to eliminate the state's personal income tax;

cut or simplify 40 percent of Michigan's regulatory codes;

increase workforce training and create a program to expose students to skilled trades;

analyze business incentive programs over the last decade with an eye toward changing them to "cut corporate welfare," according to her webpage;

enact pro-growth policies.
Dixon did not respond to Bridge Michigan requests for details on her economic proposals, including how her workforce program would differ from Going Pro, the existing one to build skilled trades.
A 2020 report from the free-market advocate Mercatus Center at George Mason University said Michigan was one of the least-regulated states, losing nearly 9 percent of its business restrictions between 2015 and 2019, when Republicans held both the legislature and the governor's office.
Ryan Kelley: The Allendale real estate broker plans a task force charged with reducing or eliminating the state income tax, but first increasing the exemption deduction, which was $4,900 per person in 2021.
He has said he plans to "incentivize" small businesses with regulation and tax reductions, though did not reply to Bridge's request for details. He also said his administration would eliminate unemployment benefits "for those refusing to return to work," failing to mention that state unemployment rules already say applicants can only qualify if they are actively seeking work.
Kelley said in debates that he would promote tourism. He also criticized large business tax incentives.
Ralph Rebrandt: The Farmington Hills pastor targets unspecified tax relief and promises no tax increases as a way to attract new businesses. He also said he would "re-create successful models of wealth-creation," including by getting businesses to mentor people in low-income neighborhoods and encouraging them to start businesses.
Rembrandt said in the most recent Republican primary debate that he wants 1,000 state administrators to retire as a way to cut government regulation. The state employs about 46,000 workers, with the average length of service 11.7 years.
Kevin Rinke: A Bloomfield Hills businessman who touts his experience in large companies, Rinke wants to eliminate the personal income tax. He would examine state spending to see if a leaner budget could reduce the need to replace the $12 billion the income tax brings to the state, Rinke told Bridge in an interview. He has not identified where he would cut $12 billion from the state budget.
If residents spend income tax savings on taxable items, Rinke said, the state could generate $700 million in additional sales tax collection. Rinke said the nine states without a state income tax all "outperform Michigan."
Rinke also said he wants to see how personal property taxes can be cut.
The corporate income tax of 6 percent paid by businesses grossing over $350,000 per year is not yet on his radar, he said.
Rinke said he also defines education as an economic issue, saying that tightening school spending and improving educational quality will make Michigan more attractive to businesses and their employees.
Garrett Soldano: He said he will inventory every state regulation with an eye toward eliminating 25 percent of regulations not already required by state or federal law within two years of taking office, his campaign staff told Bridge. It's unclear which departments could be most affected. He also favors pro-compliance policies over punishment in state agencies to "help businesses become smarter and better trained on regulatory requirements."
Solano, a Mattawan chiropractor, supports universal professional licensure reciprocity with all 50 states.
In the most recent debate, Soldano mentioned Texas, Florida and Tennessee — states without an income tax — as places Michigan needs to compete against, though he did not say cutting the income tax is among his plans. Strategies to compete against those states include boosting natural gas energy storage and promoting tourism along with cutting regulation.
On tax cuts
While promising tax cuts in an economy that some say is on the verge of a recession could appeal to voters, questions remain about the candidates' strategies for carrying them out.
The biggest target so far among most of the GOP contenders is the personal income tax, which represents 31 percent of the $38.2 billion in state-level revenue. It also is the largest source of state revenue, ahead of the sales tax, which represents just under 25 percent of the $38.2 billion. On the other side, the largest expenses are in the health and human services and education budgets.
The candidates also all say they will target state spending.
Bob Schneider, senior researcher at the Citizens Research Council, said such policies will have a significant impact on the budget and state policies.
The likely outcome is the state will "just need to outright eliminate some things."
That would follow two decades in Michigan when "we were cutting, cutting and cutting and doing without for about 10 years until after the Great Recession, where we finally started getting revenue growth again," he said.
Those cuts affected higher education, human services and mental health funding, among others, Schneider said.
Additional budget cuts today would raise questions about priorities and who picks up the costs. Examples Schneider gave include cutting higher education budgets, which would then push up out-of-pocket costs of a college degree. Cutting the $2 billion budget for state prisons may raise the need to change sentencing laws.
"There may be some room for budget cutting, but … I don't think there is low-hanging fruit anymore," he said.
Butkis, the tax policy expert, said that the concept of tax cuts can appeal to people, but a more detailed economic plan would help voters understand the impact facing them.
For example, cutting the income tax, she said, "tends to be code for cutting taxes for higher-income households" that are mostly white because shifting the tax burden to other sources of revenue often means either a higher sales tax or higher fees.
"You just end up asking lower-income communities to disproportionately fund the services like teachers and roads and health care and infrastructure that all of us benefit from," Butkis said. "You ask them to pay more than their fair share."
Looking ahead
Randy Richardville, former Republican Senate majority leader who is now a Monroe County commissioner, says he doesn't think most primary elections are about the pocketbook. He told Bridge Michigan that the lack of detail in economic plans from this primary's candidates may be strategic.
"The economy plays a factor, that's for sure," he said. But a primary message of basic tenets that the candidate supports — such as cutting taxes or fiscal belt-tightening — can be a message that "you use as a springboard into a race against Gretchen Whitmer."
Offering too much detail, or leaning too far right, can make it tough for the primary winner to head into a general election where they are expected to also attract independent and undecided voters, Richardville added.
The approach is far different from former Gov. Engler, Truscott said.
"We had position papers on all of the major issues. So everything from economy to crime, to education to the environment, and we had detailed policy papers, which included legislation, or at least concepts behind legislation that we would advocate to be passed. It was very detailed."
Not offering detail was a strategy that worked for former Gov. Rick Snyder, a venture capitalist who came from behind in polling to win the 2010 GOP primary and eventually serve two terms as governor, recalled Truscott.
"He did not get into a lot of detail. It was much more conceptual," Truscott said. "And I think that has kind of overshadowed this crew of people running where I don't think a lot of people have been paying attention to them (and) … I don't think that they necessarily have the depth to talk beyond basic talking points."
Anderson, of Anderson Economic Group, said Michigan's economy will be shaped by already-defined election issues, including identifying how the state will supply future energy needs, along with resolving the Line 5 natural gas pipeline in the Straits of Mackinac; road repair; and setting a long-term vision for the state's economy.
"What are you going to do differently than what we've done in the past?" Anderson said he wants to ask candidates. "Both Republicans and Democrats are likely to get different answers, but at least (it will) focus the debate on something that can help us."
Whoever wins the Republican primary needs to switch the conversation immediately to the economy, Truscott said, "especially when you look at what the governor is doing in her ads. Right now she is at least touching on economic issues. And I expect she'll go a lot further … (with accomplishments) that she passed with a Republican legislature."
The Republican nominee, he said, "should be finalizing their plan right now. Because I think the economy is going to flip front and center by mid-August."
Business Watch
Covering the intersection of business and policy, and informing Michigan employers and workers on the long road back from coronavirus.
Thanks to Business Watch sponsor:

Support Bridge's nonprofit civic journalism. Donate today.
Only donate if we've informed you about important Michigan issues
See what new members are saying about why they donated to Bridge Michigan:
"In order for this information to be accurate and unbiased it must be underwritten by its readers, not by special interests." - Larry S.
"Not many other media sources report on the topics Bridge does." - Susan B.
"Your journalism is outstanding and rare these days." - Mark S.
If you want to ensure the future of nonpartisan, nonprofit Michigan journalism, please become a member today. You, too, will be asked why you donated and maybe we'll feature your quote next time!