2022 Michigan election updates: See all of today's Bridge news stories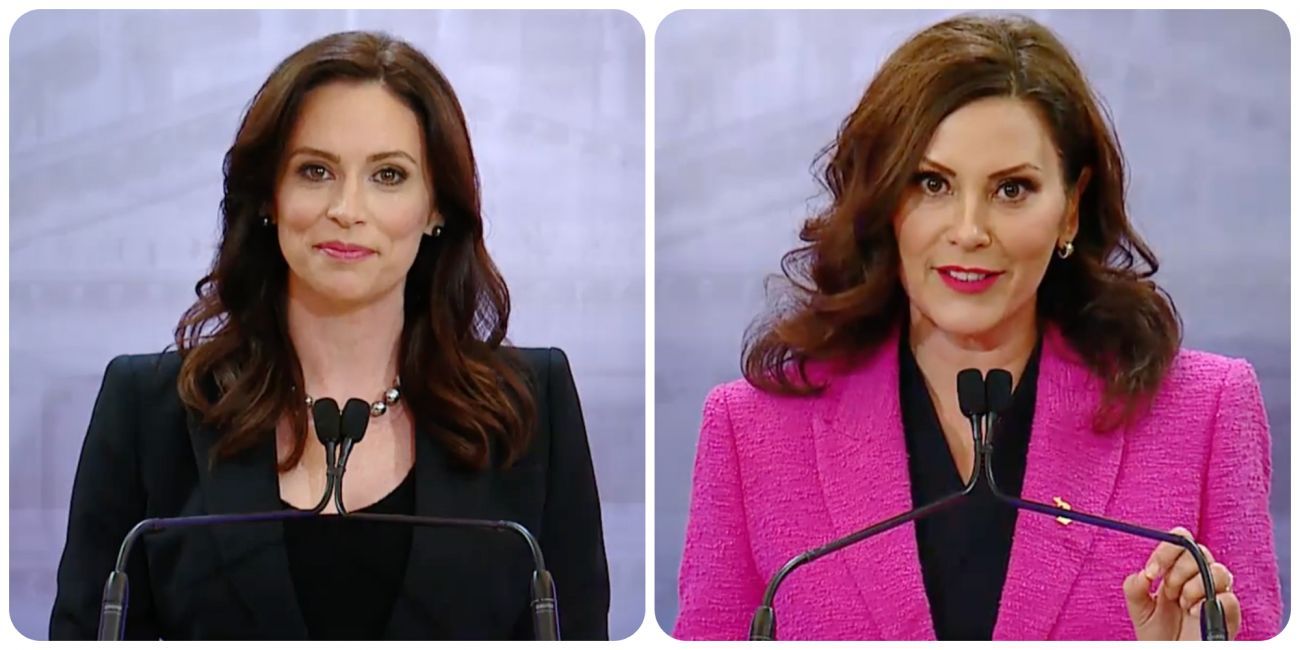 Follow along on Nov. 8, 2022, for live updates on Michigan's election news, including analysis from Twitter and cable networks, and updates from Bridge Michigan reporters across the state.  Tudor Dixon (R) is hoping to unseat Gov. Gretchen Whitmer (D) this election year. (TV screenshot).
This post is being updated with Michigan voting analysis and updates. For information on candidates and races, see our Election Dashboard.
Prior updates at a glance:
---
12:10 p.m. Wednesday
Wave of wins for proposals on abortion rights, term limits, voting access
Michigan voters have approved all three statewide ballot initiatives, securing abortion rights, reforming state term limits and financial disclosure laws, and expanding early and absentee voting.
Proposal 3: Abortion access
Strong feelings on abortion access appeared to drive many voters to the polls, securing victory for Michigan's "reproductive freedom" ballot measure. The measure was ahead with 56 percent of the vote as of Wednesday morning, enshrining abortion rights in the state constitution following Michigan's most expensive election fight of 2022.
The ballot measure would amend the constitution to protect "reproductive freedom," invalidating a 91-year-old abortion ban in Michigan law.
The ballot measure became a central focus of the election season in Michigan after the U.S. Supreme Court struck down federal protections for abortion access, reviving Michigan's 1931 ban. But a Court of Claims judge and later the Michigan Supreme Court blocked its enforcement pending the outcome of Tuesday's vote.
As of Wednesday morning, the initiative had support from 56 percent of voters, with 13 percent of the vote left to count. Voters in California and Vermont approved similar measures on Tuesday, while Kentucky voters rejected a proposal that would have said there is no right to abortion in the state.
Reproductive Freedom campaign spokesperson Darci McConnell called the Michigan proposal's passage an "historic victory for abortion access in our state."
Opponents conceded defeat but said they will now work to ensure that "no law beyond the 1931 law would be invalidated."
Proposal 1: Term limits and financial disclosures
With Proposal 1's passage, Michigan's Constitution will change to include a 12-year cap on state lawmakers' tenure in office, and stricter requirements regarding what financial information they must disclose to the public.
Under current law, state lawmakers can serve up to six years in the House and eight in the Senate, for a total of 14 years. There are no financial disclosure requirements applying to Michigan's top elected officials.
Proposal 1 would allow 12 years in office, regardless of the chamber, while requiring lawmakers to disclose "sources" of income and assets and match gift reporting requirements for registered lobbyists.
As of Wednesday morning, it had received 66 percent of votes with 78 percent of votes counted.
Proposal 2: Voting access
The proposal changes the Michigan Constitution to allow nine days of early voting, expand access to absentee voting, among a host of other changes:
Require state-funded postage for absentee applications and ballots

Continue to allow registered voters without a state ID to sign an affidavit attesting to their identity

Allow public sources and charities to fund elections, subject to disclosure rules

Allow voters to register for absentee ballots for all future elections

Require military and overseas ballots to be counted if postmarked by Election Day

Require ballot drop boxes for every 15,000 voters in a municipality

Establish that post-election audits can only be conducted by state and local officials

Require canvassing boards to only certify election results based on the official vote counts
As of Wednesday morning, it had secured 59 percent of the vote with 80 percent of votes counted.

Related stories:
---
11:26 a.m. Wednesday
Dana Nessel wins and Matt DePerno concedes
Republican candidate Matt DePerno has conceded the Michigan attorney general's race to incumbent Democrat Dana Nessel.
Appearing before supporters after midnight on Wednesday, Nessel said she is "really looking forward to serving the people of this great state for another four years."
In a statement Wednesday, he acknowledged "we didn't emerge victorious," but borrowed a line from Michigan Gov. Gretchen Whitmer in vowing to "continue to fight like hell to restore Michigan to all it can be."
Whitmer, who secured a second term in Tuesday's election, ran her campaign primarily on a promise to "fight like hell" to protect abortion access in Michigan. That message apparently resonated with voters, who handed a resounding victory to Michigan's Proposal 3 abortion rights initiative and second terms to all three top-ticket Democratic candidates who staked their campaigns on the fight for abortion access.
Related coverage: Attorney General Dana Nessel 'optimistic,' leads Matthew DePerno
Nessel, a former assistant prosecutor in Wayne County and the first openly LGBTQ person to hold statewide office, vowed during her campaign not to prosecute Michigan's 1931 abortion ban, while touting to her work on consumer protection efforts from investigating elder abuse to going after price-gougers.
DePerno, an attorney who is under criminal investigation over whether he participated in a vote tabulator tampering scheme following the 2020 election, became popular among Trump supporters after repeatedly making unfounded challenges to the election's results. He campaigned on a promise to conduct a forensic audit of the 2020 election, and said he wants to prosecute Nessel and other Michigan Democratic officials for unspecified "damage they have done."
In a concession message Wednesday, DePerno hailed his campaign for sending "a strong message to Lansing" about crime, parental rights and distrust in government.
"Although I may be conceding to Dana Nessel today, I refuse to concede that Michigan is a blue state," he said.
In addition to Nessel, Whitmer and Secretary of State Jocelyn Benson's wins Tuesday, Democratic wins secured majorities in both Legislative chambers and on the state Supreme Court.
11:14 a.m. Wednesday
Rep. Dan Kildee and John James win their contests
U.S. Rep. Dan Kildee, D-Flint Township, has secured a sixth term in the House after defeating Republican challenger Paul Junge in the race for the 8th Congressional District.
Kildee, a longtime lawmaker who succeeded his father in office, has focused in office on securing funding for infrastructure and COVID-19 economic relief, and responding to Michigan's lead and PFAS water crises.
Junge, a former U.S. Citizenship and Immigration Services worker from Fenton, ran on boosting border security, supporting gun rights and opposing abortion, among other priorities.
Kildee was considered vulnerable this year, but as of Wednesday morning, with 95 percent of votes counted, he was leading Junge by 10 percentage points, with 53 percent of the vote.
In a statement Wednesday, Kildee vowed to "lower the temperature in our political discourse, find common ground between parties, and just focus on delivering results for mid-Michigan."
Meanwhile, Republican John James had declared victory Wednesday morning in a close race against Democrat Carl Marlinga in District 10.
Marlinga had not yet conceded, and as of 11 a.m., The Associated Press still had not called the race. But James was leading Marlinga by 1,601 votes out of more than 326,000 cast in the race.
10:07 a.m. Wednesday
How Whitmer won; Dixon concedes
10:07 a.m. Wednesday — Republican gubernatorial candidate Tudor Dixon has conceded the race to Gov. Gretchen Whitmer, saying Wednesday morning she had called Whitmer to "wish her well."
In a short statement, Dixon said Michigan's future success "rests not on elected officials or government, but all of us."
"It is incumbent upon all of us to help our children read, support law enforcement, and grow our economy," Dixon said in the statement while vowing to "never stop fighting for our families."
10:13 a.m. Wednesday — Whitmer won with expanding support in Detroit's suburbs amid record voter turnout, Bridge's Mike Wilkinson reports.
Dixon fared better among rural voters than 2018 Republican gubernatorial candidate Bill Schuette, but historic voter turnout propelled Whitmer to a comfortable margin of victory.
As of Wednesday morning, with 88 percent of votes counted, turnout had already exceeded 2018's record-breaking 4.25 million voters. So far, 4.3 million votes have been counted, with more to come.
Whitmer also managed to flip Grand Traverse and Benzie counties, both of which backed Schuette in 2018. Here's our full coverage of Whitmer's win.
Related story: Gretchen Whitmer's path to victory: Expanding support in Michigan suburbs
---
8:39 a.m. Wednesday
Democrats Elissa Slotkin, Hillary Scholten win closely watched Congressional races
U.S. Rep. Elissa Slotkin, D-Lansing, edged out Republican challenger and state Sen. Tom Barrett, R-Charlotte, in the race for Michigan's newly drawn 7th Congressional District.
The battle for the district was the nation's most expensive congressional race. As of Monday morning, Slotkin led Barrett by four percentage points.
Slotkin's win came alongside another Democratic win in the closely watched 3rd Congressional District, where Hillary Scholten defeated John Gibbs.
A former Middle East analyst for the CIA who worked in national security roles under former presidents George W. Bush and Barack Obama, Slotkin was first elected in 2018. She moved from her former home in Oakland County to Lansing to run in the newly-drawn 7th district, covering Ingham, Livingston, Shiawassee and Clinton counties, plus most of Eaton and parts of Oakland and Genesee counties.
Barrett, a state senator and member of the Michigan Army National Guard, ran in support of funding law enforcement and border security, and opposition to subsidies for corporations and teaching critical race theory in schools.
Slotkin's re-election was seen as a high priority for Democrats hoping to retain control of the U.S. House of Representatives.
In the 3rd district, Scholten clinched victory over Gibbs on a platform of preserving abortion access, fighting for more affordable health care and helping working families. As of Monday morning, she led 53 percent to 44 percent.
With Trump's backing, Gibbs had upset Rep. Peter Meijer, R-Grand Rapids, to earn the Republican nomination for the race, widely considered one of Michigan's most competitive. He ran on a platform of fighting gun control, changing foreign policy and making elections more secure.
Republicans have historically had an edge in the West Michigan district, but newly drawn district lines made for a more competitive race for Democrats.
Elsewhere in Michigan's closely-watched Congressional races, Republican John James was leading Democrat Carl Marlinga in the 10th district, and Dan Kildee was leading Paul Junge in the 8th district.
Lauren Gibbons has the full story.
---
8:11 a.m. Wednesday
Democrats poised to take control of House, Senate
The Democratic party is claiming new majorities in the Michigan House and Senate, following a wave of victories in newly-drawn districts that were designed to be politically fairer.
It marks the first time in nearly four decades that Democrats will have control of both chambers. Gov. Gretchen Whitmer also won a second term, and Democratic nominees kept a slight majority on the Supreme Court.
Attorney General Dana Nessel and Secretary of State Jocelyn Benson appear to be on their way to victories as well, and Benson declared early victory late Tuesday night.
Democratic wins in the state Senate have secured at least a 19-19 tie for the party in the chamber, and Lt. Gov. Garlin Gilcrist then provides a deciding vote.
According to a report by MIRS, the party also takes a 56-54 advantage in the House, where it last held control in 2010.
Jonathan Oosting has the full story. Keep watching Bridge for more results.
Democratic leads in the below races helped clinch the majority:
Coffia leads 103rd House District
Traverse City Democratic challenger Betsy Coffia unseated state Rep. Jack O'Malley, R-Lake Ann, in the new 103rd District representing Leelanau County and parts of Grand Traverse and Benzie Counties.
Political leanings have been steadily evolving in the newly-drawn district, and voters there switched from majority backing for Trump in 2016 to majority backing for Biden in 2020.
Coffia, a Grand Traverse County Commissioner who has been active in racial justice movements and affordable housing advocacy efforts, ran a progressive campaign against O'Malley, a former radio host who has represented Michigan's 101st House District for the past four years.
With 99 percent of the district's votes counted as of Wednesday morning, she had 49.8 percent of the vote to O'Malley's 48.5.
McDonald Rivet takes Michigan 35th Senate District
Democratic Bay City Commissioner Kristen McDonald Rivet has defeated Republican state Rep. Annette Glenn of Midland to secure a seat in Michigan's new 35th Senate District.
The newly-drawn district, which pushes voters in Republican-leaning Midland into the same district as voters in Democratic-leaning Saginaw and Bay City, had been seen as a key target for Democrats looking to flip control of the Senate.
With 98.5 percent of votes counted in the district, Rivet was leading with 53 percent of the vote.
7:40 a.m. Wednesday
Bernstein, Zahra return to Michigan Supreme Court
Michigan Supreme Court Justices Richard Bernstein, a Democrat, and Republican Brian Zahra will retain their seats on the state's highest court, the Associated Press reports this morning. About 82 percent of the votes in this race have been counted.
Bernstein is top vote-getter with 33.4 percent. He was first elected as a Democratic nominee to the bench in 2014.
Zahra is in second place as of 7:40 a.m., with 24 percent of votes. Other candidates are Democratic nominee Kyra Harris Bolden, who had 21.4, Republican nominee Paul Hudson, who had 13.7, and Libertarian nominee Kerry Morgan, who had 7.1.
Though Supreme Court races are nonpartisan, candidates are nominated by political parties to run for eight-year terms. The current seven-member bench includes four Democratic nominees and three Republican nominees.
That will remain unchanged if Zahra retains his lead among the remaining four candidates.
The court is poised for more change in the near future, after Chief Justice Bridget McCormack announced her upcoming retirement. Gov. Gretchen Whitmer is expected to name a replacement to fill the remaining six years of McCormack's term.
More on the Supreme Court race can be found here.
1:45 a.m. Wednesday
Michigan Gov. Gretchen Whitmer wins second term
Incumbent Democratic Gov. Gretchen Whitmer has defeated Republican challenger Tudor Dixon, securing a second term in office.
A lawyer and former state lawmaker from East Lansing, Whitmer took office in 2018 on a promise to fix Michigan's roads, and then spent much of her first term governing through a pandemic and weathering infrastructure disasters, a kidnapping plot against her, and social justice protests.
Her campaign in 2022 centered on a vow to "fight like hell" to protect abortion access after the U.S. Supreme Court in June struck down federal abortion access.
She vastly outspent her opponent, Dixon, a former conservative news host and steel company executive from Norton Shores who was a consistent underdog in polls throughout the race.
Dixon, who beat out four other candidates in the Republican primary, ran in opposition to legal abortion except to protect the life of the mother, criticized Whitmer's pandemic policies and called for a statewide ban on "pornographic" books in Michigan schools.
1:05 a.m. Wednesday — Michigan Attorney General Dana Nessel was leading Republican challenger Matthew DePerno early Wednesday morning and, while the race is too close to call, she said "things are looking pretty good right now" for re-election.
Here is the full story from Bridge's Lauren Gibbons.
12:50 a.m. Wednesday
Proposal 3 supporters declare victory for abortion rights
The sponsors of a ballot measure to enshrine abortion rights in the Michigan constitution declared victory Wednesday night, with partial returns showing 55 percent of votes counted so far going in favor of Proposal 3Results are still partial.
The ballot measure would amend the constitution to protect "reproductive freedom," invalidating a 91-year-old abortion ban in Michigan law. Well-funded campaigns for and against the measure made it Michigan's most expensive election fight of 2022.
The ballot measure became a central focus of the election season in Michigan after the U.S. Supreme Court struck down federal protections for abortion access, reviving Michigan's 1931 ban. But a Court of Claims judge and later the Michigan Supreme Court blocked its enforcement pending the outcome of Tuesday's vote.
---
12:03 a.m. Wednesday
Tudor Dixon won't concede
Tudor Dixon told supporters Tuesday night she won't concede the gubernatorial race to Gov. Gretchen Whitmer, "despite what Fox thinks."
Though only 43 of precincts have reported, Fox News called the race for Whitmer , a Democrat, at about 11:20 p.m.on Tuesday. Republican Dixon had appeared on the conservative news channel repeatedly in the days leading up to the election.
But on Tuesday, following Fox's calling of the race, Dixon showed no signs of admitting defeat.
"This race is going to be too close to call despite what Fox thinks," she told supporters at an Election Night party in Grand Rapids, predicting a long night as vote counting continues.
"We look forward to the full results tomorrow... We're going to make sure we count every vote," she said. "As soon as we have results, you will hear from me."
As of 11:30 p.m., the first-term Democrat was leading Dixon 52 percent to 47 percent with an estimated 35 percent of all votes counted, according to unofficial results compiled by The Associated Press.
Updated at 1:14 a.m. Wednesday — As of 1 a.m., Whitmer led Dixon 52 percent to 47 percent with more than 64 percent of votes counted, according to unofficial results compiled by The Associated Press.
"We are feeling damn good about where we are headed," Whitmer told supporters in a 1 a.m. speech in Detroit.
Read the latest on the race from Bridge's Johnathan Oosting here.
---
11:43 p.m. Tuesday
Benson declares victory over Karamo
Democratic Secretary of State Jocelyn Benson has declared victory over Republican challenger Kristina Karamo, after partial returns showed a comfortable lead for the incumbent Benson.
With 35 percent of the estimated vote counted, Benton led with 53 percent of the vote to Karamo's 45 percent.
A former dean of Wayne State University Law School, Benson campaigned for a second term in office on promises of shorter wait times at branch locations and expanded voting rights.
Her opponent, Karamo, rose to prominence within Republican circles on debunked claims that the 2020 election was rigged. As a candidate, she sought to invalidate absentee ballots in Detroit, but a judge ruled that she lacked "a shred of evidence" to support the effort.
---
11:40 p.m. Tuesday
High turnout on college campuses
Ann Arbor election officials said as of 10 p.m. that they expect to be processing same-day registrations for "several hours," delaying the city's report-out of absentee ballot results.
An announcement from the city clerk's office reported high turnout at voter registration offices, with large numbers of absentee ballots issued to those new voters. As a result, the release stated, "absentee ballot results will be delayed."
The announcement came amid long lines at college town polling places as students turned out in large numbers to register and cast their ballots.
Here's the scene at MSU's Brody Hall, where 200 students are still in line, more than two hours after polls closed. pic.twitter.com/B6UpfBdT21

— MIRSnews.com (@MIRSnews) November 9, 2022
Students who spoke to Bridge Michigan while standing in line at Michigan State University Tuesday morning said they were there to vote on abortion access. As of Tuesday night, journalists on the scene at Brody Hall reported hundreds still waiting in line to vote.
Approximately 14,000 voters had registered to vote on Tuesday, many of whom are college students, Secretary of State Jocelyn Benson said during a 9 p.m. press conference. As of 9 p.m., roughly 200 people were standing in line in East Lansing and 500 in Ann Arbor, she said.
Added at 1:05 a.m. Wednesday — As Tuesday dragged into Wednesday, voting was briefly interrupted in Ann Arbor when the software to register new voters glitched out, preventing new registrations.
"When midnight hit, it considered Election Day to have ended," said Jake Rollow, a spokesperson for the Michigan Secretary of State.
By 1 a.m., the software issue had been fixed and voting activities had resumed, with about 100 people left in line waiting to register and vote. Rollow said Ann Arbor was the only Michigan community to experience such a disruption, because same-day registrations in all other jurisdictions wrapped up by midnight.
---
9:49 and 10:07 p.m. Tuesday
Early winners called; watching the big races
10:07 p.m. Tuesday — Michigan's Proposal 3 abortion measure is leading with 58.1 percent of votes in favor and 43.3 percent in opposition with a little more than 11 percent of the vote counted, Bridge's Yue Stella Yu is reporting tonight.
The race is the most expensive race in Michigan this year, according to the latest campaign finance reports, drawing a total $57 million in fundraising between rivaling campaigns.
Early results also favored Proposal 1, which had 67.6 percent support and Proposal 2, which had 60.5 percent of votes counted so far. Here is the story from Bridge tonight. Though these results are only partial, Proposal 1 proponents are claiming victory.
"Michiganders stood up and demanded financial transparency and stronger term limits. Thank you to the unions, businesses, associations and organizations that represent millions of Michiganders who encouraged everyone to vote 'Yes,' said Rich Studley and Mark Gaffney, co-chairs for Voters for Transparency and Term Limits.
9:49 p.m. Tuesday — With partial election results trickling in from precincts across Michigan, Bridge reporters are watching closely and updating stories on the evolving count.
If you want to follow along, stories on the gubernatorial race between Gov. Gretchen Whitmer and Tudor Dixon, the secretary of state race between Jocelyn Benson and Kristina Karamo, and the attorney general's race between Dana Nessel and Matthew DePerno will be updated throughout the night.
Meanwhile, the Associated Press is calling U.S. Rep. Haley Stevens the winner of the 11th Congressional District. Stevens, first elected in 2018, faced Republican Mark Ambrose of Bloomfield Township.
The district is in Oakland County, where about half of votes have been counted. Read more from Bridge here. We'll update this blog with final results as they become known.
---
9:03 p.m. Tuesday
These Michigan counties may be barometers of victory
Final statewide vote totals may not come until Wednesday, but many counties will have results late Tuesday. Those early results may show a huge lead for Gov. Gretchen Whitmer, a Democrat, or for Republican challenger Tudor Dixon.
However, the lead in a race can change, as final tallies won't be available until all counties are counted.
Here are some of Michigan's key counties to watch while waiting for final results.
Bellwethers: Voters in seven counties have picked correctly in five of the last six statewide elections. Leelanau and Kent got all but 2012 correct; Oakland and Kalamazoo got all but 2016 correct; Isabella and Macomb got all but 2020 correct and Saginaw only was wrong when it backed Democrat Mark Schauer's failed 2014 campaign for governor.
Turnout: For Dixon to eclipse Whitmer, she has to do far better than former Michigan Attorney General Bill Schuette in 2018. Schuette exceeded 65 percent in just Missaukee and Hillsdale counties, compared to former President Donald Trump getting 65 percent or more in 24 counties.
If Dixon matches Trump's 2020 wins and turnout falls in the bigger, Democrat-leaning counties, it could make the race close, as polls have shown.
A key county to watch for turnout would be Ottawa County along Lake Michigan. Long a bastion of Republican support, it gave former Gov. Rick Snyder 79 percent of its 2010 vote — but only backed Trump with 59.8 percent by 2020 — lower even than Schuette's 60.4 percent in 2018.
With over 130,000 likely voters in this county, the fastest growing in Michigan, Dixon could more than match Schuette's 30,000 vote win in the county.
Population centers: To win Michigan, a candidate has to do well in the most populous counties and in 2020, suburban Detroit's Oakland and Washtenaw counties, as well west Michigan's Kent County played a pivotal role for Biden.
Trump won by over 500,000 votes in 72 counties. But Biden won Wayne County — home to over 1.8 million people — by over 332,000 votes, Oakland County by over 106,000 and Washtenaw County by nearly 101,000, erasing Trump's lead.
And Biden won Kent County, which had been reliably Republican from 2010 until Whitmer's 2018 victory, by 22,000 votes.
— Mike Wilkinson
---
8:27 p.m. Tuesday
Most Michigan polls closed; some long lines remain
8:27 p.m. Tuesday — Polls have closed in all but four western Upper Peninsula counties, though voters who were in line by 8 p.m. can still cast their ballots.
Polls remain open in Gogebic, Iron, Dickinson, and Menominee counties, all of which are in the Central Time Zone.
In some places, lines remain long — particularly where turnout for same-day registration was high.
More than 8,800 voters have opted into same-day registration so far, primarily in college towns with many young adults, the Secretary of State's office said Tuesday night. The number could reach 15,000 — roughly half of the 30,000 same-day registrations in the November 2020 election.
Related: 'Strong turnout,' 1.8 million absentee ballots cast in Michigan
An estimated 200 people were in line on the University of Michigan campus, where volunteers were bringing them blankets and water. There were also reports of long lines at Michigan State University and in Grand Rapids, where the wait was estimated at about three hours just before 8 p.m.
The Reproductive Freedom for All campaign — which advocated for Proposal 3 to enshrine abortion rights in the Michigan Constitution — is urging the students to stay in line until they can vote.
"It's truly exciting that University of Michigan and Michigan State University students are coming out in droves to register to vote and cast their ballots tonight," said Darci McConnell, communications director for RFFA.
The scene at Brody Hall at Michigan State University. The line to vote has been down the hallway since noon. In the last few hours the line has moved out the door. Students near the front of the line to vote say they've been there for 3 hours. pic.twitter.com/xj0bWbRJeC

— MIRSnews.com (@MIRSnews) November 9, 2022
Elsewhere in the state, Bridge Michigan is keeping watch over unofficial results as precincts begin reporting out. But with up to half of Michigan voters expected to vote absentee, don't expect final results in all races tonight.
Bridge has a team of reporters standing by. Watch this blog news, and sign up for a noon Lunch Break webinar tomorrow where capitol reporters Lauren Gibbons, Jonathan Oosting and Yue Stella Yu will analyze the results.
---
6:33 p.m. Tuesday
Strong crowds at polls as state officials predict 4M voters
From Lambertville to Lansing, voters turned out in healthy crowds all across the state, driven to the polls by competing views on abortion access, Gov. Gretchen Whitmer's handling of the COVID-19 pandemic, and other high-profile issues.
As Bridge's Mike Wilkinson reported, Michigan Secretary of State spokesperson Jake Rollow said evidence indicates voters were casting in-person ballots in numbers exceeding the August primary and the 2020 general election.
Rollow said election officials were seeing "strong turnout" across the state, with 4 million people expected to vote in this election, as many as half of them absentee. Polls close at 8 p.m., and anyone in line at that time will be allowed to cast a ballot.
In Lambertville, in Michigan's most southeast corner, elections officials in three precincts said voting had been surprisingly brisk by lunchtime.
About two dozen voters were lined up when polls opened at 7 a.m. at the Assembly of Christians Church two miles north of the Ohio state line, said Elections Chairman Bob Camp, who said he was working his 29th election.

By 11 a.m., 226 voters had cast ballots, often lining up along the registration tables: "It is definitely a bit busier than usual," Camp said.
Long lines of voters snaked onto sidewalks in East Lansing and Ann Arbor, too, as students sought to register and vote.
And at the St. Suzanne Cody Rouge Community Resource Center in Detroit, voters from four precincts filled each of the more than two dozen polling stations, and a line had begun to form in the hallway and had begun to stretch.
Voting had been "way busy all day," said Tina Baker, who was overseeing voting in the four precincts voting inside the St. Suzanne gymnasium.
---
5:22 p.m. Tuesday
Trump complaints about Michigan election draw Benson's rebuke
Former President Donald Trump took to social media Tuesday to question the integrity of Michigan's ongoing election, spurring a rebuke from Michigan's top election official.
Trump posted on social media Tuesday afternoon that "the Absentee Ballot situation in Detroit is REALLY BAD," and claimed that "large numbers" of voters are showing up at the polls only to be turned away.
The post appears to be a reference to issues that arose for some voters at a few Detroit precincts Tuesday morning, which state election officials said had been cleared up by mid afternoon.
"Protest, Protest, Protest!" he urged his followers.
An hour later, Michigan Secretary of State Jocelyn Benson responded on Twitter, accusing the former president of spreading misinformation.
"Please don't spread lies to foment or encourage political violence in our state," Benson tweeted. "Or anywhere. Thanks."
Hi again 👋🏼

This isn't true. Please don't spread lies to foment or encourage political violence in our state. Or anywhere. Thanks.

- Jocelyn Benson, Michigan Secretary of State pic.twitter.com/R7Bw4bN0Q1

— Jocelyn Benson (@JocelynBenson) November 8, 2022
Benson —who is running for reelection against Republican challenger Kristina Karamo — has expressed concern about violence at the polls on Tuesday, and her department's spokesperson told reporters that clerks across the state participated in "de-escalation training" ahead of the election.
Michigan is one of several states on Trump's radar as he takes to social media to air concerns about elections from Arizona to Pennsylvania, while providing no evidence to back up his statements.
The social media messages come as Trump teases an announcement next Tuesday, Nov. 15, where he is expected to announce a 2024 presidential bid.
Trump made similar statements criticizing Michigan's election in 2020, before launching a failed effort to overturn its results. Multiple reviews found no evidence of widespread fraud in Michigan's 2020 election, which President Joe Biden won by 154,188 votes.
---
4:58 p.m. Tuesday
Report says Republican activists eye 'lawsuits, lawsuits, lawsuits' starting on Election Day
Republican activists in Michigan have been meeting since July to discuss strategies for challenging Tuesday's election results, the New York Times reported Tuesday.
Working under the name Michigan Fair Elections, the group's members have recruited and trained poll challengers, filed lawsuits seeking to invalidate votes in Detroit, and repeated false claims of widespread voter fraud in a quest to create a voting system that benefits Republicans. The Times obtained more than 20 hours of recordings from the group's meetings.
"Lawsuits, lawsuits, lawsuits," group member Patrick Colbeck said at one of the group's meetings, according to the Times report.
Along with Colbeck, a former state senator and 2020 election denier, prominent members include Rep. Ann Bollin, R-Brighton Twp., who chairs the Michigan House Elections and Ethics Committee, Cleta Mitchell, an elections lawyer and Trump ally, and Sandy Keisel, who runs a group called the Election Integrity Fund that is still trying to decertify the 2020 election.
Members discussed plans to force a re-do of the governor's race and focused on defeating Proposal 2, a ballot measure that would allow nine days of early voting, expanded absentee voting and other changes to the Michigan Constitution.
And, lawyer Erick Kaardal of the Thomas More Society told those gathered in a Thursday Zoom meeting, "we start our forensic investigation on Election Day."
---
1:48 p.m. Tuesday
Why outcomes won't be immediate after polls close
Election Day is underway, and news outlets across the state will soon start reporting live vote tallies after polls close.
But before you hover your computer mouse over the "refresh" button on your favorite political news source tonight, there's something you should know: Those early counts are not a reliable indicator of a race's final outcome.
Bridge's Stella Yu broke down the reasons why in a story last week.
The short version: Lots of Michiganders voted absentee in this election, and those ballots will take time to count.
Why? Although 1.7 million of Michigan's 4 million anticipated voters this election have turned in absentee ballots, election workers were not able to start counting those ballots until Election Day.
Related story: 'Strong turnout,' 1.7 million absentee ballots cast in Michigan
As a result, final results may not be available until a full 24 hours after polls close at 8 p.m. (Reminder: in Michigan, four western Upper Peninsula counties are on Central Standard Time, so that's an hour later than the rest of the state.) And because Democrats are more likely to vote absentee, there's a good chance early Michigan vote tallies will favor Republicans.
Skewed unofficial results helped fuel false claims of election fraud in 2020, after an early lead for President Donald Trump diminished as absentee ballots were counted.
Jonathan Oosting took a tour of Lansing's operation with City Clerk Chris Swope to demystify the counting process.
One thing you can be sure of: Bridge Michigan won't be reporting on the horse race. Instead, we'll rely on the Associated Press, a news organization with a decades-long track record of accuracy, to provide you with trustworthy final results.
---
7:36 a.m. Tuesday
Whitmer says governor race 'could be close'
Gov. Gretchen Whitmer held the final rally of her re-election campaign Monday night at Michigan State University, where she urged young people to vote in a Tuesday election she warned could be close.
"This election could be decided by a few thousand votes," Whitmer said, referencing her contest with Republican challenger Tudor Dixon. "That can be made up just on this campus alone."
Whitmer at MSU: "This election could be decided by a few thousand votes. That can be made up at just on this campus alone." pic.twitter.com/6cbTtr8QcG

— Jonathan Oosting (@jonathanoosting) November 7, 2022
Whitmer won election four years ago by more than 406,000 votes. Recent polls have shown the first-term Democrat leading Dixon by an average of 4.2 percentage points.
But "races can always come down to a handful of votes," Whitmer told reporters after the event, noting former President Donald Trump won Michigan by fewer than 11,000 votes in 2016.
"So I think we've got to always prepare for the fact that it could be close, and I wanted to remind these college students that they have the same vote that the wealthiest, most-connected person has in this state."
Whitmer was joined at the event by Sen. Debbie Stabenow, along with several other Democrats who are also up for re-election this year, including U.S. Rep. Elissa Slotkin, Attorney General Dana Nessel and Secretary of State Jocelyn Benson.
"It's time for you to decide," Nessel told the crowd of primarily college students. "It's your choice, your vote, your body, your safety, your planet, your democracy."
— Jonathan Oosting
---
6:08 p.m. Monday
DOJ to monitor elections in 5 Michigan cities
Amid mounting concerns about disruption at polling places — and following a failed effort to invalidate ballots in Detroit — the U.S. Department of Justice announced Monday it will monitor elections in five Michigan cities for compliance with voting rights laws.
Detroit, Flint, Grand Rapids, Pontiac and Southfield are among 64 cities in 24 states scheduled for monitoring by the DOJ's Civil Rights Division and U.S. Attorneys' Offices, something the department described as a "regular" Election Day activity since the Voting Rights Act of 1965 prohibited racial discrimination in voting.
The department will also stay in touch with state and local election officials and take complaints online and through its call center, it said Monday.
"Complaints related to disruption at a polling place should always be reported immediately to local election officials (including officials in the polling place)," the DOJ said in a statement. "Complaints related to violence, threats of violence or intimidation at a polling place should be reported immediately to local police authorities by calling 911," and then to the DOJ.
The announcement comes as Michigan prepares for the state's first major election since 2020, when chaos erupted at Detroit's TCF Center after a crowd of Donald Trump supporters rushed to the facility chanting "stop the count."
Election officials in Michigan have been girding for more possible upheaval this year. Democratic Secretary of State Jocelyn Benson said she fears possible "violence and disruption" this Election Day, while her opponent, Republican Kristina Karamo, has accused Democrats of trying to hinder Republican poll challengers.
A judge earlier on Monday blocked a lawsuit by Karamo that sought to invalidate all absentee ballots cast in Detroit. Wayne County Chief Circuit Judge Timothy Kenny said such a move would "disenfranchise tens of thousands of eligible voters."
---
5 p.m. Monday
Tudor Dixon credits 'movement' with campaign momentum
Michigan gubernatorial challenger Tudor Dixon is down in the polls but projecting confidence heading into tomorrow's election, predicting strong GOP turnout will help her "win big" over Democratic incumbent Gretchen Whitmer.
Speaking to a crowd of more than 200 in a Monday afternoon rally near Battle Creek, Dixon credited supporters with "creating a movement" to "bring this state back."
The Norton Shores Republican, who has never held elected office, told reporters she is optimistic heading into Election Day.
"It feels like there are a lot of people that are gearing up at the end, so it feels like the timing is right for us, but we'll see tomorrow," she said.
Michigan GOP governor candidate Tudor Dixon to supporters near Battle Creek: "You are creating a movement here in the state." pic.twitter.com/6HI8FYd42L

— Jonathan Oosting (@jonathanoosting) November 7, 2022
Dixon was joined at the Springfield event by U.S. Reps. Tim Walberg of Tipton and Bill Huizenga of Holland, each of whom is expected to win re-election Tuesday.
The governor's race is "gonna be closer than a lot of people thought a month ago — even a couple weeks ago," Huizenga told Bridge Michigan.
"(Dixon) clearly has been able to go toe to toe with Gretchen in a way that, frankly, most candidates never would have been able to."
— Jonathan Oosting
---
4:30 p.m. Monday
U.S. Supreme Court won't halt congressional elections
The U.S. Supreme Court won't rule on an appeal asking for a halt to Michigan's first midterm Congressional elections after redistricting, according to a report in the Detroit Free Press.
A group of Republicans, including state Rep. Beau LaFave from Iron Mountain and the conservative Michigan Freedom Fund, had asked the court to hear their case against the new maps that were approved at year-end 2021 by an independent, citizens-led redistricting commission approved by voters in 2018.
The group said in their lawsuit filed in late January that the new districts — drawn as the state drops from 14 to 13 seats in Congress — did not contain equal populations as required.
A federal three-judge panel unanimously rejected their allegation in April. And the appeal, the Supreme Court said on Monday, "is moot," meaning there is no "live dispute" for the court to decide. Further details were not available from the court.
A Bridge Michigan analysis found that the congressional map would give Democrats an advantage in 7 of 13 districts.
---
11:15 a.m. Monday
Final push from governor candidates
With fewer than 24 hours left to go before polls open, gubernatorial candidates Democratic Gov. Gretchen Whitmer and Republican Challenger Tudor Dixon are making their final pitches to voters.
Jonathan Oosting reported from the campaign trail as the candidates zig-zagged the state last week in a final effort to woo support.
Dixon leaned into criticisms of Whitmer's handling of the COVID-19 pandemic and railed against books that include descriptions of sex acts during "freedom rallies" in Saginaw and Plymouth Township. Whitmer warned after a Lansing campaign stop that "fundamental rights" hang in the balance amid a fight over abortion access in Michigan.
Polling has consistently shown an edge for Whitmer, who has also hugely outspent Dixon.
Related:
---
1:15 p.m. Friday
No decision on DePerno charges
A special prosecutor investigating alleged vote tabulator tampering said Friday he will not decide before the Nov. 8 election whether to charge Republican attorney general candidate Matthew DePerno or other suspects.
In a statement, Muskegon County Prosecutor DJ Hilson said he and a "small team" have been reviewing findings from an "extensive and thorough" state investigation but have not yet finished their work.
"I understand the desire to have these important decisions made prior to the upcoming election," Hilson said.
"While my team will continue to diligently work with the Michigan State Police to move as quickly as possible, I will not sacrifice my ethical duty to make a fair and just decision, nor jeopardize the rights of any potential defendants by proceeding without all of the necessary evidence and information."
Hilson was assigned the case in September after referral by Attorney General Dana Nessel, a Democrat who is running against DePerno and handed off the case due to her conflict of interest.
DePerno is one of nine people named in referral documents who are suspected of gaining or assisting with unauthorized access to voting tabulators in Roscommon County, Richfield Township, Lake Township and Irving Township between March and June 2021.
— Jonathan Oosting
---
12:30 p.m. Friday
Voting rights groups unite against interference
Leaders of two voting rights groups said Friday that they are coordinating to fight potentially frivolous poll challenge and "unwarranted interference" in Michigan's Nov. 8 election.
Khalilah Spencer of Promote the Vote and Aghogho Edevbie of All Voting is Local said they are prepared to counter "election deniers" who expected to challenge voter registrations and ballots next week.
They cited a Reuters report highlighting efforts by a group called "the Election Integrity Force" that intends to field election challengers in all 83 Michigan counties.
Voting rights groups plan to have volunteers of their own out at the polls on Election Day and are also preparing advance litigation should anyone try to interfere in the counting of legal votes, Spencer said.
"We've got the whole broad swath of pro-democracy groups heading in the right direction and ready to really to get out there on Tuesday and in the weeks following that to make sure the vote is certified," Edevbie added.
— Jonathan Oosting
---
3:22 p.m. Thursday
What you need to know about voting and this Bridge Michigan election blog
Welcome to Bridge Michigan's election live blog! Our reporters will be updating this blog throughout election day with information on how to vote, news and analysis as candidates make their final pitch to voters, and most importantly, results after the polls close. You can think of us as your Michigan political news concierge in the final hours of election season.
You can skip this section if you're one of the 1.1 million Michiganders who have already voted. If you haven't, we're here with the information you need to cast your ballot.
Related stories:
How to vote: First, make sure you're registered to vote by plugging your information into the Michigan Secretary of State's tool here. It's too late to register online or by mail in time to vote on Tuesday. But eligible voters can still register in-person at their local clerk's office through 8 p.m. on election day. Here's how.
Where to vote: If you register in-person at your local clerk's office, you may also choose to vote there. Or, you can find your polling location here. If you applied to vote absentee but haven't yet turned in your ballot, find your nearest dropbox here.
Who to vote for: Still unsure who you'll choose in Michigan's statewide races? Check out our election guide to read up on gubernatorial candidates Gretchen Whitmer and Tudor Dixon, compare other statewide and congressional candidates, and study the proposals on your ballot.
You can read all of our election coverage here, including recaps of the gubernatorial debates, and analysis of the candidates' stances on everything from abortion and the economy to education and the environment.
Only donate if we've informed you about important Michigan issues
See what new members are saying about why they donated to Bridge Michigan:
"In order for this information to be accurate and unbiased it must be underwritten by its readers, not by special interests." - Larry S.
"Not many other media sources report on the topics Bridge does." - Susan B.
"Your journalism is outstanding and rare these days." - Mark S.
If you want to ensure the future of nonpartisan, nonprofit Michigan journalism, please become a member today. You, too, will be asked why you donated and maybe we'll feature your quote next time!