Michigan governor ads: What's true, what's sketchy and what needs context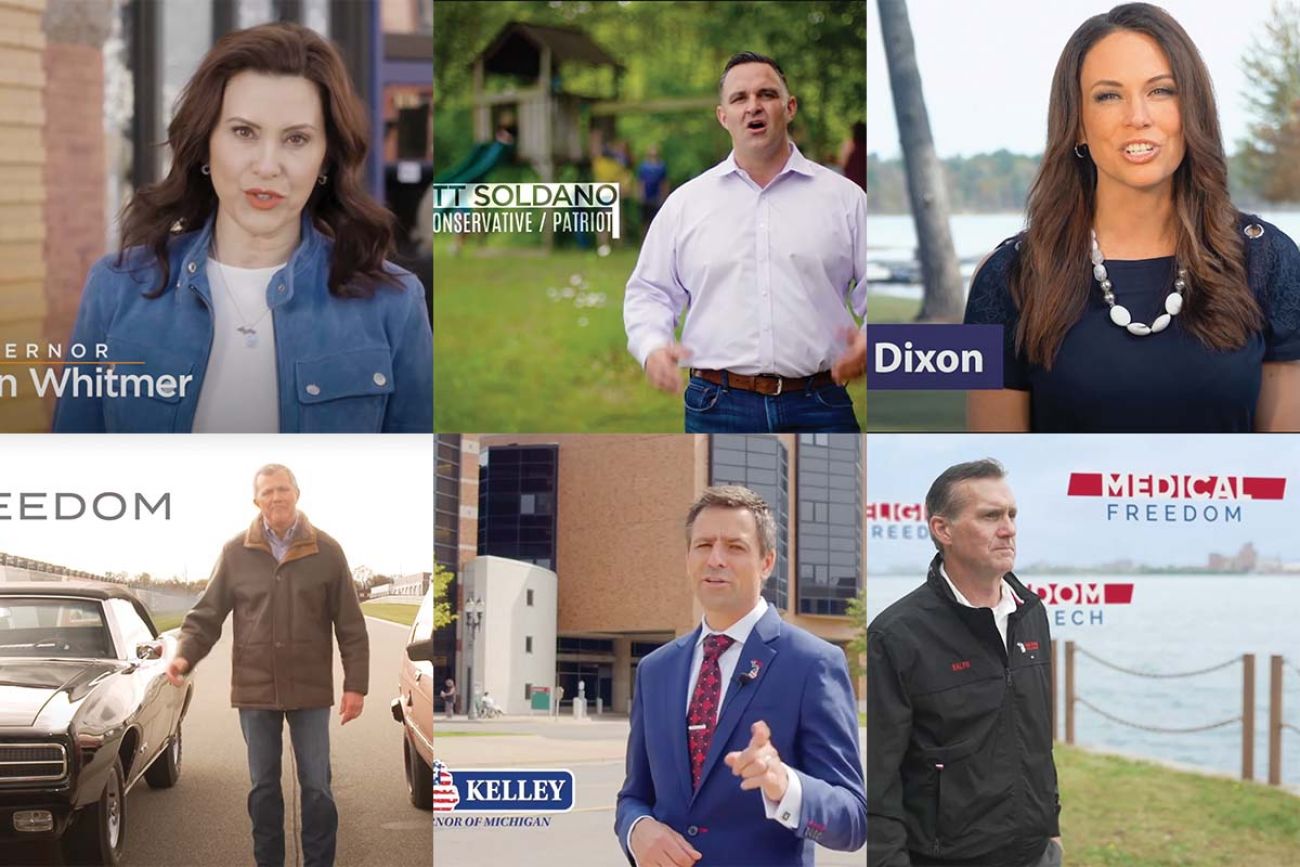 What the blitz of ads leading to Tuesday's primaries say about the five Republicans and Democratic Gov. Gretchen Whitmer — and how to view their claims. (screenshots)
Editor's note: This story will be updated as more ads appear. It was last updated at 1 p.m. July 29 to note two new ads for Tudor Dixon.
LANSING — Turn on the TV, check Twitter or open your mailbox these days and you can't miss them.
There's the millionaire vowing to "restore America's greatness," the Norton Shores working mom fighting a culture war, two small businessmen fighting pandemic orders and vaccine mandates, the pastor who wants to turn Michigan into "a lighthouse to the nation" — and the governor saying she's working hard for families.
They're ads from the five GOP gubernatorial candidates, as well as incumbent Democratic Gov. Gretchen Whitmer, and some are practically ubiquitous in the final days before the Aug. 2 primary.
Together, the six candidates for governor — and groups that support them — have spent a total of at least $9 million on TV ads and digital marketing to boost their brand, campaign records show. Some of them, such as Whitmer and Kalamazoo chiropractor Garrett Soldano, have aired ads for weeks or months.
The ads are the candidates' best (and most expensive) efforts to identify their values, tell their story, highlight why they deserve your vote and distinguish themselves from their opponents (which is a charitable way of saying sling some mud.)
Related:
And in some cases, the spots aren't from the candidates themselves: The ad that may be seen the most in coming days could be a $2 million buy from Democrats targeting Tudor Dixon on claims her tax plan will lead to police layoffs (even though she's been endorsed by police.)
Bridge Michigan has watched all the ads and endeavored to distill what they tell you about each candidate, what is accurate, what isn't and what needs more context.
Republicans
Tudor Dixon
Dixon, 45, is a Norton Shores resident and mother of four who left her career as a steel industry executive in 2017 to launch a career as a conservative media personality, including as a host of Real America's Voice streaming channel.
The ads and their message
Her campaign has released one ad introducing herself as an optimist, "wife, mother and cancer survivor" who is "pro-God, pro life, pro gun and pro freedom."
The ad says she will lead "the mother of all comebacks" after the pandemic and Whitmer's policies hurt the state. She says she's full of hope that families can be "liberated," students can return to normal schooldays and a time when "American-made meant Michigan-built."
She is supported by super political action committees including Michigan Families United, which released an ad, "Thank Tudor," that said she'd "stand up for woke indoctrination of our kids" and ease business regulations. The American Principles Project PAC released the ad "Tudor Dixon: Fighting for Michigan Families," while the Save Michigan Super PAC released an ad touting Dixon's experience in the steel industry and as a mother who could take on Whitmer.
Michigan Families United, which is largely backed by the family of former U.S. Education Secretary Betsy DeVos, spent $1.92 million on pro-Dixon ads. The American Principles Project PAC, political arm of an Arlington, Virginia-based conservative think tank, plans to spend $100,000 on digital ads supporting Dixon.
About the ads' claims
Dixon emphasizes family values, noting that her grandmother died in a nursing home during the pandemic. Although the grandmother didn't die of COVID, the family was denied visits because of pandemic orders to limit the spread of infection.
The Michigan Office of the Auditor General identified 8,061 deaths connected to long-term care during the pandemic. The findings in January reignited partisan disagreement over Whitmer's handling of the pandemic, including her brief designation of some nursing homes as "regional hubs" where COVID-19 patients could recover.
In her ad, Dixon mentions she's "not OK with Michigan being home to the most dangerous city in America,", a reference to Detroit, which routinely ranks among the most violent cities in the nation, according to FBI data analyzed by multiple news outlets.
Asuper PAC supporting Dixon, Michigan Strong, released an ad accusing her opponent, Soldano, for "selling snake oil" and pocketing "money from patients selling juice cleanse supplements." The ad goes on to say Soldano, "with no evidence, promised protection from COVID."
Soldano is also a national marketing director for Juice Plus, a health supplement that clients say he sold at his chiropractic clinics. When the pandemic hit, Soldano claimed on his since-deleted podcast that if his family got COVID-19, they could "get over it" after taking the supplement.
Context the ads leave out
Like many other Republicans, Dixon opposes "critical race theory" and "trans ideology" — two buzzwords to describe teachings about race and history and efforts to recognize transgender people.
Both phrases are widely debated and wildly divisive.
In "Tudor Dixon: Fighting for Michigan Families," the ad states Dixon will protect kids from "anti-American critical race theory."
Strictly speaking, critical race theory is a framework used to examine laws and history. It is taught mostly in colleges and law schools and believes racism is embedded in U.S. institutions from education to housing.
The Michigan Association of School Boards has said it does not know of any K-12 schools in the state teaching the theory. One school district — Detroit — has mentioned using it: Superintendent Nikolai Vitti was quoted last year as saying "our curriculum is deeply using critical race theory especially in social studies, but you'll find it in English language arts and the other disciplines." The next week, though, Vitti said critical race theory is not taught in Detroit schools.
In recent months, critics — mostly conservatives — have applied the "critical race theory" label to a host of diversity and equity measures in schools as well as teachings about slavery and racism such as the New York Times' "1619 Project," which is taught in classrooms and reframes U.S. history around slavery.
In June, Michigan's GOP-led Senate advanced a bill that would limit the state from promoting "race or gender stereotyping" in schools. The legislation forbids schools from teaching that "individuals bear collective guilt for historical wrongs committed by their race or gender."
The same ad says Dixon will protect children from "trans ideology," a term that is used by some conservatives and religious organizations to describe the belief in gender dysmorphia, or a feeling that assigned gender roles at birth don't always align with the identity of individuals.
Many advocates say there is no such thing as "trans ideology" and it is an effort to discredit transgender people.
Some conservatives say the concept is dangerous and can reduce gender and biology to a social construct, adding that discussing sexuality and transgender issues to young children school is confusing and dangerous.
Dixon's ad doesn't explore that debate, instead flashing a photo of a youth in makeup. The ad doesn't say why Dixon thinks Michigan needs protecting from the ideology, whether it is being taught or how exactly she would protect youths from it.
Ryan Kelley
Kelley, 40, is an Allendale real-estate broker, YouTube personality and father of five who describes himself as "100 percent unapologetically American." He organized protests against the COVID lockdown and was arrested in June on misdemeanor charges related to the Jan. 6, 2021, riots in the U.S. Capitol.
The ads and their message
Kelley has at least three TV ads ready to air around the state as well as dozens of YouTube videos and online ads. His campaign has spent more than $76,000 on TV, print, digital and billboard ads, according to reports released last week.
Kelley's ads portray him as a pro-parental rights, anti-vaccine mandate, anti-abortion candidate and the only one who can defeat Whitmer in the November general election.
In one ad, Kelley took a shot at the Detroit Regional Chamber's Mackinac Policy Conference in May for its COVID-19 vaccination policy.
"You should never be bullied into taking a vaccine that you don't want to," he said in the ad. "Your body, your choice."
In another ad, "They Came for Our Children," Kelley said he opposes the teaching of "radical, racial and sexual ideologies" in school and promises to offer children a "quality education" as governor.
Kelley also promised to "keep (Enbridge) Line 5 open" and "develop nuclear energy programs" to provide electricity and lower energy costs for Michiganders.
About the ads' claims
Kelley was indeed the only gubernatorial candidate to boycott this year's Detroit Regional Chamber's Mackinac Policy Conference, which required COVID-19 vaccinations or negative COVID-19 test results. It featured debate among other Republican governor hopefuls that was outdoors and did not require vaccines or COVID-19 testing.
Like many Republicans, Kelley supports keeping open the Line 5 pipeline, which is owned by Enbridge and transports 22.7 million gallons of crude oil and natural gas a day, some of which is refined into propane and used in Upper Peninsula homes.
Whitmer ordered the pipeline to shut down in 2020, but the issue is now tied up in court. Expert testimonies in the case state closing the pipeline would increase Michigan's gas prices by half a cent per gallon.
What the ads gets wrong
A claim in a Kelley ad that a Whitmer re-election "ensures vaccine mandates across Michigan" is dubious.
Whitmer has resisted a statewide vaccine mandate throughout the COVID-19 pandemic, while the U.S. Supreme Court overturned Biden's federal mandate for large employers this year. (Whitmer did eventually say she supported Biden's federal vaccine mandate but had refused to order one of state employees.)
A statewide mask mandate was in effect between July 2020 and June 2021 and Whitmer has since declined to issue a similar mandate for the state, despite spikes in COVID-19 infections amid an omicron variant surge and pressure from some Democrats.
Context the ads leave out
Kelley claims the "Whitmer-Biden energy policies are causing hardship for Michigan families and businesses."
A lot of Republicans and many voters blame President Joe Biden's energy policies and his administration's cancellation on the Keystone Pipeline for the rising gas prices. But experts have said the COVID-19 pandemic is the primary culprit for supply chain disruptions, and the issue was further exacerbated by the Russian invasion of Ukraine.
It is true, however, that Whitmer in March vetoed a Republican-backed gas tax holiday, which would have saved an average Michigan driver $111 per year. Her office urged Congress to suspend gas tax at the federal level and back an alternative plan pausing the state's 6-percent sales tax on motor fuel, which the Legislature did not pass.
Kevin Rinke
Rinke, 61, of Bloomfield Hills is a businessman and father of three who owned car dealerships and other businesses.
The ads and their message
Rinke has spent at least $6 millions on the six ads that portray him as "an outsider and businessman like Trump who will "restore Michigan's greatness" by reversing many of Whitmer's executive actions, such as closing Line 5.
His ads mentions his family's good fortune, noting that "only in America do countless families rise from poverty to success," before going into how he took over his grandfather's car dealership.
Rinke touts his family's car dealership as a business that employed thousands before selling the company to Roger Penske in 2003. The businessman later bought and grew a company that ran traumatic brain injury rehabilitation centers that he eventually sold for $24 million.
He's also bought ads excoriating Dixon for taking money from "RINOs" — Republicans in Name Only — and questioned her loyalty to Trump. Another ad contains the whopper of a claim about voter fraud that was somewhat walked back by Rinke.
What the ads get wrong
Rinke has said that a central claim in his best-known ad — one featuring a zombie and the claim that dead voters "always vote Democrat" — was meant in "jest."
Trump and his supporters claimed thousands of dead Michigan residents voted in the 2020 election, which they said helped prove widespread fraud. A state auditor general report found that to be untrue.
The Michigan Secretary of State noted that 846 ballots were rejected from people who voted absentee and then died before the general election. The state did not track their party affiliation. The state's Republican-led Senate Oversight Committee also spent months investigating the 2020 presidential election and found no evidence of widespread fraud.
Rinke has said the ad is a "tongue and cheek" attempt to grab viewers' attention about the necessity of election reforms, such as "audit voting rolls to ensure all voters are registered" and "create an election integrity unit to investigate any hint of cheating."
It's a curious claim because Rinke is alone among Republican candidates for governor who does not support Trump's claim that voter fraud cost him Michigan in 2020.
About the ads' claims
Rinke takes Whitmer to task in his ads, claiming she runs a "tyrannical government," closed small businesses during the pandemic and didn't abide by her own rules.
In one ad, Rinke claims that Whitmer took a private jet during the pandemic, which is true. In March 2021, Whitmer took a jet owned by Detroit business people to visit her sick father in Florida (she later reimbursed the cost of the trip, and the Bureau of Elections cleared her of campaign law violations.)
Whitmer also violated her own regulations by visiting a large group of people at a bar in East Lansing in 2021, despite health code restrictions that limited tables to six patrons.
Most governors shut down businesses in the early days of the pandemic in 2020. Unlike some others, Whitmer did so twice: She not only ordered bars, restaurants, theaters and casinos closed into July 2020, but as COVID cases flared up in November of that year, she again closed bars and restaurants for several weeks again at a time many governors — including Republicans — resisted such closures.
Context the ads leave out
In one of Rinke's ads, he says "today, Michigan is in danger," and "that all the problems are clear," listing "a tyrannical government; closed small businesses; illegal immigration; voter fraud; critical race theory."
Michigan has a growing immigrant population, about 7 percent of the state's population, and 15 percent of them are undocumented residents, meaning that they comprise about 100,000 residents in a state of 10 million. Many other states have far higher rates of undocumented immigrants.
Rinke himself has said he has seen no evidence of voter fraud in the 2020, but claims he has seen evidence of how it "could have occurred." Likewise, it's unclear how he views that critical race theory poses a "danger"
In Rinke's ad titled "Can't Trust Tudor," he attacks Dixon for taking "millions" from "billionaires." He calls Dixon an "establishment Republican" like the ones who will "say anything to get President Trump's support, then betray him when it matters most."
That is a reference to the powerful DeVos family of west Michigan, who have endorsed Dixon and whose super PAC has raised $2.2 million to support her. Betsy DeVos, former U.S. Secretary of Education, recently acknowledged she and other Cabinet members discussed invoking the 25th Amendment to remove Trump from office after his supporters stormed the U.S. Capitol to try to block his election loss on Jan. 6, 2021.
While the DeVos-backed PAC hasn't personally donated money to Dixon's campaign, it has launched a TV blitz to support her.
Garrett Soldano
Soldano, 43, is a Mattawan chiropractor and father of two who became well known as a leader against mask mandates during the pandemic.
The ads and their message
Soldano has at least three ads and more than 100 videos on his Youtube channel. The campaign spent more than $88,000 in June in ad buying.
Soldano, who helped found the grassroots group Stand Up Michigan, touts his fight against the Whitmer administration's mask mandates during the pandemic.
His ads portray him as a political outsider who fights against abortion rights, gender care for trans youths and illegal crossings at the southern border.
"My pronouns are conservative, patriot," Soldano says in an ad. "The woke groomer Mafia wants to indoctrinate and subjugate our kids through warped fantasies. It's time to fight back."
About the ads' claims
Soldano's ads mainly focus on hot-button cultural issues whose veracity — and importance — largely depends on viewers' political perspectives.
In one ad that aired last year, a narrator claimed Soldano "led the fight to reopen our economy," a reference to Stand Up Michigan's efforts to gather signatures for Unlock Michigan, a ballot measure that ultimately repealed a 1945 law that allowed Whitmer to issue emergency orders months after the court overturned the governor's authority.
What the ads get wrong
One ad begins with a portrait of a school hallway and the announcement "All students are welcome to utilize gender reassignment services in the gym …this is confidential. Your parents will not be notified."
While that part of the ad is clearly a dramatization, the message that such services are available in Michigan schools is false — and Soldano himself acknowledged the ad does not reflect reality. Trans youths in Michigan generally need parental consent to access surgical and medical care, according to the nonprofit Michigan Organization on Adolescent Sexual Health.
Context the ads leave out
In another ad, Soldano said 2 million illegal immigrants entered the U.S. through the southern border. While it is true there were more than 2 million "encounters" at the southern border in calendar year 2021, that does not mean all those people crossed the border. The number also does not reflect people who may have gotten away from the Border Patrol. In fact, the encounters include apprehensions, expulsions and a number of people deemed "inadmissible," who may be seeking asylum or refugee statuses, according to the U.S. Border Patrol data.
Much like Kelley's video attacking Whitmer, Soldano had a video showing clips that seemed to link inflation and gas price hikes to Whitmer and Biden.
While polls show that 4 in 10 voters blame Biden for gas prices, they are higher in more than 93 countries and experts largely blame the war in Ukraine and supply chain issues caused by the pandemic.
Governors, meanwhile, can't do much about inflation. But the one thing they can do is something Whitmer has resisted — suspend gas taxes. Unlike other states, Whitmer has vetoed efforts to suspend Michigan's 27-cent gas tax, instead calling on Congress to suspend the federal 18 cent gas tax and saying she backs a plan to suspend the state's 6-percent sales tax on gas purchases.
Ralph Rebandt
Ralph Rebandt, 64, is a recently retired Farmington Hills pastor of 35 years who served as chaplain for the Michigan Association of Chiefs of Police. He is a father of four and grandfather of 16.
The ads and their message
Rebandt has one ad airing on TV, a handful of Youtube videos and a digital ad on Facebook. The campaign has spent almost $90,000 on "marketing" and advertising.
They depict him as opposing abortion and supporting religious and medical freedom, freedom of speech, election integrity and gun rights.
"As your next governor I will stand in the gap for you," he said in one ad. "Together, let's bring the light of truth to dispel the darkness."
About the ads' claims:
In his ads, he slammed Whitmer for issuing pandemic orders that shut down businesses and mandated masks. Rebandt criticized Whitmer in one Youtube video, stating "she locked everybody down and did not follow her own rules." In another ad, he pointed to Whitmer's visit to her sick father in Florida while her administration encouraged Michiganders to limit travel to reduce transmission.
Context the ads leave out
In a YouTube video, Rebandt decried Michigan's tax rates as high. That depends on who is doing the math.
According to the nonprofit Tax Foundation, Michigan had the 5th lowest "tax burden" — state and local taxes paid by state residents divided by that state's "share of net national product" — among all states in 2022.
According to a Citizens Research Council report in 2021, Michigan's property tax burden has been stable over the years, going "from being above the national average in 1978 to below it by 2018."
Democrat
Gretchen Whitmer
Whitmer, 50, of Lansing is the Democratic incumbent. She was elected in 2018 , the mother of two daughters and three step-sons is a former lawmaker and lawyer.
Her ads and their message
Whitmer has released two ads, both emphasizing her commitment to family values. The Whitmer campaign spent at least $894,000 on digital and TV ad production and buying, campaign records show.
In Whitmer's ad, "Family," she notes that "the last few years have been tough" in Michigan but she's working to get "things done right now." The governor was in office during the pandemic and has received backlash for her handling of the lockdown.
In her first ad, Whitmer talks about her early days as a mother "juggling a newborn, a mom with cancer and a full time job," noting that "all over Michigan people are facing those same struggles."
In the second ad Whitmer released, titled "Can Do," the governor touches on the impact of inflation on families, noting the price of everything is rising, from "gas, childcare and even a box of cereal."
Whitmer touts that she "got auto insurance companies to give $400 refunds," and provided "tuition free community college for 170,000 Michiganders" while she continues "fighting to end the retirement tax."
About the ads' claims
Whitmer signed bipartisan bills providing 1 in 3 families with low or no cost childcare and delivered $1,000 bonuses to childcare professionals. Whitmer also notes helped invest big in education, signing a $19.6 billion bipartisan education budget in July that was approved by a Republican-led Legislature.
Whitmer contends there is little governors can do about inflation or gas prices, but she correctly notes she persuaded a board that oversees Michigan car insurance to issue $400 per-car refunds and unveiled a program that has made community college free " for 170,000 Michiganders."
Context the ads leave out
In one ad, Whitmer flashes a "no new taxes" graphic across the screen. The governor has not raised taxes since taking office but certainly tried.
In 2019, Whitmer proposed raising fuel taxes 45 cents per gallon to more road projects.That would have made Michigan's gas taxes the highest among all states. More recently, Whitmer vetoed two tax-cut packages by Republicans.
The packages proposed slashing taxes by up to $2.7 billion a year by cutting the personal income tax rate, expanding the Earned Income Tax Credit, creating a $500 child tax credit and expanded tax exemptions for seniors and disabled military veterans.
Republicans also have taken Whitmer to task for the ad because she mentions that inflation has sent the price of cereal skyrocketing — but does not mention that the state's iconic cereal company, Kellogg Co., split into three companies and announced plans to move the headquarters of its most profitable ventures, snack foods, to Chicago from Battle Creek.
Only donate if we've informed you about important Michigan issues
See what new members are saying about why they donated to Bridge Michigan:
"In order for this information to be accurate and unbiased it must be underwritten by its readers, not by special interests." - Larry S.
"Not many other media sources report on the topics Bridge does." - Susan B.
"Your journalism is outstanding and rare these days." - Mark S.
If you want to ensure the future of nonpartisan, nonprofit Michigan journalism, please become a member today. You, too, will be asked why you donated and maybe we'll feature your quote next time!