Articles
The Michigan Department of Environment, Great Lakes and Energy has dismissed a complaint challenging the 2018 permit that allows the company to increase its withdrawals form the Osceola County well, concluding Nestlé's opponents should have taken their case to court.
Polling by The Center for Michigan of more than 3,100 residents shows broad support for increased regulations to protect waterways and heightened anxieties about their safety.
Amid tensions on water diversions, Democrats propose legislation that would limit Nestlé's ability to pump Michigan groundwater and export it out of the state. But farmers say such a law threatens their groundwater rights.
Nestlé said the U.S. Geological Survey will independently monitor conditions near an Osceola County well where Michigan regulators allow pumping of up to 400 gallons a minute for an Ice Mountain bottling plant.
Since Michigan halted its free bottled water program, Nestlé has provided 100,000 bottles water per week to help centers that continue to face high demands from residents who refuse to drink from their taps.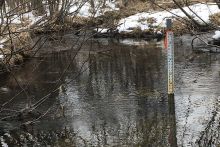 In the race for Michigan governor, Democrats are widely condemning the state's decision to allow Nestlé to pump up to 400 gallons per minute of water from one Osceola County well. Does their rhetoric match the facts?
Water lawyers are eying several avenues to challenge DEQ's decision to allow a Nestlé water bottling facility to pump up to 400 gallons per minute from a well outside of Evart. It wouldn't be the company's first legal showdown in Michigan.
Long-held laws allowing for 'reasonable use' to water under land have kept withdrawal fees cheap. But Ontario charges big bucks to bottlers.
For just $5,000 and a small annual fee, the giant corporation will extract thousands of water that it will mark up to consumers. Michigan inevitably will get stuck with the bill.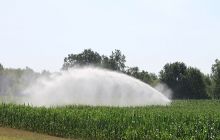 Michigan House Republicans want to make it easier for farmers to withdraw large quantities of groundwater— and exempt water use data from public view. The bill, if passed, could also benefit Nestlé.